PC Honey Red
| Brick Brewing Co.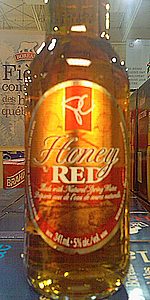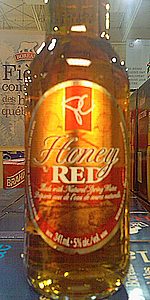 BEER INFO
Brewed by:
Brick Brewing Co.
Ontario
,
Canada
brickbeer.com
Style:
American Adjunct Lager
Alcohol by volume (ABV):
5.00%
Availability:
Year-round
Notes / Commercial Description:
Brewed in small batches and no preservatives, PC Honey Red is brewed with Natural Spring Water and select ingredients to compliment the All Natural Honey which makes for a smooth tasting lager with a slight red hue.
Added by Bestuurder on 06-08-2006
HISTOGRAM
Ratings: 12 | Reviews: 7
Reviews by IronDjinn:

1.73
/5
rDev
-38.9%
look: 2.5 | smell: 2 | taste: 1.5 | feel: 2 | overall: 1.5
Appearance is transparent and on the pale side of light amber, foamy white head settles quickly to a thin creamy cap.
The aroma has some off-smells, sweet wort, grainy and some veg. Some semblance of honey does shine through however, but seems lost and out of place from the other aromas.
Oh wow....err, excuse me for a moment. The flavour of this beer falls apart right from the start, just a bunch of off-flavours all at once going their seperate directions. It's not awful, but not pleasant either. Raw and grainy, thin, veg on the finish with an unpleasant aftertaste. Sweet honey pops up later in the aftertaste, the only redeeming aspect of an otherwise train wreck of a flavour profile.
Mouthfeel is thin and watery.
Well, you get what you pay for with this one, which is in the buck a beer category, although a definite pass in my books.
849 characters
More User Reviews:
3.08
/5
rDev
+8.8%
look: 2.5 | smell: 2 | taste: 3 | feel: 2.5 | overall: 5
A- Pours very clear, and gives off a light amber/orange hue. The head surprisingly sticks around for a couple of minutes before settling down to a thin ring around my glass. Carbonation looks to be fairly muted and there isn't much in terms of lacing but it is there. Not the worst looking beer out there.
S- Very faint malts, but primarily the aroma consists of dusty grains. The alcohol is fairly noticeable as well, and otherwise smells of lots of adjuncts like corn and dextrin mainly. I don't smell anything that resembles hop bitterness or really any honey either.
T- Well this area has some life at least. Again, the primary flavor is much like the aroma, that of grainy corn and the alcohol is noticeable as well. There is some muted malt sweetness, and there is a weak honey flavor. The finish is slightly metallic and has some faint hop bitterness that lingers slightly but nothing to get real excited about.
M- This beer is light bodied and scrubs the palate, due to the carbonation that's hiding in there, not noticeable upon viewing.
D- I am being harder on this beer than I would like to, as I have bought this before and will buy it again. For a buck a beer, this is one of the better ones I think anyone will come across, along with the rest of the PC lineup. It's a weak version of what a true honey lager should be. It is quite easy to drink and is refreshing....a perfect summer beer or for someone that doesn't want to break the bank but with a better value than what can be purchased, and I have had more than my share of this beer. Give it a try!
1,573 characters

2.8
/5
rDev
-1.1%
look: 2.5 | smell: 2.5 | taste: 3 | feel: 2.5 | overall: 3
355 ml can found in the bargain bin at Superstore. President's Choice brand sold at a buck a can (glad I didn't have to buy a whole case). "Prepared for The Real Canadian Liquor Store Ltd., Calgary Alberta. Whitewater Brewing 1-800-265-8612"
"Made with Rocky Mountain water and real honey".
The beer pours a nice looking red-gold color, but no head or foam to speak of. Therefore no retention or lace. Slightly sweet smell of honey and corn. A little more flavorful than other mainstream lagers. Not a bad balance of adjunct sweetness and some hop finish. I guess there is some honey too it as well. Mouthfeel almost has a sticky texture.
A drinkable, low budget beer, might be worth another try.
700 characters
2.43
/5
rDev
-14.1%
look: 2.5 | smell: 2 | taste: 2.5 | feel: 3 | overall: 2.5
Poured part of a 355-ml can into a plastic hotel cup (livin' large!); took the rest straight from the can.
Appearance - very light amber colour with off-white quickly reducing head and prominent carbonation.
Smell - not much of anything: some barley malt underscored by a corny-veggie smell. Lacking.
Taste - overly sweet with a light wave of malt. Not impressive, but a little refreshing.
Mouthfeel - basically what I expected, pretty smooth due to lack of character. No complexity to this beer.
Drinkability - easy enough to get down. I'm willing to spend more than a buck a beer to get something good.
609 characters
3.59
/5
rDev
+26.9%
look: 4 | smell: 3.75 | taste: 3.5 | feel: 3 | overall: 3.75

4
/5
rDev
+41.3%
look: 4 | smell: 4 | taste: 4 | feel: 4 | overall: 4
One of the better discount beers available, and it's not brewed by the big three.
83 characters
2.46
/5
rDev
-13.1%
look: 2.25 | smell: 2.5 | taste: 2.5 | feel: 2.25 | overall: 2.5
2.96
/5
rDev
+4.6%
look: 2.75 | smell: 3 | taste: 3 | feel: 2.75 | overall: 3
2.78
/5
rDev
-1.8%
look: 3 | smell: 2.5 | taste: 2.5 | feel: 3 | overall: 3.5
Not a bad beer, certainly not the best, but it is easy drinking, and the cost is quite good. The head is fluffy at first, but dissipates very quickly. The colour is a slight red, of course, I have seen better than this, but I thought I would try it at $24 a 24 (plus free ice cream). All in all, I would recommend if you were looking for a hot summer afternoon beer and didn't want to spend very much.
401 characters

2.7
/5
rDev
-4.6%
look: 2 | smell: 2 | taste: 3 | feel: 3 | overall: 3
I received this from stagger as part of a trade, a bonus thrown in to sate some morbid curiosity on his part, I'm quite sure, because on the can was a piece of green masking tape with the following written on it: "Less than $1 per can. Worth it? You decide."
Here goes.
Pours an astoundingly clear light golden yellow orange with large bubbles; there's no mistake that the "cold-filtered" claim printed on the can is true. It was also force-carbonated, of that there can be little doubt. Because, as always seems to be the case with these cheap beers, it starts off fizzy as hell but it doesn't take long before things die down to a fairly flat and lifeless nothing.
The aroma is faintly sweet and fruity, with strong notes of corn.
The taste is like honey drizzled bread, but it's not quite as good as that sounds. Very biscuity. A little grainy. Hints of sweet corn juice and a trace of vegetal. It's not completely unpleasant. I'll give it that.
Not a great beer, but actually kind of not bad if you needed something cheap to drink a lot of.
I'm confused about the assertion that it's made with Rocky Mountain water though, because I thought it was brewed by Brick. In Waterloo, Ontario. Seems like a lot of work and expense to truck in water from the other side of the country. I call shenanigans on that claim.
Anyway, to answer the question: I would totally pay under a buck for this beer. Maybe even less.
1,419 characters
2.98
/5
rDev
+5.3%
look: 2.5 | smell: 2 | taste: 3.5 | feel: 2.5 | overall: 3.5
I have to say that for the price you can not go wrong with this beer.
It's an average beer but to my mind tastes quite a bit better than the other mainstreamers like Blue or Canadian. Very slight honey taste almost non existant.
The appearance is a nice redish gold colour with a slight head...dissipating very quickly.
Very drinkable, no aftertaste that seems to characterize some of the budget brews. PC seems to do budget beer better than alot of others.
Definitaly worth a try.
494 characters
PC Honey Red from Brick Brewing Co.
Beer rating:
2.83
out of
5
with
12
ratings