PC Cerveza
| Brick Brewing Co.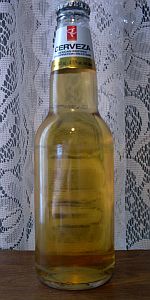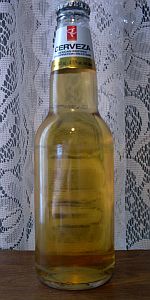 BEER INFO
Brewed by:
Brick Brewing Co.
Ontario
,
Canada
brickbeer.com
Style:
American Adjunct Lager
Alcohol by volume (ABV):
4.60%
Availability:
Year-round
Notes / Commercial Description:
PC Cerveza is brewed in small batches. The result is a clean, crisp, refreshing easy drinking lager with no preservatives and no aftertaste. It's perfect with a wedge of lime.
Added by drinkininthewood on 07-24-2009
HISTOGRAM
Ratings: 9 | Reviews: 3
Reviews by drinkininthewood:

2.65
/5
rDev
+5.2%
look: 2.5 | smell: 2.5 | taste: 2.5 | feel: 3 | overall: 3
12 pack from the BeerStore. $15.95
A- Pale yellow color. Bone white head that does stick a little.
S- some malt , hay, and cooked veggies
T- Malt, corn, no bitterness, slightly metallic and overall bland.
M- fairly thin mouthfeel, moderately carbonated.
D- ok
Overall in terms of a beer it fails. In terms of a Mexican inspired cerveza its alright. Locally made, true to the style, and much cheaper than your typical SOL, or Corona. A great "beat the heat" , lawnmower, sit around and eat mexican food kinda beer.
521 characters
More User Reviews:
1.63
/5
rDev
-35.3%
look: 2 | smell: 1.5 | taste: 1.5 | feel: 1.5 | overall: 2
Bottle sample-Very pale golden pour, with a fizzy and short lived white cap. Grainy nose with stale malt extract too. Sweet grainy and corny taste is sidelined by intense and prickly carbonation. Fizzy and quick finish thankfully. I'll pass next time.
251 characters

2.75
/5
rDev
+9.1%
look: 4.25 | smell: 2.25 | taste: 2.5 | feel: 3 | overall: 3.25
341 mL bottle picked up at TBS; best before May 28 2014. This is my first review of a venerable, timeless institution of Canadian breweriana - that President's Choice line of cheap beers that are contract brewed by someone else. Yep, the pickins are slim, alright. Served ice cold.
Pours a pale straw yellow colour, topped with nearly two fingers of frothy, soapy white head that wilts away slowly over the next few minutes. It leaves behind a pillowy cap, in addition to plenty of lacing - this is actually a pretty good-looking lager. Unfortunately I can't say the same of the aroma, as all the usual 'cheap beer' tropes are present in force - corn husk, cooked vegetables, some pale malt sweetness, and not much else.
Very mild flavour, leaning on the sweet side like most adjunct lagers, but not in a cloying or offensive way. Pale malts and corn grits are prominent initially, leading into more of a sweet corn/vegetal flavour. The corny finish doesn't linger on the palate; this is fairly clean-drinking. Light-bodied and watery, with relatively high carbonation levels that give this brew a decent bite.
Final Grade: 2.74, a forgettable C-. Putting aside all of the jokes about why any self-respecting BA would bother trying a Corona imitation, PC Cerveza is a fairly tolerable adjunct lager, and one of the better Corona knock-offs available in this market (though that really isn't saying much). This one is drinkable - it's more bland than offensive, the sort of thing a BA might keep in the fridge for when the macro drinkers come to visit (or the sort of thing a Corona loyalist might as well settle for and save themselves 10 bucks a case). Better than Brava, for whatever that's worth, but not something worth buying frequently unless you're a frugal lager drinker with depressingly low standards.
1,816 characters

3
/5
rDev
+19%
look: 3 | smell: 3 | taste: 3 | feel: 3 | overall: 3
2.91
/5
rDev
+15.5%
look: 2.75 | smell: 3 | taste: 3 | feel: 2.75 | overall: 2.75
2.5
/5
rDev
-0.8%
look: 2.5 | smell: 2.5 | taste: 2.5 | feel: 2.5 | overall: 2.5
2
/5
rDev
-20.6%
look: 2 | smell: 2 | taste: 2 | feel: 2 | overall: 2
3.25
/5
rDev
+29%
look: 3.25 | smell: 3.25 | taste: 3.25 | feel: 3.25 | overall: 3.25
PC Cerveza from Brick Brewing Co.
Beer rating:
2.52
out of
5
with
9
ratings