Big Top Beverage Market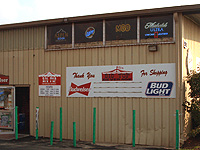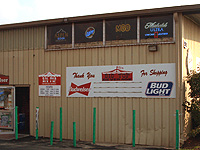 Store
1555 Easton Rd
Roslyn
,
Pennsylvania
, 19001-2403
United States
(215) 659-5445 |
map
bigtopbev.com
Notes:
Recent ratings and reviews.
| Log in to view more ratings + sorting options.

4.03
/5
rDev
-5.2%
vibe: 3 | quality: 4.25 | service: 4 | selection: 4.25
by officerbill from New York
Stopped by while in town for a wedding. How much "vibe" can a warehouse have? Very large selection and a decent variety of Belgian & German beers (check dates on German singles). I would make Big Top as regular stop if I lived in the area.
Dec 02, 2019

4.82
/5
rDev
+13.4%
vibe: 4.75 | quality: 4.75 | service: 5 | selection: 4.75
by LehighAce06 from Pennsylvania
Friday afternoons they commonly have tastings of a couple selections from a brewery, always nice to chat with the beer reps and have a taste.
Feb 26, 2015

4.15
/5
rDev
-2.4%
vibe: 3 | quality: 4 | service: 4 | selection: 5
by mingo1968 from Pennsylvania
Stopped in he the other day on a recomendation. The selection was great. I picked up a case of Bell's Two Hearted. The date on the case was 4 weeks old. I have to agree with the other member about the storage of the beers. The day i was there it was cold out and the temp inside was the same. So i don 't know if this could be an issue when it's really hot outside. I will be back and if you are in the area i recommend stopping in i think you will enjoy the selection they have. I thought the prices were fair also.
Apr 01, 2012
4.6
/5
rDev
+8.2%
by Sachsenfreude from Germany
I love this place, especially when it's cold out and all the beer is chilled when I buy it, just the opposite in the summer sadly.
The owner and all of the staff are very friendly and helpful. They also have ordered beer special for me and keep my favorite beer from back in Germany well stocked, after I requested if they could order it for me. Really an exceptional selection of imports(esp. German and Belgian) and craft brews. Certainly they need a lot of space for macros but the distinguished beer drinker is not ignored but catered to, more so than elsewhere.
In general they tend to be cheaper on most of thier imports than other distributors and have some great specials from time to time.
Dec 14, 2010
5
/5
rDev
+17.6%
by braincaps from Pennsylvania
I had been searching for the best distributor around for the last several months since installing my kegerator. Big Top in Roslyn PA has the best selection, hands down, of sixtels and 1/2 Kegs in my area. I called in to find out if a particular sixtel was on hand, as I did not have time to order, and Joe informed me that it was; set it aside for me for a quick and easy pick up. I'll be heading there this weekend for my next keg!
Also, during the last visit, as a nice surprise there was a sample table set up by a new rep from a brewery in MI.. Arcadia I believe; very tastey stuff!
Nov 18, 2010
3.95
/5
rDev
-7.1%
by BARFLYB from Pennsylvania
In terms of selection in this part of the burbs, Big Top has it on lock. No need to go anywhere else. I always hit this place up for macros if shopping for a party or my father just to keep the revenue flowing here. Oh yeah they have a bunch of American craft and a nice Import selection.
The only drawback is that this place gets heated in the summer, basically keeping freshness down. I avoid getting craft from the shelf during summer if I don't know for sure it has not been recently released. This is a drawback to most warehouse dist. so I cant fault them there.
The service is great if you know who to talk to. Joe the head beer guy is passionate about keeping great product in, even special ordering a lot of cases for me over the years. They always give me free soft pretzels even if im just browsing. Some of the staff could use some classes on the beer though.
A nice selection. A bunch of sodas, canned beer, macros, micros, cases upon cases of beer on the wall, in pyramids and stacks. Some cold kept cases inside the keg room as well, I go in there to cool off from looking at all the cases of goodness. Im known as the festina peche guy because I bought three cases of it one summer where I proceeded to drink bottle after bottle of it which resulted in dry heaving every half hour or so for a month. No problem with a special order or two, last year some BBVD came in my hands at a great price and this year I was lucky enough to get a case of Supplication to boot. A great distributor to go to .
Jul 05, 2010

4.5
/5
rDev
+5.9%
by zekeman17 from Pennsylvania
Been going here for beer for nearly 20 years. They have always had pleasant help, and more than a few times gone out of their way to bail me out of a jam (One New Years Eve I had a keg, but a friend couldn't find his tap--somebody stayed past closing at Big Top until I got there to get me a tap). Have also been very helpful in getting a few special requests over the years.
Joe has really made a commitment to the micro-brews, with a nice variety, and recently has been getting some breweries in to give out samples.
Mar 08, 2010
4.35
/5
rDev
+2.4%
by SkinnyElvis from Pennsylvania
Time to give some love to a local. Big Top has stepped up in the past year or so. They usually have Founders, Bells, Stone, Green Flash, Ballast Point plus all of the locals available at a reasonable price. I picked up a case of Founders Breakfast Stout today & they had a few more to go. Joe (the beer guy) is extremely nice & trying to keep the good brew flowing even though the rest of the staff are clueless but nice. It gets a bit hot in there in the summer but they turn over their hoppy beers pretty quickly. Worth a trip for sure.
Cheers.
Oct 19, 2008

4.35
/5
rDev
+2.4%
by Aprilluvsbeer from Pennsylvania
This is a pretty cool distributor in the sense that it carries many microbrews that I cannot seem to find at any other distributor. What turned me on to this place in the beginning was that it carries Philadelphia Lager, which I was not able to find anywhere but the Wachovia Center. Then I started in on the "Joe's Variety" case, about $27/cs for a variety (obviously) of microbrews of all tastes, shapes and textures...which started my husband on homebrewing and now me being a member of BA.
As far as presentation goes, yea, it's not the cleanest and it can get a bit on the warm side in there. I have not experienced any adverse effects from either of these...but if I some day find a sweaty mouse in my beer...there will be hell to pay!!
Crazy, ain't it?
Mar 31, 2006
3.35
/5
rDev
-21.2%
by ithacabaron from California
I was last here in the winter, but I may not be going back as often now, at least during the summer months.
Just there the other day, and the first thing that occured to me was that it was hot, hot, HOT inside the building. Total sweatbox.
All the beer is stacked on the floor, returnable bottles on the left wall, scrod in the middle two aisles, imports in the front right, and craft in the back right. Needless to say, I was more than a bit concerned due to the heat, and my fears were confirmed when I grabbed into a box to touch a bottle, and was met with very very warm glass. Essentially, every bottle in the place was being held at a temperature around 85 degrees, if not higher. Not good conditions for unpasturized craft brew, especially for some of the more delicate summer special brews. Additionally, I recognized some cases from when I was there six months before, and these weren't "styles to age." Dust sits on a lot of the boxes, and I noted several cases that were right at their expiration date. Others didn't have dates on them, but considering that they were there months ago -- well, I don't see myself buying them.
Service is decent -- they're mostly concerned with selling 100 cases of Yuengling and Miller Light each night, as well they should be, as that's what pays the bills. Unfortunately, this means that the case of Corona Light by the door is going to have better turnover, and be taken better care of than any craft case there. If you ask them to look something up for you, however, or if you ask when a particular brew is coming in, they'll try and look it up for you.
Selection is very nice, with a wide variety of craft brew, and special attention given to obscure Pennsylvania start-ups. I've seen a lot of breweries' product show up here before anywhere else, and they always seem willing to give a new guy a shot. Best craft seller (and best turnover) seems to be Victory, even though their display is in the farthest point from the front door possible (way in the very back right corner). Recently, they've been stocking lots of Belgians, in 12x750mL cases. This is cool, but who's got 85 bucks for a case of Delirium Tremens? Additionally, sometimes the lack of attention to freshness pays off -- in the way back, I saw a case of last year's Bigfoot for only 38 bucks. Bears noting.
In the end, their heart is at the right place, but with the heat, and dust, and general lack of care for their craft brew, how can I trust that anything on the floor is still fresh? I ended up happy with a craft selection from the cooler in the back (and even that only had three weeks till it expired), but I'm a little wary about this place. Perhaps once the heat dies off, I'll be back to pick up a fresh case of Smutty Pumpkin before it can sit on the ground for too long.
Great selection -- but endangered brew.
***
Why To Make The Scene: Because you're in the 'burbs, and you're looking for some cheap cases of Victory or *cough*mixed*cough* craft bottles. Best to come here in the Winter or early Spring, before it gets hot out.
Aug 05, 2005

3.9
/5
rDev
-8.2%
by blitheringidiot from Pennsylvania
Big Top is a typical huge warehouse like building on Easton Road that has three giant rows of beverages. Soda, macro and 'da good stuff. extra points for a neat layout. Loads of local brews. Big Top gets 4.5 for quality because their prices are moderate for the good stuff by a few bucks cheaper that anywhere else. For example Victory Old Ho' Weyerbacher Quad and SNBF are all $38.
As far as the service, the people that work here could care less about BA echelon beers. The one main guy, Jim does a cool mixed case offering for $25-$27 that is of course illegal in the Quaker State PA but who cares??? There are always loads of Belgians, international brews and many pre-mixed legal cases.
Selection is always decent enough to please all palates. Worth a drive if you are within a 15-20 minute swing. The only other places that are better nearby are Hatboro Beverage and Beeryard in Wayne PA.
Dec 14, 2004
4.15
/5
rDev
-2.4%
by stirgy from Pennsylvania
UPDATE:
2-11-04:
Wow, this place is even better than I remember! Great selection of different beers, brands and countries. They even have mixed cases that they themselves put together (so can try 12 different beers- 2 each). I think they were $25. Bells, Stone, Rogue, 3 Floyds, all the locals and a lot of other micros. Nice Belgian selection, too. I'll squeeze the selection up from a 4 to a generous 4.5.
This is a pretty decent beer distributor. Our beer club bought quite alot of cases from this store in the course of a year. They have all the regulars and a pretty decent selection of imports and micros -
Especially local stuff.
They have a drive thru, also. The young staff was helpful on a few occassions and they were willing to special order me something if they didn't have it in stock. They always seem to have something pretty decent on special. Never had a quality issue with any of their products. A store with some good options for any BA's.
The only thing is that I haven't been there in almost a year. Don't know if things have changed much.
Mar 06, 2003
Big Top Beverage Market in Roslyn, PA
Place rating:
4.25
out of
5
with
14
ratings