Snowstorm 2009
| August Schell Brewing Company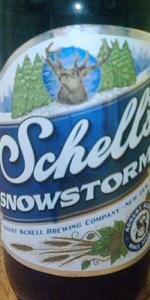 BEER INFO
Brewed by:
August Schell Brewing Company
Minnesota
,
United States
schellsbrewery.com
Style:
Baltic Porter
Alcohol by volume (ABV):
5.80%
Availability:
Limited (brewed once)
Notes / Commercial Description:
No notes at this time.
Added by Buebie on 10-26-2009
This beer is retired; no longer brewed.
Reviews: 59 | Ratings: 69

3.97
/5
rDev
+1.3%
look: 3.5 | smell: 4 | taste: 4 | feel: 4 | overall: 4
Bought a 6 pack of this to tailgate with before the Gophers victory over Michigan State.
Poured into a pint glass (yes I got some strange looks tailgating with a real glass rather than plastic). Pours a dark brown with ruby highlights when held into the sun. Nice creamy tan head with decent retention and leaves a little bit of lacing.
The nose is lightly roasted malts, with a smokey character. Pretty good, but slightly watered down. Just not as impressive as I would have hoped of something from this style. It's still very good, just not what I had hoped.
The taste starts out very bland and muted, and only after the swallow do you pick up any of the flavors. Lightly roasted malts, chocolate and a light smokiness, not overly sweet with a dry finish and a bitter aftertaste from the roasted malts (not from any hops because there aren't any hops here). I think even in a blind taste testing I could pick this out as Schell's. I'm not really sure why, but it just has that Schell's quality. Maybe it's the yeast they use? I know this uses a lager yeast, which is a different story in and of itself, but something about this just screams Schell's to me. It's still good though.
Mouthfeel is on the lighter side of medium, with a smooth feel due to a low carbonation. Nice lingering roasted bitter aftertaste. Drinkability is good, I enjoyed having a bunch of these before the game.
I just realized my score for last years Snowstorm was higher than this. This strikes me as strange, because I actually like this better. It must be my perceptions of each beer within their own styles that account for the difference in scores. I did like this, and for the price tag, this just might have a permanent spot in my fridge this winter.
★
1,738 characters

4.17
/5
rDev
+6.4%
look: 3.5 | smell: 4 | taste: 4 | feel: 5 | overall: 4.5
Pours a very dark brown in color, with red-amber highlights. Head is a medium dark tan in color, and a touch of lace rings the glass nicely as the head subsides.
Roast malts and richer dark malts are prominent in the nose. Cocoa and lighter coffee notes, along with a very, very subtle hop spice are very inviting here.
Sweet and smooth on the first sip, I'm picking up big notes of cocoa and bitter chocolate, along with lingering roast barley malt and a touch of smokiness. Some spicy hop kicking around toward the end. There's a note of 'Cola' in here, which makes for a a good point-counterpoint along with the spice from the hop. Nuttiness, like a filbert or Brazil nut -- oily. Very mild bitterness, just enough to accentuate the sweetness of the malts.
Smooth and somewhat slick, this one coats the palate. Medium-bodied. A very drinkable beer, I can also see how some folks would get a few of these down without realizing its subtle strength (just pushing 6% according to bergbrew).
Afterthought -- My experience with the style has been limited to the very rare brewpub example as well as the bottled renditions available by way of export, but altogether I'd say there's a good amount of variety within the style. This limited offering from August Schell should please both those who are new to Baltic Porters and old salts.
★
1,336 characters
4.13
/5
rDev
+5.4%
look: 4.5 | smell: 4 | taste: 4 | feel: 4 | overall: 4.5
This beer pours a brown color. The head is two inches of tan foam that recedes slowly into lacing that sticks around until the beer is gone. The aroma is of roasted malt, toffee, graham cracker, a hint of baker's chocolate, and a significant amount of Schell's house lager yeast character. The taste is much the same as the aroma, but with everything being a little more pronounced. The mouthfeel is medium bodied with moderate carbonation, and a velvety texture. Overall, this is a really nice beer. It might be a little small for the style, but its depth and complexity more than compensate for that. I plan on drinking a lot of this this winter.
★
648 characters
4.03
/5
rDev
+2.8%
look: 4 | smell: 3.5 | taste: 4 | feel: 4.5 | overall: 4.5
Serving glass: Poured from bottle into Flat Earth Pint glass.
Appearance: Exceedingly dark black-like ruby with a creamy tan head.
Smell: Mild roasted malts, dark chocolate, spicy hops and caramel.
Taste: Very chocolaty with a nice roasted malt character. Secondary notes of caramel, brown sugar and a very light spicy bitterness at the end. The beer sweetens just slightly as it warms.
Feel: Moderate carbonation, with a very smooth clean and almost creamy lager body.
Drinkability: Overall, a highly drinkable roasted lager. While my limited Baltic Porter experience tells me that this beer should be bigger in terms of both body and abv (this is only 5.8%), it is hard to complain when the results are so good.
★
718 characters
4.18
/5
rDev
+6.6%
look: 4.5 | smell: 4 | taste: 4 | feel: 4.5 | overall: 4.5
Always an exiting moment in the year of beer for me. Label is a little less descriptive than it has been in the past. No bother, just curious.
Aroma is caramel with the familiar lager yeast aroma of this brewery (although I suppose it could be the water, but I'll refer to that familiar quality as yeast until I learn better of it). Roast qualities are in the background, yet present. Very slight hints of darker roast (coffee, especially). No discernible hops to my senses.
Poured with a very dark head of about a finger size (after a fairly aggressive pour). Very dark in glass with a deep garnet in the light. Clear with plenty o' bubble action.
First impression - dry, roast, lager, Schell's yeast and reasonably full body. Subsequent drinks show richness, coffee, intermittent mild hop flavor. Slight sweetness up front (touch of caramel). Really coats the tongue with roast flavors and a mild bitterness that extends to a long gratifying finish.
This is as full a beer as I've had from Schell's. Nice body and very well done on carbonation. Smoothness isn't quite to a dopplebock level (not implying it should be), just a tad thinner and fluffier, and nice.
Big enough to want to take time to enjoy the nuance and the changes in flavor as temperatures adjust. Yet, not so big as to not want another (and maybe even another). There is plenty going on, but it's not big and obvious. As with many of the Snowstorm selections temperature makes a difference. Too cold prevents complete appreciation. Well done and thanks to the good folks at Schell's for making these godforsaken MN winters more bearable again. mmm beer.
★
1,624 characters
4.05
/5
rDev
+3.3%
look: 4 | smell: 4 | taste: 4 | feel: 4.5 | overall: 4
Pours a semi-thick, deep and dark brown color with a thin tan head that quickly shrinks down.
Rich roasted malt with some caramel and a hint of hickory smoke.
Much like the nose. Great roasted malt character with some toast and a nice sweetness not unlike caramel and toffee. Maybe just a hint of coffee. Some chocolatey malt as well.
Nice full bodied and creamy mouthfeel. Moderately thick and smooth. Semi-dry finishing.
Not sure what the ABV is here, but I could easily put a few of these down. Schell's has really done a nice job with the Snowstorm Series and this one does not disappoint.
★
597 characters
4.21
/5
rDev
+7.4%
look: 5 | smell: 4 | taste: 4 | feel: 4.5 | overall: 4.5
Once upon a time in Copenhagen Denmark I got smashed at the Carlsberg Brewery. The server just kept on giving me free beer. It was awesome. Just the other day I drank a bottle of Schells Snowstorm 09 and the first thing I thought of was that fine day in Denmark. Baltic Porter, sort of an East European/Scandinavian interpreation of a Russian Imperial Stout. That would be an imperial stout brewed with a lager yeast strain. Thats my undestanding of the style anyway. Much like the porter I had at Carlsberg, Schells baltic porter is very dark, with roasty malt aromas. Flavour is less roasty with a bit of caramel sweetness and some chocolate that finishes slightly sweet and charred. Not much discernable hop character, which is how I remember that Carlsberg beer as well. Very smooth on the finsih. Outstanding!
★
814 characters
3.19
/5
rDev
-18.6%
look: 4.5 | smell: 3 | taste: 3 | feel: 3 | overall: 3.5
My first time reviewing this beer was lost in the latest server crash. I have drank most of a 12 pack since then and my impression has not improved much.
Pours a dark brown with some red highlights. Has a large tan head that has good retention before settling to a thick cap. Moderate amount of sticky lacing is left on the glass. Has a weak aroma. I detect mostly smoke with the Schell's lager aroma. Smoke is the flavor that runs through the complete experience of this beer. A hint of chocolate is detected as well. I think the thing this beer is missing the most is some sort of acidity and sourness. This tastes like an English Stout with the roasted and smokey malt. I wonder if Schells used the same malt as they use in their English Stout. The body is a bit thin for the style. Carbonation is low so it maintains a nice texture. This Baltic Porter is done in the style of Eastern European porters by using a lager yeast. Still a nice drinking beer but lacks that little extra to match the flavor of the greats of the style.
★
1,033 characters
3.45
/5
rDev
-12%
look: 4 | smell: 4 | taste: 3 | feel: 2.5 | overall: 4
Picked this up tonight, excited to be the first to review it. I hope I can do it justice.
Picked up a 6 pack of bottles for around $8, poured one from the bottle into my Sam Adams Turbulator.
Off the pour, a 1.5'' light brown head of froth forms up sitting for a while before falling to leave a thin coating of lace and rings down the glass. A collar of retention is left as well. Color is black, but some mild red hues at the narrower point of the glass.
Aroma is smokey almost with dark chocolate roasty grain aroma, a touch of black licorice, toffee, and also mild malted milk balls. As it warmed coffee could be picked up and some nuttieness to it also. If there are hops in there, the charred aroma drowns it out.
Mouthfeel is a tad thin, some hidden creaminess behind the carbonation keeping both in check somewhat.
Loads of malt in here, reminding me a bit of an Oktoberfest with more stout flavors and removing the Oktoberfest spice kick, if that makes sense.
Charred smokey flavors present, but also not dominating, allowing malt and carmelised sugar flavors to come through. Some bitters into the finish resembling hops with just a little earthy spice.
Also present is unsweetened bakers chocolate, more malted milk balls and toffee.
A delicious brew for the cold months ahead. Not to slight the brewery, because I do enjoy there beers very much butt...
This seems to resemble a dry/ chocolate stout a bit more then a Baltic porter. Mouthfeel could use some oomph in creaminess and the charred burnt character is a little bit overbearing drying the beer out for me.
I still enjoyed it, but a few changes would make me love it more.
Thanks for trying something you haven't done before!
★
1,713 characters
Snowstorm 2009 from August Schell Brewing Company
3.92
out of
5
based on
69
ratings.