Rare Trait

Cerebral Brewing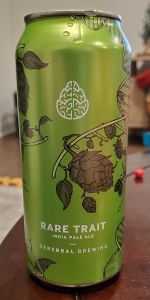 Write a Review
Beer Geek Stats:
| Print Shelf Talker
Style:

ABV:

6.4%

Score:

Avg:

4.13

| pDev:

7.26%

Reviews:

15

Ratings:

From:

Avail:

Year-round

Wants

Gots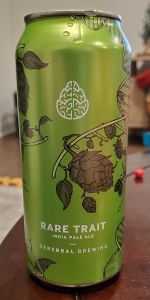 Notes:
Reviews: 15 | Ratings: 68

3.69
/5
rDev
-10.7%
look: 4 | smell: 3.75 | taste: 3.75 | feel: 3.5 | overall: 3.5
It pours a hazy golden color with a fingernail head. Nose of mango and citrus with a touch of piney hops on the back. Taste is citrus hops and mild juiciness with a slightly bitter finish. Light body and medium carbonation.
It's a good NE IPA in a time when every brewery has many of the style.
297 characters
4.18
/5
rDev
+1.2%
look: 4 | smell: 4 | taste: 4.25 | feel: 4.25 | overall: 4.25
L - Haze is as haze does. Solid appearance, head, but not too much lacing. A lower ABV IPA here, and it's appreciated.
S - Great whiffs from their mixed hop bill - strikes a nice balance between the haze and the bitter coastal IPA.
T - Again, struck by the balanced taste of this beer, nice bitterness but has some juice thickness to it. Lovely.
F - Really solid palate impression not heavy not boozy, great carbonation.
O - this could be my daily drinker if they ever start distributing beyond Denver.
502 characters
4.31
/5
rDev
+4.4%
look: 4.25 | smell: 4.5 | taste: 4.25 | feel: 4.25 | overall: 4.25
Pours a very cloudy yellow color with a thin foamy head. Head retention is very mild. Lacing is good. Nice, fresh citrus aroma. Somewhat juicy. Mild pine at the end. Great citrus taste. Refreshing and somewhat juicy. Nice piney resin on the end. Light to medium bodied with moderate to heavy carbonation.
305 characters

4.25
/5
rDev
+2.9%
look: 4.25 | smell: 4.25 | taste: 4.25 | feel: 4.25 | overall: 4.25
A 16 fl. oz. can with no canned on or best before date. Poured into a Lost Abbey teku glass.
Appearance: A hazy golden orange colour with a one finger white head that had decent retention and left nice lacing.
Aroma: Juicy, mango, pineapple and a touch of citrus rind.
Taste: Tropical mango, peach, grapefruit, orange rind and zest. Only lightly bitter.
Mouthfeel: Creamy, medium bodied with moderate carbonation.
Overall: Another nice easy drinking IPA from Cerebral.
473 characters
3.58
/5
rDev
-13.3%
look: 4 | smell: 3.5 | taste: 3.5 | feel: 4 | overall: 3.5
On tap at Das Biergarten. Hazy orange. Smells of tropical fruit hops and something sweet and candy-like. Tastes a little orangey. Lots of that candy flavor behind the initial citrus. A little bit sweet. Low bitterness. Medium body. It's good, but bordering too sweet for it's lack of bitterness.
295 characters
3.69
/5
rDev
-10.7%
look: 3.25 | smell: 4.25 | taste: 3.5 | feel: 3.75 | overall: 3.5
am i the only one not feeling this? it feels like the wool being pulled over our eyes here, this aint tree house guys, and this is not of that family of beers in terms of quality, not even close. hazy is cool right now, but hazy doesnt make it good. i have seem absurd batch variances in this beer already, and honestly, its fine, but its not outstanding, seems like the hype machine has made this one, which is unfortunate, because it will never improve if people keep pretending to like it so much, and all the other beer they make here is fantastic for the most part. post up in the brewery here any given afternoon, and everyone around is drinking one of these disgustingly milky soupy almost green/grey looking beers, fitting in, i swear i can see them fighting a grimace. this level of residual sediment is not necessary to make a hoppy beer appear cloudy, it just looks sloppy to me, and i am not necessarily a steadfast critic of the style in general, not at all. the smell is great here, obviously its been dry hopped pretty robustly, lots of fresh citrus and cut herbs, its attractive to me here. i smell some cereals too, wheaty maybe, even a starchy raw oat thing going on, i think its well built to this point. the flavor tastes sloppy again to me though, the mouthwatering hop aroma doesnt come through due to over the top bitterness in the finish, and that delicate tropical thing is almost lost entirely. the relative intensity of this negative feature has changed each time i have had the beer, suggesting consistency issues, recipe tweaks, or unimaginable instability over short time gradients. its darn hoppy, but it seems super unrefined, and thats not cool in ipa most of the time. i like its creamy feel and more substantial body and even the way the bubbles push through to make it lighter and brighter, but i cant pass this off as amazing beer like everyone else is, its just not.
1,904 characters
3.94
/5
rDev
-4.6%
look: 4 | smell: 4.25 | taste: 3.75 | feel: 3.75 | overall: 4
Solid "New England style" hazy IPA. Very juicy and just damn delicious. I've recently fallen in love with M43 by Old Nation near Lansing Mi, and this is a close second for the style that I've had thus far.
205 characters

4.38
/5
rDev
+6.1%
look: 4.5 | smell: 4 | taste: 4.5 | feel: 4.5 | overall: 4.5
Hazy, juicy, fruity, a bit "fluffy" if you will... this place is great! And this being their house or flagship IPA shows what they are capable of in the hoppy realm of brewing. Thoroughly impressed from my most recent visit to Denver!
234 characters
4.38
/5
rDev
+6.1%
look: 4.25 | smell: 4.25 | taste: 4.5 | feel: 4.5 | overall: 4.25
freshly crowder filled a few days ago and sent to NY from CO courest of Sean the captain...much love!!!
super impressive ipa. drinks too easily. hard to not gulp it. very delicate flavors, soft and easy instead of blast you out of your mind hopped up. really impressive brew.
276 characters

4.03
/5
rDev
-2.4%
look: 4 | smell: 4 | taste: 4 | feel: 4.25 | overall: 4
This is the new-style, hazy IPA that has been growing in popularity around the country, and I am a fan. I don't care if it looks hazy, it tastes good and that's the important thing. I would not have believed it was a 65 IBU beer without seeing that on the sign, as you get a bit of the bitter feel up front but then the fruity hops really take over, so it's another of those "backwards" beers where the flavors present in unusual ways. This is good, because it doesn't leave you with the sticky or dry mouthfeel at the end like most IPAs. Another successful experiment.
573 characters

4.5
/5
rDev
+9%
look: 4.5 | smell: 4.5 | taste: 4.5 | feel: 4.5 | overall: 4.5
Awesome brew. Had the pleasure of visiting these guys out in CO last week. This beer is basically an east coast style IPA with tons of stone fruit notes to accent the hops. Cloudy and dense with a crazy aroma that matches the taste pretty closely. Delicious. Glad my crowlers survived the flight back home to Philly.
316 characters
4.32
/5
rDev
+4.6%
look: 4 | smell: 4.5 | taste: 4.25 | feel: 4.5 | overall: 4.25
L: very Hazy peach color, with a nice creamy frothy head, with very little lacing.
S: Grapefruit, pineapple, orange and Mango, this is a tropical fruit bomb.
T: Lots of ripe tropical fruit, pineapple, orange, Mango, grapefruit a moderate bitterness, but not too bitter.
F: Creamy full mouthfeel with creamy carbonation.
O: A really good Hazy IPA
349 characters

4.2
/5
rDev
+1.7%
look: 5 | smell: 4.25 | taste: 4 | feel: 4.25 | overall: 4.25
Crowler fill into a tulip.
This was one of several Cerebral beers I tasted at the brewery and I was impressed enough to get a growler fill.
The hazy peach color suggests some east coast influence. Plentiful head and the fact that it's not a complete milkshake mean it has my endorsement.
Aroma is pungent with mango and pineapple. Light sweetness. Fruit forward. No complaints here.
Taste is true to the nose. Has that pungent fruit flavor showing some mango and pineapple tendencies. It's understated and doesn't quite pop as much as the most stellar examples, but still is noteworthy and more importantly, it's enjoyable and flavorful.
I'm not mad at the feel on this. Captures what people are seeking these days pretty well. The bitterness appears late and is gentle but dry and very noticeable. Sweet and light-to-medium-bodied otherwise. Easy to drink.
Cerebral is a newer brewer, but I can tell they already have their shit together. This beer is a sign of great things to come I think.
1,004 characters
3.79
/5
rDev
-8.2%
look: 4 | smell: 3.75 | taste: 3.75 | feel: 4 | overall: 3.75
On tap at the brewery. Appearance is orange and darker than the Strange Claw IPA, also very cloudy. Aroma is hoppy and the flavor hangs around a bit better than the Strange Claw. I think this brewery may be on track to something really good, will revisit in a month or two.
273 characters

4.35
/5
rDev
+5.3%
look: 4.5 | smell: 4.5 | taste: 4.25 | feel: 4.5 | overall: 4.25
It seems they're searching for the NE hazy IPA with this one, and they're doing a pretty damn good job. Creamy mouthfeel. Nice nose, grapefruit-orange rind taste. One of the better IPA's available in Denver
206 characters
Rare Trait from Cerebral Brewing
Beer rating:
90
out of
100
with
68
ratings