The Anderson's General Store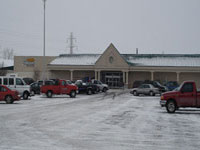 PLACE INFO
Type:
Store
3000 W. Elm St.
Lima
,
Ohio
, 45805
United States
(419) 999-9916
// CLOSED //
Notes:
No notes at this time.
Added by darklager
Ratings: 8 | Reviews: 8
Reviews by chilidog:
4.2
/5
rDev
+4.7%
A home-center type store that has a up-scale grocery, deli, produce section as you walk in. Beyond that is the wine and beer area. They yield one isle side to a nice beer selection from around the country & world. They offer a few from several brewers and offer everything they can in seasonals, esp summer ales and holiday limited runs. They have a nice singles area with singles of every sixer except the seasonals. Plus single bombers of Stone, Rogue & belgiums. Most brews are warm, but for a small cooler area where they do keep three offerings from Great Lakes. The service is fair for what they know from thier distributors. But what is nice is they will special order anything they can get for you by the case. A nice store, friendly staff, easy parking, just the location is out of the way on the west side of Lima.
824 characters
More User Reviews:

3.7
/5
rDev
-7.7%
In town for business, I decided to see if this place was worth the reviews. Glad I went in.
It's a "general store" in every sense of the word. A little bit grocery, a little bit hardware, a little bit small town Wal-Mart knockoff with a bit of a mom and pop feel to it. The beer section was just a couple rows away from the entrance to the store, which is always nice.
And it's a decent selection, too. Brooklyn, Dogfish Head, Stone, Magic Hat, and several other micros as well as a variety of imports. Prices weren't exceptionally steep, with most single 12 ozs going for between $1.79 to $2.49 with a few excpetions like Dogfish Head 90 Minute. I did notice a few aged products that weren't dropped in price, such as the Michelob Christmas chocolate and cherry lagers, but for the most part it seemed the stock was cycled fairly well.
For a smallish city in northwest Ohio, this isn't a bad place at all. If you fnd yourself in Lima and desiring a good beer, this is worth finding.
986 characters

4.85
/5
rDev
+20.9%
This is where I started my quest of trying all types of beers!
Great selection of singles and a very large selection of 6 packs.
Everyone is very knowledgeable on almost every style and have tried most. If they haven't tried one, they will ask another clerk for an opinion. Tell them the style you prefer and they will take all of the time you need to help you out.
They do a nice job of posting rating tickets from Beer Advocate and 1 or 2 others.
If you cannot find it, ask them and they will try and get it for you.
Nice selection of seasonal beers in a select location up in the front of the store with other specials.
Also a great store for finding nice niche items like specialty cheese, wines, coffee and teas.
724 characters
3.7
/5
rDev
-7.7%
I came up here to visit my family, and checked ahead of time to see what was on the BEERFLY directory for this area. I couldn't believe Anderson's was listed. I lived here as a child so obviously I didn't appreciate this place as a location for craft beer. Their shelf included about 70 different types of beer and approximately 40 different brands, not to include the macro brews. There was everything from craft beer to fine imported Belgian and German beers. Check this place out! It's franchised to other places, so there may be one of these in your area too.
563 characters

4
/5
rDev
-0.2%
The Anderson's is probably the best place in Lima to find craft beer, but good luck finding it. Depending on where you start, getting there can be a morass of red lights, road construction and confusing signage.
Once you get there though, things get much simpler. It is located in American Mall and there is plenty of parking. Once you enter, the beer section is right there. The beers are separated by singles and packs, and pretty much everything they have can be found in singles. Good selection, with beers from DFH, Boulder, Tommyknocker etc. Pretty good selection of imports as well.
The service here is pretty good. I was perusing the beers for only a couple minutes before someone asked me if I needed help.
Lima is not exactly a beer mecca and is a headache to reach, but The Anderson's is probably the best place in the area for a good beer selection.
870 characters

3.7
/5
rDev
-7.7%
I counted roughly 32 feet of shelf space devoted to import and micro-brew beers, mostly in six packs. From Souix City Ginger Beer to a 3-liter bottle of Arrogant Bastard, complete with a padlock for the stopper lid.
A spotty but wide selection of beers and a five-foot section of single bottles. Brands noticed include Sierra, Dogfish, Abita, Unibrou, Dixie, Rogue, Sapporo, Great Lakes and collectors "mini-kegs" of Molson and Labatts.
The staff is friendly and available, but since this is a department/grocery/hardware store, they aren't up on all the latest stuff.
I've been told they'll order cases of whatever you want, if they can get it, that would be nice since the two things I was searching for, Abita TurboDog and Pilsener Urquel, were only available in six-packs.
A good selection, probably the best in a 30 or 40 mile radius. They don't have everything I'm looking for, but there was plenty of interesting stuff.
938 characters
4
/5
rDev
-0.2%
The selection and quality are great. Plenty of good domestic micros and foreign. Unibroue, Stones, Rogue, etc. to name a few. Quick checkout and plenty of singles. You'll need to be knowledgeable as the staff are not, but their buyers know what they're doing. Easy parking, difficult location.
293 characters
3.9
/5
rDev
-2.7%
The Anderson's is a general store so their employees aren't real beer savvy, but they do carry a rather large selection. They have a large selection of 6 packs and an even larger selection of singles. Almost all of the beers are American Micros, but there are a few imports. All of the really sought after beers are gone pretty quickly after restocking, and it can take quite a while for them to get stocked again. There have been quite a few times I've walked out with the last 6 pack of a beer, so while they do have a nice selection, they don't always have them in quantity. That isn't surprising though since it is the only beer store in the Lima area that I know of, and as a result most people around here don't know what good beer is. Overall it is a nice place that I probably couldn't live without.
807 characters
The Anderson's General Store in Lima, OH
4.01
out of
5
based on
8
ratings.