Grand Rye Pale Ale

Old Nation Brewing Co.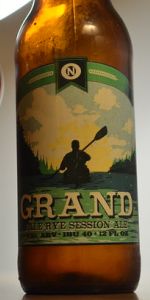 Write a Review
Beer Geek Stats:
| Print Shelf Talker
Style:

ABV:

5.5%

Score:

Avg:

3.86

| pDev:

7.25%

Reviews:

9

Ratings:

From:

Avail:

Rotating/Seasonal

Wants

Gots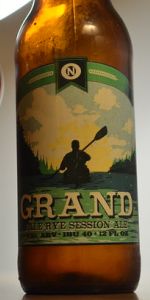 Notes:

unlikelyspiderperson from California
4.38
/5
rDev
+13.5%
look: 4.75 | smell: 4.25 | taste: 4.25 | feel: 4.75 | overall: 4.5
Pours a deep copper/amber with a thick foamy head, just the yellow side of white, that persists and laces well. Very opaque.
Smell was vibrant the second I opened the can, sweet and lightly herbal, notes of ginger and candied lemon. Some scents like an apple crisp or pie filling.
Taste is sweet and floral hoppy with just a bit of spiciness. The aftertaste drifts away toward bitter citrus peel.
Mouthfeel is wonderful for a pale ale, crisp and clean without being thin.
This is my kind of pale ale, lots of modern hop flavors, some complexity in the malt from the rye, definitely leans heavily toward what most would call and IPA. Very nice citrusy brew.
Aug 21, 2018
Brenden from Ohio
3.76
/5
rDev
-2.6%
look: 4.25 | smell: 3.75 | taste: 3.75 | feel: 3.5 | overall: 3.75
A: This is a pretty beer, a deep golden-orange beer with brightness shining through with a big, foamy and firm yellow-tinted head. It keeps up for most of the duration, leaving lacing in excellent quantity on the glass.
S: Hops are earthy and floral on the nose, and maltiness is firm with some softer raw doughy notes. A bit of spiciness from rye pulls through.
T: Floral notes are strong, and there's a certain steeliness / coppery note I associate with English ales, though I don't believe any English hops are in here. Spiciness from rye develops as it goes.It reminds me of an old-school West Coast IPA, though it fades out a little as I drink it.
M: Medium-bodied and semi-dry, the crispness is firm but not lasting through the finish, in which a little of the body falls off, if briefly.
Jun 29, 2017

Blackop555 from Michigan
4.08
/5
rDev
+5.7%
look: 4 | smell: 4 | taste: 4.25 | feel: 3.75 | overall: 4
Pours amber. Thick, tall, off white head lasts a long time with light lacing
Smells caramel malts, doughy, spicey rye, citrus and earthy.
Tastes spicey rye, fruit, caramel malts. Followed by earthiness and pine. Finish is dry with citrus peel and rye linger. Medium body and fizzy medium carbonation.
Jun 11, 2017
buschbeer from Ohio
3.58
/5
rDev
-7.3%
look: 4 | smell: 3.5 | taste: 3.5 | feel: 4 | overall: 3.5
12 FL OZ bottle
Served in a tulip glass
This beer pours a rich amber color with burnt orange highlights. It is topped with an inch of beige head that leaves rings of lacing.
The aroma is malty. I do get some spiciness from the rye and some floral hops.
The taste is a balance of malt and rye. There is some bitterness in the finish.
Medium mouthfeel
The rye saves this beer from being a boring pale ale making it at least a little interesting.
Aug 31, 2016
carlborch from Michigan
4.04
/5
rDev
+4.7%
look: 4 | smell: 4.25 | taste: 4 | feel: 3.75 | overall: 4
Grand Pale Rye Session Ale in 12 fl oz bottle. Pours a deep golden-caramel with a slight haze and forms a tall off-white-to-tan head. The carbonation appears moderate-to-high. Spicy rye notes in the nose, followed by fresh floral notes and multi-layered citrus. The nose is very appealing! The body is medium and there is evident carbonic acidity. The lingering is bitter and forward with hop notes to follow. It is short at the rear of the palate. The malt is restrained. Nice Belgian lace! Very appealing.
Jul 23, 2016

jduprey007 from Michigan
3.86
/5
rDev 0%
look: 4 | smell: 3.5 | taste: 4 | feel: 3.75 | overall: 4
Picked single up at Deerings Market in Empire MI. Poured into half pint class. Finger of foam, decent lacing. Opaque amber. No aroma to speak of. Nice balance between bitter from hops and rye flavor. A little floral aftertaste. Definitely a sessionable beer. Would drink again. Seen this brewery on highway exit sign, but felt uncomfortable stopping with 3 hours left in drive. Now that I know that they bottle....
Jul 03, 2016

StoutHunter from Michigan
3.9
/5
rDev
+1%
look: 4.25 | smell: 4.25 | taste: 3.75 | feel: 3.75 | overall: 3.75
I picked up a bottle of Old Nation's Grand for $1.79 at The Lager Mill. I haven't seen there many rye session beers and I'm interested to check this one out, so lets see how it goes. 2015 Vintage. Poured from a brown 12oz bottle into a imperial pint glass.
A- The label looks good, it's got a good design to it and it's eye catching. It poured a cloudy caramel orange color that takes on more of an orange color when held to the light with a finger and half worth of creamy and bubbly off white head that dies down to a thin ring that stayed till the end and it left some nice patchy lacing behind. This is a very nice looking beer, I have no complaints at all.
S- The aroma starts off with a medium amount of sweetness with the malts being the first to show up and they impart a light sweet malt, caramel malt, caramel and bready aromas with some doughy yeast showing up in the background. Up next comes the rye which imparts a nice spicy rye aromas and it's followed by the hops which impart some nice fruity hops aromas with some juicy and citrus like aromas with a little bit of earthiness in the background. This beer has a very nice aroma, it's just what I look for in the style.
T- The taste seems to be fairly similar to the aroma and it starts off with a lower amount of medium sweetness with the malts still being the first to show up and they impart the same aspects that they did in the aroma with that same bready and caramel malt aspects coming through. Up next comes a higher amount of medium bitterness with some spicy rye flavors and it goes into the hops which are lighter than they were in the aroma and the fruitiness doesn't stick out as much as it did. On the finish there's a little bit of lingering bitterness with some hops and spicy rye showing up in the aftertaste. This is a pretty nice tasting beer, but I wish the hop profile was more like it was in the aroma.
M- Fairly smooth, slightly creamy, a little crisp, medium bodied with a medium amount of carbonation. This beer had a pretty nice mouthfeel that worked well with it, but I wish it was smoother.
Overall I thought this was a pretty nice beer and I thought it was a good example of the style, it had all the aspects that I was looking for, but I still think the hop profile fell a little short when it came to the taste, but it was still a nice tasting beer. This beer had ok drinkability, I could drink a couple, but it might start to ware on me after that. What I like the most about this beer is the appearance and aroma, they are both very nice and the highlights of this beer. What I like the least about this beer was the hop profile in the taste, I wish it was more like it was in the aroma. I would buy this beer again, it's nice for what it is and I would recommend it. All in all I liked this beer and I thought it was pretty solid. It made for a good first impression for this brewery and it's above average for the style. Nice job guys, this is a solid beer.
May 05, 2016
Raime from Greenland
4.68
/5
rDev
+21.2%
look: 4.75 | smell: 4.75 | taste: 4.75 | feel: 4 | overall: 4.75
Old Nation Grand River Rye Pale Ale.
A favorite up and comer brewery of mine without a singular doubt. Don't think I've had a beer outta them that scored less than a four but I also haven't had anything legendary. As of yet at least. Anyway, scored this single at $1.69 so In a hoping for something great.
Look - From the twelve ounce bottle hard poured into a pint glass. Only able to get about six ounces into the glass before the head takes over the rest. Slow it down on this one guys. After all is said and done, the brew pours a deep amber with a monster white head that starts leaving immediate stick and forms mountains and craters all up and down the glass. Carbonation appears to be fairly high to my surprise. Looks promising. Lacing and stick line a good portion of the glass.
Smell - An immediate bouquet of fresh cut flowers know the nose and the fresh smell of spring time is really an easy way of explaining the nose. Fruit juices from the hops are ever apparent and come through in waves of grapefruit and fresh squeezed mango. Rye is there as well but it takes a back seat as the malt bill. This is one DAMN GOOD smelling beer.
Taste - The rye bread does come through more here but it simply balances out the rest of the flavors. Once again, as floral a flavor profile I have ever come across with an ever present and huge fruity backbone that holds the whole thing together quite beautifully. Fresh squeezed grapefruit galore without anything coming off as artoficial. Lemon grass, lemon peels, more rye, bits and pieces of white bread with more orange than ever before. Not quite a perfect five as it could be a smidge stronger, but this guy is delicious.
Feel - The body on this brew is the only thing that doesn't truly impress me as much as the other profiles. It is very smooth with a moderate amount of carbonation and fairly good flavor retention, along side a nice creamy factor, but the body itself is just a bit thinner than I would like. Swallows easy as can be with a bit of lingering rye on the throat.
Overall - A beer that will unfortunately, never receive the recognition it truly deserves. Not a perfect five, but it is surely somewhere in my top twenty or thirty. The best random grab from a brewery virtually unknown to even South East Michigan residents still. Beers like these are the very reason I don't chase trucks or drop thousands in a month on " whalez" or whatever the fuck they are called. All the gold can be found in your own back yard, if you give it a chance.
Feb 25, 2016
superspak from Ohio
4.13
/5
rDev
+7%
look: 4.5 | smell: 4 | taste: 4 | feel: 4 | overall: 4.5
12 ounce bottle into pint glass; no bottle dating, but was released recently. Pours lightly hazy deep orange/amber color with a 2 finger dense and rocky off white head with great retention, that reduces to a nice cap that lasts. Dense soapy lacing clings down the glass, with a fair amount of streaming carbonation. Fantastic appearance. Aromas of big grapefruit, tangerine, pineapple, peach, mango, lemon zest, orange peel, pine, light caramel, spicy rye, toasted bread, and floral/grassy earthiness. Damn nice aromas with great balance and complexity of juicy citrus/tropical/pine hops and moderate bready rye malt notes; with great strength. Taste of big grapefruit, tangerine, pineapple, peach, mango, lemon zest, orange peel, pine, light caramel, spicy rye, toasted bread, and floral/grassy earthiness. Moderate pine/citrus rind/spicy bitterness on the finish; with lingering notes of grapefruit, tangerine, pineapple, peach, mango, lemon/orange peel, pine, spicy rye, toasted bread, and floral/grassy earthiness on the finish for a while. Damn nice complexity, robustness, and balance of juicy citrus/tropical/piney hops and moderate bready rye malt flavors; with a great malt/bitterness balance and zero astringent hop flavors after the finish. Moderate dryness from bitterness that increases through the glass. Medium carbonation and body; with a very smooth, moderately sticky/resinous, and lightly creamy/bready balanced mouthfeel that is great. Alcohol is very well hidden with minimal warming present after the finish. Overall this is an excellent pale ale. All around great complexity, robustness, and balance of juicy citrus/tropical/piney hops and moderate bready rye malt flavors; and very smooth and easy to drink. A very enjoyable offering.
Feb 08, 2016
Grand Rye Pale Ale from Old Nation Brewing Co.
Beer rating:
86
out of
100
with
33
ratings