Doc Ponds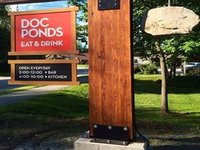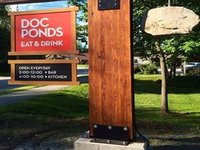 PLACE INFO
Type:
Bar, Eatery
294 Mountain Rd
Stowe
,
Vermont
, 05672-4627
United States
(802) 760-6066 |
map
docponds.com
Notes:
None provided.
PLACE STATS
Reviews:

15

Ratings:

pDev:

9.89%
Reviews: 15 | Ratings: 31

4.4
/5
rDev
-1.1%
vibe: 4.5 | quality: 4.25 | service: 4.25 | selection: 4.75 | food: 4.25
Stowe, Vt. what a place, great place to visit all year round, but especially nice in summer, and this spot is a fine place to check out, enjoy a tasty beverage and a nice meal....comfortable foom, with 2 outdoor area and a lower room that's nice for a larger group. Fine is a bit more upscale than the typical beer and a burger joint...the burger was tasty, but comes with no fries....c'mon guys...on an earlier visit I tried the crispy chicken sand wedge....outstanding and well worth ordering. The selection of draft, bottled and canned beer is really the star here...20-25 on tap, from places like Lawsons, Hill Farmstead, River Roost, Ten Bends, and Zero Gravity...loads of cans/bottles broken down on the menu into "First Loves, Gateway, Hops, the Funk, Malt, Monastic, Wild Style, Spice and Fruit" they respect beer and show it by offering an awesome array of the good stuff....High quality beer and food, friendly and informative staff, inviting, pleasant and art filled room....Must visit spot if in the area...
1,025 characters

4.43
/5
rDev
-0.4%
vibe: 4.25 | quality: 4.5 | service: 4.25 | selection: 4.75 | food: 4
Super friendly, attentive staff. Good food, albeit small portions. Amazing beer selection; would go back over and over for this alone. Had my first Hill Farmstead beers here.
174 characters

4.38
/5
rDev
-1.6%
vibe: 4 | quality: 4.25 | service: 4.5 | selection: 4.5 | food: 4.5
Went here for lunch (October 30th, 2017).
I had their normal Doc Ponds burger, my son had his chicken fingers and he loved them. I had 2 awesome HF beers (Society and Solitude #6 and Self Reliance #5).
Very impressed with the vibe (Olympic re-runs) with many people at the bar, barely any seats looked available, but with my son and me, we had good service. Everything came out on time and cooked the way we liked it.
Would go back in a heartbeat.
447 characters

4.43
/5
rDev
-0.4%
vibe: 4.5 | quality: 4.75 | service: 3.75 | selection: 4.75 | food: 4.25
Hit up Doc Ponds twice while in Stowe; I stayed right up the street so it was easy as pie to get there but I would've made the return trip regardless. Big fan of the vibe, beer selection and quality. Their drink specials, from this MA-resident's perspective, are unreal. $4 pints of Edward? My god. Insert a line into my vein please and here - take this, it's my epitaph - "Died Drinking Edward for Cheap. Worth It."
Awesome tap list consisting of over a dozen great local (Hill Farmstead, Foley, Von Trapp) and national beers (CA, OR) consisting of all styles, even sours. Bottle list was long and strong but I stuck to tap. Food was great - nice selection of appetizers that are swell with beer and solid main fair. I had the kiddos in tow and they did a great job bringing out their food quickly to settle them down. Small seating area outside, nice long bar with TVs (could do without but not a knock) and another section around the corner.
50/50 on service between trips. Great service outside when it was a mellow Wednesday afternoon. Got pretty crowded on Friday starting around 5PM ($5 Headys!). We were sitting inside near the bar, got lost in the shuffle and opted for the check after waiting for a while for our server to return; they apologized profusely but the moment had passed. Still, though - I would've visited a third time just for the beer. Great spot.
1,374 characters
4.29
/5
rDev
-3.6%
vibe: 3.75 | quality: 4.5 | service: 4.25 | selection: 4.5 | food: 3.75
Stopped in mid afternoon on a Monday, plenty of people at the bar and scattered around a few tables. Great draft list, really pleasant service. The vibe and food was a bit of a letdown, however I feel that the vibe depends on the other patrons at the time. Despite those few shortcomings I'd return for a pint any time.
319 characters
4.19
/5
rDev
-5.8%
vibe: 4 | quality: 4.5 | service: 3.75 | selection: 4.5 | food: 3.75
Stopped off here for a snack and a few brews on our way back to our hotel from Von Trapp resort.
As you walk into Doc Ponds, the first thing you notice is a pretty sizeable bar area in front of you and to your immediate right. I think there was a good size dining area in the back as well, but as there was plenty of open seating at the bar (around 3:00), we decided to settle down there. The vibe here is very informal and laid back, and this struck me as a very comfortable place to hang out with a beer or three. The beer selection here was top notch, with around 30 beer on tap, and then a decent bottle list to boot. The draft selection was a bit more diverse than most places we visited in town. While there was still an emphasis on local beers, I was pleased to see that they the BA impy stout from Central Waters as well. Food was pretty decent. We just got the fries and an order of wings, but they were prepared very well (which we found to be pretty typical in the area. Even beer bars and pubs take their food preparation pretty seriously here). Service was good. The waitress/bartender wasn't particularly engaging, but she was friendly enough, and drink and food orders came quickly. This place and Blackback both seemed to be well supplied with Alchemist beers, and so one could order cans of Heady Topper and/or Focal Banger here.
Good spot for sure. Would definitely stop by again if we're back in town.
1,436 characters

4.59
/5
rDev
+3.1%
vibe: 4.5 | quality: 4.5 | service: 4.75 | selection: 4.5 | food: 4.75
Ate/drank at Doc Ponds two nights in a row during a recent trip to Stowe. The town was very busy(Mass, school vacation week) and both visits were very good. Excellent burgers, fries, Bailey Blue Aranccini, roast chicken. Very good service, you could tell the servers hosts etc. knew their stuff both in terms of food/booze and how to run a dining room and bar, yet a very laid back comfortable vibe. Plenty of top notch VT beers and ciders. Several Alchemist, Lawsons, Hill Farmstead. Looking forward to my next visit.
525 characters

4.66
/5
rDev
+4.7%
vibe: 4.75 | quality: 4.75 | service: 4.75 | selection: 4.5 | food: 4.5
Stopped in for the first time on the way back from Maine, and were pleasantly surprised. First thing you notice is a wall of vinyl, and two turntables churning out albums. My wife and I sat at the bar and had the Wednesday $4 Hill Farmstead Edward pint special. At that price, I'm not sure why you'd order anything else! The draft list had other Hill Farmstead, Lost Nation, Zero Gravity, Maine Beer Co (Nitro!), and many other local offerings including cider and ginger beer. Duchess du Bourgogne was delicious, as was the Val Dieu Grand Cru. Heady and Focal were both in stock, though we did not have any (hence the user name). The bartenders, Trevor and Dave, steered us in multiple directions, each one landing us exactly where we wanted to land. The food (I had the Pork Belly sandwich, she had the 1/2 chicken) was amazing. This may quickly become a weekly stop for us, and we both commented on how foolish we have been not to stop in sooner!
949 characters
4.03
/5
rDev
-9.4%
vibe: 4.5 | quality: 4 | service: 4 | selection: 4 | food: 3.75
A pretty cool spot that makes a great lunch spot on the way to/from HF from Waterbury. The tap list was solid and comparable to other places in town although was expecting a little better HF selection. Food was up and down. Brisket sandwich was amazing but the pork tacos were not very good. Atmosphere was excellent, especially in the lower are that we were seated with the fireplace. Would definitely return.
417 characters

5
/5
rDev
+12.4%
vibe: 5 | quality: 5 | service: 5 | selection: 5 | food: 5
Our new VT favorite. Can't say enough. I rated it 5 for 5! Multiple Hill offerings, Heady & Focal obviously. The bar manager (Dan?) said they get their Alchemist delivery on Thursday and it's usually gone by Sunday! Crazy! It's their local beer and it still sells out!! It was bonkers packed but service was super kind. Took a little longer to get our food than I would hope but we didn't care. Food was outstanding and cheap, especially for Stowe. The burger, fried oysters and 1/2 chicken we the standouts. And then the MUSIC. THE MUSIC! All from two record players. Sounded so good and made for an awesome vibe. One of the owners was apparently born in my hometown in Florida. Open a DP in Florida, please!! The draft list was pretty epic and the bottle list hit all of the big boys! We dropped some coin on a Backacre and a large format Brasserie Dunam from Quebec. Unreal. Cheer and we will see you this summer.
917 characters

2.7
/5
rDev
-39.3%
vibe: 2.5 | quality: 3 | service: 2.5 | selection: 2.5 | food: 3
We went here for the first time 2 days ago, with high expectations, as user ratings looked good.
To be blunt, we were disappointed. The tap list was average at best, with pretty high prices, ~ a buck or more higher than similar pours in Waterbury. There was no Hill Farmstead or Lawson's; Alchemist beers were 'sold out' (on a Sunday night during a much less than stellar ski season). Since these were the only good deals on the menu, I suspect that they 'sell out' pretty early most days. Service was slow and negligent. The place was about half full and it took 40 minutes for our dinners to arrive. No one asked me if I wanted a second beer (which I did not after perusing the draft list, but still...). Acoustics are horrible; you might want to exchange texts rather than trying to converse. My brisket sandwich was decent, fairly priced and pretty large. Not noteworthy but solid. The side of braised greens was pretty much the highlight of the evening. It could have been worse, but certainly no compelling reason to return.
1,043 characters
4.06
/5
rDev
-8.8%
vibe: 4 | quality: 4.25 | service: 4.25 | selection: 4 | food: 3.25
A definite improvement over the VT Ale House, which is what this place used to be, not even a year ago. They cleaned the place up, took out the ski lodge vibe and gave it more of a minimalistic feel. Good sized bar, plenty of seats. Big wall of vinyl with a couple turntables. Beer selection notably improved as well, with all the quality VT brews now on tap, more Hill Farmstead, Lost Nation, etc., though still catering to those who'd prefer a Switchback or Long Trail. Heady and Focal in cans. Haven't really sampled the menu yet, other than some loaded fries as a snack...they were okay, nothing great, and the "brisket" promised on the menu was a bit of a let-down. Service is fine in my experience.
Revamping this place has definitely upped the quality of Stowe's bar scene overall, and this makes for a good stop whenever you're in town. Check out the Bench right down the street as well (makes for a good walk, actually).
930 characters

4.6
/5
rDev
+3.4%
vibe: 4.5 | quality: 4.5 | service: 4.75 | selection: 4.75 | food: 4.25
Went here on a whim on Sunday night after our day trip to Burlington. Came into a bar that was about 50% full and the record player (awesome) was jammin' out some Rolling Stones. Service was on point, two bartenders came frequently to ask if we needed anything and we never had an empty glass for long. HUGE draft list of over twenty beers with two additional pages dedicated to bottles & cans (just clap your hands). Had Fiddlehead IPA, Von Trapp Oktoberfest, and a can of Focal. We had some apps and they were amazing. Just a cool place to have some craft beer in Stowe while avoiding the family crowd.
604 characters
4.76
/5
rDev
+7%
vibe: 4.5 | quality: 5 | service: 4.75 | selection: 4.5 | food: 5
New(ish) place in Stowe, heard great things about the food and good prices for local cans. Was amazed how good this place was. Food was amazing (had a cuban sandwich and mac n' cheese) and cans of Focal. Server was super friendly, relaxed atmosphere, good people. I would go here every week if it was in my hometown....
319 characters

5
/5
rDev
+12.4%
vibe: 5 | quality: 5 | service: 5 | selection: 5 | food: 5
Right out of the gate this place is killing it. 24 draft lines including a few from Hill Farmstead, Fiddlehead's Mastermind, and Duchesse du Bourgogne. Very impressive bottle list as well. The bar has definitely been raised for the other establishments in town with their food menu. Smoked Bluefish Melt and Bailey Blue Balls were fantastic! My guess is by next July when The Alchemist's 2nd brewery is open to the public Stowe (with so many more beds than Waterbury) will be recognized as the go-to beer destination in Vermont with The Bench, Crop, and Piecasso; as well as the new von Trapp brewpub that is planned for the future. They also have 2 turntables with over 1000 record albums for your listening pleasure. Off street parking and 2 outside drinking and eating areas and Kid's menu.
793 characters
Doc Ponds in Stowe, VT
Place rating:
4.45
out of
5
with
31
ratings