Dismiss Notice
Extreme Beer Fest:Los Angeles
Join us December 9th in Los Angeles for the ultimate throwdown of craft beer creativity!
Learn more...
Dismiss Notice
400 Pound Monkey
| Left Hand Brewing Company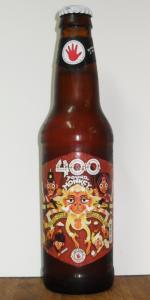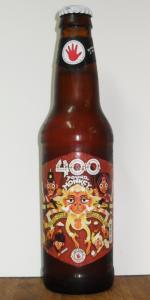 BEER INFO
Brewed by:
Left Hand Brewing Company
Colorado
,
United States
lefthandbrewing.com
Style:
English India Pale Ale (IPA)
Alcohol by volume (ABV):
6.80%
Availability:
Year-round
Notes / Commercial Description:
No notes at this time.
Added by garcia2a on 09-03-2008
This beer is retired; no longer brewed.
HISTOGRAM
Ratings: 2,161 | Reviews: 553

3.98
/5
rDev
+11.2%
look: 4 | smell: 3.5 | taste: 4 | feel: 4 | overall: 4.5
Semi-clear, amber-y/coppery color, nearing crimson...nice, lush, creamy off-whitish head.
Soft aromatics, light citrus esters, lemon/lime/orange...not too bitter, not too sweet.
Drinking it: a bigger flash of fruit boards the palate, a small flash of bitterness, but overall refreshing and juicy...very tasty.
Zap! The bitter hops bite for a second, then fall back, but hop flavor really hangs in for the long haul. Bitterness doesn't last, flavor does. Delicious, really. Very bright, and beautiful. An IPA I can heartily recommend to people who aren't into punishment.
Mouthfeel is good, for a regular, not Imperial/Double IPA...maybe even great, compared to an average IPA.
The fine folks at Left Hand made the mistake of giving this very nice IPA a name that suggests a bigger beer than this is.... it conjures up images of something big, and delivers instead something good and tasty.
895 characters
3.68
/5
rDev
+2.8%
look: 4 | smell: 3.5 | taste: 3.5 | feel: 4 | overall: 4
Had this on tap at The Stable in St. Louis.
I am a big fan of the IPAs and this one was pretty typical of that style. Nice deep orange color with a nice head. Like most IPAs you could smell a little pine and citrus. Nice hop balance and good body. Good but not a standout it. Worth trying if you come across is. Left Hand does good work.
338 characters

3.5
/5
rDev
-2.2%
look: 3.5 | smell: 3.5 | taste: 3.5 | feel: 3.5 | overall: 3.5
Hmmm. 400 lb. Monkey? Never heard of this one. It pours a somewhat light amber color with orange highlights. It's clear and doesn't have any haze at all. The head is off-white and rises to about two fingers. Retention was pretty good and lacing was sticky, but a little light. Not bad.
The nose is a little less than impressive. It's weak and could use more strength. Initially, it's smells malty and sweet. A mix of caramel and pale malts is noted. Smells like they're pretty even with neither smelling stronger. Toasted malt seems to be a secondary malt, but is noted. Not my favorite thing Hops are too light for an IPA. Yeah, they're here, but aren't as strong as they need to be. The hop profile smells mostly floral and earthy, but there are light grapefruit and lemon citrus scents noted. It's not bad, but it doesn't really grab you in any way. Smells like a pretty well balanced American IPA to me.
The flavor profile is about the same. It's malty and a slightly sweet up front. Caramel, toasted, and pale malts are noted. They give it a nice solid base and don't offend in any way. The caramel variety isn't overly strong. The hop flavor is a mix of citric and floral varieties. Light grapefruit and lemon are noted. It's a little bitter, but is balanced a great deal by the malt presence. It doesn't seem to lean too far in either direction. Floral hops give it a slightly earthy quality. It is extremely well balanced. I'm not big into balanced American IPAs, so it's not really doing a great deal for me. I have no clue what the abv is, but it doesn't seem strong. It finishes...surprise...with a nice balanced malty and hoppy flavor.
400 lb. Monkey isn't near the beast the name suggests in terms of body. It's about medium in that respect. Carbonation is middle of the road. It doesn't help or hurt it in any way. Drinkability is above average. That may be a little nice. It doesn't have a bad flavor by any means, but it isn't overtly good. It goes down somewhat easy, but I can't say I'm enjoying it very much. There are far superior IPAs out there. It's pretty good, but I wouldn't order another.
400 lb. Monkey is a little disappointing. I was hoping for a standout IPA, but instead got a nicely balanced IPA that doesn't stand out in any way at all. It wouldn't be hard to improve. Just add more hops. Its balance is its biggest weakness. I guess there might be some out there who prefer balanced IPAs, but I want hop pizzazz in the hop department. Other than that, a little more strength in the nose would also help. Meh. It's above average, but could be better. Definitely worth a try, but I wouldn't suggest going out of your way to track it down. It's a lamb cloaked with a beast's name. Let's not indulge in gratuitous, erroneous nomenclature, guys. There's no need.
2,798 characters
3.85
/5
rDev
+7.5%
look: 4 | smell: 4 | taste: 4 | feel: 3.5 | overall: 3.5
Had this on-tap at the Newstead public house. Poured into pint glass slightly chilled producing a nicely filtered golden color, very clear with a thick head that lasted quite a while. Nose was quite good full hops, sweetness, floral notes in the background. Taste was of the same, not an overly powerful brew of the style but certainly has a great taste with decent mouthfeel, moderate amount of bitterness in the middle but nothing that will kill the palate. A nice beer overall and will be glad to go back and have another soon.
530 characters
3.98
/5
rDev
+11.2%
look: 4.5 | smell: 4 | taste: 4 | feel: 3.5 | overall: 4
Left Hand's 400Lb. Monkey pours up evenly with a moderate creamish-white head that tops the bright sunset orange-tawny amber body. Solid head retention! The grassy, slightly earthy aroma definitely shows some late kettle green hopage combined with some fruity esters (apple, pear, melon) & some sweet, grainy (rye bread), toasted caramel/toffee notes. The flavor starts off rather sharp with a toasted (biscuity/rye bread) character that quickly carries into a marked, slightly rough bitterness that delivers a dryish, spicy, warming finish. This medium-full bodied IPA grows on the palate, but lacks some continuity from mid-body to the finish. Overall, I found this session-style American IPA to be quite approachable & refreshing. This one may not impress the hopheads, but then again... "any monkey could throw 400 pounds of hops into the kettle and make an IPA."
CHEERS! Beertracker
*Taster's Note: On tap at the 2nd Annual McNellie's (Blue Dome) Microbrew Festival.
973 characters
3.45
/5
rDev
-3.6%
look: 3.5 | smell: 3.5 | taste: 3.5 | feel: 3 | overall: 3.5
A - Poured a somewhat cloudy, orange/amber color with a fizzy, thin, off-white head. It left minimal lacing.
S - It smelled of caramel, citrus and some grasses.
T - It was malty and sweet with very little hop character. A slight bitter hop bite emerged as the beer continued to warm up. Otherwise, it seemed like a mild APA.
M - It was soft and a little thin for an IPA. A light to medium-bodied beer.
D - Not the best IPA. The bartender admitted that it tasted much better earlier when he tried it in Colorado.
515 characters
3.68
/5
rDev
+2.8%
look: 4 | smell: 3.5 | taste: 3.5 | feel: 4 | overall: 4
Had on tap tonight at 11/29/08 at Flossmoor in a pint glass.
Appearance was dark copper with a one inch off-white head that stuck around and actually left some pretty good lacing.
Aroma was pretty malty up front with lots of caramel and toffee with the hops being somewhat in the back and quite earthy and floral.
The flavor was also dominated more by the malt with lots of caramel sweetness to begin with then the hops kicked in midway but were pretty tame in bitterness with a nice earthy, floral, and citrus quality to them.
Mouthfeel was medium bodied, pretty easy to drink.
This seemed more English in style to me. It wasn't bad but I have certainly had better IPAs. The flavor seemed rather bland though it was not bad by any means. I wouldn't fully recommend it myself but my buddy enjoyed it a lot.
811 characters
3.19
/5
rDev
-10.9%
look: 4 | smell: 2.5 | taste: 3 | feel: 3.5 | overall: 4
This beer has a nice medium amber-orange hue to it with nice lacing and a good head. Expected the beer to be a lit "bigger" becuase of its name. I was told it was a double IPA and it did not seem to have the smeel or tast of large overhoppiness. The pininess of the hops were present, but not overpowering It could be that it was very well balanced. It can be easily drank and enjoyed, however I would not put it in the same catagory as either Racer X or Breckenridge 471.
472 characters

3.76
/5
rDev
+5%
look: 4 | smell: 3 | taste: 4 | feel: 4 | overall: 4
The 400 lb. monkey is served on tap at the brewery.
It pours a slightly hazy copper-orange color with just a skiming layer of head. Excellent lacing is left behind.
The aroma just isn't that strong, epecially for an IPA. It doesn't have the dominant dry-hop smell that I look for in this style.
Taste is good and fruity with citrusy orange and pine flavor. At times I sense a slight roasty quality but overall it's a good balance of hops and sweetness.
Mouthfeel is nice with medium body and a good level of carbonation. Drinkability is certainly there.
Not sure about the name but it's a pretty decent IPA.
612 characters

3.24
/5
rDev
-9.5%
look: 4.5 | smell: 3 | taste: 3 | feel: 3.5 | overall: 3.5
The look to this beer was dark amber, lots of lacing, tons of carbonation bubbles And a creamy head that did not quit.
Smell was your average ipa nothing really standing out but some malt notes followed by slight hop notes.
The taste was of some Belgium yeast strain possibly? German malt profile and a mild hop bitterness.
Mouth-fell was smooth.
I had this on tap at brouwers and ordered it because I had not seen it ever before. I imagine they will start marketing this one and throw it in catchy, cool looking bottles if they have not already. It is easy drinking and it looks great. As taste goes it was boring. Especially to be sending over here to the northwest, were we have tons of IPAs with lots of character. CHEERS
729 characters
3.97
/5
rDev
+10.9%
look: 4 | smell: 4.5 | taste: 4 | feel: 3.5 | overall: 3.5
Had this on tap the other day at the DR in SpringHouse. Kinda of an unusual beer, but yummy!
The beer poured a rich amber color, pretty clear with a half inch cream colored head that was retained for most of the session.
The bouquet has earthy hops, with hints of orange peel, pine, and grapefruit with a fleeting hint of malt. Now this lead me to believe that I was going to have a full bodied, hop lush beer. Not what I got. The taste has light hints of hops, but lots of full mouth caramel and english toffee. The beer does have a pleasing aftertaste.
The beer is actually medium bodied and had good mothfeel, but it does cloy, so my advice would be to have two in a sitting.
For IPA/PA purists, this is not your beer, but a tasty one ta' boot. Lets hope that the monkey's 500 pound hairy sister has more hops.
818 characters
400 Pound Monkey from Left Hand Brewing Company
Beer rating:
3.58
out of
5
with
2,161
ratings