Barrel-Aged Wake Up Dead
| Left Hand Brewing Company
BA SCORE
76
okay
133
Reviews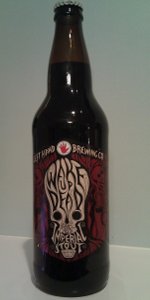 BEER INFO
Brewed by:
Left Hand Brewing Company
Colorado
,
United States
lefthandbrewing.com
Style:
American Double / Imperial Stout
Alcohol by volume (ABV):
10.20%
Availability:
Rotating
Notes / Commercial Description:
No notes at this time.
Added by mcallister on 08-02-2010
Reviews: 133 | Ratings: 290
3
/5
rDev
-8.5%
look: 3 | smell: 3 | taste: 3 | feel: 3 | overall: 3
22oz bomber poured into tulip glass.
Paid $9
A: Poured a chestnut brown with zero head.
S: Smells of sweet malts and dark fruits.
T: I get a lot of raisins and dark fruits.
M: A little thin.
D: While I generally enjoy imperial stouts, this is really not my cup of tea (or glass of beer).
290 characters
4.05
/5
rDev
+23.5%
look: 4 | smell: 4 | taste: 4 | feel: 3.5 | overall: 4.5
On-tap at Taco Mac Metropolis in Atlanta.
Pours black with a half-finger light brown head. The head recedes into a thin layer on top leaving solid lacing.
Smells of smooth dark chocolate and roasted malts backed by mild amounts of oak. Also present are slight amounts of char and slighter amounts of toffee.
Tastes similar to how it smells although better integrated. Robust roasted malt flavors leaning toward the sweet side kick things off and are joined quickly by moderate amounts of semi-sweet chocolate flavors. Midway through the sip the flavor profile sweetens a bit with the addition of dark toffee, black cherry, and faint vanilla flavors. The sweetness then subsides near the end of the sip with slight hints of char and oak that rounds everything out nicely. The ending is moderately bitter.
Mouthfeel is OK. It's got a nice thickness however the carbonation was on the heavy side for a beer of this style.
Drinkability is very good. I finished my glass quickly and could have another with no problems.
Overall I wasn't sure what to expect from a BA beer from Left Hand but I was pleasantly surprised. A tasty beer that's well worth a shot.
1,158 characters

4.07
/5
rDev
+24.1%
look: 3.5 | smell: 4 | taste: 4.5 | feel: 2 | overall: 4.5
Pours a dark chesnut brown - never quite gives the impression of black. Mild brown head and very slight stringy lacing. All in all, not that remarkable in the "appearance" department.
Nose is rich and sweet. Loaded with toffee/caramel malt, very sweet, with hints of cherry fruitiness. The taste goes hand in hand which much of the same notes. Predominantly strong caramel/toffee notes supported by cherry licorice flavors. Nice mellow, woody undertones. No roasted notes at all - which is perfect in my book! I think too many breweries load their stouts up with massive roasty notes. While the brewery suggests herbal notes, I picked up none.
The mouthfeel is very thin for an RIS. Hurts the overall experience. Carbonation is appropriate.
This is a delicious beer, but really atypical for an RIS. The appearance and mouthfeel are especially unusual for the style, and even the taste is off the typical RIS path. Honestly, I would peg it more as an Old or Strong Ale if I was trying it during a blind tasting.
Regardless, this is a delicious beer. Don't hold it to a style - just enjoy it. Fantastic beer. I've never been that impressed with Left Hand in the past, but they hit a home run on this one.
1,207 characters

2.21
/5
rDev
-32.6%
look: 3 | smell: 2 | taste: 2 | feel: 2.5 | overall: 2.5
Pours a dark brown with a half inch off-white head. The head fades quickly and leaves behind a moderate amount of lacing.
Nose is full of sweet caramel and chocolate. Some earthy/wood notes hide in the background.
Taste starts out with some chocolate and dark fruit. Some wood notes are in there too. As it hits the back of the tongue, there is some kind of weird plastic/rubber taste. That same off-putting flavor stays on the tongue even after the sip is gone.
Mouth feel is very thin for a barrel aged imperial stout...it's so thin that I could see light through it when I held the glass up to a light. Low level of carbonation, which isn't terribly uncommon for an imperial stout.
Drinkability was low due to the off flavor. It didn't exactly make me crave that next sip. Maybe I got a bad bottle given that the other reviews (only 4 so far) are all positive. Very disappointed in this effort from Left Hand...their other beers that I have tried have always been solid, nothing exceptional, but solid.
Edit - my second bottle was even worse than the first. The plastic/rubber taste was much more dominant and even appeared in the nose this time. Two sips of it and down the drain it went.
1,197 characters
4.82
/5
rDev
+47%
look: 4.5 | smell: 5 | taste: 5 | feel: 4.5 | overall: 4.5
Pours dark cherry/brown in my pint glass. Minimal head, tan in color.
Has a sweet toffee/cherry/malty smell.
Fruity up front, with cocoa taste in the middle, finishing with a nice bitterness. Has a thick feel to it.
Is definitely a different approach to an imperial stout. Will be interesting to see how this is after sitting in the cellar for a while. Time to go pick up some more of this.
394 characters

4.05
/5
rDev
+23.5%
look: 4 | smell: 4 | taste: 4 | feel: 4.5 | overall: 4
The brew pours thickly into my pint glass. Dark brown in color with a thin tan head (chilled too hard). Some highlights around the edges. When held to a very bright light, it reveals deep ruby and mahogany tones. Very thick and cloudy looking. The 2nd (warmer) pour gave up a nice, thick looking 1 finger head with decent lacing.
Smells caramelly and sweet with a bit of coffee and some woody undertones.
Pretty sweet upfront with a taste of bitter chocolate and hints of dark cherries and perhaps raisins as mentioned on the label. Heavy bitterness on the follow through.
Thick bodied. The brew leaves a syrupy stickiness in the mouth, while at the same time presenting a thick, smooth and creamy feel as well. Substantial alcohol burn in the throat.
The 10.2% ABV really started kicking in even before starting on the 2nd glass. This is one head-stompin' beer. Great for the first snowy night of the season.
913 characters

4.1
/5
rDev
+25%
look: 4 | smell: 4 | taste: 4.5 | feel: 4 | overall: 3.5
Beautiful pour from a bomber into my PBC tulip. Dark Chocolate in color ( and taste). Lots of tangerine and sweet fruit flavors. Not as " imperial "as I'd like. Cellar this for a couple and if all those fruit flavorsare fermentable this will be a richous beer.
260 characters

4.55
/5
rDev
+38.7%
look: 4.5 | smell: 4.5 | taste: 5 | feel: 4 | overall: 4
Picked up a bomber at TW for $8.99
Poured into a glass.
A- Dark black color with a small creamy yellowish head
S- Exceptional, barrels, this might be a strong one and I don't see anywhere the alcohol content.
T&M- Warm up my palate slowly, a strong barrel aged beer. I can taste chocolate, roasted and wooden malts. Great job Left Hand!
D- After sipping this beer, I assumed it had around 10 or 11% alcohol, to later on find-out that it was 10.20%. Great brew for a cold winter night, being close to a bong-fire, and enjoy a movie out with the stars. That's exactly how I had it and it was a great night to remember.
617 characters
Barrel-Aged Wake Up Dead from Left Hand Brewing Company
3.28
out of
5
based on
290
ratings.