Midnight Project #3 Oxymoron
| Left Hand Brewing Company
BA SCORE
81
good
65
Reviews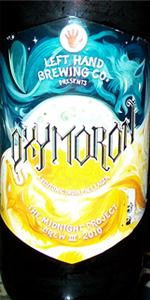 BEER INFO
Brewed by:
Left Hand Brewing Company
Colorado
,
United States
lefthandbrewing.com
Style:
American Double / Imperial Pilsner
Alcohol by volume (ABV):
7.20%
Availability:
Limited (brewed once)
Notes / Commercial Description:
India Pale Lager
Added by Mavajo on 08-25-2010
This beer is retired; no longer brewed.
Reviews: 65 | Ratings: 91

3.46
/5
rDev
-1.7%
look: 4.5 | smell: 3.5 | taste: 3.5 | feel: 3.5 | overall: 3
A - Pours with two fingers of off-white foam on top of a perfectly clear, copper-orange body. The head settles slowly and leaves patchy lace.
S - Bready malt with significant toasted notes. Some dry caramel and toffee in the background with just a hint of herbal hops.
T - Moderately sweet, toasty malt up front. Some hop flavor and moderate bitterness creeps up in the middle. Finishes with intense, burnt toast notes and strong bitterness. Lingering burnt bread flavors coat the palate along with musty hop flavors and a light note of grapefruit.
M - Medium-thick body, moderate carbonation, and a slightly sweet finish.
D - This is a well named and truly odd beer. It comes across more or less as a strong Octoberfest beer, but then it hits hard with harsh bitterness in the finish. I was hoping for something floral and strongly aromatic like Sam Adams Imperial Pilsner but this is really just bitterness without hop flavor and aroma to match. An interesting experiment, but the results are kind of mediocre.
1,016 characters
3.88
/5
rDev
+10.2%
look: 4 | smell: 3.5 | taste: 4 | feel: 4 | overall: 4
On-tap at the Brick Store.
Pours a clear golden color with a one-finger white head. The head recedes into a thin layer on top leaving decent lacing.
Smells of crisp light malts with good amounts of bitter, earthy hop aromas. As the beer warms mild amounts of buttery diacetyl waft in and out.
Tastes smoother than it smells. Smooth light malt flavors kick things off and are joined quickly by earthy hop flavors. Midway through the sip the hop flavors turn slightly spicy and slight amounts of diacetyl flavors come into play. The diacetyl quickly fades out before allowing the hops to carry through to a crisp lager finish.
Mouthfeel is good. It's got a nice thickness with moderate carbonation.
Drinkability is also good. I finished my glass quickly and could have another without any problems.
Overall this was better than I was expecting, a flavorful yet subtle beer in a style that doesn't get much press. Worth a shot.
931 characters
4.03
/5
rDev
+14.5%
look: 4.5 | smell: 4 | taste: 4 | feel: 4 | overall: 4
22-ounce brown glass bottle poured into a footed pilsner glass. Bottled On date is printed on the label, but due to smearing is difficult to discern.
Deep amber in color with a perfect clarity, showing off a small-but-steadfast head of slightly off-white foam that is fed by a constant stream of CO2, leaving behind some thick, full sheets of lace along the walls of the glass as it fades.
Nose is quite hoppy yet distinctly noble in its character, floral and grassy, a touch spicy, somewhat subdued yet wholly enticing.
Light-to-medium-bodied, smooth in mouthfeel, with a touch of prickly carbonation dancing on the tongue. The flavors are quite reminiscent of the aroma, with loads of spicy and grassy hop character and a big, drying bitterness that carries through into the finish and lingers long afterward. A solid grain-accented malt base hangs in the background throughout, keeping things balanced.
Quite delicious, this Germanic-influenced play on the IPA is a wonderful showcase of very traditional ingredients taken to a much more adventurous level. Drinkability is equally superb; downing an entire 22-ounce bottle is far from a chore. Certainly recommended.
1,173 characters
3.35
/5
rDev
-4.8%
look: 3 | smell: 3 | taste: 3.5 | feel: 3.5 | overall: 3.5
Pours a very clear, light golden. head shows promise, but dies down to a white collar. Could use more fluff or lacing or both.
Dry tree, grass and green lemon aroma. Is it piny? Not sure. Can't quite place it. Light malt, biscuit comes and goes.
Flavors play off the aromas. Kind of grassy, a bit of citrus. Crisp at first, but it doesn't keep it up. Almost like a Czech pilsener, but just shy of everything.
Fairly easy drinking, but not always enjoyable. I don't normally pair beer with food, but wouldn't mind having this one with some chicken quesadillas or something close.
582 characters

3.28
/5
rDev
-6.8%
look: 4 | smell: 3.5 | taste: 3 | feel: 4 | overall: 3
Picked this up at Sam's in Durham. 22oz bomber poured into a Piraat tulip...
A: pours a clear, pumpkin orange with a smallish off-white head; head recedes to a thin layer, leaving some splotches and specks of lace.
S: biscuit malt, some caramel, light alcohol notes; floral / earthy hops.
T: light grains and sweet bread; grassy hops; finishes with a sharp, lasting bitterness.
M: medium-bodied; crisp and smooth; mid level carbonation; dry.
D: this is a weird beer; I'd enjoy it more if the hop profile was a little more crisp and not just characterized by a lasting bitter; I think it would be more enjoyable if it was more "lager" than "ale"; don't think I'll seek this one out again.
692 characters
3.95
/5
rDev
+12.2%
look: 4 | smell: 4 | taste: 4 | feel: 3.5 | overall: 4
22oz bottle into a Hopus glass pours a crisp orange with a decent frothy off white head that diminishes to a thin layer and leaves decent lacing on the glass. Aroma is a nice amount of spicy Noble hops. The taste is a loads of earthy hops with a nice balance of sweet malts, this is a very interesting twist on the style, reminiscent of an Imperial Pilsner. The beer is medium bodied with a nice smooth dryness. This beer certainly lives up to it's name, I would have it again.
477 characters

3.46
/5
rDev
-1.7%
look: 4 | smell: 3 | taste: 3 | feel: 4 | overall: 4.5
22oz bottle into stout-style glass.
Pours with a decent off-white head over an amber-colored body and plenty of carbonation, as well as lacing.
Decent herbal aromas, but not your typical American IPA - mostly yeasty bread, with some mint and flowers. More of an English IPA.
Just a faint bite of hops in the flavor - but most of it follows the nose... lager yeast, flowers. Caramel malt sweetness? with some melted butter. Actually drinks more like a Marzen. Interesting (which is what they're going for).
Mouthfeel is creamy smooth - reminded me of an IPA on handpump.
I give this one big points on the D-meter, mostly due to the MF. But not a great American IPA... this one should be recategorized.
708 characters

4.21
/5
rDev
+19.6%
look: 4.5 | smell: 3.5 | taste: 4.5 | feel: 4 | overall: 4.5
Didn't really go by the style given the label (can this beer figure out what it is?)
A: Bright, clear orange/amber color. Poured a 2 finger fizzy white head with good retention. Laced in thin rings.
S: Sweet bready malt with a little caramel. Citrus, grapefruits and earth/grass.
T: Sweet bready malt and wet crackers. Honey and floral hops in the middle. Sharp bitter for a crisp, clean finish. Striking balance with so much going on.
M: Medium body. Moderate carbonation. Clean, warm and dry.
D: Easily drinkable. Complex, clean - great balance, flavor and finish.
571 characters
3.97
/5
rDev
+12.8%
look: 3.5 | smell: 4 | taste: 4 | feel: 4 | overall: 4
Collaboration with Terrapin. This is not an IPA, I'd call it an Imperial Pilsner maybe- lager yeast, german malts and hops. Very interesting, and the closest beer I'd say it's like is Sam Adams Imperial Pilsner. Pours a dark amber with a fairly light head, constant streaming bubbles and some spotty lacing. Smells of very bitter earthy hops and a good bit of tangy lager yeast. The taste is more of the same with lots of bitter hops and some buttered popcorn and lager tanginess. Smooth in the mouth with a bitter finish. This took a little getting used to, but I enjoyed it.
576 characters
3.13
/5
rDev
-11.1%
look: 3.5 | smell: 3 | taste: 3 | feel: 3 | overall: 3.5
Appears a transparent light gold with a small white head that quickly fades into a mild collar. Scattered bits of lacing are left around the glass.
Smell is of light herbs, cut wood, and mild bits of corn and butter.
Taste is buttered popcorn, light herbs, fresh bread and citrus.
Mouthfeel is medium bodied, bitter, doughy, and smooth
Reminded me of a lagered Whitbread.
372 characters
2.54
/5
rDev
-27.8%
look: 4 | smell: 2.5 | taste: 2.5 | feel: 2 | overall: 2.5
22oz bottle. Pours a clear light copper amber with a medium forthy white head that retains well and laces the glass.
The aroma is sweet slightly corny malts, and metallic perfumey hops.
The flavor is sweet slightly vegetal malts with a good amount of bitterness in the finish - perfumey and slightly tarry hops. The mouthfeel is light to medium bodied and a bit watery.
Overall, not too impressive. Kind of a sub-par imperial pils. I was hoping for a lot more American hops with a lager base.
495 characters

4.2
/5
rDev
+19.3%
look: 4 | smell: 4 | taste: 4.5 | feel: 4 | overall: 4
22 oz bomber split into pint glasses with a friend. The bottled date shows this beer to be less than a month in its' packaging.
A - Crystal clear deep amber. You could read the paper through this brew. 2 finger white head remains and leaves a solid lace ring with each sip.
S - Sweet bread malt backbone with a good nose full of noble hops. Bubblegum, earthy, and sweet. Delicious.
T - Moderate hops bitterness, great sweet malt presence of crackers and honey mix well with great floral and earthy hops flavor. Crisp and clean, this beer is balanced but leaning toward the hops. Very pleasant.
M - Medium bodied with great carbonation, this clears well and is very refreshing.
D - High. This beer is complex, yet clean. Great flavor and finish. Sad to be a one timer...
774 characters

3.4
/5
rDev
-3.4%
look: 4.5 | smell: 2 | taste: 4 | feel: 4.5 | overall: 3
the smell is nonexistent ...the taste is like a lager....except something is different...different than a steam beer...on the front end the taste is good....musky and funky...on the back end pretty bitter....but the bitter is rounded and not sharp...pretty good beer
266 characters
3.71
/5
rDev
+5.4%
look: 4 | smell: 3 | taste: 4 | feel: 3.5 | overall: 4
Pours a clear medium orange with pillowy two finger cream colored head, slowly fades to half an inch. Smell: in a word, subdued. Mild floral hop component, munich/vienna malt, and, thankfully, just a little spicy + orange citrus component. Taste: a bunch hoppier than the nose would have you believe. Spicy, citrus peel, caramel, a little musty. Mouthfeel: upfront prickly carbonation with the hop hit, then gets a bit powdery. A bit different for an IPA, but not that far removed from an impy pils.
Bottled 8/18/10
516 characters

3.57
/5
rDev
+1.4%
look: 4 | smell: 4.5 | taste: 3.5 | feel: 4.5 | overall: 2
The label classifies this as an "India Pale Lager" - so kind of a crapshoot on the style here. American IPA? Pilsener? Since none of the current descriptions exactly fit, I'm not going to waste my time agonizing over the decision.
Pours a brilliant amber with a moderate off-white head. Modest lacing.
The aroma is loaded with floral and herbal notes - mostly floral. There's also a character there that reminds me of brand new sneakers - take that for what you will...I'm not even sure what to make of that myself. The taste brings much of the same floral and herbal notes, with a a medicinal, hop bitterness along the sides of the palate. The lager yeast makes for a very crisp taste, but I found the aroma more enjoyable than the flavor. Aftertaste lingers for a while on the palate.
Mouthfeel is spot-on. Medium bodied with brisk carbonation that helps to emphasize the flavor profile.
All in all, an interesting brew. I'm glad to have tried it, but I think one is enough.
980 characters
Midnight Project #3 Oxymoron from Left Hand Brewing Company
3.52
out of
5
based on
91
ratings.