Monterey Lager
| Spanish Peaks Brewing Co.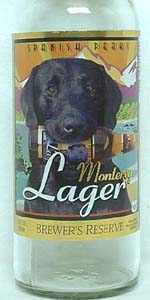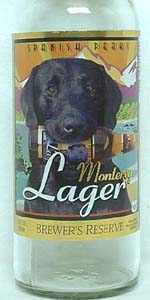 BEER INFO
Brewed by:
Spanish Peaks Brewing Co.
California
,
United States
blackdogales.com
Style:
American Pale Lager
Alcohol by volume (ABV):
not listed
Availability:
Year-round
Notes / Commercial Description:
No notes at this time.
Added by BeerAdvocate on 08-01-2002
This beer is retired; no longer brewed.
HISTOGRAM
Ratings: 7 | Reviews: 6
None found.
More User Reviews:
3.7
/5
rDev
+16.7%
look: 3 | smell: 3 | taste: 4 | feel: 4 | overall: 4
Clear, yellowish gold with a bright white head that falls in short time leaving a very limited collar and next to no surface foam. No lace either. The aroma is nicely malty. Sweet, full, grainy with a touch of citrusy-piney hops at the back. It's in a clear glass bottle but it's not skunked. The body is medium and it has a limited carbonation. Very soft and smooth in the mouth. The flavor is surprisingly full and interesting. Malty, nutty, bready, with a possible light touch of diacetyl. There's a very light peachy fruitiness which may be from light, citrusy hops combining with the sweet malt. As it moves across the palate, it shows a subtle balancing bitterness and very light hop flavor in the finish. Nice. Very round, full and soft. Just borderline of being "sweet". Interesting but not worth seeking out.
817 characters
2.26
/5
rDev
-28.7%
look: 3 | smell: 2 | taste: 2 | feel: 2 | overall: 3
This beer lacks a hop nose which is a good thing considering it is packaged in clear bottles. They must use the same industrial hop concoction that Miller uses on it's clear-bottled beers to avoid skunking. Golden color, clean flavor with a very strange hop character and an artificial-tasting sweetness, sudsy head...not worth buying. I'd drink it if it was free only.
371 characters
2.95
/5
rDev
-6.9%
look: 3 | smell: 3 | taste: 3 | feel: 2.5 | overall: 3
As it sets in my glass the typical lager crystal clear golden yellow with a generous frothy and bright white head that dissipates quite quickly leaving a decent sheet of lace to coat the glass. Nose is clean and fresh with a pleasant to the senses sweetness, start malt rich and lightly sweet, top thin. Finish is acidic, but not overly so with a satisfactory hop presence, but to my palate not one of their better brews.
421 characters
3.42
/5
rDev
+7.9%
look: 2.5 | smell: 3 | taste: 3.5 | feel: 3.5 | overall: 4
The first thing I noticed about this lager, even before pouring it, is that there is a lot of clear, gel-like flakes floating around in it. They seemed to disappear when I poured it into my glass, or are just sitting on the bottom out of my immediate view. I didnt imagine them, I swear!
Nothing impressive about the appearance or taste. Golden yellow with lots of carbonation, and a mild, citrus and malt aroma. Has a mellow malty flavor that makes for smooth, easy drinking. Slight bready hoppiness as well. One could definitely have a few of these, as they certainly are much more flavorful than macro crap. Not nearly as much fizzy carbonation on the mouthfeel as I expected, so thats a plus.
699 characters

3.09
/5
rDev
-2.5%
look: 2.5 | smell: 3.5 | taste: 3 | feel: 3 | overall: 3
The beer pours a golden color with a very spotty head. The aroma is decent. It's dry and slightly malty. The taste is also dry and light malts. It resonates with a bit of sweetness. The mouthfeel is not that great. It's a low bodied beer with less than adequate carbonation. It is a decent drinker, but not a very good lager. I think I'd rather throw back a decentlyy carbonated macro-lager than this.
401 characters

3.25
/5
rDev
+2.5%
look: 3.5 | smell: 3.5 | taste: 3 | feel: 3 | overall: 3.5
strange lager here...there seems to be a lot of white and chunky sediment floating around the bottom of the bottle. upon pouring, it seems quite carbonated because a huge white and frothy head appears and dies down quickly, but sticks. aroma consists of a bit of graininess followed by lots of lemony zest. tastes a bit grainy too, with more refreshing citrus zeal appearing on the taste buds. the mouthfeel is quite spritzy from the high carbonation...it almost feels like sprite in my mouth. finish is clean and dry like ginger ale.
overall, i'm sure my impression of this beer would be much higher in the summer, as it's a total summer refresher type lager. as it is now...i just can't get too excited about it. this beer must be consumed in the summer season for optimal enjoyment.
789 characters
Monterey Lager from Spanish Peaks Brewing Co.
Beer rating:
3.17
out of
5
with
7
ratings