Crystal Weiss
| Spanish Peaks Brewing Co.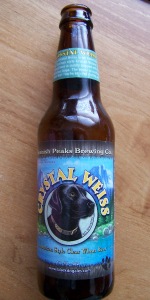 BEER INFO
Brewed by:
Spanish Peaks Brewing Co.
California
,
United States
blackdogales.com
Style:
Kristalweizen
Alcohol by volume (ABV):
4.50%
Availability:
Year-round
Notes / Commercial Description:
No notes at this time.
Added by KarlHungus on 04-12-2008
Ratings: 37 | Reviews: 34
3.51
/5
rDev
+8%
look: 4 | smell: 3 | taste: 3.5 | feel: 3.5 | overall: 4
Pours deep golden amber with a white foamy head that slowly desends to a thin, lasting cover, leaving some lacing.
The smell is biscuity with a wheat tang and a very vague fruitiness.
The taste is of sweet biscuit with some caramel and a mild sourish touch. There's a floral hop touch in the finish, along with a vague fruitiness.
It's appropriately light-bodied and smooth. Pretty crisp and refreshing.
Leans more toward an American Pale Wheat Ale, with a Krystalweizen touch, IMO. Anyway, it's pretty basic, but refreshing and very easy to drink. A nice thirst-quencher overall.
584 characters
3.56
/5
rDev
+9.5%
look: 4 | smell: 3 | taste: 3.5 | feel: 4 | overall: 4
I got this bottle in a trade with jwc215. Thanks Joe!
The bottle says it's brewed by Spanish Peaks, La Crosse, Wisconsin.
It pours a slightly hazy orange gold with a 1 finger head of foam.
The smell has notes of wheat, caramel malt, and a small nose of citrus. An ok nose.
The taste has a good wheat flavour with mild fruity sweetness and a light citrus biterness, mainly in the finish. Lightly flavoured but overall, what's there is pretty nice.
Close to medium bodied with medium carbonation, this is very easy to drink. I like it.
Btw, head retention is better than average and it has some lacing.
605 characters

3.15
/5
rDev
-3.1%
look: 3.5 | smell: 3.5 | taste: 3 | feel: 3 | overall: 3
Poured a decent gold, no cloudiness, with minimal head. Has some yeast notes for a little sweetness and some citric notes. Weak, faint smell. I know Kristals are more faint than regular hefes, but this was sharp and carbonated like champaign. Minor fruit taste and smooth body. An alright beer; not worth seeking out again though.
330 characters

3.6
/5
rDev
+10.8%
look: 3.5 | smell: 3.5 | taste: 3.5 | feel: 3.5 | overall: 4
The beer pours a nice gold color with a 1/2" white head that slowly fades to lacing. The aroma is decent. It has a sweet smelling pale and wheat malt scent along with a subtle banana/ clove aroma. The taste is decent as well. It has a smooth pale and wheat malt flavor that boarders on the sweet side. The yeast esters are present, but not to pronounced. It's an easy drinker for sure. The mouthfeel is fine. It is a medium bodied beer with good carbonation. This is a pretty good beer. It's got a nice filtered hefe taste that's easily quaffable.
547 characters
3.31
/5
rDev
+1.8%
look: 4 | smell: 3 | taste: 3 | feel: 3.5 | overall: 4
Pours Sunrise golden with a nice head and small foamy lace.
The aroma is a simple wheat/hops and citrus notes.
The taste is basic wheat,hops and citrus with apple & grape tones.
The feel is crisp,medium carbonation and finishes with a good zing.
Notes: So it is not the best,but it does the job. Average and decent.
319 characters
3.4
/5
rDev
+4.6%
look: 3 | smell: 3 | taste: 3.5 | feel: 3 | overall: 4
Got this from a friend.
Pours a clear gold color with a white head that disappears soon after it's poured, leaving a ring around the glass.
Smell is less pungent than other wheat beers I've had - smells faintly of apple.
Tastes very crisp, much like the smell there isn't much there, again with a hint of apple.
Mouthfeel is what you'd expect, nothing spectacular, but nothing bad either.
Not a great beer as far as wheat beers are concerned, but a pretty decent beer overall, and pretty refreshing. At the same time there are better wheat beers out there.
561 characters
3.1
/5
rDev
-4.6%
look: 3 | smell: 3 | taste: 3 | feel: 3 | overall: 3.5
Appearance: Pours a clear, deep gold body with a foamy, white head.
Smell: Wheaty aroma with a scent of sweetened citrus and apple juices.
Taste: Sweetish, lightly bready wheat flavor with a slight tanginess. Continued hints of citrus fruit. Sip of tart apple juice. Light hop bitterness. More sweetish wheat flavor till the finish.
Mouthfeel: Medium-bodied. Medium carbonation.
Drinkability: Not altogether reprehensible, but nothing to stand on a table and cheer about either.
482 characters
3.4
/5
rDev
+4.6%
look: 3 | smell: 3 | taste: 3.5 | feel: 3 | overall: 4
A - Poured out a highly carbonated golden-yellow color with a one-finger, white, foamy head.
S - It smelled of wheat and some fruity esters.
T - It tasted fairly sweet. Wheat, yeast and a minimal amount of clove flavors were present.
M - It was crisp and sharp. A very light-bodied beer.
D - This is an okay filtered weizen. Not particularly flavorful.
356 characters

3.6
/5
rDev
+10.8%
look: 3.5 | smell: 3.5 | taste: 3.5 | feel: 3.5 | overall: 4
Poured a dark golden color with fluffy white head that lingered a while. Aroma was not real strong, no real dominant characteristic, a bit hoppy perhaps. Flavor was a bit grassy and the Saaz hops were present. This beer was very smooth and easy to drink and quite refreshing on a hot Mississippi summer day. I thought this was a decent beer.
341 characters

2.11
/5
rDev
-35.1%
look: 3 | smell: 2 | taste: 2 | feel: 2.5 | overall: 2
A- 1 finger head, crystal clear, light clinging lace.
S- Light straw, malt, pretty austere.
T- very tart/sour, almost pear taste. Very odd.
M- low/med carb, not a great finish.
D- very odd beer that doesn't resemble a wheat at all. Ended up being a drain pour. I will not revisit this beer again in the future.
314 characters
3.56
/5
rDev
+9.5%
look: 4 | smell: 3 | taste: 3.5 | feel: 4 | overall: 4
Pours a clear golden with a thin white head.Decent retention,and a very nice lace. Aroma is of creamy wheat,and fruits. Nice,but a bit weak. Body is medium with light carbonation.Taste is of sweet fruits,and cream,with a bit of tart in the finish. Very nice.
258 characters

3.16
/5
rDev
-2.8%
look: 4 | smell: 3 | taste: 3 | feel: 4 | overall: 3
This beer pours a clear spun gold color. The head is a massive, three inches in height, and recedes slowly into think, chunky lacing. The aroma is of tangy wheat, with a hint of lemon. The taste like the aroma. It is very pleasant, but a little too tame to peak much interest. The mouthfeel is spot on for a kristalweizen: medium bodied with lively carbonation, and a velvety texture. Overall, this is a nice beer. I could drink it again, but would like it more if it were slightly more flavorful.
497 characters
Crystal Weiss from Spanish Peaks Brewing Co.
3.25
out of
5
based on
37
ratings.