Big Star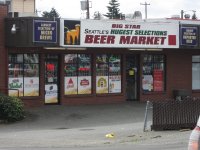 PLACE INFO
Type:
Store
1117 N Northgate Way
Seattle
,
Washington
, 98133-8913
United States
(206) 729-0797
// CLOSED //
Notes:
No notes at this time.
Added by 49degrees
Ratings: 11 | Reviews: 11
Reviews by czechsaaz:
2.84
/5
rDev
-10.1%
vibe: 1.5 | quality: 3.5 | service: 1 | selection: 4.5
Located in a strip mall just east of Aurora avenue, Big Star has a very impressive selection. As others have pointed out though, they aren't really in it for the love of beer. I get the feeling they discovered that people would pay for premium beer and started carrying everything they could get from their distributors. The few times I've asked for help, it wasn't very helpful. But their prices are slightly better than other beer specialty stores around town.
As with anyplace, you should be careful about your pruchases. A lot of the beer is stored at room temperature. This can pass if you're getting an age-worthy Belgian or Big Beer. But the stacks of E.European lagers should be left behind.
Also, if you're looking for something seasonal or special release that your favorite beer store has run out of you have a chance of still finding it here since their traffic isn't as high.
Update 2012: I moved so this isn't even remotely local anymore but I went in about a week ago. The same woman who's always been there was working and seemed to be shelving stuff. She didn't even notice that I came in. I was looking for something local and specific and they didn't have it. Walked around for about 5 minutes. Wandered up and down every aisle, didn't see anything I had to buy and she never noticed I was there. As I got into my car I thought, "A less honest guy would have grabbed a couple bottles of Deus or that Scaldis Prestige and been gone without her knowing."
1,474 characters
More User Reviews:
3.61
/5
rDev
+14.2%
vibe: 2 | quality: 4 | service: 3.5 | selection: 4
As someone from out of town, I was impressed with the number of beers they had. Picked up a quick 6 but will be back to stock up for the trip home. They had FW 13 and 14, Black Buttes Anniversary and a mess of others that I'd look for when come to Washington. Yet I would have never stopped just driving by cuz it looks like a small whole in the wall sort of place.. The lady at the counter was nice and answered whatever questions I had about product distribution, I'm not sure necessarily what her actual product knowledge is. Pretty good selection of imports and micros though!
580 characters

3.06
/5
rDev
-3.2%
vibe: 3.5 | quality: 3 | service: 2.5 | selection: 3.5
They have a lot of beer.
That's the good part. And that's where it ends.
They are expensive. They had PtE on the shelf for the taking if you're willing to spring $8 for one when the going price at other places is $5 - when they have it in of course. Other beers seemed to be pricey as well but it was just causal observation, not a case by case comparison.
If convenience is important, go for it. But with all the great specialty beer stores in the greater Seattle area, I rate this one last. Bottleworks, Malt & Vine, 99 Bottles, Full Throttle, Special Brews are much better choices. I don't mean to snub The Beer Authority, I just haven't checked it out yet.
661 characters
2.2
/5
rDev
-30.4%
I had some trepidation about coming here after reading other reviews indicating that the service and beer storage left something to be desired. I thought I'd give it a try anyways since I'm actively looking for more local stores with good selection.
What a strange place. It's as if these guys inherited a great beer store a few years ago and have been using it as a front ever since. The selection was pretty outstanding. They have a wide variety of European beers - many that I've been trying to get my hands on for some time. The price tags left a lot of be desired, but I figured I'd suck it up and write it off as the cost of convenience.
When I got home, I noticed that the Haand Bryggeriet porter that I picked up was ten months past its best-by date, though that was definitely my bad for not catching it in the store. I thought I'd try it anyways, and it was actually quite good. Turns out this beer ages better than expected.
The other purchases didn't fare nearly so well. Half of the Hitachino classic fizzed out over my counter and what was left in the bottle smelled of funk. The other (because I was unfortunate enough to buy two) poured and looked better, but definitely tasted past its prime. The Mikkeller pale was funky and cloudy. I didn't have the heart to try it, and I'm not even going to bother opening the Mikkeller IPA that I picked up.
I can't recommend this place to anyone. You'll spend a lot of money, and there's a good chance you'll pour most of it down the drain.
1,500 characters

2.8
/5
rDev
-11.4%
Located just off I-5, Big Star boasts the largest Import selection in town. The store is pretty dark and dingy but they certainly have a very extensive selection of imports although I wasn't entirely excited to see several of the countries that were represented. However, they did have a good selection of belgians and other European beers. Also, if you're looking for help in selecting or even finding something, don't ask them because they don't know. They also have a decent selection of craft breweries although a lot of space is unnecessarily taken up by local breweries you can get anywhere locally. They do not sell singles out of six packs and are anywhere from 50 cents to $2 or more expensive than other places. I ended up walking out of there without buying anything but they did have a few things I haven't seen anywhere else so if you have something specific in mind, you may find it here.
902 characters

3.45
/5
rDev
+9.2%
I hit the Big Star on Saturday to see what kind of selection they had. I found it to be very wide, broken down by country of origin and organized by brewery. They had a pretty good depth of selection for many local breweries; in fact, they carried several beers which I didn't even know existed.
Service was minimal with just a cashier but she seemed beer-knowledgeable. My only problem with Big Star is that it is the most expensive of the local bottle stores; however, its selection makes it a good place to check if other stores just don't seem to have what you need.
571 characters
3.2
/5
rDev
+1.3%
This is either the best or worst specialty store in the city, depending on what you end up getting. I've found fantastic deals on a number of things I couldn't find elsewhere (especially Belgians and E. European stuff), but I've also bought a few beers that after tasting have obviously been sitting on the their shelves at room temp. under nasty fluorescent lights for about 12 months too many. About 80% of their beer (and almost all of the specialty stuff you'd be going here for) is unrefrigerated and stored horribly.
The service here is decent enough. Staff doesn't know too much about beer, but they are incredibly pleasant and know their stock to a T, which is impressive given that the place has an amazing selection, both in quantity and quality.
Bottom line: worth a stop by, but buyer beware.
806 characters
3.3
/5
rDev
+4.4%
I had been to Big Star about 3 years ago and, while the selection is impressive (or comparable to other local brew stores), it definitely doesn't have the feel of a beer geeks store (like M&V, BW's, etc).
It's basically a convenience store that decided to stock beer - local, national, and international IMO. If you're looking to shoot the breeze and have some knowledge dropped on you about a particular beer fact, look elsewhere. If you know what you're searching for, then it can be a decent place to go.
When I was there, three of the patrons that came in headed straight to the refrigerated section to pick up a quick macro 6 pack and head out. One guy came in thinking they were a convenience store and left when he found out they didn't sell cigarettes.
While the location is a bit odd in Northgate (tucked in a three or four store strip - west of the mall and east of Aurora), it happens to be the closest store of it's kind for me - thus the recent trips to pick up some brew.
989 characters

2.75
/5
rDev
-13%
There is a decent selection at this this place. I get the feel that the owners or employees aren't really that in to beer, which doesn't really make me want to spend my money there. I will second the fact that the vast majority of their beer is not in coolers. My biggest beef with this place is that they don't let you buy singles out of six packs. Bottleworks, Malt and Vine, Whole Foods, Top Foods, QFC and a number of other stores have no problem letting you buy singles. To me buying singles is very important because it allows me to sample many beers that I haven't tried.
578 characters
4.15
/5
rDev
+31.3%
While I havent purchased a ton of beer from Big Star, my experiences have been positive. Last night I picked up a bottle of Rogue XS Imperial IPA and Big Star was the only place in the greater Seattle area (besides the Rogue brewpub in Issaquah) that carried it - and at a dollar less per bottle no less! While I can echo concerns for unrefridgerated aisles - the store definitely didn't feel 'warm' to me and the two aisles I walked down had 4-packs of Great Divide's Imperial beers, and another was lined with stronger Belgians which would certainly tolerate being unrefridgerated (for a time).
Anyway, the owner knew exactly where my beer was, grabbed a bottle for me (from the fridge), then proceeded to show me a couple other DIPAs that were good in his opinion (one of which I hadn't seen before). Even though it was with a used-car-salesman urgency, he was still helpful and pleasant enough.
The Belgian selection here is impressive and the local\domestic Micro selection is even larger. It really seems to me to have a wider and deeper selection than Bottleworks - though quality of storage at Bottleworks is a bit more thoughtful. Still, if you're a BA in the area, you owe yourself a visit to Big Star.
1,218 characters
3.45
/5
rDev
+9.2%
This is tough to review. I'm a loyal Bottleworks customer but went here to try and track down some La Folie from New Belgium. I called first and the owner told me had some. I made the trip all the way there and when I arrived he handed me La Folie but from another brewery from Belgium. I appreciated him holding the bottle for me but would have appreciated it much more had it been the right one. I can see how it would be an honest mistake but you'd hope that a store owner selling only beer would be knowledgable enough to ask me which beer I meant.
There is a very nice selection, but the downside is that very little of it is being cooled. It is also very bright in the store, casting doubt as to quality of the beer on hand.
There are some deals to be had here, and even some beers you probably won't find anywhere in Seattle but who knows if it's still fresh?
870 characters
Big Star in Seattle, WA
3.16
out of
5
based on
11
ratings.