Tripel Perfection
| Brewery Ommegang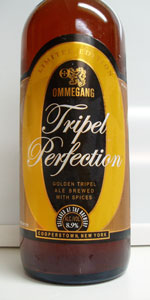 BEER INFO
Brewed by:
Brewery Ommegang
New York
,
United States
ommegang.com
Style:
Tripel
Alcohol by volume (ABV):
8.90%
Availability:
Rotating
Notes / Commercial Description:
Ommegang's brewers spent several years refining their ideas of what a "perfect" tripel would be. In the original style, a Belgian tripel is a golden ale, from 8.5% to 10% ABV, with fruity flavors and aromas coming from the yeast. Tripels are simply brewed, but with great attention to detail. Ommegang Tripel Perfection goes beyond the exquisite attention to detail and adds spices to subtly enhance aromas and flavors. The result is a fine ale honoring Belgian brewing tradition, while also expanding on it in the new Ommegang tradition.
Added by cosmicevan on 04-25-2010
Reviews: 188 | Ratings: 451
4.49
/5
rDev
+9.5%
look: 4 | smell: 5 | taste: 4.5 | feel: 4.5 | overall: 4
750 ml bottle halved and poured into a Chalice.
8.9% ABV, Served at around 50 degrees F. First tasting at around this temp, second around 65 degrees.
Appearance - There was a healthy cork pop; Which did help to signify some hefty carbonation and it certainly is on the pour. There is a fluffy cloud-white head that dissipates from it's peak, yet lingers with a discernible lace above the golden/orange showing.
Smell - A strong Tripel aroma with hints of both citrus and spices with a dabble of earthy musk with a touch of a sweet note.
T - Starts off sweet, a bit fruity. Then you receive a pleasant complexity due to some spicing and yeast. It finishes with a bitter kick due to the relatively high ABV, but it is not as overwhelming as some other beers might come off as.
M - Medium to light bodied. It also possesses a noticeable carbonation. It can be described as both smooth and clean, relatively well-balanced with a touch of the aforementioned bitterness for an ending note.
D - I'd say this is pretty drinkable. I think i'll work it into my finishing rotation this summer for as long as it's available. It provides a nice easy curve from typical summer seasonal offerings into a round about, slightly more alcoholic finish that can either prepare me for the rest of the evening; or provide a suitable night-cap.
--
1,331 characters
3.01
/5
rDev
-26.6%
look: 4 | smell: 3 | taste: 3 | feel: 3.5 | overall: 2.5
This is by far the worst Ommegang beer I've had. Thank you, Alex!
Pouring a beautiful, clear, light orange with a dense, white head with decent retention, this is a great looking tripel. The nose - not so great. For a beer this fresh, it smells surprisingly muted and dull. The spice character is noticeable, with some coriander and bitter orange peel, but neither of these has the brightness and delicacy I expect from a good tripel. It is also surprisingly hot for something under 9%. There's some light honey and bread character to the nose as well. Similar on the palate on the nose, this really tastes disappointingly stale. Some clove, pepper, coriander and orange peel are all noticeable, but there's a stale bread flavor that I just can't get behind. Drying and a little hot on the finish, this beer is light in body with moderate carbonation. I wonder what the deal is with this beer, if this was an off first batch, or if this is actually what they were going for.
975 characters

3.62
/5
rDev
-11.7%
look: 3.5 | smell: 4 | taste: 3.5 | feel: 3.5 | overall: 3.5
Tripel Perfection has a hazy golden body and only a tiny off-white head. Retention and lacing are both lacking, but I think if served out of a bottle it would be different.
The aroma has a good mix of pale malt, candied sugar, alcohol and yeasty esters that include fruit, coriander and clove. Not bad at all.
I think I like the aroma of Tripel perfection better than I like the flavor. All of the positive notes from the aroma are also present in the flavor, but the alcohol is much stronger. With that said, candied sugar is the strongest flavor, followed by pale malts and the esters that include coriander and clove. It also has a light fruitiness that is very enjoyable. The finish is the problem here, because the alcohol is pretty harsh.
Mouthfeel is fine; full-bodied with moderate carbonation. Better than fine actually, it's pretty good.
Tripel perfection isn't bad, but it's a little hot and heavy for me. It's worth a try for fans of Ommegang.
959 characters

4.3
/5
rDev
+4.9%
look: 4 | smell: 4 | taste: 4.5 | feel: 4 | overall: 4.5
Large bottle, caged and corked, with (nice move omme) Packaged on and best before dating printed on the neck of the bottle. Pours cloudy medium apricot, lifts a Belgian appropriate near huge head, that stays and stays, going slowly to moderate frothy merainge, thick sheeting and lace. Fruity and pleasant nose of honey, flowers, pineapple, and light pepper. Easy drinking brew, the near 9% well hidden, typical Tripel flavors and sensations, light pepper, some lime, mango, more pineapple, Belgian yeasty goodness. Creamy and smooth in the mouth. Well done and welcome to a new addition to the Ommegang family of fine brews
624 characters
4.2
/5
rDev
+2.4%
look: 4 | smell: 4 | taste: 4.5 | feel: 4 | overall: 4
750ml bottle - Star on Great Taste ticket day
split and served with a lemon-pepper pasta dish with asparagus, pancetta, and peas
appearance: served in my hopleaf tulip - cloudy bright copper body, foamy white crest and nice retention
smell: pineapple, clove, vanilla, belgian yeast, honey, nice floral hops
taste: nice tripel - spicy clove and peppercorn, sweet belgian yeast, pineapple, tropical fruit, smooth vanilla, fresh floral hops, bready and doughy, sweet and well balanced
mouthfeel: a little on the creamy side, a touch of spice from the yeast and alcohol
drinkability: good
590 characters
4.39
/5
rDev
+7.1%
look: 4 | smell: 5 | taste: 4 | feel: 4.5 | overall: 4.5
750 ml bottle split and poured into a Tripel Karmeliet tulip. 8.9% ABV, Serve at 40 degrees F, Packaged on 03/15/10, Best By [illegible] 13. (Thank God Ommegang has started dating their bottles!)
A - The cork pop signifies healthy carbonation and it certainly is on the pour. A fluffy cloud-white head pops up but sinks with haste, uncharacteristic of this style. Decent lace above the lightly hazy golden yellow beer.
S - Perfect tripel aroma with hints of clay and earth behind a Belgian yeast nose. Perfection in aroma, I can't stop myself from taking deep whiffs of this. Pale malts in the background with a kiss of light floral hops change it up a bit. I'm almost finding myself speechless from the nose of this complex and flawless aroma.
T - Very citrusy with a large yeast punch and a hefty clay flavor with a solid backing of pale malts. A sharp bite comes through on the finish with a tiny touch of alcohol and green hops. It's far from the perfection the nose offers, but it's still a tasty brew.
M - Medium-light bodied with a sharp carbonation bite to the finish. Smooth and clean, well-balanced finish of malts and a tiny kiss of bitterness.
D - This is very drinkable for the percent as well as the awesome flavor and mouthfeel. In the end it's a tripel with a flawless nose but a beer that's off from perfection. Still, it's a good tripel that tastes like its straight from Belgium.
1,403 characters

3.95
/5
rDev
-3.7%
look: 3.5 | smell: 3.5 | taste: 4 | feel: 4 | overall: 4.5
Pours a slightly hazy golden orange color with an average white head that settles into a sparse cap. Looks a touch light and the head retention was less than your average Belgian tripel. The aroma is of light yeasty phenols, some banana, and candi sugar. Again not as deep in aroma as other tripels but no off aromas either. Nice sweet flavor, floral honey, very light coriander with some yeasty phenols, clove and banana. Light to moderate feel with very fizzy carbonation, quite burpy. No detectable hop bitterness. This is a very easy drinking tripel, no cloying sweetness or heavy handed coriander. It is lacking a certain depth but is well made.
650 characters
4.97
/5
rDev
+21.2%
look: 4.5 | smell: 5 | taste: 5 | feel: 5 | overall: 5
A: Cloudy golden straw with more of an orange tint. Nice white head. Little to no lacing.
Champagne-like carbonation.
S: Spice, clove, citrus. Very nice. Complex smell and nicely balanced.
T&M: Spices, mild fruitiness, and very nice belgian yeast/mild alcohol finish. Medium bodied and very well-balanced.
This stuff is GREAT! It is probably really good aged in bottle conditioning. I'm looking forwared to trying it! Definitely at the top of my list on tripels.
466 characters

4
/5
rDev
-2.4%
look: 4 | smell: 4 | taste: 4 | feel: 4 | overall: 4
The beer pours a nice golden color with a thick frothy white head that slowly fades to lacing. The aroma is good. It has a sweet pale malt scent along with a solid yeast character and light alcohol warmth. The taste is good as well. It has a smooth pale malt flavor with loads of yeast esters and a bit of dry earthiness. The mouthfeel is fine. It is a full bodied beer with adequate carbonation. This is a very brewed tripel. Ommegang is branching out and I couldn't be happier.
479 characters

3.6
/5
rDev
-12.2%
look: 3.5 | smell: 3.5 | taste: 3.5 | feel: 3.5 | overall: 4
Nice looking bottle. The art ties in with the new Belgian Pale. On to the beer.
A: Fairly dark golden color with a bit of orange in there. A little bit darker than I like my tripels. A little bit of yeast at the bottom of my tulip and that is just from the first pour. That I enjoy. A touch of white head with only the faintest hints of lacing.
S: Yeasty and bready up front. Little bit of citrus. A little bit of white pepper but it is a fairly tight nose especially for the style.
T: Very sweet. Super sweet even. Malty. Lots of candi sugar. A touch of spiciness.
M: Fairly dry. Carbonation is a little on the low side for the style.
D: A good beer that is a little off style. I will be the first to say this is a damn near impossible style to nail down. I enjoyed this beer but they need to tweak it a little bit more.
826 characters

4.28
/5
rDev
+4.4%
look: 4.5 | smell: 4 | taste: 4.5 | feel: 4.5 | overall: 4
Appearance: clear amber in color with a nice 2" head that lingered around a while. Some mild lacing paints the glass.
Smell: malt sweetness, citrus, yeast, and a touch of alcohol is noticable by the nose.
Taste: nice sweet malt profile with a pears, citrus, big yeast flavors, hints of pepper and coriander, and a mild warming alcohol blanket.
Mouthfeel: crisp to start, less crisp and a touch dry at the finish. Medium bodied. Aftertaste is long as the flavors stick in the mouth for a while.
Drinkability: depsite the big alcohol levels, this went down smoothly. I could have had a few of these, but slow sipping is key here. Enjoy this one if you can find it.
666 characters
4.05
/5
rDev
-1.2%
look: 4 | smell: 4 | taste: 4 | feel: 3.5 | overall: 4.5
Draught at BTAH.
Pours a cloudy gold, with a fluffy white head.
Nose is classic tripel - apricot and spicy yeast, a bit of a dry sweetness.
Taste is orange peel and citrus, apricots and spicy yeast. Balanced by a fresh, grassy hop bitterness that starts to emerge about midway Bit of alcohol, but it largely keeps its head down. Finishes with a dry, lingering mild bitterness. Very refreshing for a tripel.
Crisp carbonation and a medium body.
The grassy hops and the citrus up front definitely lend a beautiful, almost saison-like refreshingness to this one. Really well done.
587 characters
4.47
/5
rDev
+9%
look: 4 | smell: 4.5 | taste: 4.5 | feel: 4.5 | overall: 4.5
I had the good fortune to experience this one-off brew at Ommegang's "Belgium Comes to Cooperstown" Festival for it's debut in 2007 & again in 2008.
I was very impressed with the 2007 version however the ABV goose to 9% for 2008 served to round this out into a very fine Tripel. It had the warmth of the 9% but it was beautifully hidden. Excellent!
During a weekend filled with classic Belgian Tripels, this brew held it's own with panache.
Ommegang can stop the search for the proper receipe and get this little piggie to market! It is as good for it's style as their other offerings.
Rumor has this being bottled as a regular in 2009 finally filling the Tripel void in their wonderful repetoire.
701 characters
Tripel Perfection from Brewery Ommegang
4.1
out of
5
based on
451
ratings.