Bourbon Barrel-Aged Ommegang
| Brewery Ommegang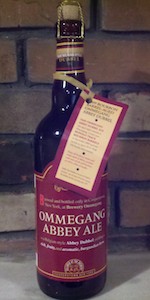 BEER INFO
Brewed by:
Brewery Ommegang
New York
,
United States
ommegang.com
Style:
Dubbel
Alcohol by volume (ABV):
8.50%
Availability:
Limited (brewed once)
Notes / Commercial Description:
No notes at this time.
Added by WesWes on 01-29-2011
This beer is retired; no longer brewed.
Reviews: 11 | Ratings: 21
4.62
/5
rDev
+12.7%
look: 4.5 | smell: 5 | taste: 4.5 | feel: 4.5 | overall: 4.5
amber color with a light hint of caramel around the edges, big head comes up and over the top and settles down gently into a firm and long lasting pillow with loads of side glass lacing. Aroma is nice, much sweeter then I was expecting. Lots of caramel and malts right up front here, light hint of an herbal note boucning along with deep oak around as well, but not terribly strong. Warming brings out a yeast note and loads of vanilla and boubon that is quite intresting and adds a light fruit touch to it, but very sweet still. Flavor again is very intresting and not what I was expecting. Rich notes of caramel and almost candied like sugar abound here. Light touches of hops play on the tongue now as well, very intresting. Comes across almost like an amber ale to me, has that bready maltiness and caramel flavor I associate with it.
838 characters
4.5
/5
rDev
+9.8%
look: 4.5 | smell: 4.5 | taste: 4.5 | feel: 4.5 | overall: 4.5
2009 Bourbon Barrel-Aged Ommegang Abbey Ale
Pours: From a tightly corked 1PT 9.4 fl oz bottle purchased at Brewery Ommegang. Dark brown and thick. Listen to that carbonation! It's snapping like rice crispsies! Didn't expect so much sparkle in this one. Crisp head fades pretty quickly to a swirling lace that sticks around a long time.
Smell: Bourbon, light smoke, sweet, vanilla, raisins.
Taste: Bourbon up front, but not overpowering. I can tell the Abbey Ale is in there, but it's changed. It's more mature. It has spent some time making out with more experienced beverages. The flavor evolves nicely after you swallow. Bourbon, original abbey ale, oak, vanilla, and sour cherries to finish. Oops, the bourbon is back.
Feel: Sparkle and great body. Just right.
It's getting a lot more complex as it warms up. More bourbon in the nose and mouth. More caramel, is that licorice?
It's too bad there were only 192 bottles made. At first I felt guilty drinking it, now I just want another.
995 characters
4.42
/5
rDev
+7.8%
look: 4 | smell: 4.5 | taste: 4.5 | feel: 4 | overall: 4.5
Reviewed from notes thanks goes out to Marc for sharing this bottle.
appearance: dark murky brown, with 1 finger off white head
smell: bourbon, vanilla, sweet, caramel, dark fruits
taste: molasses, vanilla, dark fruits,
mouthfeel: mild carbonation, medium body,
overall: I wish Ommegang will do this beer again so I can stock my closet. Such a rare treat but damn it was good.
Cheers,
the CPJ
399 characters
4.32
/5
rDev
+5.4%
look: 4 | smell: 4.5 | taste: 4.5 | feel: 4 | overall: 4
been sittin on this for a while. thanks a ton to dmeadows and Henrici who answered the call when i couldn't make it to the brewery for st nik's fest 2010.
a - popped the cork from the cage and filled my ommegang chalice. opened with a HUGE pop and some collar smoke emerged. the brew poured the classic ommegang abbey plum purple with a generous creamy belgian yeasty head. i'm surprised as i've found that barrel aging kills any semblance of head on a brew...but this is a belgian...should be interesting.
s - the wood really comes out in the smell giving a strong chocolate presence at first. the creaminess of the original is there as is the ommegang yeast, but a dark caramel woody glaze on it. quite nice. not a bourbon bomb by any means. the wood seems to be more present than the booze that was in the wood. as it warmed and my taste buds got into the bourbon, i definitely notice the bourbon in the nose...it is not overdone, it is nice.
t - wow, much different then the nose would suggest. the booze is heavily present here. it is bourbony a-la a backwoods bastard or mother earth barrel aged tripel overheard. beneath that is the dark plum flavoring of abbey. a bit of tartness in the finish.
m - the booziness seems to take away from abbey. it loses the creaminess and after vibe. prickly.
o - it is an interesting thing to put a dubbel into bourbon barrels. i've had the barrel aged adoration and although i dig adoration more than abbey, the barrel aging seemed to compliment the belgian strong dark more than a dubbel. i'm quite excited to pop the barrel aged three philosophers. i appreciate that ommegang decided to give a try to the new craze of barrel aging, but i'm not sure all their beers are suited for these types of treatments...one i would love to see happen would be hennepin on (white) wine barrels...YUM, that sounds good.
what i can say for sure is that this ain't no 8.5%. i drink pretty big beers pretty regularly and i can't remember the last time i got so knocked on my rear from a 750. the angel's share is in the bottle.
2,061 characters

4.22
/5
rDev
+2.9%
look: 4 | smell: 4.5 | taste: 4 | feel: 4 | overall: 4.5
The beer pours a dark brown color with a thick frothy tan head that slowly fades to lacing. The aroma is great! It has a very aggressive bourbon scent that hits you hard up front, but not enough to dismiss the anise, caramel malt, and Belgian yeast aroma. The taste is good. It has a very complex array of flavors. It has a smooth caramel and anise flavor with a subtle Belgian yeast fruitiness and a mild bourbon character. It all works well together with no one flavor dominating. The mouthfeel is fine. It is a full bodied beer with adequate carbonation. This is a damn fine beer. The original is awesome, but the barrel aging adds another layer of complexity; a must try.
675 characters
4.17
/5
rDev
+1.7%
look: 4 | smell: 4.5 | taste: 4 | feel: 4.5 | overall: 4
this beer pours a nice dark brown with a tan head that recedes to a sheet of lace that hangs on for the session. the aroma brings a a really nice bourbon aroma up front with a bit of sweet malt and spice. the taste follows with the sweet malt taking the lead and the vanilla and bourbon finishing it out. the full body and alcohol warmth make this one to sip and savor, definitely worth the drive to get it.
407 characters
4.01
/5
rDev
-2.2%
look: 3 | smell: 4.5 | taste: 4 | feel: 3.5 | overall: 4
Thanks to AndresR for sharing this one at jmgrub's tasting.
Pours a slightly murky dark brown with a foamy orange-tan head that settles to wisps of film on top of the beer. Small dots of lace slowly drip into the remaining beer on the drink down. Smell is of malt, brown sugar, caramel, bourbon, and wood. Taste is much the same with an alcohol kick and a woody finish on the palate with each sip. This beer has a high level of carbonation with a very crisp mouthfeel that is too much in my opinion. Overall, this is a good beer that smells better than it tastes.
565 characters
3.89
/5
rDev
-5.1%
look: 3 | smell: 4 | taste: 4 | feel: 3.5 | overall: 4
Not what I was expecting, but pretty decent.
Average appearance, with lots of head.
Very interesting aromas. Yeasty/ bready, and fruity
The taste was a bit odd. Lots of sweetness but followed by almost a sour cherry flavor.
Once I got used to it, it went down smooth.
268 characters

3.85
/5
rDev
-6.1%
look: 3.5 | smell: 3.5 | taste: 4 | feel: 4 | overall: 4
750ml generously shared by shadowane. Thanks again Rich!
Pours a dark chestnut brown color that's opaque with a half finger yellowish-beige head that quickly fizzles into a thin ring. Minimal spotty lacing left behind.
Strong barrel presence in the nose with lots of bourbon along with some vanilla and toasted coconut along with spicy bourbon. The base beer gets kind of lost with only faint malts, spice and subtle dark fruit.
Medium bodied with tight carbonation and a strong barrel presence but the base beer is more prominent than the aroma suggests. Lots of toasted oak, sweet bourbon and vanilla notes.  Plenty of bourbon flavor without much heat or wamrth in the chest resulting in a pretty quaffable beer.  Although this is the most prominent flavor, I'm still picking up some zesty spice as well as some sweet malt and drak fruit notes. Hints of dark cherry, plum, raisin and fig. Boozy flavor but the Abv is well masked resulting in a complex, flavorful beer that's easy to drink. Much better than the Bourbon Barrel Aged Three Philosophers.  
1,061 characters
3.74
/5
rDev
-8.8%
look: 4.5 | smell: 3 | taste: 4 | feel: 3.5 | overall: 4
This beer has a dark murky amber look to it. It pours with a lot of head which has a darker yellow tinge to it. There is a light spice smell to the beer. The beer has a nice refreshing feel to it that is easy to drink. I taste apricots, spice, nuts, and a hint of apple in the finish of the beer. I would suggest this beer as a dinner drink, probably paired with a steak. Cheers.
379 characters

3.48
/5
rDev
-15.1%
look: 4 | smell: 3.5 | taste: 3.5 | feel: 3 | overall: 3.5
Grabbed this on tap a few times at Night of the Funk 2010. Reviewed from notes.
Pours a somewhat-cloudy chestnut brown color with a good off-white head and a bit of lacing as it moves down the glass. The nose brought forward plenty of wood along with a touch of bourbon. Also present was some vanilla and notes from the base beer--light caramel, dark fruits, and a bit of sweetened malt. The flavor was slightly bourbonized with dark fruits and caramel in the background. Feel was medium and a tad bit too boozy. Drinkability was pretty good, though it wasn't something I'd specifically seek out again.
605 characters
Bourbon Barrel-Aged Ommegang from Brewery Ommegang
4.1
out of
5
based on
21
ratings.