Bourbon Barrel Aged Three Philosophers (Buffalo Trace)
| Brewery Ommegang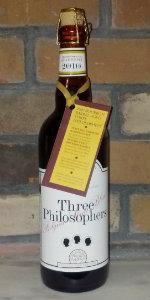 BEER INFO
Brewed by:
Brewery Ommegang
New York
,
United States
ommegang.com
Style:
Quadrupel (Quad)
Alcohol by volume (ABV):
10.00%
Availability:
Limited (brewed once)
Notes / Commercial Description:
THREE PHILOSOPHERS QUADRUPEL ALE was aged nine months at Ommegang. It went into BUFFALO TRACE BOURBON BARRELS in September 2009 and was bottled in May 2010. Only 200 bottles were created.
Enjoy all the flavor, aroma and spiciness of Three Philosophers, overlaid with notes of oak and bourbon, as well as a hint of vanilla.
Buffalo Trace Distillery is located in Frankfort, Kentucky - the very heart of bourbon country. The distillery has been operating since 1787.
Added by corby112 on 04-03-2011
This beer is retired; no longer brewed.
Reviews: 6 | Ratings: 47
5
/5
rDev
+42.5%
look: 5 | smell: 5 | taste: 5 | feel: 5 | overall: 5
I've enjoyed the finest beers offered between Honolulu and Hamburg, as well as the skunkiest. This beverage, dousing my draconian palate, was the best it's ever tasted. It was robust, but minus the burnt-tire taste of a stout. In fact, my five-star meal took second fiddle and cooled until the beverage was through. For a mere $12, it's worth every penny. Savor the flavor, ride the buzz, and see it as money well spent, for we're here for such a short time in the kaleidoscope of life.
486 characters
4.42
/5
rDev
+25.9%
look: 4 | smell: 4.5 | taste: 4.5 | feel: 4 | overall: 4.5
Hug thanks t Bill for this one
very dark brown, almost a cola like color with a very hazy and cloudy appearance pretty much obscuring everything inside and making it look a very thick consistency. A very nice three finger high head of tan colored lace came flying up to the top. Very active on the pour would be an understatement,
very varied, deep and complex with different hints and small nuances of smell coming through at various different times during the course of the session. The first thing I was able to pick up with a very nice dark fruity aroma. Lots of raisins, figs, plums, and even a touch of grape showing up in here. Very well mixed and balanced between them but leading more toward the sugary notes as it started to warm up. Lots of spice was evident as well right from the start. A sort of odd nutmeg like spice along with a touch of cinnamon, and sugar. Some aromas of oak or other wood like characteristics starting to come through now as well.
The first notes that came across were very rich, sugary notes of raisins, which were just a wonderful way to start off the whole thing. Deep dark fruity flavors were the norm on this was with prunes and figs lining up behind it, quickly delving it deeper and deeper. A very strong presence of sugar was next up, really pushing through and drying to lighten it up. A touch of something sour playing around in the back, and just briefly showing up in the flavor before diving back down and out of site again. Rolling on some nice earthy, oak like notes starting to come now with spices becoming more pronounced in the finish.
1,596 characters
4.25
/5
rDev
+21.1%
I had this beer off the draft. The cherry aroma is instantaneous, hints of vanilla on the finish, great body, smooth, stout with a high ABV. I highly recommend this beer. It is an instant favorite.
197 characters
3.58
/5
rDev
+2%
look: 4 | smell: 3.5 | taste: 3.5 | feel: 4 | overall: 3.5
An insane amount of gratitude goes out to dmeadows who proxied a bottle of this for me when it was released. Been waiting to crack it and tonight it called my name. Still have some of a 2011 Three Philosophers that I opened a bit ago to compare it to (I know different vintage). Enjoyed from an Ommegange chalice.
a - de-caged and popped the cork, filled my glass. the brew poured a deep plum with a thinner head than the non BA version. visually they are quite similar although the barrel aged definitely has more of a watery look and less of a creamy head.
s - the smell leads with some bourbon sweetness. the barrel seems to have overtaken the beer. i really don't get any of the wonderful smells that i get from the base beer in the side-by-side comparison. the wood brings vanilla, booze, and some burnt which definitely overpowers the odor. comparing it to the original it is missing a lot of what i love about this beer...but on the other hand it does have that bourbon shine. lots of sweetness, but more plum/raisin and more vanilla than the original.
t - wow, the taste is pretty crazy. very different from the original. big vanilla notes and lots of booze...which seem to drown out the wonderful cherry quad of the original. it is pretty tasty, but in a side-by-side there is no doubt that i prefer the original. the cherry and dark fig flavors are traded in for vanilla and booze with dark fruit in the backseat.
m - mouth is lush and creamy. carbonation is dialed back quite a bit, but still there. the booze is present but not too intense for the mouth.
o - overally, i'm a big fan of three philosophers (it is the beer that turned me into a beer geek) and i'm also a big fan of barrel aging...the mix of the two in this case is not necessarily better than the individual parts. i'd love to say that i love this, and frankly i do like it...however this is one of those cases where sticking an amazing beer in some bourbon barrels doesn't make the beer more amazing. i'm extremely glad to have tried this as a big ommegang fanboy, but aside from the low bottle counts on these varieties it seems that you aren't missing much beyond a tick if you miss out on this series...although i did LOVE the adoration when i first had it, but on a second taste found it a bit off. the bourbon abbey ale i found to be the highlight of these three treatments.
2,362 characters

3.58
/5
rDev
+2%
look: 4 | smell: 3.5 | taste: 3.5 | feel: 4 | overall: 3.5
750ml generously shared by shadowane. Thanks again Rich!
From the tag around the neck of the bottle: "Three Philosophers Quadruple Ale was aged nine months at Ommegang. It went into Buffalo Trace Bourbon Barrels in September 2009 and was bottled n May 2010. Only 200 bottles were created".
Pours a murky dark chocolate brown color that is completely opaque with toffee/chocolate brown colored edges when held to a light and a one finger off-white head that slowly fades into a lasting ring. Sporadic spots of lace left behind.
Sweet boozy aroma with subtle hints of bourbon that do not overpower the other notes. Vinous with sweet dark fruit alongside some roasted sweet malt. An interesting blend of toffee, caramel, hazelnut, dark cherry, plum and raisin in the nose. I was surprised that the barrel presence wasn't stronger with only faint hints of dry oak/wood and subtle bourbon. I usually prefer for the bourbon presence to be less intense so that the other characteristics can shine through but in this case I would have preferred a bit more of it.
Medium boded with some soft, tight carbonation up front and an interesting combination of flavors. More sweet than anything else with lots of vinous dark fruit especially dark cherry and grape. This is complimented nicely by the bourbon barrel presence. Sweet and boozy with subtle bourbon, faint vanilla and dry earthy oak/wood. Again, as the aroma suggests, the bourbon doesn't dominate, letting the other flavors come through. Slightly toasted malt backbone with hints of sweet hazelnut, toffee and caramel.
Overall, this beer is a touch one dimensional with a lot of vinous sweet fruit flavor. The malt presence could be stronger and the bourbon flavor is a bit mild. I'm glad that you could still taste the quad/base beer but I wish that it was a bit more complex.
1,840 characters
1.92
/5
rDev
-45.3%
look: 4 | smell: 2 | taste: 1.5 | feel: 2 | overall: 2
got to try this one at a special "taste of belgians" beer tasting held right here in jersey this got whipped out and everyone was awwwwing it
i had just got done trying the three philosophers the night before so i was so ready for this, appearance was almost the same as last time the head was not as pronounced however and it appeared darker almost like a coffee color foam
smell was not good this is not a good start it reeked like vanilla beans and bourbon booze you could not get any good yeast and spice and malt like the last time
taste was overwhelming with bourbon it completely ruined the nuance of the great three philosphers the original once has a great sour tanginess and spice and yeast and this one was completely dominated by bourbon it overpowered everything else
mouthfeel is heavy rich and boozy and syrupy
overall i don't like this beer at all i am hapy they expirimented with this style but the bourbon barrel did not help this beer at all what it did do is take a beer that is normally really great and made it below average and actually something i would not seek out again
1,101 characters
Bourbon Barrel Aged Three Philosophers (Buffalo Trace) from Brewery Ommegang
3.51
out of
5
based on
47
ratings.