Engel Kellerbier Hell
| Crailsheimer Engelbräu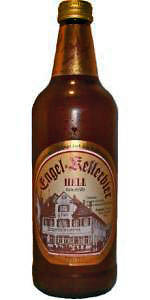 BEER INFO
Brewed by:
Crailsheimer Engelbräu
Germany
engelbier.de
Style:
Kellerbier / Zwickelbier
Alcohol by volume (ABV):
5.40%
Availability:
Year-round
Notes / Commercial Description:
No notes at this time.
Added by brewdlyhooked13 on 05-30-2004
Reviews: 8 | Ratings: 15
4.03
/5
rDev
+22.9%
look: 3.75 | smell: 3.75 | taste: 4.25 | feel: 4 | overall: 4
In 2016, it is called "Keller Hell" - from the bottle, it pours a light amber with a small head, quickly dissipating - as expected in a kellerbier. Not as cloudy as I would expect... Some hops with the malt in the nose. The mouth gets a bit of hops with the malt as well. Yum!
280 characters

3.66
/5
rDev
+11.6%
look: 4.25 | smell: 3.75 | taste: 3.5 | feel: 3.5 | overall: 3.75
Cloudy golden beer with nice white head, good retention, smell - honeyish, herbal hops, bready. Taste - malt-forwarded, low bitterness, honey.
Light body, smedium carbonation.
Crisp, but a bit inappropriate to the style.
220 characters
3.52
/5
rDev
+7.3%
look: 3.75 | smell: 3.5 | taste: 3.5 | feel: 3.5 | overall: 3.5
Brought home from a recent trip to Germany. 0,5 liter bottle.
Nice fresh smell of german hop, Grassy, saaz i guess .
Golden beer with very nice carbonation, a decent and creamy head.
Taste is pretty malty, quite sweet i would say, with only slight bitter notes.
Aftertaste is very mild and smooth. Light.
Overall seems to me very balanced crafted and decent for the style.
375 characters

3.45
/5
rDev
+5.2%
look: 3.5 | smell: 3.5 | taste: 3.5 | feel: 3 | overall: 3.5
500 ml bottle with screw-on cap. Poured into a Weizen glass.
Color is cloudy orange, looks like a Hefeweizen. Two fingers head, left some lace.
Smell is dominated by yeast but you can also distinguish some bready aromas.
It tasted as I was expecting from the looks, raw and unfiltered. Aftertaste is short but pleasant.
I really enjoyed this one. It's a nice alternative for a Hefeweizen if you like unfiltered, yeasty beers but want something less fruity.
458 characters
2.75
/5
rDev
-16.2%
look: 3 | smell: 3 | taste: 2.5 | feel: 2.5 | overall: 3
Deep golden color, lightly veiled, with a decent white foam, quite creamy. Some bubbles on the sides.
Quite malty smell, with strong notes of yeast. Abit of hop in the back, very light.
Malty taste, a bit too much, and so a bit too heavy. Again yeast taste.
Average body.
A bit of hop in the back of the aftertaste.
315 characters

2.74
/5
rDev
-16.5%
look: 2.5 | smell: 3.5 | taste: 2.5 | feel: 2.5 | overall: 2.5
A: Pours murky straw-coloured with a white uneven head that dissipates into some lacings.
S: Yeast up front, then there's malt, an almost bready smell. Crisp-bread and floral hops with citric notes (mainly oranges). Very faint bitter hops.
T: Creamy butter notes. Not very strong in taste. Floral hoppy notes (a bit fainter than in the smell).
M: Thin body and moderate carbonation. A bit creamy mouthfeel. The aftertaste is very short, but holds some amount of bitterness.
D: This is my first ever Kellerbier, and I must say that I'm quite dissapointed. I've heard so many nice things about Kellerbier so I guess that this is a weak example.
647 characters
3.45
/5
rDev
+5.2%
look: 3.5 | smell: 3.5 | taste: 3.5 | feel: 3 | overall: 3.5
On tap at Santa Rosa Argentinean Grill in Berlin.
Dark red-orange color with in inch of off white head.
Smell is very orangey, with a bit of cloves and noble hops.
It's a surprising beer to drink - very orange flavored with a touch of perceptible bitterness. Odd that orange is the primary flavor and little bitterness.
Medium-bodied and refreshing. A little "thick."
Interesting try.
389 characters
2.66
/5
rDev
-18.9%
look: 3.5 | smell: 2.5 | taste: 2.5 | feel: 3.5 | overall: 2.5
Comes in a stout brown half liter bottle with a short neck, a screw-on cap and a gold and tan label featuring a sketch of the brewery building. Purity law applies. Best before 1/05, I opened it on 5/30/04.
Pours cloudy pale gold under a two finger white head with very good body and decent retention, leaving a touch of lace. When cold, there is no nose at all. Towards the bottom of the glass, a good deal closer to room temperature, a bit of malt shows up, but it is very subdued. The mouth is light and moderately carbonated. The taste is, well, watery. There's a bit of a mild malt base, but this brew is close to tasteless. A mild hoppy finish improves things somewhat, but even that doesn't linger long, leaving essentially no aftertaste, just the slightest touch of bitter. Zwickels can often be a bit thin, but this was excessively so.
846 characters
Engel Kellerbier Hell from Crailsheimer Engelbräu
3.28
out of
5
based on
15
ratings.