Saison Espinay

Brasserie Auval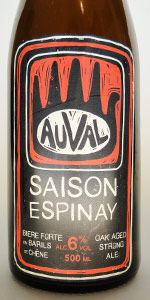 Write a Review
Beer Geek Stats:
| Print Shelf Talker
Style:

ABV:

6%

Score:

Avg:

4.01

| pDev:

6.23%

Reviews:

9

Ratings:

From:

Avail:

Rotating/Seasonal

Wants

Gots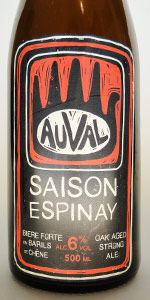 Notes:

PascalMotard from Canada
3.99
/5
rDev
-0.5%
look: 3.75 | smell: 4 | taste: 4 | feel: 4 | overall: 4
At last, the famous Auval! The beer lacks foam but the color ia a bright shiny golden straw. The nose is fruity, with pineapples, slight brett funk and a peppery touch. The taste is quite tart with very juicy tropical fruits and citrus with a not so dry finish. The brett are subtle and the mouthfeel is quite round. A shiny beer!
Jan 09, 2018
zachary80 from Indiana
4.54
/5
rDev
+13.2%
look: 4.5 | smell: 4.75 | taste: 4.5 | feel: 4.25 | overall: 4.5
Absolutely fantastic saison. Poured into a globe. Bottled at 31-05-16; Drink before 31-05-18. This label looks similar to the photo but is prominently labeled 6,5% abv
Pours a faint straw, nearly translucent. Good white head.
Saison yeast funk with a hint of sourness. Very mild oakiness.
Fruity and sweety on the start, almost white wine-like, to a dry and mildly bitter finish.
Light and effervescent to match the flavor, although a little too prickly to be top notch.
Overall this is one the best saisons I've had, period. Nearly makes itself disappear out of the glass - will lookout for more.
Sep 22, 2017

Derek from Canada
4.25
/5
rDev
+6%
look: 4.25 | smell: 4.25 | taste: 4.25 | feel: 4.25 | overall: 4.25
Bottled 7-12-16, 6.5%.
Gold with a white head, good retention and lace.
Earthy and sour funk aroma. Taste is crisp and slightly tart, but not as much as expected. Steelie earth and sourdough bread flavours dominate, with a light spicing, oak and floral hop character.
Well-attenuated, moderate body is clean and crisp.
May 10, 2017

Guillaumeprovost from Canada
4.57
/5
rDev
+14%
look: 5 | smell: 4.75 | taste: 4.25 | feel: 4.75 | overall: 4.75
To the eye a beautiful translucent golden appearance. Beautiful generous and aerated foam that dissipates quite quickly. Nice gasification and big bubbles.
The nose smells light turmeric spice. The oak manifests itself on the nose a beautiful smell of young wood moist and yeast.
In the mouth it tastes the good beer season. Very gasified in the mouth and sparkling very pleasant. Slight oak taste present but not very intense until mid-mouth followed by a finally incredibly dry and sharp surprising us so leaving the impression of having the papilla in the neutral with no back tastes. May be only a slight yeast taste in the final
Apr 12, 2017
Alieniloquium from Florida
3.48
/5
rDev
-13.2%
look: 4 | smell: 3.5 | taste: 3.5 | feel: 3 | overall: 3.5
500 mL bottle. Pale yellow with a big white head. Smells herbal, some pilsner malt, a little yeasty. Tastes of sweet pilsner malt. Herbal and grassy. Yeasty finish. High carbonation. Tingly spiciness in the finish. Pleasant.
Dec 13, 2016
Phyl21ca from Canada
4.32
/5
rDev
+7.7%
look: 4.5 | smell: 4.25 | taste: 4.25 | feel: 4.25 | overall: 4.5
Bottle: Poured a clear yellow color ale with a large pure white foamy head with good retention and some lacing. Aroma of clean cereal notes with light hay notes and some peppery yeast notes is quite nice. Taste is a great mix of clean cereal notes with some hay notes and some peppery yeast flavours. Light vinous notes can also be detected. Body is about average with really good carbonation. Solid take on the style with great drinkability and very good level of complexity.
Oct 17, 2016

Bugs318 from Canada
4.18
/5
rDev
+4.2%
look: 4.25 | smell: 4.25 | taste: 4 | feel: 4.5 | overall: 4.25
pours out a quite cloudy orange-tinged amber, with a lightly audible fizzy white head of some retention. Some lace sticks to the glass. Aroma is of spicy yeasty phenols, but not boldly so, presenting some pepper and coriander, but tempered by a mild floral hops presence. As it warms, a mild peach quality moves forward as well, and other fruity notes kick in, with more wine notes coming to the fore. Taste begins with a mild doughiness, before drying out quite well with a spicy phenolic and floral hopped finish here as well as on the nose. There is also a decent must/grape skin quality to the finish with just traces of oak. Quite dry with a decent linger of must, a very faint salty quality, and the remnants of those floral notes. The body is medium while the carbonation is sharp and complements the dry and spicy characteristics. Fairly traditional saison with just some of the barrel - would like to see it longer than 3 months. But, nonetheless, a delightful rendition of the classic style complemented rather than overwhelmed by the barrel
Jun 29, 2016

TheBierdimpfe from Canada
4.03
/5
rDev
+0.5%
look: 4.25 | smell: 4.25 | taste: 3.75 | feel: 4 | overall: 4.25
Cloudy straw color with a dense slow-motion storm of bubbles. Frothy white 3 finger sparkling head, lasting around 15-20 minutes, with average legs. Flavors of flowers and faint herbal hops, apples, citrus, very faint pine, and belgian style yeast. Slick light body with almost like champagne carbonation. Medium strength finish, nice balance, a little spicy, vinous dryness, flowery with sharp citrus aftertaste. Good freshness, but a little faint. Quite accessible with a nice moderate sugary feel and a witbier or tripel style sharpness. Very soft and tender like a faint white wine. Overall good quality craft. Lacking some flavors, a little too soft. Accessible Saison with low bitterness. Still very tasty and complex with quality ingredients and lots of personality and a unique feel.
Dec 16, 2015

TheDoctor from Canada
3.69
/5
rDev
-8%
look: 4.25 | smell: 3.25 | taste: 3.75 | feel: 4 | overall: 3.75
Service: Bottle
Bottled on: Oct-6-2015
A:
Pours a cloudy white-gold with a big three-finger-deep head that slowly drops to a respectable cover. Good retention; swooping, even lacing. (4.25)
S:
Spicy yeast, barrel and sulfur(?). Spiced dough, rubber hose, dusty floral yeast, some sulfur, along with the character from the barrel. (3.25)
T:
Bright, dry yeast flavors. Light and hints at tartness, lots of floral flavors, honeysuckle, dry woody backbone with a persistent sweetness underneath. (3.75)
M:
Light-medium body with tiny, lively carbonation and a dry finish. (4)
O:
Good beer. Interesting beer.
It pours lovely and is a textbook saison. The only thing that I didn't love was a kind of sulfur character in the smell. None of the rest of beer tastes off or anything, though. I wonder if the sulfur smell is just me perceiving oak or something, cause it is definitely noticeable in the flavor. It doesn't seem gross to me like it has in some beers, but it is definitely there.
Anyway, it is a great mystery. I don't like it in the smell but I finished and enjoyed the whole beer and even smelled it throughout so I am guessing it is either not a defect or just some weird characteristic of my nose. Would have again. (3.75)
Dec 04, 2015
Saison Espinay from Brasserie Auval
Beer rating:
88
out of
100
with
28
ratings