Saison-Brett
| Boulevard Brewing Co.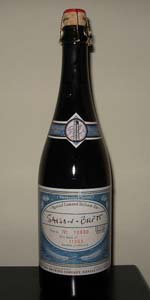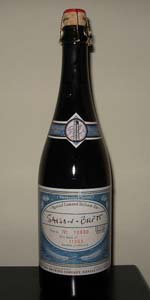 BEER INFO
Brewed by:
Boulevard Brewing Co.
Missouri
,
United States
boulevard.com
Style:
Saison / Farmhouse Ale
Alcohol by volume (ABV):
8.50%
Availability:
Rotating
Notes / Commercial Description:
Saison-Brett, based on our very popular Tank 7, is assertively dry hopped, then bottle conditioned with various yeasts, including Brettanomyces, a wild strain that imparts a distinctive earthy quality. Though this farmhouse ale was given three months of bottle age prior to release, further cellaring will continue to enhance the "Brett" character, if that's what you're after.
38 IBU
Added by Crosling on 04-13-2007
HISTOGRAM
Ratings: 3,285 | Reviews: 783
4.15
/5
rDev
-3%
look: 4.5 | smell: 4.5 | taste: 4 | feel: 4 | overall: 4
750ml bottle, corked and caged. Batch 2008-1. Served in a Smokestack Chalice. Bottle conditioned. Poured a pale gold with two fingers of tight bubbled white head. Plenty of carbonation.
Great aroma. Citrus and spice with a little Brett funk. Medium bodied. More citrus, slightly sweet at the start but a dry finish. There is a bit of hop bitterness. More spice in the finish. Crisp and refreshing. Very drinkable. The last glass has a little more funk as the yeast is added in. It will be interesting to see what some age does to this beer.
540 characters
4.32
/5
rDev
+0.9%
look: 4 | smell: 4.5 | taste: 4.5 | feel: 4 | overall: 4
Aroma - The saison yeast comes through more so than the brett. The brett "funk" is much light than what I was expecting. I get other spice aromas with some malt. Very floral.
Appearance - Pours a slightly hazy gold/amber color with a frothy white head about 1 finger width thick. The head dissipated to about 1/2 finger width. There is quite a bit of visible carbonation. Nice head retention.
Taste - Nice farmhouse flavor. Because of the brett this beer is pretty dry, but still the sweetness of the malt and esters come through. This saison is tart from the brett, but I wouldn't say that it's sour. Very nice balance in my opinion. The characters from the aroma follow through into the taste very well. I am also getting a slight citrus note. There is a slight bitterness in the finish, but the brett is the lingering flavor.
Mouthfeel - Dry, but not thin. There is a nice body on this beer. Heavy carbonation. Dry finish with a slight perceived bitterness.
Overall Impression - After looking forward to the Smokestack series for over a year I was pretty disappointed in the series. I felt that the saison was one of the better of the four, but not much better than average. With the brett added this beer is given the character that it badly needed. This had been turned into a pretty great beer. For an 8.4% ABV the alcohol is well hidden. I could drink several pints of this. I would put this in my regular rotation if I could. I will go get a couple more bottles while it's still there. If you have the chance to get a bottle I highly recommend that you buy it.
1,572 characters

4.52
/5
rDev
+5.6%
look: 4 | smell: 4.5 | taste: 5 | feel: 4 | overall: 4
I owe this one to serendipity. Had no idea it was even out, and there it was, beseeching me to grab it off the shelf. All the smokestack series have been exceptional brews. I expect this one to be no different. Very limited. I'm reviewing bottle # 9825/11950. Let me say it once again, there's something deeply satisfying about uncorking a beer bottle. That "pop" that once only the wine snobs got to enjoy, can now be enjoyed by the common man.
As with the Doublewide IPA, this one has a prolific head that just doesn't stop. I slow poured this one into a snifter, and it still overflowed the rim. Retention is excellent, and big chunks of lacing are haphazardly left around the glass. Color is a subdued, somewhat hazy orange.
The nose is complex and filled with the robust, interesting and much welcomed brett funk. There's some citrus and some spice as well. Overall expectations just rose a bit. On to the palate. I taste yeasts, hay, some lemon tartness, orange peel, an essence of sweet bread in the background and some malts. There's a slight bitterness in the aftertaste, and some estery and phenolic essences also involve themselves. The taste and aroma are both complex and exceptional.
As mentioned before, this one's highly carbonated. Mouth-feel is crisp and medium to full-bodied, but is damn drinkable despite it's 8.5% abv.
Unique, tasty, well balanced, well crafted, and I good go on and on. If you are lucky enough to have Boulevard distributed to your area, I would seriously try and seek this one out before it's all gone.
1,550 characters
4.08
/5
rDev
-4.7%
look: 4.5 | smell: 4 | taste: 4 | feel: 4.5 | overall: 4
750 ml bottle, #03902/11950, poured into my Smokestack goblet. Bright white head stands a good fingers width. Recedes to a slight filmy lace. Color is a very hazy apricot-orange.
Smell is a mild Brett funk sour. A bit like wet hay on a hayride. there is toasted malt backbone keeping the balance. Taste is a balance of fresh alfalfa, green grass, hints of lemon and toasted biscuit.
Mouthfeel is very crisp and bubbly. Slightly sticky texture. The label says that aging will bring out more of the Brett. I'll get back to you in a year.
538 characters
4.07
/5
rDev
-4.9%
look: 4 | smell: 4.5 | taste: 4 | feel: 3.5 | overall: 4
GLASS: Tripel Karmeliet Goblet
TEMP: Chilled to approx 45 degrees
BOTTLE #09666 of 11950
A lightly hazy golden color with a touch of burnt orange. Massive bubbly head that leaves a decent foamy layer. Good retention and good, but spotty, lacing.
Man, there is no hiding that brett yeast in the nose. Little bit funky, in a good way. Nice level of tropical fruits mixed with a touch of citrus oils. Nice spicey pepperey smell. Saaz hops, maybe? Nice grains and floral notes.
Very nice, complex, yet attractively inviting nose.
Brett funkiness is upfront. Some sweet citrusy flavors. Pineapples, pears, and green apples, mostly. Decent sized spicey hop bite. Floral notes mix with a slight touch of earthiness.
Good mouthfeel. Medium body with a decent creaminess. Would like it better if it were a little bit creamier feeling.
Very drinkable, overall. Would be a great summer brew, I believe.
Boulevard continues to impress with their Smokestack Series (this one is #5 in the series).
Hope I can let a bottle or two of this lay for 6 months to a year, as I think it will be even better then.
1,096 characters
4
/5
rDev
-6.5%
look: 4 | smell: 4 | taste: 4 | feel: 4 | overall: 4
On-tap special at Cole's with a Boulevard brewer there. Pours a whitish shade of pale.And lace. A little spice in nose, active carbonation (better a few samples of it later). Smooth drinking, creamy. Absolutely smoother than can be expected . A mild bitterness. Had this bottled 3 1/3 years later and found it a showcase of brett taste, but also very boozy.
357 characters
4.55
/5
rDev
+6.3%
look: 4 | smell: 4.5 | taste: 4.75 | feel: 4.25 | overall: 4.5
Sampled at the Sycamore.
A - Poured out a clear yellow. It was fairly fizzy with a small,white head.
S - It had a great funky/sour smell from the Bret.
T - The taste is an amazing blend of sweet grains and sour Bret. There was also a citus kick with some hop spicness.
M - It was sharp, crisp and fizzy on the tongue. A medium-bodied beer.
D - This is a very good saison. The Bret makes it very interesting and delicious.
426 characters
4.35
/5
rDev
+1.6%
look: 4.5 | smell: 4.5 | taste: 4.5 | feel: 4 | overall: 4
Split between me, my dad, who is wanted is 14 states and idolizes Steve Guttenberg, and my uncle, who knows a little something about electricity, during my trip to Kansas City. According to my uncle, the bottle had been aging for about nine months. But he doesn't know where he is half the time, so take that for what it's worth. Pours a pale yellow color, with a rich, creamy head on top. Smell is complex...floral, fruit, grain, and peppery. Taste is even more complex. It's earthy, a hint of dried fruit, and horse blanket. After aging, the bret and horse blanket undertones become relatively subdued and make this beer very drinkable... but not with family. A very drinkable beer that requires some aging, but is well worth the wait.
737 characters
4.38
/5
rDev
+2.3%
look: 4.5 | smell: 4 | taste: 4.5 | feel: 4.5 | overall: 4.5
Bottle given to me by the owner of Boulevard Brewing after the Boulder Strong Ale festival. Many thanks for the opportunity and nice meeting you at the festival.
Pours a three finger lamost white head over a cloudy dull dead-grass yellow liquid. Many streamers and the head clings and caves in clumps. Smells sweet, pineapple, unripe green apple, and citrusy with minimal funk. Peppery and saaz-like hoppy aroma. Horse blanket is not heavy and dank, but present.
Up front, it tastes sweet with peppery zing (almost like a bohemian pils) and a flavor that I can only describe as a heineken-like hoppiness (not a fully skunked heineken, but a little bit along the way). Drying grassy and phenol finish is tough for me to handle (for most, it would not be unpleasant, but I'm not fond of phenol edginess...blech). Aftertaste lingers of light fruits, such as pear and some pineapple. Horse blanket brett character is quite strong, much more so than the aroma belied.
Strong carb and light body. Pretty easy drinking and likely to be a great quencher this summer.
1,067 characters
4.21
/5
rDev
-1.6%
look: 5 | smell: 4 | taste: 4 | feel: 4.5 | overall: 4.5
This is the saison with brettanomyces. Yellowish color with a massive & perfect head. Intriguing aroma of damp socks, horseblanket, lemon oil and wild mountain fruit. Nice & dry on the palate with hints of Torrontes. Exotic & wild, like a blend of papaya and pineapple. A really lovely example of the style Boulevard should be proud of.
336 characters
Saison-Brett from Boulevard Brewing Co.
Beer rating:
4.28
out of
5
with
3,285
ratings