Two Jokers Double-Wit
| Boulevard Brewing Co.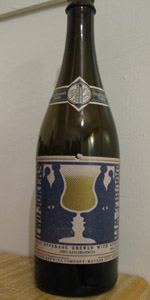 BEER INFO
Brewed by:
Boulevard Brewing Co.
Missouri
,
United States
boulevard.com
Style:
Witbier
Alcohol by volume (ABV):
8.00%
Availability:
Summer
Notes / Commercial Description:
They say there are two sides to every story, and that's certainly true of Two Jokers Double-Wit. On the one hand, it's a revival of the classic Belgian "wit," or "white" ale, with lactic fermentation providing a refreshing tartness. On the other hand, it's a modern, uniquely American brew; big, flavorful, and spiced with cardamom, coriander, orange peel, lavender, and grains of paradise.
15 IBU
Added by naterock on 05-10-2009
Reviews: 206 | Ratings: 521
3.95
/5
rDev
-1.7%
look: 4 | smell: 4 | taste: 4 | feel: 3.5 | overall: 4
This is the first double wit I've ever had. Split four ways between me, my brother-in-law, my dad and my sister's boyfriend. Pours a hazy orange color with a bubbly head. Wheaty, citrusy in the nose. Taste is very light and refreshing for a double wit. Like the nose, it's wheaty and citrusy. A little bubbly in the mouth, but not overwhelming. Very tasty beer. Enjoying the smokestack immensely.
396 characters

4.43
/5
rDev
+10.2%
look: 4.5 | smell: 4 | taste: 4.5 | feel: 4 | overall: 5
Drinking from a Boulevard pint glass, poured from the Boulevard bomber.
This looks to be a pretty imposing wheat-wheat from the outset - almost thick looking because it's such a dark color for a wheat - orange-brown, with a huge 1 inch head, with a volcano-like crater from the pour, dying out to become a thin layer of white "invite."
Definitely wheaty on the nose, but in a big way, with additions of spices and citrus, finely complementing the wheat aromas.
Big bitter wheat, and coriander-like spices and hints of grapefruit and other citrus extending to the edges of the tongue, making you forget that you've ever had another beer before. It's seriously that enjoyable.
Heavy in the mouth, popping and cracking with each taste, becoming a bit syrupy and at the end, but by that point, your tongue is so worn out that it just doesn't care anymore.
Nothing left to write - smiling too much.
903 characters
4.55
/5
rDev
+13.2%
look: 4.5 | smell: 4.5 | taste: 4.5 | feel: 5 | overall: 4.5
When I heard Boulevard was bringing out a double wit I was also not happy.
A: A good bit darker than most wits I've seen. Nice head and sticky lacing.
S: Whoah! The orangepeel and coriander smack you in the face.
T: The spices come close to being overwhelming whithout actually going there. Wit flavor in your face. Alcohol is a maybe a bit too prevalant, but that's just a very small complaint. Overall the taste is great. I'd like to say it's balanced, because it tastes balanced, but I don't know that I can with all the flavor going on.
M: Smooth, creamy, and super bubbly.
D: I could drink this all night and gladly pay for it the next day.
Well, my concern over a double wit being put out was overrated. This is the best wit I've ever had. I shouldn't have doubted the brewmaster since I hear he is Belgian. At $7.49 a bottle this was a steal.
857 characters

4.55
/5
rDev
+13.2%
look: 4.5 | smell: 4.5 | taste: 4.5 | feel: 5 | overall: 4.5
No. 8 in the Boulevard Smokestack Series
Batch Number has been left blank.
a: Cloudy peach body with an ample head.
s: The aroma hit me as soon as I pulled the cork. Spice is the dominant component here, its quite balanced with orange peel being perhaps the most obvious specific spice. Coriander, cardamom, lavender, and grains of paradise are all detectable and I find that with alternating sniffs one or the other will comes to the forefront.
t: A bright bouquet of pleasing spice notes. As in the nose, all of the spices used to produce this beer can be detected, though orange peel is the strongest. The spices are there, they are the central focus of the beer, but they do not overwhelm either. Soft tart notes come through as well.
m: Full bodied by wit standards and creamy by any standard. My first thought when I took my first sip was how excellent the mouthfeel was.
d: When I heard Boulevard was doing a Double wit, I was actually disappointing. Does the world really need another wit? Couldn't Boulevard do something more exciting? Yes and no in that order. Wow, I mean...wow. Just when you think the style has nothing left to offer, Two Jokers comes around. This is a tremendous wit and this is coming from someone who isn't even much of a wit fan. I think this has Southampton, Allagash, St. Bernardus, Hitachino, and La Grande Blanche all beat. In my book, this is the new champion of the witbier category.
1,428 characters
4.2
/5
rDev
+4.5%
look: 4 | smell: 4 | taste: 4 | feel: 5 | overall: 4.5
poured into a EKU pokel. Cloudy yellowish orange with a three finger head. Yeasty floaties.
Smells of grapes and an array of spices. Orange peel, Lemon peel, Coriander and cloves. Malty backbone and a twinge of grassy hops.
Suprisingly sweet and spicy at the same time. Great balance and really gathers all of the spices well. Hides the alcohol well underneath the spices.
Mouth is moderate and perfectly carbonated with a lingering sweetness in the aftertaste. Drinks easy and wonderfully on a hot night. Really liking the new Boulevard offerings Kepp em coming!
566 characters
4.32
/5
rDev
+7.5%
look: 4 | smell: 4.5 | taste: 4.5 | feel: 4 | overall: 4
Poured into a Snifter
Cloudy copper/off orange with a nice 1 finger head that fades quickly but leaves a full film over the top of the beer
Smell is all over the board rich spices, corriander, clove and others. Also very citrus notes lemon/orange peel and even a grape note
Smooth and extremly complex spices are ver full and stay throughout the beer with a nice level of alcohol and good spicy finish
Very smooth and complex carbonation is near perfect. Medium near a heavy body very full
Easy to drink and I'll be happy everytime it comes around
557 characters
Two Jokers Double-Wit from Boulevard Brewing Co.
4.02
out of
5
based on
521
ratings.