Amber Ale
| Boulevard Brewing Co.
BA SCORE
79
okay
133
Reviews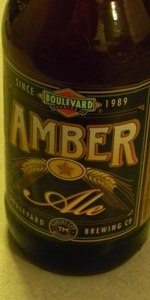 BEER INFO
Brewed by:
Boulevard Brewing Co.
Missouri
,
United States
boulevard.com
Style:
American Amber / Red Ale
Alcohol by volume (ABV):
5.10%
Availability:
Year-round
Notes / Commercial Description:
Boulevard Amber Ale is an exceptionally well-balanced beer, complex yet thirst-quenching. American pale malt provides a firm foundation. English specialty malts impart a nutty sweetness, perfectly complemented by noble German hops. The deep coppery color holds the light, reflecting a ruddy glow, and the finish is clean, round, and delicious.
24 IBU
Added by brownbeer on 05-23-2010
This beer is retired; no longer brewed.
Reviews: 133 | Ratings: 356
3.98
/5
rDev
+15.4%
look: 4 | smell: 3.5 | taste: 4 | feel: 4 | overall: 4.5
A - Poured out a slightly hazy, amber color with a good deal of carbonation. It had a two-finger, off white head that was long lasting and left behind a little lace.
S - It smelled very malty with a roasty presence. There was a mild floral aroma, too.
T - A malty amber ale with hints of chocolate flavor. I also tasted a grassy hop bite that added balance.
M - It was crisp, sharp and smooth. A light to medium bodied beer with a dry finish.
D - This is a really nice amber ale. It was nice to see Boulevard go back to a sessionable style and do it really well.
566 characters

3.85
/5
rDev
+11.6%
look: 3.5 | smell: 3.5 | taste: 4 | feel: 4 | overall: 4
Nice deep amber in color, a bit hazy with a creamy white head. Nice piney hop aroma with some bready malt. Thick malt flavor with a caramel-like sweetness. Solid hop character that provides a mild bitterness to contrast the malty sweetness. Also, just a faint touch of creamy yeast flavor. Medium-bodied and well carbonated. Creamy texture throughout the drink with a crisp finish from the hops. Flavors are well balanced. Very refresing and quite drinkable!
458 characters
3.55
/5
rDev
+2.9%
look: 3.5 | smell: 3.5 | taste: 3.5 | feel: 4 | overall: 3.5
Serving glass: Poured from bottle into Nonic Imperial Pint.
Appearance: Very cloudy amber-orange with thin tan head that mostly dissipates.
Smell: Mostly caramel, with some cherry and floral hops.
Taste: Semi-sweet caramel, dark fruit and cherry malt backbone. Seems to be a tiny bit of nuttiness (like a Brown Ale), and a very light floral, spicy hop finish.
Feel: Moderately low carbonation, medium body but quite smooth, semi-dry finish.
Drinkability: Slightly different take on an Amber Ale with some English Brown Ale and English Bitter characteristics. Well made and tasty, if a little unexciting.
608 characters
3.84
/5
rDev
+11.3%
look: 3 | smell: 4 | taste: 4 | feel: 3 | overall: 4
A - This beer pours a hazy rust like color. With a one thumb head that retains only for a few minutes.
S - The smell is very nice, not faint, yet not too robust. A nice balance of malt, biscuit, yeast and some maple or syrupy scents.
T - The taste is similar to the smell. mellow at the start then finishing with a dry crispness and a bittersweet aftertaste.
M - Nice mouthfeel, but could retain the carbonation a little better.
D - I could definantly drink this for a short session, and I think it would go great with and typical midwestern dinner.
I think this is a welcome addition to the BLVD family. If they can find a way to kick up the carbonation it would put it over the top. Still one of BLVDs better efforts.
728 characters
4.15
/5
rDev
+20.3%
look: 4 | smell: 4 | taste: 4 | feel: 4.5 | overall: 4.5
Part of a mixed 12 pack. Best by Oct 3, 2010.
A slightly hazy brownish red colour with a good 1 finger head of foam and good sticky lacing.
The smell is nice and malty with some notable sweet notes and light bread. I couldn't pick out any bitterness at all and, for the style, that works for me.
The taste is as good as the smell. Not as sweet as in the smell but it's still plenty malty with lightly done notes of bread and a light, balancing, taste of some citrus. I see as the beer warms up, the malty sweetness comes through more and I'm digging it. This is an excellent tasting malty Amber Ale.
The mouthfeel doesn't hurt the beer as it's very smooth and drinkabilty, me thinks, is also excellent.
Man, Boulevard, I guess, just started this puppy up recently and my hat's off to them for this most excellent example of the style. Grab yourself a 12 packer if you see some...
886 characters
4.8
/5
rDev
+39.1%
look: 4.5 | smell: 4.5 | taste: 5 | feel: 4.5 | overall: 5
This is a new offering from Boulevard. Available only in my area in the Boulevard variety 12 pack (allegedly available as a 6 pack in Nebraska...yet I live in Boulevard's home town - shame on you Boulevard for letting us locals down).
Beer pours a nice copper color. Minimal head, not overly carbonated. Minimal lacing.
Slightly malty aroma, balanced by the wheat malt and hops (not too hoppy). Definitely agree with the the slight hint of almond noted by the first reviewer.
Very smooth - good session beer.
I'm not a big fan of amber ales, but I really like this one...maybe because it seems a bit more like a brown ale than an amber ale (despite the coloration). I'm not sure if this is the wheat malt or the nice balance of malt and hops or simply the lack of the grassy taste many amber ales (can you say Fat Tire?) you find in America today.
851 characters
3.59
/5
rDev
+4.1%
look: 4.5 | smell: 3 | taste: 3.5 | feel: 4 | overall: 4
12 oz bottle poured into a shaker pint. Half inch of cream colored head that has great retention. A solid creamy cap covers the surface for the entire duration. Color is a dark amber, light comes through but you cannot see through the body clearly.
Smell is a very mild caramel malt. It is subtle here. The taste, however, comes in with a bold malty presence. Mild mineral like hops finish to cleanse the palate from the sweetness.
The mouthfeel has a solid medium body, but the hops come through to clean things up. There is still a stickiness that is left on the lips. Solid craft beer making here.
602 characters

3.93
/5
rDev
+13.9%
look: 4 | smell: 3.5 | taste: 4 | feel: 4.5 | overall: 4
Brought down to Springfield by the generous folks at Boulevard for a beer dinner. Pours a chestnut-amber with a frothy head on top. The beer is somewhat nondescript aroma and taste-wise. Faint notes of almond and grapfruit come to mind. Malt-forward with a delicate touch of hops late. The medium body is velvety smooth. A super session beer, or probably a great transition beer for people looking to move away from our pale, watery friends next door.
451 characters
Amber Ale from Boulevard Brewing Co.
3.45
out of
5
based on
356
ratings.