Collaboration No. 2 - White I.P.A.
| Boulevard Brewing Co.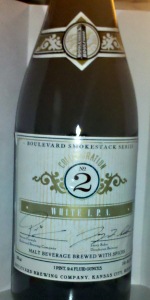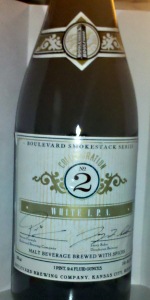 BEER INFO
Brewed by:
Boulevard Brewing Co.
Missouri
,
United States
boulevard.com
Style:
Belgian IPA
Alcohol by volume (ABV):
7.40%
Availability:
Limited (brewed once)
Notes / Commercial Description:
Combining Boulevard's expertise at making Belgian-style witbiers with Deschutes' skill at brewing hop-forward ales, this beer puts a new spin on the idea of collaborative brewing. Working from a single recipe, brewmasters Steven Pauwels of Boulevard and Larry Sidor of Deschutes have produced two separate beers, more than 1,600 miles apart.
Despite the beer's shared recipe, each of the two versions possess a unique identity, reflected in their naming and packaging. Boulevard's half of the equation, christened Collaboration #2, is available throughout our selling region in both 750mL bottles and in kegs. Brewed at their Bend, Oregon facility, Deschutes' effort is the second beer in their new Conflux collaboration series, and is available throughout their selling region in kegs and 22-ounce bottles. http://beeradvocate.com/beer/profile/63/71419
42 IBU
Added by BradLikesBrew on 05-06-2011
This beer is retired; no longer brewed.
HISTOGRAM
Ratings: 340 | Reviews: 161
5
/5
rDev
+20.5%
look: 5 | smell: 5 | taste: 5 | feel: 5 | overall: 5
A white IPA you say? Why, sure!
750ml Batch 2011-2 into my Portsmouth Brewery tulip & shared, by chance, with an Oregonian. Very glad to get to try this - thanks ratedz(Jim)!
A - Beautiful! Like a cloudy, light golden Belgian IPA. Nice, thick 2 finger head, then thin after settling with little to no lacing.
S - Coriander, orange, citrus, lemon, light on the hops. Very nice! Complex yet lovely.
T - As it smells - spice notes, peppery, a bit more hops in the taste than in the nose. No bitterness. Lemon, orange. Really nice!
M - Perfect! Great carbonation - no too much, not too little. Easy drinking!
O - High, for me. At 7.4% it's not by definition sessionable but I could drink this all day. Perfect Belgiany blend of citrus & hops. Awesome collaboration - bravo Boulevard and Deschutes! Highly recommended!
819 characters

4.03
/5
rDev
-2.9%
look: 4.5 | smell: 4 | taste: 4 | feel: 4 | overall: 4
A- Light straw colored body with honey highlights
S- Hops and belgian yeast. Some unidentifiable light herb aromas.
T- Very complex but straight forward and executed perfectly. Hops and Belgian yeast take the center stage followed by a peppery dry finish
M- Nice carbonation reminiscent of most belgian style ales
O- Buy this and drink this. It truely knocked my socks off.
377 characters
4.3
/5
rDev
+3.6%
look: 4 | smell: 4 | taste: 4.5 | feel: 4 | overall: 4.5
750ml corked and caged bottle served in a Tank 7 tulip. Poured a hazy gold with two fingers of rocky head. Lots of citrus in the aroma, especially lemon. Lighter side of medium bodied. More citrus in the flavor with a bit of tartness. Some coriander in the finish along with a floral note. Some hops, but not a lot of bitterness. Very refreshing and drinkable. Nice beer.
371 characters

4.2
/5
rDev
+1.2%
look: 4 | smell: 4 | taste: 4.5 | feel: 4 | overall: 4
from corked caged 750ml bottle with a BB date 2/2012
A- pours a slight hazed lemon yellow color with a big fluffy white head that does recede and reveals good lacing and a fresh collar thru-out
S- scents of lemongrass,wheat,light fruits,spice and citrus hops
T- is a lemon like saison start with herb and pepper with coriander and clove..some fruit and citrus are in the middle it finishes with a nice citrus hop bite,a mild funk
M- is tart and smooth at the same time as it mixed with a good dose of hops its creamy smooth but also sharp with hops a great balance of flavors
O- a great collaboration with decshutes to me it has lots of saison qualities,very drinkable..would have liked a little more funk ,belgian
719 characters

4.22
/5
rDev
+1.7%
look: 4 | smell: 4.5 | taste: 4.5 | feel: 3 | overall: 4
This beer pours a hazy gold color with two fingers of foamy aromatic foam that leave a ton of lacing and retain a little. The aroma is strong with citrus hops, coriander and some floral notes. The taste starts with a orange spice flavor from the citrusy hops and coriander, then becomes bitter and a hint of malty sweetness. The mouthfeel is a bit overcarbonated and burns the tongue a bit. Overall a great beer.
412 characters
4.3
/5
rDev
+3.6%
look: 4.5 | smell: 4.5 | taste: 4 | feel: 4.5 | overall: 4.5
A: The cork comes off with a loud pop and plenty of gun smoke. A sign of good things to come. Pours a slightly hazy golden/yellow color. Very bright and vibrant. A two finger white head forms with good retention. Plenty of sticky lace is left behind.
S: Musky yeast and peppery spice. Clove with some fruity banana esters. Orange and lemon peal. Very floral and herbal. Even some cinnamon and vanilla sweetness lingers on. Some soapy hops mixed in as well.
T: Follows the nose with a white pepper like kick. Clove, banana, orange, citrus, and lemon flavors. There is a bit more bitterness in the flavor and again some soapy hops.
M/D: A medium body that is very effervescent and crisp. Bone dry as well. Smooth at the same time. So easy and just flat out enjoyable to drink this bottle will be gone in no time.
This is great. The Wit and IPA work really well together. The hops are a bit soapy, which I am not usually a fan of. Though it is a very minor part. Lots of spice, yeast, and fruit. Great stuff which is the norm for the Smokestack Series. Something I would highly recommend.
1,087 characters
4.82
/5
rDev
+16.1%
look: 4.5 | smell: 5 | taste: 5 | feel: 4.5 | overall: 4.5
Served in a Boulevard tulip.
A - Cloudy pale straw colored with tall head. Lacing sticks to the side of the glass throughout the enjoyment of this beer.
S - Wit beer-forward with spicy fruits (citrus, apple, grapefruit) and coriander. Definite citrus hop presence along with lemon and a menthol scent (likely from the sage).
T - Wonderful and bright. A classic farmhouse ale at the front with spicy fruits as mentioned above and herbal sage in the middle. The herbs become more apparent as the beer warms. It finishes with a blend of lemongrass and bitter citrus hops.
M - Light to medium feel and effervescent. Fits the style very well. [Edit]: As you near the end of the glass, your mouth gains a tingling sensation, presumably from the sage. This is a very unique aspect of this beer.
O - An excellent collaboration by Boulevard and Deschutes. The balance of the flavors of wit beer and ipa are incredible. If you are expecting just an IPA or just a white ale, this isn't for you. But if you are wanting to taste an ideal blend of the qualities of both styles in which they compliment each other perfectly, you will love this.
1,134 characters

4.12
/5
rDev
-0.7%
look: 4 | smell: 4.5 | taste: 4 | feel: 4 | overall: 4
poured into my brooklyn snifter, pours a really light transparent yellow. Awesome head, nice retention. Smell- coriander, orange, clove, citrus hops. Taste- citrus, orange, lemon, coriander, rosemary, wow. The citrus and hoppiness fits perfect with this beer. Mouthfeel- dry, carbonated, perfect. Drinkability- high.
316 characters
4.55
/5
rDev
+9.6%
look: 4.5 | smell: 4.5 | taste: 4.5 | feel: 4 | overall: 5
Could be either a lightly-colored IPA or a Belgian wit with its hazy, bright straw yellow color and wispy, foamy white head (which leaves ample lacing down the glass). Smell is stellar: Belgian yeastiness, orange, citrus hops, coriander, and even something herbal. Flavor and body just glide over the tongue and crescendo with a lovely, unique flavor. Feels full-bodied, but is fluffy and airy rather than heavy. Taste is kind of what you'd expect for this hybrid style. And it works really, really well. A lot of orange flavor throughout, seemingly from both curacao and hop choice. Coupled with it are notes of coriander and that herb (possibly sage, based on another's review on BA). Finishes with a lot of spice and hop snap. I would not peg this beer above 6.5%; it drinks really easily. Wow, I'm really loving this and already agonizing over the fact that it's (most likely) a one-time beer. I'd love to see this in their portfolio of regular Smokestacks. This beer seems destined for a great cheese pairing (I just don't know which one to suggest!).
This beer absolutely lived up to my expectations. Deschutes and Boulevard have really outdone themselves here. For my tastes, this is a much more exciting collaborative beer than their first endeavor.
At $7.99/bottle, I'll definitely be buying another one...or few.
1,340 characters

4.62
/5
rDev
+11.3%
look: 4 | smell: 4.5 | taste: 5 | feel: 4 | overall: 4.5
Caged, capped and corked, it pours with what sounds to be a great deal of effervesence, sounding like cola from the bottle. Giant bubbles form a chunky head that leaves big lace down the sides of the glass. Pale gold, slightly hazy.
Belgian yeast and citrus from hops, the lemongrass or otherwise are the first to hit the nose, followed by a bit of herbaciousness - guessing that's the sage.
Damn - layers upon layers of flavor. A deep lemony citrus balances with the yeast - they sit upon the tongue, tied in beer eternity. Some vegetation in there too - likely the lemongrass. I'd heard the inclusion of the sage was to provide a bridge between the hops and yeast - seems to be true, drawing them together. Completely original.
Smooth and dry, filling the mouth, with the sage sticking around for quite awhile. The carbonation delivers just a hint of a burn. A deep breather this one is - great to let the remnants roll around in your mouth.
Outstandingly good - fresh, hoppy, with the uniqueness of the sage contributing a completely new take on beer.
1,061 characters
4.47
/5
rDev
+7.7%
look: 4 | smell: 4.5 | taste: 4.5 | feel: 4.5 | overall: 4.5
Clear pale gold body. Nice frothy white full head.
Grassy hoppy aroma nice citrus lemon zest notes. A bit of sweet wheat and belgian spice.
Wow a huge citrus blast up front. Corriander and other spice. A nice mellow wheat a bit lemony and just a touch of tartness.
Lots of carbonation fairly mellow with just a touch of booze. I am very impressed
349 characters
4.47
/5
rDev
+7.7%
look: 4.5 | smell: 5 | taste: 4.5 | feel: 4 | overall: 4
Bottle poured into a Smokestack tulip:
A: flowing from the bottle appears very light and clear yellow like a champagne or pinot grigio. Generous sparkling head dies quickly, hazy yellow in the glass
S: Herbal spices and clove, faint rosemary, pine hops
T: hops and herbal spices fight to be in front, yeasty lemon and clean floral taste
M: highly carbonated, sticky on the lips but light on the tongue
O: very complex and interesting, many flavors and textures make this one defy strong descriptions. Great beer, a must try.
525 characters
4.62
/5
rDev
+11.3%
look: 4.5 | smell: 5 | taste: 4.5 | feel: 4.5 | overall: 4.5
Poured into a tulip glass from a 750ml bottle.
A - Pours a slighty pale yellow color with some godlen hints and a nice golden hue. There is a huge 2 inch head that is soappy and very dense.
S - Dank sweet pine resin. Nice notes of clove and some spices. Corrainder as well as some peper notes. The hops however overtake teh nose and in a very good way. Delicious nose. There are some slight tropical fruit ntoes such as mango and some tangerine notes in the nose as well but this gets offset by some nice Belgian wheat malt.
T & M - Starts off as a Witbier. Coriander, wheaty bread notes, fresh earthy grain as well as some nice spice and slight celery notes. After this there are some nice grassy and citrus hop notes. Some tropical flavors are present. This beer is delicious and the nose really compliments the flavor profile. There are some clove notes present and some nice resiny pine. The balance between the hops and the belgian yeast and malt profiles is nearly perfect. I thin that Blvd and Deschutes have struck gold with this Belgian IPA. Balanced and well crafted, yet every flavor pops. Mouthfeel is light-medium with great carbonation and a smooth yeasty aroma.
O - Wow. I've been blown away with this beer. This is a great collaboration and a very well crafted beer in general. Absolutely delicious.
1,319 characters
4.35
/5
rDev
+4.8%
look: 4.5 | smell: 4.5 | taste: 4.5 | feel: 4 | overall: 4
750 ml bottle poured into a Smokestack tulip. I poured to the stop line, and then head rockets to the rim. There is a mix of tightly packed small bubbles and large, soapy bubbles in the foam. The body color is a hazy lemon yellow.
The smell is very green. Lots of sweet pine and fresh green herbs. Coriander is dominant, though a faint orange blossom comes through in the end. The taste is still very piney and green. The hops and coriander make a blend. The herbal quality gives a nice bite.Once again the orange comes in late with a kiss of sweetness.
There is a mild oiliness to the mouthfeel, which I attribute to the orange peel. Still very soft overall. This is great hot weather beer. Very refreshing. Clean with a hint of sweetness.
742 characters

4.3
/5
rDev
+3.6%
look: 4 | smell: 4 | taste: 4.5 | feel: 4 | overall: 4.5
I was EXTREMELY fortunate to have the opportunity to try this with Steven Pauwels at the brewery this week. He is a very generous man.
White IPA is a collaboration between Larry Sidor of Deschutes and Steven Pauwels of Boulevard. It is an attempt to combine the unique, subtle character of a Belgian Wit with the more aggressive qualities of an American IPA. Citra, Centennial, and Bravo hops combine with Coriander, Orange Peel, Lemongrass, and Sage to produce this truly unique beer.
The result is a hazy, pale golden body with a fluffy white head. Aromas are floral and herbal in nature with lingering citrus tones. The palate is complex and unusual, but impressively balanced. Malt provides little of the flavor, but I didn't miss it, the hops, herbs, and yeast take to the spotlight in style. Sage provides a distinct savory herbal element with bright fruity, floral lemongrass adding a twist to the typical orange and coriander Wit flavors. The citrus driven hops really take White IPA to another level. Bitterness doesn't seem too high, though it is listed at 60 IBUs.
Steven said he thought the Sage was too strong in this batch. It certainly was a large contributor to the flavor profile and I can see why he would want to tone it down, but I must say, I found the Sage to be a thoroughly enjoyable, yet unusual touch that really makes White IPA a different beer.
Larry and Steven have done a superb job here. This is the sort of refreshing, yet full bodied and flavorful beer I absolutely love. I hope it draws a wide audience, but I have my fears. Hop heads may be disappointed that it is not more intensely hopped, while Belgian fans may find the non-traditional hopping out of place. I hope there are more people out there that appreciate experimentation and boundary pushing that White IPA represents while displaying subtlety and nuance that has become all too rare. The world needs more beers like this.
1,923 characters
Collaboration No. 2 - White I.P.A. from Boulevard Brewing Co.
Beer rating:
4.15
out of
5
with
340
ratings