Reverb Imperial Pilsner
| Boulevard Brewing Co.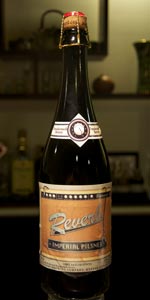 BEER INFO
Brewed by:
Boulevard Brewing Co.
Missouri
,
United States
boulevard.com
Style:
American Double / Imperial Pilsner
Alcohol by volume (ABV):
7.70%
Availability:
Summer
Notes / Commercial Description:
With its classic recipe and impeccable craftsmanship, this summer seasonal is a study in delicately balanced contrasts. Up front, Pilsner malt makes a clear yet restrained statement, answered by the steady, harmonious hum of Saaz hops, traces of which linger in the dry, crisp finish.
32 IBU
Added by Reaper16 on 08-18-2012
Reviews: 65 | Ratings: 333

4.25
/5
rDev
+12.1%
look: 4.5 | smell: 4.5 | taste: 4 | feel: 4 | overall: 4.5
Brilliantly clear gold with a perfect dollop of pure white foam. Harmony between a soft, clean, elegant graininess and slightly aggressive Saaz. Honey, lemon zest, black pepper, and barley husk. Great balance, which seems to be difficult to achieve in this style. Great flavors, but what really makes it stand out is that the brewers managed to maintain that lean pilsner dryness. Four packs of this would be nice to see in the future
434 characters
4.09
/5
rDev
+7.9%
look: 3.5 | smell: 4.5 | taste: 4 | feel: 4 | overall: 4
Batch#2 best by 04-2013
Pours an effervescent gold with 3+ fingers of pearl colored head. Average lacing & head retention
S: Breadyness, soapyness, hay, perfumy notes
T: Follows the nose, nice sweet breadyness, grass & soapyness up front, some lemon & grapefruit. Grapefruit, lemon, dryness & some grainyness as this warms. Finishes dry, with lemons, grassyness & grainy sweetness
MF: Medium bodied, soft carbonation, nicely balanced
A ramped up/amped-up version of their Pils with some American influence. I like this, would love to see this out in 4 pack next year
571 characters

4
/5
rDev
+5.5%
look: 4 | smell: 4 | taste: 4 | feel: 4 | overall: 4
Poured into a tall lager glass at 45 Degrees, Batch #1 of 2012.
Appearance: Pours a clean golden gold body with a white one finger head that dissipates into a ring around the glass and moderate carbonation. A classic looking pilsner.
Aroma: Sharp, toasty pilsner malts, lemongrass, lemon, mild floral hops, dried rice, and that astringency of flavors directly to the nose.
Taste: Right off the bat I get a lot of malt. The grain/malt bill is the star attraction here from beginning to end. The bitter/floral hops are there but very subtle here and I was a little letdown that they weren't showcased along with the malts. I also get characteristics of wheat, lemon, herbs, corn and rice, a buttery flavor, and that astringency/funk that all pilsners seem to have. I have to state that when I started getting down to the bottom of the bottle, the beer started to change a bit, and the flavors (especially the hops) became a lot more prominent. I enjoyed this the most when I got to the second half of this bottle.
Mouth Feel: Very clean, crisp, refreshing, and very drinkable. The alcohol is well hidden, and the body and carbonation is moderate.
Overall: Pilsners are not one of my favorite styles of beer and I rarely stop and buy them at bottle shops. I have to say that this would be best to have on a hot day sitting on the back porch barbequing and sharing with friends. I did enjoy this, especially when I got to the second half of the 750mL bottle. It was nice to have a hand-crafted pilsner for a change brewed with quality ingredients. This is definitely a giant step over all the other massively produced adjunct brews available out there. I'm a real big fan of Boulevard's line of Smokestack series beers and I when I heard that they were going to make an imperial pilsner I realized that I haven't had a craft brewed pilsner yet and I just had to purchase a bottle and give it a chance. This beer was well crafted and moderately well-balanced, and if you a fan of pilsners, I would recommend picking this up while it's sticking around and still fresh.
2,079 characters
4.12
/5
rDev
+8.7%
look: 4 | smell: 4.5 | taste: 4 | feel: 4 | overall: 4
Poured from a corked and caged 750ml bottle into a Boulevard tulip.
Batch Number/ 2012 - 1
Best By Date: 04 - 2013
A: Pours a nicely hazed pale gold color with 1 1/2 creamy fingers of bright white foam on top. Perfect carbonation and lacing.
S: Bold and bright, lemon-y noble hops take center stage with supporting help from mildly toasted malt. Very crisp and clean. I couldn't keep my nose out of the glass!
T: See above. Very tidy and tasty.
M: Full and coating. Good staying power. Hints of white pepper in the finish.
O: Glad to see this one hit the shelves again under a different name. I'd love to try this on draft sometime.
638 characters
3.97
/5
rDev
+4.7%
look: 3.5 | smell: 4 | taste: 4 | feel: 4 | overall: 4
Poured from the bottle a light straw color with a thin white head.
Aroma was malty grains along with white grapes and herbal notes.
The taste was classic pilsner. Herbal notes, malty grains, grass, light white grape and finished with a moderate bitterness.
Clean and crisp mouthfeel and carbonation.
I enjoyed this Imperial Pilsner quite a bit. Will definitely have again.
376 characters

4
/5
rDev
+5.5%
look: 4 | smell: 4 | taste: 4 | feel: 4 | overall: 4
750mL (batch 2012-2; best by 04-2013) into a tall weizen glass. Pours a clear greenish pale yellow w/ a big fluffy white head, sticky lace, ample carb.
Aroma is floral Old World hops, sweet grainy Pilsner malt. Elegant and balanced.
Taste follows nose. Light and lemony, refreshing, with a sharp bitter finish.
Mouthfeel is medium-bodied, balanced, dry finish.
Overall a drinkable, refreshing Pilsner. Well done Boulevard.
426 characters
3.58
/5
rDev
-5.5%
look: 4 | smell: 3.5 | taste: 3.5 | feel: 4 | overall: 3.5
Bottle opened 9.12.12.
A - Pours a slight hazy light yellow with a two inch near-white head, fizzy but fades fast.
S - Pilsner malt, alcohol, corn.
T - Sweet corn, light wheat.
D - Good carbonation with a light body.
O - Tasty pumped up pilsner.
250 characters
3.65
/5
rDev
-3.7%
look: 3.5 | smell: 3.5 | taste: 3.5 | feel: 4 | overall: 4
this is the first smokestack series brew i havent loved to death. its good, it just sint as unique and standout as many of the others from this series. it pours an almost perfectly clear pale straw color, with a hint of that yellow 5 mountain dew color to it, but just a hint. a frothy two inch head rests on top. the smell is alcohol right from the get go. a grassy hop profile and some crystal and pale malts are also present in to nose. the malts seem pretty substantial here, not heavy and sweet or bready, but just providing a solid backbone for the brew. the flavor is the same. light in color but not in flavor, the malts are dominant. the alcohol wins though, which i think is a detractor overall. it just kind of trumps what would be very interesting flavors. the feel is good though, perfect carbonation for the beer, and a lighter than medium body. its drinkable, just not supremely delicious. overall a letdown from the smokestack standards, but dont let that dissuade you, its a well made beer with a nice punch.
1,025 characters
3.88
/5
rDev
+2.4%
look: 4 | smell: 3.5 | taste: 4 | feel: 4 | overall: 4
Batch Number 2012-2
First and foremost, gotta give props to Boulevard for their artwork on this one. It's very clever and unique. Look at it closely and you will be impressed.
A- Pours a hazy straw yellow, with 2 fingers of white foamy head that lingers for quite a while and does not leave much of any lacing on the glass.
S- Smells almost like a wheat beer. Grassy, a little bit of citrus, some malts. Smells like a clean easy drinker.
T- Have to admit. Kinda diggin' this one. It drinks really smooth and easy. Starts off with what seems like an easy drinking malty, smooth, wheat flavored beer, then finishes with citrusy, grassy hops. I like it.
M- Can not detect the 7.5% ABV at all. On the high side of medium body, with a moderate amount of carbonation.
O- All of Boulevard's Seasonals are worth trying. The Smokestack Seasonals and their "Heritage" seasonals. Seek them out, you will not be disappointed.
922 characters
3.88
/5
rDev
+2.4%
look: 4 | smell: 3.5 | taste: 4 | feel: 4 | overall: 4
A - Poured out a clear, golden yellow color with a two-finger, bubbly head of white foam. It left sudsy sheets of lace on the glass.
S - It smelled floral with notes of caramel, toffee and grains.
T - Sweet up front with caramel and a bready flavor. Some grain-like taste with a nice spicy bite. Not very boozy for an imperial lager.
M - It was crisp, sharp and very smooth. A medium bodied lager with a subtle alcohol warmth and a clean finish.
O - This is very good. Often Imperial Pilsners are too sweet or too boozy. This is not the case with Reverb. Good balance.
572 characters

3.7
/5
rDev
-2.4%
look: 4 | smell: 4 | taste: 3.5 | feel: 4 | overall: 3.5
1505th Review on BA
Bottle to Smokestack Chalice
750 ml c/c
No batch or bottle date
Thanks to my mom for the gift.
App- When this poured out, it was similar to a butter gold. I felt I needed to eat some Lobster with it. It was a nice shimmery and oily looking pour as well. The head was about 3 fingers and almost a pure white head. Semi fast no cling. 1/8" ring.
Smell- A nice light malty aroma that was balanced out with some wheat, a slight dry grassy with a fresh melted butter and a little hops. Crisp and clean on the nose without taking the pils malts over the top.
Taste- Well I was a bit let down. The flavor was not as good as aroma. There is a lot going on in the glass, but what shocked me the most was the amplified thick buttery flavors. A small amount of a little smattering of hops. Taste was actually to use an adjective. Thick.
Mouth- When this settles and you keep drinking you are really greeted with a fuller medium body. The carbonation level borders on a fairly thin line between medium and full. A lot of residual butter and pils malts.
Drink- I thought this would be a couple things. 1. A little crisper and cleaner and 2. I just thought would be overall better.
1,195 characters

3.91
/5
rDev
+3.2%
look: 4.5 | smell: 3.5 | taste: 4 | feel: 4 | overall: 4
Picked up at Party Place Liqours in Kearney. I didn't realize this beer was even out until I saw it there, but I haven't made a big run for a few weeks. Grabbed it up and drank it with my dad. Side poured from the bottle into a couple of pilsner glasses with standard vigor.
Appearance - Pours a nice straw yellow, hazy color with a foamy, thick white head about two fingers that recedes very slowly and leaves wicked lacing. Love the packaging on the bottle as well, especially the Spinal Tap reference. Carbonation can be observed inside the glass.
Smell - Not as strong as I would expect for something as powerful as this is supposed to be. Grassy with a hint of lemons, limes, and citrus and malts.
Taste - Much more pronounced than the nose would lead you to believe. With a malty, grassy, lemon flavor up front accentuated by a nice burst of bittering and flavoring hops, this is a pretty tasty brew. As it warmed, it grew more bitter and had a sharpness to it.
Mouthfeel - Finishes smooth and clean, just like you would expect from a pils. No alcohol can be detected in the taste. Good carbonation level. Very dry.
Overall - This is certainly a brew worth trying. Solid taste, good for almost any occasion. Pretty expensive though, but a good beer nonetheless. I'm not a huge pilsner fan, but I love Boulevard brewery, so I knew I was going to try this.
1,365 characters

3.68
/5
rDev
-2.9%
look: 4 | smell: 3.5 | taste: 3.5 | feel: 4 | overall: 4
Transparent gold, characteristic of a pilsner an inch of white head lays on top, bubbling down to a small island of head in the center.
Mildly malted, with grass and lemons in the nose. Doesn't smell near as big as you'd assume for an Imperial.
Big for a pilsner - much the opposite of the nose. Very grassy, some lemon, considerable malt, little lasting reverb on the tongue.
Super dry, relatively subtle carbonation.
Good for the style, but not my favorite style. Take it or leave it.
494 characters

3.41
/5
rDev
-10%
look: 4 | smell: 3 | taste: 3.5 | feel: 3.5 | overall: 3.5
Up front - I'm not really a Pilsner guy.
Or at least, I think that's what I'm starting to learn about my biases as of late. Every time I partake of Pilsner, I wish it was an IPA or a Farmhouse Ale.
This is a limited release with one of my favorite labels to come along in a while. (With a nice nod to Spinal Tap on the neck.)
Pouring into a Pilsner glass it poured about two fingers of head that disappeared fairly quick. (Though it stuck around longer than a few other Pilsners I've had.) It's crystal clear, pale yellow with almost no sedimentation.
Not much to be had off the nose, if only it doesn't have a slightly skanky aroma you'd have in the really cheap beers. Mouthfeel is good, it's medium to thin leaning.
The taste is a step up from other Pilsners in the middle section, at least for me. Don't sip it, gulp it, and you'll get a pretty nice smooth maltiness. That's probably the best take away here.
If you like Pilsners, I'd be surprised if you didn't like this.
985 characters
4.27
/5
rDev
+12.7%
look: 4.5 | smell: 5 | taste: 4 | feel: 4 | overall: 4
750mL bottle -- best by 04/13 -- served into a tulip glass
Before getting into this beer, I have to commend the label art. The label features an old tube amp, with "Reverb Imperial Pilsner" where "Fender" would normally be. There's an assortment of dials on the amp, but if you look closely those dials aren't labeled "volume" or "treble" or etc. They're labeled after the beer's stats! There's three dials on the "Kettle" section of the amp -- "water," "malt," and "hops." Then there's a "Ferment" section with the following dials: "Orig. Grav," "Final Grav," "EBC," "IBU," "ABV," and "Conditioning." Each dial is set to what the beer's approximate values might be on such a dial. Super cool.
Anyway, Reverb pours a somewhat hazy light golden yellow color. It doesn't look dissimilar to Hoegaarden. 1.5 fingers of rocky white head bubble up and the retention is pretty fantastic.
Reverb's aroma is much more nuanced and expressive than it was on the draft version I reviewed last night. Right away, this beer sends up notes of white flowers, pollen, lime peel, metal, plant stalk, and of course a whole lot of pilsner malt. Clean, nutty pilsner malt dominates this beer, but the hops -- what I can only presume is a ton of Saaz -- give off so many accentuating notes. The yeast doesn't get in the way (this is a lager, after all). It's lovely.
The taste of the bottled version doesn't live up to the aroma. This is definitely an imperial pilsner for fans of the pilsner style. Pound for pound, I'd say that Prima Pils or even Noble Pils are hoppier examples of the pilsner family. Reverb, while mostly balanced, ultimately lies on the side of maltiness. Tons of pilsner malt -- so much that this tastes luxurious or something, almost buttery. The Saaz brightens things up, especially on the finish, with its green and floral notes. It's definitely tasty, but I think additional hops would only heighten what is already strong about this beer.
The mouthfeel is also improved in the bottle. It's still a bit more flabby than I would prefer from a pils, but there's a good crispness and dryness to it just the same.
Overall, this is a very good imperial pilsner. It's tasty, refreshing, and nuanced. It shouldn't have replaced the world-class Two Jokers by any means, but Reverb is a beer that I'm glad exists.
2,316 characters
Reverb Imperial Pilsner from Boulevard Brewing Co.
3.79
out of
5
based on
333
ratings.