Boulevard Brewing Co.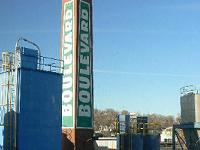 PLACE INFO
Type:
Brewery, Bar
2501 Southwest Blvd
Kansas City
,
Missouri
, 64108-2345
United States
(816) 474-7095 |
map
boulevard.com
Notes:
No notes at this time.
Added by BeerAdvocate
Reviews: 15 | Ratings: 62
4.17
/5
rDev
-5.4%
vibe: 4.25 | quality: 4 | service: 4 | selection: 4.5
Being nearby downtown helps. Being nearby the World War I Memorial and old Union Station made the idea of visiting even easier despite being on a clock to hit the Royal's game later that evening. The Boulevard taproom itself isn't the easiest place to locate, but getting there rewards you of not only a great taphouse with a great feel, plenty of people behind the bar and benched along the numerous tables, but an exciting gift shop which also sells bottled beers for home. The bar is easy to spot, well staffed, with a long taplist that's easy to read. 22 different taps on the menu, pouring from the Lemon Ginger Radler and Bully! Porter, to The Sixth Glass and Funky Pumpkin. Bottles available as well. There were certainly a few more things pouring exclusively at the taproom than what I could find in Orange County. I also took home a mix-six and a piece of glassware at the gift shop. With my short stint, I wish I could have stayed much longer, though I must remember to go easy on Arthur Bryant's next time.
★
1,018 characters

4.13
/5
rDev
-6.3%
vibe: 4.5 | quality: 4 | service: 4 | selection: 4.25
Beer Mecca
Go and relax and enjoy this laid back , large, informative new spot
It's industrial, built for a crowd, extensive boulevard beer options over the top boulevard hard goods store...just go if you are local or visiting
★
228 characters
4.92
/5
rDev
+11.6%
vibe: 5 | quality: 4.75 | service: 5 | selection: 5
From dry cider to sour to Kölsch, the tasting room has about everything. Taps rotate, but keep some staples. Taken the tour twice here and can't wait to go again. Gift shop has beers, glassware, apparel and more. Great visit for beer lovers, both local and not!
★
262 characters
4.5
/5
rDev
+2%
vibe: 4.5 | quality: 4.5 | service: 4.5 | selection: 4.5
Pours dark with creamy brown head, wonderful aroma, not very alcoholy but 9.7 very drinkable. Great taste malts, fig, bitterness all into one, this stout is dank.
★
163 characters

4.9
/5
rDev
+11.1%
vibe: 4.75 | quality: 5 | service: 5 | selection: 4.75
This is a must stop. The tour is awesome, the guides are great. The tap room is a wonderful space with a great selection of beer you'll never be able to try outside of the building. If you are lucky enough to meet or possibly be served by the AMAZING Ali Bush, the first ever female cicerone, your life will be much better for it.
★
330 characters
4.84
/5
rDev
+9.8%
vibe: 5 | quality: 4.5 | service: 5 | selection: 5
I did the brewery tour. Our guide was awesome. His name was Jay. He was hilarious, entertaining, and very informative. Got to sample 5 different beers along the tour. At the end of the tour that have the tap room where you can sit and enjoy as much of their beer as you want. Free tour. Interesting fact I learned: what boulevard brews in a 365 day year, anheuser Busch brews in 17 hrs!!!
★
388 characters
4.68
/5
rDev
+6.1%
vibe: 4.75 | quality: 4.75 | service: 4.75 | selection: 4.5
The brewery tour is excellent, and the beers are very good to excellent. It is obvious that the tour guides, bartenders, and other staff are very knowledgeable and they like what they do and love what they drink. The brewery serves a nice variety of styles with ABU's across the spectrum. I love Dark Truth, Calling IPA, and Tank 7 in no particular order. Long Strange Tripel and Single Wide IPA are also very good. Boulevard Wheat is a perfect keg for a summer BBQ/Tailgate.
★
481 characters
4.69
/5
rDev
+6.3%
vibe: 4.5 | quality: 4.25 | service: 5 | selection: 5
Great brewery to tour with a nice draft room at the end of the store, and open to the public. The tour was interesting. Unfortunately production wasn't running when I was there. The tour guide and bar tender were very hospitable answering questions and giving recommendations. Also got to sample about 5 or 6 different beers at the end with pretty generous portions. Definitely worth dropping in for the beer lover in KC.
★
421 characters

4.28
/5
rDev
-2.9%
vibe: 4.5 | quality: 4.25 | service: 4 | selection: 4.5
Vibe: The gift shop and tap room both have a good vibe. They are heavily wood based, which gives an outdoorsy vibe. The tap room itself is dimly lit, which makes it feel a bit like a speakeasy. You can see their original brew system from the tap room.
Quality: All good stuff. Some better than others. The addition of test beers on tap was also great.
Service: Only one bartender while I was there, so after a tour was over, it took a while to get your order. Otherwise, service was great!
Selection: Great selection. Not only did they have all of their regular beers on tap, they also had their limited edition beers, most of their current Smokestack specialty beers on tap, and a handful of test beers. Very pleased with their selection.
★
744 characters
4.61
/5
rDev
+4.5%
vibe: 4.25 | quality: 4.5 | service: 4.75 | selection: 4.75
I have yet to go to the brewery itself something i hope to correct in the near future. But i will say i love some of their beers. Tank 7, and the calling. I cant say that i like or enjoy their wheat or pale ale, the wheat tastes too much like blue moon and the pale ale just doesnt meet the bar for what the standard i have seen from others. I do get the Tank 7 atleast twice a month and will continue to do so.
Finally made it to the brewery on 10/3/15 I loved it wasn't able to make the tour but the staff was awesome gave my wife and I both 2 free samples because we couldn't get in the tour. They are awesome here. Had about 6-7 beers I hadn't had yet only omenof them I didn't care for and that was the black pale ale. The coffee stout that is only there as a tester was exceptional I also loved the rye on the. Testers were 1-2$ each it was more than worth the trip over there.
★
884 characters
4.47
/5
rDev
+1.4%
vibe: 4.25 | quality: 4.5 | service: 4.5 | selection: 4.5
Got to try the show me sour,very happy!Plus talked o the bartender who helped point me in the direction of a couple other breweries i should check out.
★
151 characters
4.9
/5
rDev
+11.1%
vibe: 4.75 | quality: 5 | service: 5 | selection: 4.75
Was visiting friends in KC and we decided to do the brewery tour. Right off the bat, great vibe. Walked into the bar where we were greeted warmly by the bartender. Hooked us up with some cheap flights and that's where the real fun began. We tried the IPA flight, the Belgian flight, and the KC faves flight. All of the beers were great but my favorites were definitely, The Calling and the Tank 7. The basic tour is free, however you can pay and have a VIP Smokestack Tour which we heard was outstanding. We just did the free tour and it was a fun time. The tour guy was super fun and very knowledgeable about what goes on at Boulevard. After the tour's over they let you try two of their beers for free! I got the Pop-up IPA and the Radler. Both were outstanding. Boulevard does a great job and makes tasty brews!
★
815 characters
4.37
/5
rDev
-0.9%
vibe: 4 | quality: 4.5 | service: 4.75 | selection: 4
After several failed attempts, I finally had the opportunity to tour this place, and what fun it was. Cool to hear their story, and these guys are an institution in American craft, really beautiful old brick building in the heart of the city. Tons of space in here, stunning brew house, and as many as 15 beers pouring. All the usual suspects were on, plus several from the tasting room series. I wish they had more of the crazy ones on, love child, the stout variants, that kind of thing, but they did not. The beers I had though were of course all excellent, and the staff was very generous, excited, knowledgable, and apparently genuinely happy. It was cool to see the bottling line, check out their rooftop space, and really take in the piece if history. They have evolved a lot over time, and it felt great to be included for an afternoon in their trajectory. Highly recommended in every way. Beautiful space, beautiful beer, beautiful people. Top notch, and one of, if not the very best large brewery experiences I have had!
★
1,030 characters

4.57
/5
rDev
+3.6%
vibe: 4.5 | quality: 4.5 | service: 4.75 | selection: 4.5
Did the tour with Keith, who was an awesome tour guide. Very informative, very laid back, very personable. Was shown several different buildings on the grounds do you really see what a larger craft brewery is about. The taproom at the end of the tour had many Boulevard favorites on tap as well as a few one offs. Overall, a very cool place.
★
341 characters
4.51
/5
rDev
+2.3%
vibe: 4.5 | quality: 4.75 | service: 4.5 | selection: 4.25
Excellent ever expanding brewery. Pretty in depth and friendly tours. Very knowledgeable crew that can answer most questions. Very community based operation which makes it feel even more accessible to the locals. Overall this operation looks to spread its name to a national level with the emphasis of quality over quantity which for the most part I can agree with!!
★
366 characters
Boulevard Brewing Co. in Kansas City, MO
3.87
out of
5
based on
41,741
ratings.