Chocolate Stout
| H.C. Berger Brewing Co.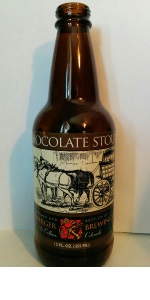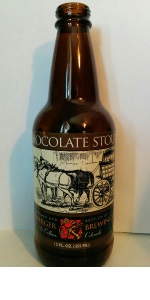 BEER INFO
Brewed by:
H.C. Berger Brewing Co.
Colorado
,
United States
hcberger.com
Style:
American Stout
Alcohol by volume (ABV):
not listed
Availability:
Year-round
Notes / Commercial Description:
No notes at this time.
Added by BeerAdvocate on 08-17-2001
This beer is retired; no longer brewed.
HISTOGRAM
Ratings: 12 | Reviews: 12
Reviews by Bunnyhop:
4.16
/5
rDev
+40.1%
look: 3.5 | smell: 5 | taste: 4 | feel: 3.5 | overall: 4
A clear, extremely dark, reddish-brown Chocolate Stout with a smallish, dark tan head. The smell is sweet and smokey. At first I taste a slight raisin flavor, followed by a roastedness, with a bitter chocolate finish. The body is firm and oily in my mouth. Overall, I found this to be an enjoyable Chocolate Stout, but it almost seemed more like a Porter than a Stout. The smell was so good, I sat there and just smelled it awhile before drinking it.
(source: Habersham Discount Beverage; Savannah, GA)
506 characters
More User Reviews:

2.81
/5
rDev
-5.4%
look: 4 | smell: 3 | taste: 2.5 | feel: 2.5 | overall: 3
Decent color, moderate scent, very sweet beginning but a surprisingly low impact mouthfeel and finish...Not nearly the "chocolate" promised by the name. Really mediocre, in my opinion...
187 characters
2.28
/5
rDev
-23.2%
look: 3.5 | smell: 3 | taste: 2 | feel: 2.5 | overall: 1.5
Nice enough looking. Mean and dark with a nice tan head. Roasted oat flavors precede the menancing sweet wave that washes over the taste buds. Not a good sweet, either. Certainly not chocholate. Corn syrup maybe? I am not sure, nor do I want to think about it anymore. Needless to say, the balance is a mess.
Don't bother purchasing this stout no matter how curious you are.
382 characters
3.87
/5
rDev
+30.3%
look: 3.5 | smell: 4 | taste: 4 | feel: 4 | overall: 3.5
This beer pours a clear extremely dark reddish-brown with a smallish dark tan head. The mouthfeel is very firm almost oily. The smell is raisiny and smoky. The taste is smoky with a slight bitter finish and quite sweet with faint hints of chocolate. A rather enjoyable if very sweet stout.
289 characters
2
/5
rDev
-32.7%
look: 2 | smell: 2 | taste: 2 | feel: 2 | overall: 2
Odd aroma and thin body. Some caramel notes with a mildly bitter finish. Hops had an "off" flavor I could not put my finger on, but the overall effect was pretty unbalanced.
175 characters

2.89
/5
rDev
-2.7%
look: 3 | smell: 4 | taste: 2.5 | feel: 2.5 | overall: 2.5
I was quite excited to taste this beer, but I'm a tad disappointed. The aroma is dominated by an almost chocolate candy - like note, with subtle butterscotch (potentially diacetyl) and roasted notes underneath. Quite appealing, but the taste is a bit lacking. It's thin in body and malt, with a slightly offputting sweetness that isn't balanced by bitterness from hops or roasted barley. It really lacks complexity in terms of malt profile. The chocolate flavor does come through fairly strong, but this beer needs more balance. I'll take Rogue's Chocolate Stout over this beer any second of the day.
606 characters
3.25
/5
rDev
+9.4%
look: 3 | smell: 3 | taste: 3.5 | feel: 3.5 | overall: 3
Black, small tan head. Sweet aroma, some licorice, some chocolate. Good body, black and sweet and pretty roasty. Hop flavor shows up early and fades nicely to a sweet black finish. Kinda light finish.
200 characters
2.94
/5
rDev
-1%
look: 4 | smell: 2.5 | taste: 3 | feel: 3 | overall: 3
Okay, once again my local restaurant that serves microbrews goes for the cute ones. The color was fairly dark, but no real lighting to hold it up to. The head was very little with no lace, but may be the bar's fault. The aroma was small, maybe a hint of malt and caramel, but no chocolate. The same with the taste, some malt and caramel, but no real hint of chocolate. The finish was light and fairly weak for this style. It is possible that beer has been on tap too long and hasn't been popular enough to finish the tap. But wasn't a lot that impressed me about this beer. So far the Chocolate styles have been lacking or overkill in my samplings.
656 characters
3.85
/5
rDev
+29.6%
look: 3.5 | smell: 3.5 | taste: 4 | feel: 4 | overall: 4
This ale pours with a dark thick blackness with little to no head retention. There is a huge roasted malt aroma with subtle hints of chocolate. A nice heavy body supports a roasted chocolate malt profile with hints of smoked coffee. Overall this beer is quite tasty and well built. There is a lingering taste of tootsie-roll chocolate with a subtle bitterness in the finish.
378 characters
2.16
/5
rDev
-27.3%
look: 4 | smell: 3 | taste: 2 | feel: 2 | overall: 1
Some java tones on the aroma...flat head...syruppy sweet taste...not a good sweet, and not a strong chocolate flavor. I was excited to find this one but must say I am disappointed in the product....It's almost like they took a regualr stout and poured some espresso/capaccino (sp) syrup into it...
298 characters

2.53
/5
rDev
-14.8%
look: 3 | smell: 2.5 | taste: 2.5 | feel: 2.5 | overall: 2.5
black as night with no head. curious solvent aroma. flat and slick mouthfeel, not really desirable. hardly perceivable chocolate roasted malt taste, sort of syrupy. like a beefed up flat coca-cola. a tiny hop bite at the end, but by this time who cares. my scores are probably too generous. just bad.
308 characters
2.89
/5
rDev
-2.7%
look: 4 | smell: 2.5 | taste: 3 | feel: 3.5 | overall: 2.5
Nice black appearance with a thin creamy brown head. Smell is musty. There is also a chemical smell I can't identify. Taste isn't horrible, but is far from good. After tasting several Kalamazoo stouts tonight, this stout might come in a bit low. Body is medium. Don't taste any chocolate as advertised. Not any good roasty bitternes either. Pretty undistinguishible beer. Bland flavor.
393 characters
Chocolate Stout from H.C. Berger Brewing Co.
Beer rating:
2.97
out of
5
with
12
ratings