Ecaussinnes La Loubécoise
| Brasserie Scassenes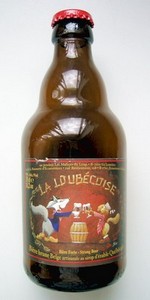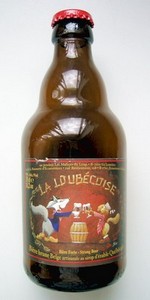 BEER INFO
Brewed by:
Brasserie Scassenes
Belgium
brasseriescassenes.be
Style:
Belgian Strong Dark Ale
Alcohol by volume (ABV):
7.00%
Availability:
Year-round
Notes / Commercial Description:
No notes at this time.
Added by paterlodie on 10-29-2005
HISTOGRAM
Ratings: 13 | Reviews: 9
Reviews by windypete:
More User Reviews:

4.39
/5
rDev
+20.6%
look: 4.25 | smell: 4 | taste: 4.75 | feel: 4.25 | overall: 4.25
A: Poured into a big ol fat St Bernardous glass; dark walnut in color, a heavy cream head grabs at the glass
S: Dark pit fruits, figs, raisens, and molasses
T: Sweet belgian candy assaults the palate; not cloying, just intense. Spicey alc warms the tongue and bready yeast rounds out the back.
M: Huge body, syrupy and chewable, mild natural carbonation
A heavy hitting flavor and one I recommend. Very good Belgian indeed, I could drink these all night
459 characters
3.81
/5
rDev
+4.7%
look: 5 | smell: 4 | taste: 3.5 | feel: 3.5 | overall: 4
Bottle: Poured a deep opaque brown color ale with a huge dirty white color foamy head with good retention and some lacing. Aroma is comprised of candi sugar and doughy yeast with maybe some subtle note of maple syrup. Taste is a mix between candi sugar, doughy yeast some dry fruits and subtle maple syrup. Body is full with some great carbonation and no alcohol was detectable. I must admit that I enjoyed that one even though the maple syrup was not overly dominant.
468 characters
4.05
/5
rDev
+11.3%
look: 3.75 | smell: 3.75 | taste: 4.25 | feel: 4.25 | overall: 4
A: Pours dark chestnut, with about 1 finger of dense foamy head which lingers. Slightly murky. Nice amount of lacing.
S: Sweat maltiness together with dark honey. Dark dried fruits, especially dates and raisons. Background notes of alcohol esters.
T: Belgian yeast notes at the front end followed by sweat caramel, honey and cornsyrup. Dates and raisons.
M: Medium to heavy bodied - coats and lingers. Slight pop of carbonation at the front which emphasizes the honey and fruit combination.
O: This would be an excellant dessert beer. I am not picking up maple syrup in the taste, rather honey and cornsyrup, but the sweetness and syrupy mouthfeel is definitely there. Would pair excellantly with chocolate cake or as a sipper on its own.
744 characters
3.28
/5
rDev
-9.9%
look: 4 | smell: 3.5 | taste: 3 | feel: 3 | overall: 3.5
BB 01-03-10. Nice yellowish head and a darkreddishbrown beercollor. Clear also miking presentation nic and good. Nose is overspiced IMO giving overload in nootmuskaat and gember note. This overpowers most of the other aromes but I caught some carramellic maltiness and probably some candysugar. Taste is very sweet and again overspiced giving not much to detect as the alcohol and some bitterness in the end where hops probably have a role in. Unbalanced IMO and even nice carbonisation makes it just ok. Drinkability is IMO hard but causeof strangeness of the brew worth a try IMO.
582 characters
3.4
/5
rDev
-6.6%
look: 4 | smell: 4 | taste: 3.5 | feel: 3 | overall: 2.5
This, beer foamed over as I opened it like many other high-sugar Belgians tend to do. But, when I got it into my Duvel tulip, it poured a dark hazelnut brown with a big bubbly tan head that had decent retention and left some oily looking lace behind.
The smell is predominantly of Belgian candied sugar and spice with hints of dark fruit.
Like Canucklehead said before, on the palate the "Maple" flavour is not very pronounced. However, there are a ton of other candied sugar, brown sugar and caramel flavours going on making this beer very much on the sweet side. There are some definite dark fruit notes in there as well with a good level of spice throughout the sip. The most enjoyable, and most surprising, aspect for me was a nice roasted coffee note that came out towards the end of the sip and on to the linger.
Mouthfeel was medium bodied, very oily and quite chewy due to all the sugars. There was, of course, a high level of carbonation to help the medicine go down.
The 7% ABV is pretty well hidden behind all the sweetness and spice. However, this beer is just too sweet for me to say that I'd be able to handle more than one (maybe two) at one time. It does have some nice flavours going on but, for me, this is not a beer that I would drink regularly. Perhaps it could be a dessert replacement some day . . . I would buy it again, but only for the right occasion.
1,381 characters

4
/5
rDev
+9.9%
look: 4 | smell: 4 | taste: 4 | feel: 4 | overall: 4
Yeah, I have to say this is a very good beer much like Golden Draak in style. The maple syrup is not too apparent in the taste but rather is a fermentable sugar like Candi sugar that anchors the beer. It has a nice dark fruit flavour with some complexity on the finish. Not a classic but much better than the silly label predicts.
330 characters
3.33
/5
rDev
-8.5%
look: 4 | smell: 3.5 | taste: 3 | feel: 3.5 | overall: 3.5
Cloudy opaque mahogany with a very big, foamy head. Candi sugar, bread dough and maple in the nose.
The taste is slightly sour, something I find in all maple syrup beers. Maple flavours, traces of hops and doughy malt.
Not a bad beer, nice for desert but not something you could line up and put away.
302 characters

4.43
/5
rDev
+21.7%
look: 4.25 | smell: 4.25 | taste: 4.5 | feel: 4.5 | overall: 4.5
A: 1/2" tan colored head over dark brown liquid.
S: syrup and sweet malt similar to an oud Bruin.
T: Maple syrup, pepper, chocolate, toffee, dark fruit and an oud Bruin type taste.
M: Medium viscosity that is somewhat syrupy and a low level of creamy carbonation
O: complex and tasty, this is a great beer that I will revisit.
330 characters

3.68
/5
rDev
+1.1%
look: 4.5 | smell: 4 | taste: 3.5 | feel: 3.5 | overall: 3.5
Purchased at the UTOBEER stall, Borough Market, S. London. BB 01/03/2010, served lightly chilled in a large Burgundy bulb wine glass. The beer label states that the abv. is 8%, stronger than that reported on this site.
A: pours a stunningly thick and frothy beige beer head with superb retention and leaving tight sheets of lace; on top of a reddish brown nectar (quite ruby when seen against light) and abundant fizziness... nearly perfect.
S: incredibly sweet-spicy... licorice, cinnamon, star-anise, mint-leaves all approach at once, like a bag of mulled spice infused in Chinese Lo-Ham fruit (Corsvenor Momordica) tea, wrapping in the centre a thick layer of sour-sweet dark maltiness laced with ripe-plummy+star-fruit fruitiness and dark candy sugar... Intensely spicy and distinctive~~
T: a very sweet wave of dark malts overwhelms the palate in no time, but surprisingly light and semi-sharply fizzy in texture; closely ensued by a brown-sugary flavour, sweet coffee, ground cinnamon+star-anise, and black-date/plum preserve like slightly sour and sticky-sweetness... gradually taken over by a restrained (as opposed to the nose) spicy-sweet aftertaste of the above-mentioned mixed-spices, bearing but a light touch of bitter-sweet malts and a residual flavour of preserved berries in the very end. The aftertaste is unfortunately short and rather clean, but not too disappointing in any sense.
M&D: a nicely-carbonated texture keeps the palate fresh and light, while the flavour is also less than full to retain a reasonable drinkability. Alas, the overall body is thin-ish and the sweet touch of malts is sort of too much for my palate, even a bit like aspartame in the end. Besides that, this is an enjoyable and distinctively spicy-smelling beer.
1,763 characters
Ecaussinnes La Loubécoise from Brasserie Scassenes
Beer rating:
3.64
out of
5
with
13
ratings