Ultra Ambrée 7%
| Brasserie Scassenes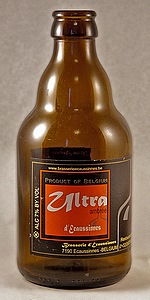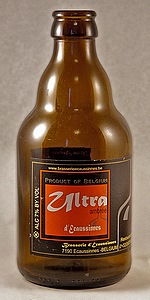 BEER INFO
Brewed by:
Brasserie Scassenes
Belgium
brasseriescassenes.be
Style:
Belgian Pale Ale
Alcohol by volume (ABV):
7.00%
Availability:
Year-round
Notes / Commercial Description:
No notes at this time.
Added by Phyl21ca on 07-27-2007
HISTOGRAM
Ratings: 13 | Reviews: 9
Reviews by mrfrancis:
3.38
/5
rDev
-5.6%
look: 3.5 | smell: 3 | taste: 3.5 | feel: 3.5 | overall: 3.5
A: Pours a dark amber with a thin, creamy white mousse. Little chunks of yeast collect at the bottom of the glass. Definitely has that nice unpasteurized, unfiltered look.
S: Mostly candy sugar, toffee, and caramel on the nose with a bit of spiciness from the yeast. It's exactly what one would expect from an ambree.
T: Sweet on the palate with candy sugar, vanilla, toffee, caramel, spice, apple, and pear flavors. A dab of earthy hops is present in the background. The finish is short and sweet with caramel and candy sugar notes.
M: Medium to full bodied, though it's closer to the former than to the latter. Drier than some, but rather silky. Carbonation is gentle. Drinkability is fairly high in my estimation.
O: This is a decent enough Belgian pale ale, but is not something about which one should become excited. This ale does all that is expected of it and nothing more.
884 characters
More User Reviews:
3.09
/5
rDev
-13.7%
look: 4.5 | smell: 3 | taste: 3 | feel: 3 | overall: 3
Bottle: Poured a deep amber/orangey color ale with a big foamy head with some good retention and lacing. Aroma of Belgian malt with some light spices. Taste is somewhat bland with some semi-sweet Belgian malt with some light spices and a subtle yeasty finish. Body is fuller then average with some great carbonation. Overall, I thought this was OK for an amber ale but definitely lacking some complexity for me to come back to this one again.
442 characters
3.28
/5
rDev
-8.4%
look: 3.5 | smell: 3 | taste: 3.5 | feel: 3.5 | overall: 3
This beer poured a cloudy golden color with a thick cream colored head. The aroma is sour (almost unpleasant) and slightly sweet. The taste is malty and the sourness isn't overpowering. The mouthfeel is medium and slightly creamy. Overall, this is an inoffensive brew that is easy to drink – but not something I'd particularly seek.
335 characters
3.65
/5
rDev
+2%
look: 3.5 | smell: 3.5 | taste: 3.5 | feel: 4 | overall: 4
3/29/08
C: Amber (surprise!) a shade towards red. White head with a cloud of sediment that settles out fairly quickly.
S: A caramel, butter, bit of rummy smell.
T: More caramel flavors again. Buttery.
* Similar to the blonde in many ways, but not as excessive in flavor or smell.*
M: Good carbonation with a nice finish. Not too syrupy, and the buttery taste and smell are not at a cost of a "thick" feel.
D: More drinkable than its blonde counterpart. While not a session beer, definitely one that could be satisfying if its the only one available for an evening.
570 characters
3.65
/5
rDev
+2%
look: 3.5 | smell: 3.5 | taste: 3.5 | feel: 4 | overall: 4
Appears a a crimson toned amber with a small white head that quickly fades away. Tiny bits of yeast drop to the bottom and act as central points for the streams of CO2.
Smell is of caramel, cream, brown sugar, and golden raisins.
Taste is of the brown sugar, graham cracker, spice, cherries, and booze.
Mouthfeel is medium bodied, sweet, caramel-like, similar to a pecan pie.
375 characters
3.36
/5
rDev
-6.1%
look: 4 | smell: 3 | taste: 3.5 | feel: 3 | overall: 3.5
750ml synthetic corked and caged brown bottle. IT was a royal pain in the arse to get the extra long cork out.
It pours a firey orange red color with a billowing, foamy white head. It recedes pretty slowly but only leaves a small amount of lacing.
The smell definitely could be better. It has the smell of lemon sanitizer with a bit of grape and bread. A fruity but astringent smell.
The flavor is interesting. It is very sugary. There is a ton of caramel and some nuttiness up front. There is also some golden raisin and apple in there.
The mouthfeel is a bit thin, but this is perhaps a bit past its optimal freshness date.
It is an okay Belgian ale, nothing spectacular.
678 characters

3.71
/5
rDev
+3.6%
look: 5 | smell: 4 | taste: 3.5 | feel: 3.5 | overall: 3.5
06/20/08- Consumed during my two week Montana vacation.
Presentation- 11.2oz bottle with a best by date imprinted on the bottle cap. Poured into my Duvel tulip.
Appearance- Deeper colored golden pour with a full inch plus rocky head with a good 1/4 inch of staying power. Clumps of lace reamin after consumption. Great looking beer.
Smell- Mild tropical fruit nose with a touch of caramel and a bit of alcohol.
Taste- Light honey flavor, buttery flavor as well, but not abnoxious. Sweet floral and tropical fruit flavors as well. Light caramel to apply sweetness.
Mouthfeel- Well carbonated with a slick mouthfeel.
Drinkability- Decent brew, but nothing super special. Am giving away the other one for someone else to try.
728 characters
3.83
/5
rDev
+7%
look: 4.5 | smell: 4 | taste: 3.5 | feel: 4 | overall: 4
This one pours from the 33cl stubby bottle, a hazy amber, with a nice frothy white head floating gently on top in my Bitberger pilsner glass. Plenty of lace ring the glass on the way down. Thick bottom sludge of yeasties.
Musty and funky sour apple in the aroma. Quaff is a very nice dark fruit, malt, spice and apple. This one has a lot going on for just a "Belgian Amber". Very thick backbone of malt, full bodied devil that starts sweet, but has enough hop to balance out the finish.
Pretty good beer - One of the mixed Belgian sixer that ran $18 for the lot.
564 characters
3.31
/5
rDev
-7.5%
look: 4 | smell: 3 | taste: 3.5 | feel: 3.5 | overall: 3
Appearance: Pours a clear, orange-amber body with a small white head.
Smell: Candied aroma smelling lightly of caramel with notes of dried apricots and cinnamon.
Taste: Sweetish caramel maltiness augmented by an apricot fruit flavor and dash of liquor. Hint of spice. Touch of bitterness in the sweet-n-sour finish.
Mouthfeel: Medium-bodied. Medium carbonation.
Drinkability: Simple, but decent enough to get you to the bottom of the glass.
444 characters
Ultra Ambrée 7% from Brasserie Scassenes
Beer rating:
3.58
out of
5
with
13
ratings