Ultramour

Brasserie Scassenes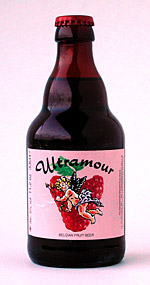 Write a Review
Beer Geek Stats:
| Print Shelf Talker
Style:

ABV:

5%

Score:

Avg:

2.78

| pDev:

34.53%

Reviews:

11

Ratings:

From:

Avail:

Year-round

Wants

Gots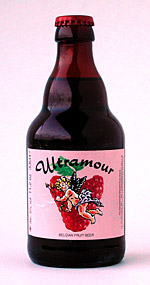 Notes:
Reviews by TheLongBeachBum:
TheLongBeachBum from California
3.62
/5
rDev
+30.2%
look: 3.5 | smell: 4 | taste: 3.5 | feel: 3.5 | overall: 3.5
Brasserie d'Ecaussinnes: Ultramour.
Strength: 5.0% ABV.
Style: Artisanal Pale Ale – Fruit Beer.
750ml Bottle purchased during a Brewery Visit to the Brasserie D'Ecaussinnes, on 18th April 2003. Tasted 5/25/03.
Bottle: 75cl brown glass bottle. Cork & caged. The obverse pink label has a picture of a cherub flying in front of large Raspberry. Described by the reverse pink label in Belgo-English, as a "top-fermented beer brewed with the finest hops, malt varienties, candy sugar, yeast and fruitaromates. Serve Cool & …Cheers".
"Belgium Fruit Beer at 5% ABV. Best Before date 02/2004".
Appearance: A clear dark-copper brown color, with a cream colored head. Average amount of streamers help to maintain a decent enough head of at least 1/8".
Smell: Fantastic, much better from the Bottle. A very strong, slightly sweet pungent & incredibly perfumed nose. Raspberries are immediately evident, but time & consideration also reveal a hint of bitter-sweet cherries & floral strawberries. A very fruity 'red-berried' nose that appeals.
Taste: The Brewer told the group on our Visit, that he openly uses 4 types of fruit syrups in a Pale Ale. Raspberry, Cherry, Strawberry & the 4th was a secret he said. All are detectable at varying phases. At first the strong Raspberry flavors are dominant; these eventually fade as the biting, slightly bitter Cherries take-over. A floral Strawberry phase punctuates the ending with the lingering 4th flavor. What is that? We all struggled with this when we tried it on draft. The bottle also hides the secret well. I suspect either Apples, or Pears, are the 4th mystery fruit syrup. Slightly bitter in the middle & the bottled is definitely sweeter than the draft version.
Mouthfeel: Quite average. The sticky Raspberry tastes stick to the mouth at first, whilst the bitter Cherry aspects lend some puckering. A light mouthfeel.
Drinkability: Overall, in small quantities, very drinkable. But I had a 75cl Bottle, and the last 25cl Glass became a little harder to drink. Hard to mark a beer like this, but 3.5 seems appropriate.
Overall: Different to the other Ecaussinnes beers. Not like other fruit beers either, rather than pass this off as a Kriek or Framboise, the Brewer has been honest enough to avoid this pseudo-fruit lambic beer label. The 4 fruit syrups work well though, each with a distinctive phase. I usually hate these kinds of "Belgium Fruit Beers", but for some reason, maybe I am leaving my snobbery aside, I rather quite like this one.
May 25, 2003
More User Reviews:

crookedhalo from Pennsylvania
3.31
/5
rDev
+19.1%
look: 3.5 | smell: 2.5 | taste: 3.5 | feel: 4 | overall: 3.5
Pours a darker coppery color with a beige with a touch of rosé in the head. Whoa, strong red licorice smell on first smell, then like a generic maraschino cherry red soda smell on second approach. Wasn't too impressed with the aroma but tasting revealed a melding of the generic berry aroma with the malt sweetness, a slight tartness (which kept it up its drinkably) and finishing as fruity as you can fathom. Not bad, not my cup of tea though, but I'm trying to be objective.
Apr 06, 2004

canucklehead from Canada (BC)
2.46
/5
rDev
-11.5%
look: 3.5 | smell: 2.5 | taste: 2.5 | feel: 2.5 | overall: 2
Don't totally dislike this beer as it really has a strong cherry flavour that is not unpleasant but what stops me from ever buying this beer again is the total sweetness that makes it so unbeerlike. The nose is like cream soda and the finish will rot your teeth but inside this beer lurks a decent cherry flavour beer that seems aimed at women who don't really like beer.
May 04, 2010
Phyl21ca from Canada (QC)
3.82
/5
rDev
+37.4%
look: 3 | smell: 3.5 | taste: 4 | feel: 4 | overall: 4
Bottle: Poured a pink/reddish color ale with a big light pink foamy head with good retention but no lacing. Aroma of raspberry is dominant and is probably a mix between some real raspberry and some syrup. Taste is sweet with some light tartness form the raspberry with a good malt presence. Body is above average with some medium filtration and some medium to low carbonation. I had some really low expectation of a sweet syrupy beer but got really impress with the presence of real raspberry.
Jul 20, 2007
bark from Sweden
2.66
/5
rDev
-4.3%
look: 4 | smell: 3 | taste: 2.5 | feel: 3 | overall: 2
The colour is amber with a strong tint of red. The foam is high, compact and pale pink.
The smell is a bit dry with a powerful note of raspberry syrup. There are also some touches of fruit drops, almonds and apple cider.
The carbonation is fresh and quite soft, more like lemonade than a beer.
The taste reminds me mostly of raspberry lemonade (a quite popular soft drink in Scandinavia), but a light taste of wheat beer and yeast is also present. The aftertaste of raspberry candy is very sweet and long lasting.
I found this beer artificial in both mouthfeel and taste, and almost hard to drink.
Nov 27, 2004
stjarnflikka from Sweden
1.25
/5
rDev
-55%
look: 3.5 | smell: 1 | taste: 1 | feel: 2 | overall: 1
Pours a somewhat red and brown all clear beer with a nice head and some carbonation going up, up.
Smell is hidious. Chemical fruits, chewing gum and carbonation. All this makes a very unpleasant and funky smell.
Comes on palatte prickly. Chewing gum flavour comes here as well. Chemical traces make this feel more lika a bad soda than fruit beer. Really bad taste also seems to cover you entire mouth, very unpleasant.
Was this bottle bad? Is this supposed to be drunken?
Just an awful beer, feels lika some sodapop with alcohol. Disgusting!
Feb 28, 2005
paterlodie from Belgium
1.3
/5
rDev
-53.2%
look: 4 | smell: 1.5 | taste: 1 | feel: 1 | overall: 1
Ultramour pours in fine and has a nice with staying head and a deepredbrown beercolor. So far all ok but from there nothing else as your worst nightmare beerdream! Smell is chemical bublegum, harldy to smell the unbalanced acid taste that follows. Has this any malt and hops in it? Mouthfeel is cause of the sournes/bubblegum something like ripping your mouth apart. My drinkability was about 1 jeneverglas.
No one is gonna make me drink this again!
Feb 01, 2005
BDTyre from Canada (BC)
2.26
/5
rDev
-18.7%
look: 3 | smell: 2 | taste: 2.5 | feel: 2 | overall: 2
Like bottled candy or a soda.
Dark red with a thin pink-ish head. Bubble gum, raspberry jell-o and cough syrup in the nose. The taste is tart raspberry and medicinal syrup. Not very appealing. Cream soda traces.
Overly carbonated, like a soda. Not something I will visit again.
Sep 28, 2009
Absumaster from Netherlands
3.15
/5
rDev
+13.3%
look: 3.5 | smell: 3.5 | taste: 3 | feel: 3 | overall: 3
A strawberry colored beer with a settling head. Not much visible carbonation.
Smell is sweet and is dominated by strawberry and raspberries. A bit syrupy smell.
Taste is sweet and full of raspberry. The sweetness is not very syrupy, it is more like a soda. The body is above average but not syrupy. Bitterness is low, but should not fit the beer. Where is a lot of these style beers, the raspberries or any other fruit can be artificial, this beer seems to have more balance. I will never be a fan of these beers, but when drunk at the appropriate time and place, they can be good.
Jan 25, 2009

EmperorBevis from England
3.74
/5
rDev
+34.5%
look: 3.5 | smell: 4.5 | taste: 3.5 | feel: 3.5 | overall: 3.5
Doesn't look as cherry red as expected looks more like a diluted cola with opaque tones.
Review in conjunction with my Ultramour JulieAroma is splendid and reminiscent of a bakewell tart with hints of marzipan though the main themes are colour.
Not very beer like in taste a real cherry cola flavour running through out with an extra cherry hit not overly sweet and the fruits are not synthetic or overpower.
Slightly thin mouthfeel quite flat.
Mar 09, 2012


dcmchew from Romania
4.03
/5
rDev
+45%
look: 3.5 | smell: 4.25 | taste: 4 | feel: 4 | overall: 4
Dark ruby, small but lasting dirty head.
Smells awesome, marzipan, strawberry, cherry, raspberry, lots of cream (almost chessy ?!). Wow!
A really cool start with sweetened sour cherries, raspberry, strawberry, faint blueberry. A light tartness covered by sweetness, but a very natural kind of syrup, not sugary at all. Big marzipan/amaretto spiciness. Spongecake, touch of cherry brandy.
Medium body and carbonation. Aftertaste is sweet and red fruity, with some lingering cherry seed. Great dessert beer, sweet, but i found it extremely enjoyable. I'd buy more given the chance, without any doubt.
Jan 12, 2015
Ultramour from Brasserie Scassenes
Beer rating:
75
out of
100
with
14
ratings