Ultra Brune
| Brasserie Scassenes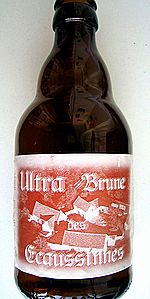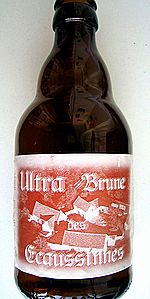 BEER INFO
Brewed by:
Brasserie Scassenes
Belgium
brasseriescassenes.be
Style:
Belgian Strong Dark Ale
Alcohol by volume (ABV):
10.00%
Availability:
Year-round
Notes / Commercial Description:
No notes at this time.
Added by TheLongBeachBum on 05-21-2003
HISTOGRAM
Ratings: 60 | Reviews: 52
3.48
/5
rDev
-9.6%
look: 4 | smell: 3.5 | taste: 3.5 | feel: 3 | overall: 3.5
Appearance: Pours a dark mahogany-hued bdoy with a small, off-white head.
Smell: Spiced aroma with notes of dusty caramel, dried fruits, candi sugar, and, just to make sure everyone's clear on this, spice.
Taste: Caramel malts with a dusting of sweet candi sugar. Sourish, raisiny flavor alongside a hit of acidity. Very faint floral hop character, but no real bitterness. Good amount of spice. No more than a hint of that 10%. Warming, drying finish.
Mouthfeel: Medium-bodied. Medium carbonation.
Drinkability: A decent lil' not-so-little Belgian Strong.
559 characters
3.43
/5
rDev
-10.9%
look: 4 | smell: 3.5 | taste: 3.5 | feel: 3.5 | overall: 3
Brasserie d'Ecaussinnes: Ultra-Brune.
Strength: 10.0% ABV.
Style: Artisanal Strong Dark Ale / Strong Brown.
Served on Draft; One of 5 x 25cl Glass Samplers (€5 Total).
Tasted at the Farmhouse Café (Sampling Room), during a Brewery Visit to the Brasserie d'Ecaussinnes, on 18th April 2003.
Appearance: A deep, slightly turbid brown color that has some clarity when examined closely. The head is a lovely dark tan color. I remembered saying to my friends that it reminded me of a "stronger" dark Trappist beer with its appearance. Then I was politely reminded that this baby is actually 10%ABV!!
Smell: A strong toffee crisp nose that has pungent caramel sweet malt. A smell of burnt car tires pervades in the end that is somewhat off-putting at first, but like glue, can become addictive if inhaled too often.
Taste: A dark brooding beer. The burnt malts dominate this beer in the beginning, which surprised me, after the nose I was expecting a sweet start. The beer progresses, a caramel middle eventually dumbs down the burnt malts. Some bitterness breaks through at the end. But, it is all to no avail. Akin to having your tongue scalded by a hot-cheese toastie - the "burnt-ness" returns after the beer is swallowed and seems to linger on the palate forever.
Mouthfeel: It is not shy in the mouthfeel department and wrestles with the cheeks. It lets you know that this could replace a meal if you were hungry.
Drinkability: Surprisingly, the 10%ABV in the beer presents no problems whatsoever. The alcohol is not too cleverly disguised by the ever present "burnt" aspect of the beer. Definitely not a session beer.
Overall: A nice attempt at a rarely seen style; a 'strong' brown ale. A wholesome offering that is not shy in the taste department. I love leaving my bread in the toaster much longer than I should – it's not proper toast until its black for me. So I like this beer, but others may find the burnt aspect just too much in the end.
1,985 characters
3.42
/5
rDev
-11.2%
look: 3 | smell: 3.5 | taste: 3.5 | feel: 3 | overall: 3.5
A-pours a very dark brown with a tan head with about average retention that clings to the glass. Lots of floating debris hanging in suspension
S-Sweet malt, plums, figs, raisins, low hop aroma
T- More of the same in the flavor, with the plum flavor being dominate, leading into a bit of a molasses taste and ends with the hop bitterness and a sweet dark cherry flavor in the finish. Alcohol is fairly well hidden
M-medium bodied
O-Not bad, not great. there are better examples of the style but still a nice beer.
513 characters

3.38
/5
rDev
-12.2%
look: 3.5 | smell: 3.5 | taste: 3.25 | feel: 3.25 | overall: 3.5

3.38
/5
rDev
-12.2%
look: 4 | smell: 3.5 | taste: 3.5 | feel: 3 | overall: 3
A careful pour yields a three-finger thick, lightly dirty-tan colored head. The beer is a very dark brown color, but shows a clear, deep red color when held up to the light, you almost can't see through it though because if is so excessively carbonated. The aroma is quite fruit-like; aromas of cherries, prunes, raisins and rich fig note are tempered just a bit by a touch of spice and a meaty maltiness. Dark, candy like malt character, a touch of toasty grain, toffee, musty earth, , some notes of clove, perhaps a touch of ginger, over-ripened fruit (plums) and some metallic oxidized malt character. This has a very rich nose, it just smells thick and sticky. Not bad, but certainly not very dry.
Not nearly as sweet as the aroma might have suggested, nor is it as thick as the aroma made it out to be. The beer is sweet, but not overly so and the body is actually fairly light for a beer of this strength. Fruit flavors of ripe, slightly concentrated plums and raisins are noticeable up front, a bit of oxidized malt character then becomes noticeable in the middle (hint of wet cardboard) as does some richly caramelized malt notes, a touch of toffee, ample flavors of browned bread crust, touches of chalky toasted grain. Spice flavors reminiscent of clove and cardamom combine to give this a flavor somewhat akin to Dr. Pepper. Subtle flavors of young ginger, white pepper and even a touch of mint add to the spice notes. The flavors are very much focused on the rich fruit notes with the malt, and to a lesser extent the spice notes playing a supporting role. While not overly heavy, this beer does have some heft and fullness to it, though it is fairly light for a beer of its strength.
An interesting beer, but not nearly as good as I was hoping. A bit too sweet & fruit focused, without a depth and complexity to provide enough balance.
1,850 characters
3.26
/5
rDev
-15.3%
look: 4 | smell: 3 | taste: 3 | feel: 3 | overall: 4
Had this, a sample of my favorite Belgian style in a bottle at Hop Devil, New York. I finished this feeling wholey dissapointed. Perhaps it was too young and with a little aging, would've offered a better experience. The appearance was chocolate brown with little carbonation. The nose offered hints of walnuts and chestnuts but was very subtle. The Taste was somewhat nutty, but again, little carbonation and little else. This has got to be a beer that is simply not yet ready for prime time. The mouthfeel was equally as thin. Sure it's a drinkable brew but uninspired. Still, because of the style, I'll seek it out again and give it another shot.
649 characters

3.14
/5
rDev
-18.4%
look: 4.5 | smell: 3 | taste: 3 | feel: 3.5 | overall: 3
750ml bottle poured into two giant snifters
Pours dark brown with what looks like suspended bubbles -- very thick looking, medium head on the pour which faded quickly and a few thin tendrils of lacing. Smells almost sickly sweet -- molasses and cherry.
Taste is too sweet (for me) with some sourness that helps balance it a little. Some overripe fruit notes, and quite noticeable alcohol in the flavor.
Mouthfeel is thick and heavy, sticky. Not a very good hot weather beer (if you ask me), but maybe better during the winter months.
536 characters
3.06
/5
rDev
-20.5%
look: 4 | smell: 3 | taste: 3 | feel: 3 | overall: 3
The Ultra Brune poured a real dark brown with 1 finger of foam head. The lacing was there but not overwhelming.
The aroma was spicy with a dark brown sugar coming through. The taste had the similar characteristics but the alcohol was too in the way. I couldn't get past it. It must not of aged very well. It was pretty one dimensional with the ABV taking the show. It was pretty light for the mouth feel and overall wasn't really impressed.
441 characters
3.03
/5
rDev
-21.3%
look: 3.5 | smell: 3 | taste: 3 | feel: 3 | overall: 3
Very dark brown color, light brown foam, quite fluffy.
At the smell malt, candy sugar, white grapes.
At the taste, and also inthe smell, it is not heavy, despite the 10% ABV.
Malty taste, again candy sugar.
Average body, a lot of caramel in the aftertaste, and a light fruitiness.
Drinkable.
291 characters
2.73
/5
rDev
-29.1%
look: 3.5 | smell: 3 | taste: 2.5 | feel: 3 | overall: 2.5
This is the second time for me to try this ale, a good 5.5 years since my first encounter in Brussels! The beer label has changed since, BB 06/05/10, served only lightly-chilled in Westmalle's broad-rimmmed chalice.
A: pours a dirty-cloudy dark brown hue, coming with rather light but constant streams of carbonation and a dark beige fluffy head settling fast to a rim.
S: the aroma is rather mixed - musty, sour prunes, herbal candy, assertive notes of candy sugar, plus a higher-than-normal level of saltiness from the yeasts. Unbalanced, but not cloying, either.
T: gosh... I'm sure this beer is off-ish or infected, as the astringent sour-saltiness comes at the expense of almost everything else; the taste is metallic, very prune-ish (in an "off-ish" way), salty-sour, with plenty of oxidised-pineapple hints only attributable to unstable yeast sediments in the bottle. At times, the palate can pick up random notes of caramelised sugar, weak maltiness and faint hop elements, but nothing is here to compete with the dominating, pungent yeasty-mess... Fortunately, the finish is quite neutrally-flavoured and, well, tannic and dry, more like the undertones of mixed Chinese dried herbs plus spiced prunes in a sense.
M&D: the palate is loose and not as firm as a 10%abv. beer requires, but at least the carbonation is not too disappointing but light. The messy flavour profile is certainly rendered by a disturbed state of yeastiness in the bottle, and my fond memory of this ale 5.5 years ago could only point in the same direction. Maybe I've had a bad hair day, or this bottle has had a bloody moody year or two!
1,621 characters
Ultra Brune from Brasserie Scassenes
Beer rating:
3.85
out of
5
with
60
ratings