Mesquito Grille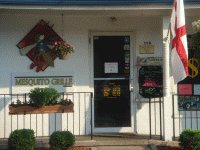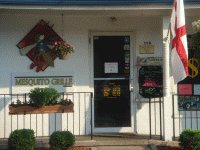 PLACE INFO
Type:
Bar, Eatery
128 W State St
Doylestown
,
Pennsylvania
, 18901-3636
United States
(215) 230-7427 |
map
mesquitogrille.com
Notes:
No notes at this time.
Added by NeroFiddled
Ratings: 14 | Reviews: 11
Reviews by boelker62:
4.2
/5
rDev
+2.2%
vibe: 4 | quality: 4 | service: 4 | selection: 5 | food: 3.5
The atmosphere is just right here, but I am sure that that largely depends on the crowd. I have had the circumstance to go when it was just a few folks in there. I highly recommend a Sunday night.
The quality of the establishment is up there, the food is right on, and I highly recommend their burger, grilled smokily to perfection, with a topper of crumbled blue cheese. It's a winner. Certainly the draft beer system seems well maintained.
The regular staff is certainly knowledgable, but I always find it hard to take craft brew suggestions from a 19 year old. But that's OK.
Certainly, the selection is exceptional, the best in the area, from what I have seen.
After only a couple of times there, I will make it a point to cisit there as often as I can when I visit friends in the area.
806 characters
More User Reviews:
4.11
/5
rDev 0%
vibe: 4 | quality: 4 | service: 3.75 | selection: 4.5 | food: 4.5
Love the wings and ribs, good beer selection too.
49 characters
2.88
/5
rDev
-29.9%
vibe: 3 | quality: 3 | service: 2.5 | selection: 3 | food: 3
Was there today, April 10, had read reviews first and was in Doylestown.Thought it might be fun.
Nice day out, place was hot inside but we got the ok to sit outside and were seated upstairs on a semi-enclosed large "porch".That was fine - and the staff proceeded to sit everyone else out there too. Ok, now it's a little crowded. Tables are pretty tight up against each other.
Ho hum, looks like it's a poplular gathering place for 20-somethings. Dude, really? I don't need the back of your GF's chair against my table. A handful of busboys and one actual waitress did the best they could, but took too long in taking orders and bringing the check - like half an hour too long. We could have easily been in and out in an hour and were there for two.
The food menu was pedestrian and the beer menu was large, but in these days when you can get beer at Wegmans and other bottle shops, not impressive. Price for the service and atmosphere was high, in my opinion.
I did love the Clint Eastwood motif upstairs. A+ on that. Good work to the staff, but please be more timely.
1,073 characters

4
/5
rDev
-2.7%
vibe: 4 | quality: 4.5 | service: 2 | selection: 5 | food: 5
I noticed it's been a long time since anyone reviewed this place and I live in Doylestown and go to the Mesquito Grill often, so I figured I'd put in my 2 pennies.
The beer is always great. There is always something good and/or unique on tap. The bottled beer list is huge and there's a rotating bottle list that changes every month or so. I've chatted with the owner and he is definately a beer fanatic who goes out of his way to get interesting stuff from all over the world. You can get singles for take out from their coolers at the entrance if you want take a special beer home (for PA that's kind of unique).
Aside from the beer, their food is awesome. I judge all burgers now by the Mesquito Grill burger. They also regularly win competitions for their wings. They do steaks and other entrees that you would expect from a "grill/pub". It's hard to go wrong with anything on their menu. The owner takes a lot of pride in his food and spends most of his time in the kitchen himself.
Atmosphere is OK. There are three bars, but they are all on the small side and feel little cramped. When the weather is nice they have a very nice small balcony with tables that over looks the intersection, but they try to reserve it for people buying food. It's a kid-friendly place for dinner too, if you're taking the family out, but their main bar won't have any rug-rats running around if that cramps your style.
I think the prices are a little steep sometimes, but you certainly get some excellent beer and food. So, all in all, I think their prices are fair.
My biggest complaint is that the service has gone downhill a lot in the past year or two. For the caliber of beers and the price they charge the bartenders/servers really need to be educated about beer, and a couple need to learn about basic customer service too. Stupid stuff like, I was sitting next to a guy at the bar who ordered a Delirium bottle (a fairly expensive beer) and he was asked if he wanted a glass or drink from the bottle. Or when they had DFH 90min on tap they served it to me in a Chimay glass...on two separate occasions. Maybe I'm being picky, but I think these are no-brainers for anyone with even the slightest beer knowledge. Worse is that myself and others have exerienced some really poor service from particular servers, like forgeting orders or never coming by the table. If you get a table for dinner, ask to be served by Clodi. She's been there for years, is an awesome waitress, and is well educated on beer. If you're served by anyone else, you might be taking a risk.
I complain about the service, but it shouldn't stop anyone from checking the place out if they've never been there. I still go often and and usually the service is fine. There have just been some memorable moments for me, in a bad way. It's still a great bar and restaurant, and a couple months from now things could change and all my complaints could be moot. Regardless, great beer and food have been constant for the Mosquito Grill for many years and I'm sure that will continue.
3,050 characters
4.58
/5
rDev
+11.4%
vibe: 4 | quality: 4.5 | service: 4.5 | selection: 5 | food: 4.5
Great and quaint in the borough of Doylestown! Excellent wings, ribs, & pork.
An incredible selection of beer in a place that tries to stand alone in its beer selections.
Nice to see a place that doesn't have Guinness on tap, they feature O'Hara's Irish Stout. Also sells Fuller's London Porter on Nitro.
Bottle selection is also fantastic with varieties from Rogue & Victory.
The restaurant is non smoking, which is very nice. They also have an outside patio located upstairs off the 2nd floor.
If your in Doylestown, this is a great place to have some food & great beer.
579 characters
4.45
/5
rDev
+8.3%
vibe: 4.5 | quality: 4.5 | service: 5 | selection: 4 | food: 4
Atmosphere: Upon centering you are staring at a register and two small coolers of quality brews. Belgians fill the cooler to the left–Delirium, Chimay, Orval and some lambics. Craft brews fill the cooler to the right. This is a nice bar for variety. A long bar awaits you to the left along with some tables along the windows. Sports memorabilia fills the bar area along with heavy smoke–they could prolly use a nice air cleaner.
Quality: Pretty good. Everything is clean and organized. Beer is readily available for take-out.
Service: Excellent, although it was during the day and the bartender had the time to be attentive and chit chat. My friend lives in Doylestown and brought me there to have a Chimay. He knew most of the workers there and they were friendly. The bartender knew enough to tap the Chimay Red into a chalice. The people at the register knew very little about the beer selection in the coolers.
Selection: Awesome. Probably the best in the area if you want something nice. Lots of belgians and craft brews. Lots of stuff to try on tap as well.
Food: Wings were awesome. They have about 10 different ways that they make them too. Didn't have anything else except for the wings.
Value: Either on-par or lower. As you close in to Philly, things become more expensive, especially in a county as wealthy as Bucks County. This place was reasonable for the food, draft beer, and singles to go. I was pleasantly surprised. They probably also have a lock on the craft beer drinking demographic as well. The places by me gouge you because there isn't a wealth of good beer in the area. I recommend going.
1,634 characters

4.18
/5
rDev
+1.7%
vibe: 4 | quality: 4 | service: 4.5 | selection: 4 | food: 4.5
I visit the Mesquito Grille on a regular basis, and it has become my favorite place to stop.
Atmosphere: When you walk in, you are greeted by 2 large refrigerators of bottles with a great selection of take out bottles (more on those later). To the left is the smoking bar which can get pretty packed nights and weekends. The seating options are the bar or 4-5 booths along the windows. To the right is the non-smoking bar with slightly less seating room. Upstairs is a restaurant area with a nice outdoor patio which is great on a warm summer evening. The bar areas are dark and adorned with various beer paraphanalia, and the smoking area features a dart board. Be sure to check out the impressive bathroom "wallpaper" when you're there. Ben, the usual bartender, will always have the game on at night, be it Phillies, Flyers, Sixers or whatever national or international sporting event is going on.
Quality: Great beer, great food, and frequently rotated taps make Mesquito Grille a must visit. The place attracts a very mixed crowd, and is always busy. The beer menus are very organized and decriptive, so picking out something good is easy for even the most novice beer drinkers. Each month, they feature a different country and offer special food and beer selections accordingly from that country. There's always something new to try.
Service: Beers and food arrive promptly, though understandably a bit slower on packed nights. Beers are always served in proper glassware. I've even had Kwak served in it's traditional glass with wooden holder!
Selection: Incredible! On tap, there's always great Belgians, various seasonals, Fuller's London Porter, Magic Hat #9, a rotating Rogue, and many other rotating taps (Arrogant Bastard, Hacker Pschorr, etc.) The bottle selection is equally as impressive. several Unibroue, no less than 8 Rogue, Great Divide, River Horse, Dogfish Head, Victory, Weyerbacher, several trappists, and many German and English beers. A great mix of local micros and imports. And all are available for takeout.
Food: Mesquito Grille is not just for beer. As the name suggests, they are known for their barbeque which could carry the place alone without the beer. The wings are simply amazing and must be tried -- 9-10 flavors including Southwestern Dry Rub (my favorite), Sesame Teriyaki, and Spicy Garlic Parmesan. You won't see any neon orange wing sauce here. And if you order before 6 on a weeknight, they're half price. The menu also has many other appetizers and an array of sandwiches. The entrees are also very good, though they can be expensive.
Overall, a must visit if you are in the Bucks County area. Located right in the center of Doylestown, it's very easy to get to, and there is ample on-street parking. So stop in, grab a few 20 oz. mugs of great beer, order a few wings, and leave with a bottle for take out. You won't be disappointed.
EDIT 8-1-07: All of the seating on the left half of the place has been removed to open it up for the weekend standing room crowd. It's a shame, because this was my favorite place to sit. Bar seating is now EXTREMELY limited which knocks this place down a notch.
3,164 characters
4.28
/5
rDev
+4.1%
vibe: 4 | quality: 4.5 | service: 4.5 | selection: 4 | food: 4
atmosphere - for a monday it had some people, not overly loud, nice lighting. we sat upstairs at a nice table looking out on the street below. great seats. bar looked rad but we didnt venture into that room (next time).
quality - both the beer and food were perfect in my opinion.
service - our waitress knew a lot more than i expected. she brought the right glasses for the beers, made some decent suggestions for my girlfriend and was very attentive. our food was brought out hot and the app and the meal were separated by enough time that i didnt feel forgotten but didnt feel rushed.
selection - started out with a dominion oak barrel stout, it was superb. my lady had an orval (which i ended up picking when the few she asked for they were expecting on their delivery later in the week, it was a monday) im a big fan of sour ales and they had a few on the menu so i got the Duchesse de Bourgogne (sour red) from brouwerij verhaeghe and the waitress suggested a melbourne bros strawberry for heather. all in all the bottle selection was fabulous and wasnt limited to micros or imports but had a great selection of both. i dont know about the tap selection but i know it gets kinda "partyish" on the weekends so its probably pretty run-of-the-mill.
food - we had the jalapeno poppers as an app (we're vegetarians which limited us a bit). they were very tasty, not just your average defrosted and tossed in the fryer poppers. i had a caesar salad for dinner which was big but for 9 bucks i guess i expected more but it was very good. heather got nachos which seemed to be baked as opposed to just having cheese whiz poured on top and they were excellent.
all in all an excellent evening for 60 bucks with 2 rounds of beer.
1,739 characters

4.5
/5
rDev
+9.5%
vibe: 4.5 | quality: 4.5 | service: 4 | selection: 5 | food: 4.5
I have frequented this establishment in picturesque & charmng Doylestown many times. A weekly Wednesday rondezvous with my esteemed old friend with a spattering of weekend visits during that time, i have sampled almost everything this place has to offer.
The service during the week is exceptional at the previously posted smoking & non-smoking bar sections.
The 130+ deep bottled beer menu exceeds average expectations and the rotating selections of 20oz draught beer is exceptional.
The staff is moderatly helpful depending on who you get, but chances are of you're reading this you know what you're after.
The atmosphere is generally pleasing, & the food is well above average. The wings are amazing, with many tasty flavors to choose from.
Overall if you're within 20-30 min i would highly advise checking this place out.
Cheers.
862 characters

4.08
/5
rDev
-0.7%
vibe: 3.5 | quality: 4 | service: 4 | selection: 4.5
The Mesquito Grill is a nice little beer bar/restaurant in downtown Doylestown. The atmosphere is decent, from the outside this place looks like a regular corner bar, and inside it looks pretty similar to something like this as well. There are two bars with nice wood all over the place. And three big fridges with an intense, and decently priced bottled beer selection. The draught beer quality was decent, and the service was fast and friendly. The prices were a tad high, although 5.50$ for a 20oz mug of Fullers London Porter is nothing to shake a stick at. I did not try the food, but the menu was very interesting, although a bit pricey (for my wallet). A decent enough beer bar, with 20 or so quality tap lines, and quite the awesome bottled beer list. This place is like a pricey dive bar, with a pretty awesome selection. Check it out when in D-Town!
859 characters
4.13
/5
rDev
+0.5%
vibe: 4 | quality: 4 | service: 4 | selection: 4.5 | food: 4
I don't know why I haven't written about the Mosquito before...laziness, I guess. This is one of my favorite hangouts in town. I always knew it was here and what type of food they offered, mostly BBQ and Southwestern cuisine, but I was totally unaware of the beer selection until a few years ago. I went there for lunch for a business meeting. The server handed me the lunch menu and a separate menu, the Beer Menu! Needless to say I came back that evening to do some exploring. They have a great selection that is constantly being improved upon. Choose from a wide variety of beers from around the world, mostly bottles but they also have a rotating selection on tap. The place has two bars in a small establishment. One bar is for smoking and the other is non-smoking. Even though I don't smoke anymore, I tend to hangout on the smoking side. That's where most of the beer lives.
They have pretty decent food. In the past, I have never been a fan of BBQ wings. I like them Buffalo Style and HOT. The mosquito has changed my opinion of that as well. Nice balance of sweet and spicy. The service is sporadic and it can be difficult to get quality service on a weekend night. My advice is to choose a beer from the long list and relax. So if you are in Doylestown and are looking for a spot for some good beers, I highly recommend the Mosquito Grille.
1,351 characters

4.16
/5
rDev
+1.2%
vibe: 4 | quality: 4.5 | service: 3.5 | selection: 4.5
Wow, and a couple of friends were walking down in Doylestown and we saw a rouge sign, and that sooo meant we must stop in. I can only say I was more then impressed by the sleection here. unibrou, Sammy Smith, Victory, mcEwans's, Rouge draft, bottlees, and growlers, SA triple bock, DFH, oh my the list can go on and on. While the service wasn't the best, it was quite a nice place to go to. Also, has a nice liqour selection for those whom may be non-BA inclined. Also, a well rounded take-out selection when needed. It has both smoking and non-smoking sections, which is important becuas ehte smoking section can be kinnda stuffy. My wonderful girlfriend reminds me to tell you all that it is a small establishment, so be prepared to fight for a seat. nice little place, be sure to check it out when in D-Town.
811 characters
Mesquito Grille in Doylestown, PA
Place rating:
92.9%
out of
100
with
14
ratings