Ashes Ale
| Marston, Thompson & Evershed, Plc.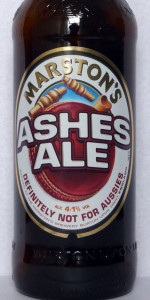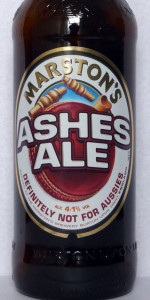 BEER INFO
Brewed by:
Marston, Thompson & Evershed, Plc.
England
,
United Kingdom
fullpint.co.uk
Style:
English Bitter
Alcohol by volume (ABV):
4.10%
Availability:
Rotating
Notes / Commercial Description:
No notes at this time.
Added by wl0307 on 08-08-2005
HISTOGRAM
Ratings: 6 | Reviews: 4
Reviews by jazzyjeff13:

2.93
/5
rDev
+1.7%
look: 3.5 | smell: 3 | taste: 2.75 | feel: 3 | overall: 3
A 500ml bottle with a BB of July 2014. Acquired a little while back from a B&M store. Brewed to celebrate the Ashes series (ha!); the label describes it as a pale ale hopped with Cascade.
Poured into a tulip pint glass. A golden-amber colour with faint haze and medium carbonation. Forms a large head of frothy white foam that lasts for a minute or two before reducing to a patchy surface layer. Slight lacing. Aroma of light caramel malt with hints of mild grass, stewed leaves and ale yeast. A twinge of sulphur/cardboard in the background. Bland but balanced.
Tastes of weak caramel malt with a harsh, dry finish. Notes of subtle caramel, stewed leaves, faint grass, ale yeast and cardboard. Possesses a twinge of acrid solvent in the background, followed by a restrained bitterness upon swallowing. Quite unlovely. Mouthfeel is smooth, dry and lightly tingly, with pleasant carbonation and a thin, watery body. Pretty astringent, accompanied by an aftertaste of harsh cardboard/stewed herbs, faint malt and a touch of solvent.
Meh - not brilliant. It looks nice, while the aroma is acceptably dull. However the flavour is unpleasant, particularly the abrasive bitterness that develops upon swallowing. Lacklustre body. Not a particularly good brew, but given the England cricket team's recent performance perhaps it is a fitting tribute. Give it a miss.
1,360 characters
More User Reviews:
2.65
/5
rDev
-8%
look: 3 | smell: 3 | taste: 2.5 | feel: 2.5 | overall: 2.5
Clear 500ml bottle, best before June 2007, drank March 2007.
The label claims it is a Pale Ale, although from its colour, aroma and taste, I can see where my friend Yau thought it an English Bitter when he added this beer to beerfly.
Poured into a Palm tulip glass (twice), it looks a pale bitter, terracotta orange, clear and sparkling, a small slightly off white head soon dispersed to a thin wisp of nothingness, a little collar round the glass and a blob in the centre.
The label said serve it lightly chilled,so I did, this effected the aroma, although a heavy hops and yeast smell came out the bottle before I poured the first half, that soon went and nothing replaced it until the beer began to warm in the glass, toffee esters arrived, but no great aroma to this beer.
A little fizzy and dry, bitter too, with a metallic feel, strange combination, which I struggled to enjoy. As the beer warmed, the metallic taste got more prominent, not good!
Dry and metallic aftertaste, not what I want to feel after each mouthful.
This beer was on special, 5 pints for £5.00. I am glad I didn't pay a lot for them, 4 to go!
1,138 characters


2.98
/5
rDev
+3.5%
look: 3.25 | smell: 2.75 | taste: 3 | feel: 3.25 | overall: 3
Bottled and sadly clear glass but thankfully not skunked
Pours a golden body with big white head that pretty much disappears altogether
Minimal corn aroma
Tinny flavour
171 characters
3.74
/5
rDev
+29.9%
look: 2.5 | smell: 3.5 | taste: 4 | feel: 3.5 | overall: 4
Tasted this beer by half-pint at my local Wetherspoon's pub in East End London recently. I believe it's yet another ale brewed to accompany The Ash's cricket season, and at the first sight I hesitated a bit... But it turned out more tasty and better than, say, Young's Lord's Ale.
A: it pours slightly murky honeyish colour, with no fizz, no beer head, looking so flat that it really is like a cup of tea in a half-pint glass in front of me...
S: slightly astringent yet hayish and floral aroma of hops, plus a flow of juicy, citrusy-zesty (like pink grapefruit) note... hop-dominated aroma, but not very assertive.
T: at first there comes a dryish bitter taste which closes in and intensifies on the palate, while slightly "clashing" mouthfeel of hoops and an intensifying bitterness lingers well towards the finish.
M&D: overall it's a light-bodied and mild-flavoured Golden Ale (I believe) brewed to be thirst-quenching. Simple but quite drinkable~~
958 characters
Ashes Ale from Marston, Thompson & Evershed, Plc.
Beer rating:
2.88
out of
5
with
6
ratings