Crazy Bruce's Liquors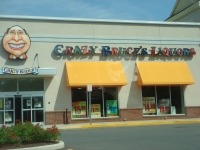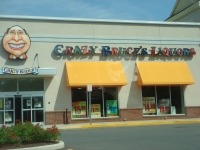 PLACE INFO
Type:
Store
178 Newington Rd
West Hartford
,
Connecticut
, 06110-2361
United States
(860) 233-2117 |
map
crazybruces.com
Notes:
No notes at this time.
Added by pbrian
Ratings: 8 | Reviews: 7
Reviews by BlueHammer:

3.25
/5
rDev
-6.9%
My first impression? Where's the beer?
Ok, so yes, there are cases of beer lined up against the far left wall, but none of what I was looking for.
If you are looking for a wide selection of craft beer, this isn't the best place to go. If you need to run in for a case to bring to a BBQ, then Crazy Bruce's is perfect. (However, don't try to bring in any of your under-21 friends, leave them in the car - they're often strict about carding ANYONE who is in the store to purchase alcohol).
My best find here was cleaning out what remained of their Otter Creek baltic porters, since that was only out for a limited time. They had some BBC growlers in the refrigerated cases in the back. Also some Opa Opa in growlers. They're selection of chilled craft beers was minimal.
It's not a bad place for a quick stop but definitely not where you want to be to stock up on your favorite brews.
886 characters
More User Reviews:


3.93
/5
rDev
+12.6%
vibe: 4.5 | quality: 4 | service: 3.5 | selection: 4
After stopping at the other Crazy Bruce's I figured that I might as well check out the other one also. The store is primarily setup the same way. Big tall aisles loaded with all kinds of beverage needs. The beer selection at both stores seemed to be pretty good in my opinion. I never expect to get anything extreme there but just some interesting brews that don't make their way to my area makes these stops worth while. The vibe is nice, kind of like a grocery store. The service is good if needed. The selection is good enough for me personally. The value is pretty good too as far as I can tell. I've never felt like I paid too much for something after leaving there. It's a nice place to check out. It's not like you'll find anything super rare there but still pretty good overall.
786 characters
3.34
/5
rDev
-4.3%
vibe: 3.5 | quality: 3 | service: 3.5 | selection: 3.5
This is a warehouse atmosphere with tall shelves aliging the beer aisle. This place tended to focus on nationally known crafts like Sam Adams, Magic Hat, Dogfish Head, and others. It also had a large selection of national macros. However there were many kinds of regional favorites such as Hooker, Berkshire, and Burnside growlers. One thing I liked about the place is that they seem to have excellent sales and they also knock down the prices on slow movers and near-expiration date beers quite substantially. When I was there they had a Blue Moon tasting going on. No food beyond snacks were sold here and there is a large selection of hard liquor and wine. But I think the prices were among the best I saw in the Greater Hartford, CT area. It is a place I might retun to if I am in the area again but it is not a destination store.
834 characters

3.4
/5
rDev
-2.6%
Had heard about this place and seen the ridiculous TV commercials, and finally happened upon it. This is mostly a wine and liquor warehouse (box and jug wine take up most space), but there is one aisle dedicated to beer. Selection is okay, surprisingly large selection of Czech and Polish beers. Chimay represents the Belgians. Spotty selection of New England beers, nothing out of the ordinary for craft beer, but you will be able to find decent standards. Two positive things 1) They not only sell singles, they have a special singles rack right next to the six-packs for each beer, with price noted. 2) They have a whole lot of the North Coast brews that are just making their way into this area. Also had Rock Art which I don't believe I've seen anywhere else, though I'm not a fan. I think there was one Rogue. A few Olde Burnside growlers and some Hooker Liberator and Imperial Porter. Had one bottle of Sam Adams 2005 Imperial Pilsner at closeout price of $4.99, but it was not refridgerated, so I left it. Stop in if you're in the area, but don't journey to this place.
1,077 characters
3.65
/5
rDev
+4.6%
Edit: My original review states that service is poor, with never any educated help walking the aisles. Since I got my kegerator, I have used them to special order my logs and the beer guy there (Ron) has bended over backwards trying to accomodate my wacky requests. Props to that.
Crazy Bruce's is a good place to stock up on a decent selection of regulars, but not a good place to find any hidden gems. In fact, other than Chimay, there are no Belgians. Northeast micros are fairly well represented and you can always find some Storm King there. Lots of imports, but mostly middle of the road kinda of stuff. Oddly, their biggest section is beers from Eastern Europe, but I've had my fill of malt liquor tasting pils, thanks. Service is pretty non-existent. When I asked an employee once what kind of good new beers they had in, he tried to sell me Edison Light. Don't go too far out of your way to go here.
912 characters
3.2
/5
rDev
-8.3%
A large store mostly dedicated to wine and liquor. They did recently (slightly) expand their beer section, but it's still nothing to get excited over. The first time I went there I was amazed by the sheer volume of singles available, but in all honesty they waste a lot of shelf space that could be put to good use. Sure, they offer a ton of singles, but most aren't anything to get excited about. There's a small section to the right of the singles where they keep most of their seasonals and "special" beers, but they often don't sell these as singles. Overall, a good beer store but not a destination in and of itself.
Oh yeah, they don't offer a case discount on micros, nor do they seem to offer a discount for a full mixed sixer of singles.
750 characters
3.4
/5
rDev
-2.6%
I heard a lot of good things about Crazy Bruce's, so when I eventually checked it out, i was more than a little disappointed.
The one benefit of Crazy Bruce's is that they have almost all their beers in both singles and sixers. I like to buy singles, so this is great for me. The beer selection, however, is really nothing special. I'd guess they have somewhere around 70 beers, with a rather sizable collection from eastern europe dominating a large portion of shelf space. The american craft beer selection is sorely lacking, with mostly ubiquitous beers from breweries like Anchor, Sierra Nevada, and Sam Adams. They have a couple unusual imports, like Gosser and Efes, but nothing really spectacular. The beer is almost always fresh, however. Just watch out for green and clear bottles.
I've never spoken or been approached by a store employee here.
856 characters
Crazy Bruce's Liquors in West Hartford, CT
Place rating:
0
out of
100
with
8
ratings