Marbled Buffalo

Double Nickel Brewing Company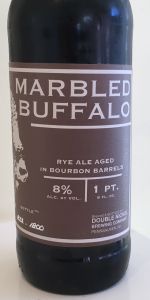 Rate It
Beer Geek Stats
| Print Shelf Talker
Style:

ABV:

8%

Score:

Avg:

4.25

| pDev:

6.12%

Reviews:

5

Ratings:

From:

Avail:

Rotating/Seasonal

Wants

Gots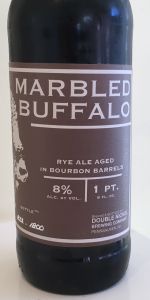 woodychandler from Pennsylvania
4.37
/5
rDev
+2.8%
look: 4.75 | smell: 4.5 | taste: 4.25 | feel: 4.5 | overall: 4.25
Next up. a short break. Not from Bottles (!), but from Tavour. This one was a remnant of Craft Beer Conference (2016) in Philly. My then-publisher was worried, unnecessarily as usual (which is part of the reason that I parted company), that I was simply using it as an opportunity to hang out with my cousin. Unbeknownst to him, I used my Press Pass to great effect, attending a CANference with Crown Manufacturing on CANs at Double NIckel & submitting a great piece about it! LOTS to know about CANs!
From the Bottle: "Rye Ale aged in Bourbon barrels"; "Bottle No. 640 of 1800".
I Pop!ped the cap & as I started a slow, gentle C-Line pour into the awaiting glass, I was mesmerized by the concurrent pseudo-cascade that was taking place! I was forced to back down & off as a result, but then I watched as it formed two-plus fingers of dense, foamy, rocky, deep-tan/light-brown head with very good retention. Color was Dark Brown to Very Dark brown (SRM = > 27, < 34) with garnet highlights visible throughout. Nose had a chocolaty quality commingled with the Rye whiskey. Mmm. Mouthfeel was medium-to-full, not quite creamy, but on the approach. The taste had a slight chocolaty sweetness to accompany the intense Rye whiskey flavor. For me, it was great, given my propensity for drinking Rye whiskey! I did wonder, though, about their malt bill for this one. It must have included some dark-roasted malt(s) to have given it its color & flavor. I think that I would like to try this with a lighter-roasted malt bill since this was not as peppery as it could have been 8=( Finish was semi-dry & again, I think that a tweaking of the recipe for a revisitation might be in order. YMMV.
Apr 09, 2020

beerthulhu from New Jersey
4.08
/5
rDev
-4%
look: 4 | smell: 4 | taste: 4.25 | feel: 3.75 | overall: 4
-B.A. 6 months. on draft in globe 8.0%.
A: No head on the pour with a inky black coloring. Small oaty beige colored head encircles the rim of the vessel. B.A. silence from the glass.
S: Huge alcohol notes from the bourbon (from buffalo trace barrels). Smells like straight whiskey that honestly overshadows much/any of the malt character. At 8.0% wow. The booziness is pleasant, only because I love the scents of fresh bourbon/whiskey. Small hints of milky dried chocolate are weak through the intense bourbon character.
T: The flavor followed suit with a lot of bourbon character, spicy vanilla creamer and sweetly toasted smoky grains. The dark malts clearly take a back seat as with the nose but are a little more prominent on the tongue. A bit of smokey sweet chocolate, spicy peppercorns from the rye barrels. Smooth silky whiskey chocolate best describes this with a rye spiciness that certainly will attract any B.A. fan to try. Boozy dark fruit of spicy plums rounds out.
M: The mouthful was light and very silky smooth on the tongue.
O: The booziness shines through with heavy notes of fresh bourbon/whiskey and vanilla-creamer sweetness. The influence from the barrel is strong and evident. The body is a bit thin i felt. If you like your B.A. beers heavily influenced and love the mixture of bourbon/whiskey in your beer then this will tickle your fancy. As a B.A. stout I would of liked to see a bit more chocolate, coffee, & vanilla character both on the nose and flavor, as a rye I would of like to see a bit more peppercorn and spicy cola flair, which was muted a bit from the heavy bourbon influence. As a B.A. beer fan, I was in heaven with the fresh and generous nature of the barrel influence.
Sep 15, 2018

MacMalt from New Jersey
4.42
/5
rDev
+4%
look: 4.5 | smell: 4.25 | taste: 4.5 | feel: 4.25 | overall: 4.5
Poured from 22 oz. bottle into pint glass. It pours virtually black but with a pretty, deep ruby hue when held to the sunlight, and two fingers plus of thick, fluffy head and lacing with excellent retention. It looks like a nitro pour; very much like Guinness on draught. It's very attractive in the glass. It smells of roasted malt, rye, vanilla, coconut, and subtle but discernible bourbon. The first taste I noticed is caramel, followed quickly by a very nice base of roasted malt, rye, and black pepper. It has a slight hop taste at the finish. What sets it apart, however, is the bourbon; you can taste it but it's delicate and subtle. It doesn't overpower and there is no alcohol burn. This ale is medium-bodied with a creamy, almost chewy mouthfeel. Its ABV of 8% is just right; it's substantive but very drinkable and without a strong alcohol burn. Overall, this is a superb Rye Beer. It is delicious and full of sensory pleasure. Quite an achievement. I'll seek it out again soon!
Aug 28, 2016
NeroFiddled from Pennsylvania
4.39
/5
rDev
+3.3%
look: 4 | smell: 4.25 | taste: 4.5 | feel: 4.25 | overall: 4.5
Double Nickel Brewing Co. "Marbled Buffalo"
22 fl. oz. brown glass bottle, "BOTTLE NO. 662 OF 1800" but without freshness dating
$14 at the brewery
In tasting the "Marbled Rye" at the brewery (ahh, now I understand where the "Marbled Buffalo" name came from), I thought it was excellent, and perhaps my favorite, although the Pilsner would have to be my clear all-season winner. I thought at the time that the stout would have been a great candidate for Bourbon barrel aging (and it was), but I wasn't sure how much the barrel would add to the rye. How misguided I was! It totally transforms an already interesting and full-throttled beer into something completely different. It's sweetish in the nose with oak and vanilla and an occasional passing note of coconut. In the flavor the subtle smokiness remains, but there's a note of vanilla that plays against it, and adds the suggestion of sweetness (what a great sipper this is!). The spiciness of the rye, which I thought was a little muddled in the base beer is livened by the dryness of the oak, and it 'swirls' in the finish. Beneath all of that a rich, soft bed of sweetish medium and dark caramel supports it, threaded through with leafy, and somewhat herbal and minty hops. It's clear that the best ingredients are being use, and it's highly polished. Beyond that, the balance that they've found is remarkable, and I've found that in almost all of their beers. I see this as a rich, complex, and strong beer to relax with (think barleywine) rather than anything else, and I'm so impressed by it that I feel I'll need a case for my cellar - and given the price you should think about one as well!
Apr 30, 2016

deaddear from Pennsylvania
4.34
/5
rDev
+2.1%
look: 4 | smell: 4.25 | taste: 4.5 | feel: 4.25 | overall: 4.25
On draught at brewery
A - Black as coal
S - Roasty grains and rye, bourbon sharpness, mild booziness
T - Base beer and the bourbon barrel work really, really well together. Pleasant sharpness from the rye, slight smoke from small proportion of roasted malt, and really smooth bourbon/oak/vanilla flavors to round it out. Where many barrel-aged stouts seem to be a hot, sticky mess these days, this one is well balanced, almost elegant.
M - A tad thin, carbonation level is perfect though.
O - Really enjoyed this. Brewery deserves more love than it seems to be getting on social media, imo.
Mar 07, 2016
Marbled Buffalo from Double Nickel Brewing Company
Beer rating:
89
out of
100
with
19
ratings