Alaskan Birch Bock (Pilot Series)
| Alaskan Brewing Co.
BA SCORE
82
good
49
Reviews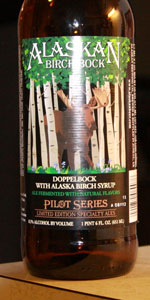 BEER INFO
Brewed by:
Alaskan Brewing Co.
Alaska
,
United States
alaskanbeer.com
Style:
Doppelbock
Alcohol by volume (ABV):
8.50%
Availability:
Limited (brewed once)
Notes / Commercial Description:
No notes at this time.
Added by jmdrpi on 08-30-2011
This beer is retired; no longer brewed.
Reviews: 49 | Ratings: 112
3.53
/5
rDev
-1.9%
look: 4 | smell: 3.5 | taste: 3.5 | feel: 3.5 | overall: 3.5
A - Saddle leather brown, good off white head, some cling.
S - Malt upfront, syrup smell somewhat detectable.
T - Nice enough. Standard doppel with a bit of a maple like syrup note.
M - Lower carb than I would have liked, balance a little cloying.
D - Fun to try.
267 characters
3.88
/5
rDev
+7.8%
look: 4 | smell: 3.5 | taste: 4 | feel: 4 | overall: 4
Poured from a 22oz bomber into a goblet. Bought for $8.00 at Coaltrain liquor in Colorado Springs on 4/9/12.
Pours a clear crimson body under a minimal off-white head. Very striking appearance. I am always amazed how red some beers can be.
Nose is rather faint. I detect a little alcohol, something rather like lager yeast in a homebrew, and a bit of dough.
On first taste this is so much like a failed batch of lager I tried to make (didn't ferment out very well) that I can't get into it. However this beer is of higher quality and upon closer inspection it shows that it is in fact nuanced. A big sweet lager base provides the foundation for the birch flavors, which are slightly woody and very sweet, almost syrupy in a natural sap kind of way. There is a little rich-spice note that reminds me of root beer. This beer doesn't taste anything like rootbeer, but there is some quality in it that does bring root beer to mind.
The mouthfeel is on the heavy side with lots of residual sugars to thicken up the body. Carbonation is lively but not oppressive.
Conclusion: This is an interesting beer, and to a normal BA I think it would be excellent. If it didn't share so much of its flavor profile with a past failed batch of homebrew I would like it more.
1,263 characters
4.07
/5
rDev
+13.1%
look: 3.5 | smell: 4 | taste: 4 | feel: 4 | overall: 4.5
Poured from 22 oz bottle into a Surly Darkness Chalice.
Appearance: Pours a deep, dark, and slightly cloudy brownish copper with a little ruby red. Moderate bubbles and about one finger of off white head that recedes into a few thin patches. Lacing is light.
Smell: A sweet smell of caramel malts and toffee with the birch syrup and a hint of spices. Some hints of citrus and earthy hops in the background. Also a light hint of dark fruits. Smells more like an English Barleywine than a Doppelbock, but it smells good and interesting.
Taste: A nicely sweet mix of bready caramel malts, birch syrup, and toffee. Hints of figs and other dark fruits. A little bit of spice. Nice presence of earthy and citrus hops giving a little more of a bitter bite than you would typically expect from a bock. The syrup blends in nicely. Well balanced.
Mouthfeel: Medium to full bodied with a moderate level of carbonation. Chewy and somewhat syrupy as expected. No noticeable alcohol heat.
Overall: A pretty interesting and tasty beer. Sweet but well balanced by the hops.
1,066 characters
3.4
/5
rDev
-5.6%
look: 3.5 | smell: 3.5 | taste: 3.5 | feel: 3.5 | overall: 3
Appearance: (3.5)
- Pours a lightly cloudy mahogany brown. The brew has a nice reddish hue as well. Very minimal head.. leaves but a light dusting of off-white thin foam in the center, and a small ring around the edge. Pretty standard for the style.
Smell: (3.5)
- A sweet floral and citrus grain bed aroma. Light maple, thick sugars, and an earthy approach with some esters. Tannins and a fruity touch for sure. Creamy oats and grains. Interesting.
Taste: (3.5)
- A rather sweet brew with a fruity ester and tannin touch, light maple, and brown sugar. Grassy and earthy bitterness is light, but present. Little bready, but mainly just sweet. It's ok, but I can't say that I am blown away by this brew.
Mouth Feel: (3.5)
- It's a chewy one, and slightly drying. The sweetness lends a little stickiness and a cloying attribute. It's well carbonated with a common yeast.
Overall: (3.0)
- I love Alaskan Brewing, but have to say that this brew has 'average' written all over it. There certainly isn't anything wrong with the beer, but it doesn't stand out at all on all marks. I rate beers a 3.5 when they contain the quality I expect from a larger craft beer producer. A 3.0 can be found in a homebrew, but there would usually be something offsetting to get that. This beer doesn't have anything offsetting. It's just a little boring. Perhaps a big fan of the style would like to sit on a bottle awhile and let it oxidize. Not me.
1,440 characters
4.41
/5
rDev
+22.5%
look: 3 | smell: 4.5 | taste: 4.5 | feel: 4.5 | overall: 4.5
A - Clear red brew, moderately-sized white head, no lacing. Initial pour coats the glass in bubbles. Brew has a thin ring of white head linger around the interface of the glass and the beer.
S - Strong, very fragrant malt. I am not sure where the malt ends and the birch syrup begins, because I'm not terribly familiar with birch syrup. It smells like malt with a bit of an almost rye-like spiciness. A bit of faint hibiscus and currants. Very nice.
T - Extremely potent malt with a hint of umami herbal balance, kind of like a mild sage and mushroom (but without the earthiness of most mushrooms). Very rich. Aftertaste is a mild sweetness and a bit of the earth-less umami mushroom. It is an incredible flavor in a beer, unlike any I can recall.
M - Very thick, smooth, refreshing.
D - Fantastic. I hope Alaskan keeps making this. Its a great tasting brew with more than just novelty. The birch syrup contributes an impressive flavor, but it is actually presenting something unique and delectable. I will definitely buy a bottle of this again (assuming I can find it).
1,074 characters

3.92
/5
rDev
+8.9%
look: 3.5 | smell: 4 | taste: 4 | feel: 3.5 | overall: 4
A: Deep brownish red color with pretty much no head at all. No real lacing to speak of either.
S: Malty with big notes of rye bread and maple syrup. I guess it's really birch syrup, but I haven't come across a ton of that yet, so I'm going with maple.
T: Big and malty flavor with some rye, roasted malt, wood and syrupy maple sweetness as well. The sweetness is a bit much with the syrupy mouthfeel but overall, this is a pretty good dopplebock.
448 characters
3.58
/5
rDev
-0.6%
look: 4 | smell: 3.5 | taste: 3.5 | feel: 4 | overall: 3.5
Enjoyed in a mug from a 22 oz. bottle
Little to no head with a sweet malty aroma. Taste is heavy, verging on harsh, but with a sweet syrup-y body.
I've never tasted or smelled birch that I know of, but there is a definite sweet maple syrup sort of taste. There is a bit of spicy hop recin at the end, but the 8.0-8.5% abv is easily concealed.
Not a bad beer to try once. But not brew I would drink every other day... maybe more like once a month.
448 characters

3.41
/5
rDev
-5.3%
look: 4 | smell: 3 | taste: 3.5 | feel: 3.5 | overall: 3.5
Lovely dark amber in the tall glass. Standard foam and lacing. Quite winey and strong tasting. Sweet and reminiscent of maple syrup, which is apparently the birch flavor instead.
Slightly odd, though fairly likable. There must be a fair amount of hops in the mix. Ends with a bittersweet taste. A little of the cardboard nose. Fruity with persimmons and carrot cake. There is some familiar yet elusive flavor going on, and I finally remember Manischewitz blackberry wine, which would be considerably cheaper than this stuff if anyone if keeping score.
22 oz bottle from Bottlecraft in San Diego.
598 characters
2.85
/5
rDev
-20.8%
look: 3.5 | smell: 3.5 | taste: 2.5 | feel: 3 | overall: 2.5
served on-tap at the Overlook Bar & Grill at Denali Park.
the beer appears a chestnut brown color with amber highlights. Clear, with very little head, just a few bubbles. Aroma is sweet, definitely has the smell of birch in there.
Taste is odd. Nice and malty with minimal hopping, just like a bock, but the addition of the birch flavor just doesn't jive. Body is a bit sticky and thick.
Overall, it's a nice experiment, with a nod to a local ingredient. But one pint is enough for me.
497 characters
Alaskan Birch Bock (Pilot Series) from Alaskan Brewing Co.
3.6
out of
5
based on
112
ratings.