Fallen Friar
| BridgePort Brewing Co. / Brewpub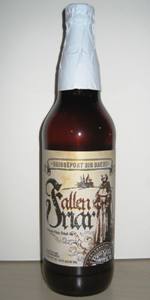 BEER INFO
Brewed by:
BridgePort Brewing Co. / Brewpub
Oregon
,
United States
bridgeportbrew.com
Style:
Tripel
Alcohol by volume (ABV):
8.20%
Availability:
Spring
Notes / Commercial Description:
Released February 2009.
Fallen Friar is a traditional Belgian-Style Tripel ale made with 10% Malted White Wheat. We use two traditional German Hops to create a subtle Noble hop character, then we ferment with a specially selected strain of Belgian yeast called Ardennes. The result is a rich golden colored Belgian-style beer with a soft malt background and beautifully fruity flavors. The German hops add a subtle yeast distinct European hop character to this powerfully sippable beer.
HOPS: Saaz
MALT: pale malt, wheat malt
IBU 12 | OG 17.5 | FG 2.6
Added by msubulldog25 on 02-09-2009
Ratings: 38 | Reviews: 34
3.75
/5
rDev
+0.3%
look: 4 | smell: 4 | taste: 3.5 | feel: 3.5 | overall: 4
Thanks a ton to msubulldog25 for this rare treat.
Fallen Friar pours with a rather thin but long-lasting head. Color is glassy bronze/gold. Looks like it's been filtered more than once, on the first pour, but then the second rouses the sediment, making for a hazier, more appealing appearance. Bubbles are abundant and march inexorably to the top in an attempt to feed what eventually thins to a skim of a head. It does its job, because I look at it and immediately think "tripel" (and would have even if I didn't know better).
Aroma is yeast-driven, not quite Orval-ish but close, which gives it that monk-made appeal. So, a bit barnyard-ish, also green apple and pear, and very faint white pepper.
While green apple and pear do come through in the flavor, the yeast dirties it up a little and really takes over. White grape asserts itself too, giving F.F. a pretty vinous quality, more so than your typical tripel, but then this was aged in oak wine barrels (well, 35% of it was). Alcohol juts out a little, though it's not overly boozy. Somewhat bready, but more on the raw dough end of bready. Finish is juicy apple fighting against that monky funky yeast.
Feels really crisp, and quite dry. Medium-bodied and slick. Not over-carbonated, but certainly not as full, round and creamy as the best tripels (say, Westmalle, for example).
It's not like there's a ton wrong here. Just feels slightly unbalanced, and a creamier, fuller body would've been appropriate. And the barrel aging thing didn't assert itself much. Not so much a flawed masterpiece as a really, really good imperfect beer. In the end, I'm not taken to Belgium, and that's where I want to go in the mind's eye (tongue's eye?) with any tripel. But it's definitely good.
1,744 characters

4.03
/5
rDev
+7.8%
look: 4.5 | smell: 4 | taste: 4 | feel: 4 | overall: 4
22oz. brown bomber with thick white foil over cap and neck. It pours a light and hazy honey-gold with a 1/2" white bubbly foam. Lots of bubbles rising from the bottom keeping the head aloft.
Semi-sweet, earthy and lightly funky fruit aroma. Some spicy yeast notes as well. The taste is much more than the nose suggests with initial fruitiness leading the way. Sweet ripe pear, green apple, green grape start off mildly complex turning to spice of corriander and yeast, which finish off bitterly tart. The alcohol is there, but burried in the flavor...well masked.
Good medium plus body with good carbonation and complex balanced flavor yield a smooth creamish mouthfeel and solid drinkabilty. The flavor is very authentic and reeks of Belgium. A big thanks to travisd13 for throwing this in as an extra.
805 characters

3.85
/5
rDev
+2.9%
look: 3.5 | smell: 3.5 | taste: 4 | feel: 4 | overall: 4
Light clear golden ale, small white head,does not last long. good lace though. Flowery lighly spiced aromas. Some lemon zest. Light fruity,zestful tastes Some esters and spice, I think some of the "fruit" is coming from the wine barrels, but no wood tones. Nice palate, lightly and softly carbonated, smooth and light. Nice light Belgian style beer. Summer beer. And no way this is 8.2%, it is so well hidden. This beer could get a guy in trouble.
447 characters
3.6
/5
rDev
-3.7%
look: 3 | smell: 3 | taste: 4 | feel: 4 | overall: 3.5
Looks very blonde in color, little or no carbonation, no head or lacing. Smell is hard to detect, but I get sour citrus.
Taste is not very sweet at all, especially not a tripel. Slight citrus and clove taste, more banana, some malt. Seems kind of sour.
Mouthfeel is light, a little sticky. Fairly drinkable.
310 characters
4.1
/5
rDev
+9.6%
look: 4 | smell: 4 | taste: 4 | feel: 4 | overall: 4.5
The Fallen Friar poured a golden hue into my chimay tulip. It had a inch foam head that dissipated quickly. It had the normal tight bubbles around the sides of the glass. The only thing I could see that it might be missing was the spring of bubbles emanating from the well. I guess that would probably come if it aged for a while.
The smell was nice and of bananas and pears. The taste was sweet and spicy at the same time. I got sweet right away and then the finish was spicy to the back of the throat. It was pretty dry in the mouth and moderately carbonated. Overall I thought it was a solid effort for a company that is not known for the Belgian styling.
659 characters

4.25
/5
rDev
+13.6%
look: 4 | smell: 4 | taste: 4.5 | feel: 4.5 | overall: 4
HUGE thanks goes out to JohnGalt1 for this one. What an awesome trade. Seriously. Wow. I was very stoked to receive this awesome box. Today is a day that I've been drinking some old favorites, and they aren't favorites anymore, time to up the ante a little bit.
A: Hazy light orange color, with an off white head that receded as quickly as it showed up, which is sad, as I'm used to tripel's having enormous bubbling heads. Quite hazy, but a fair amount of carbonation flowing through out from the nucleation point. Pretty good looking beer really. Lacing is spotty and fair.
S: All the familiar tripel smells, tangy wheat malts, floral hops, banana-ish yeast flavors too, other malts too, and this one definitely has a nice oakiness to it too. That wood flavor really is nice, it balances the nice tripel zip quite well.
T: Sweet barley malts mixed with tangy wheat malts and blended with smooth oat malts make this one exactly what a good tripel is. The sweet and tart really complement each other nicely, add on to this a very banana-esque yeast profile and that's this beer. Complicated and big. All the flavors blend really well into each other. Oak aging adds another level, but I'd like to see one of these aged entirely in oak barrels. There's a definite spice to this beer, and some well hidden alcohol. A complex and tasty beer. I'm really enjoying this.
M: Low carbonation, thick, and creamy, but quite dry from the 35% aged in oak barrels and slightly hot from the booze. For as big as a mouth feel as this is. Its really pretty refreshing on this spring day.
D: Hits all the notes that its supposed too, has some depth and complexity to it, and is devilishly drinkable at 8.2%. I can see why it has the name, as it can quickly lead you down the wrong path. This is exactly what I needed today. I don't know why I neglect tripels so much, I really should start drinking more of them.
Thanks Toby, this beer is an amazing extra in an amazing trade!
1,970 characters
4.2
/5
rDev
+12.3%
look: 4 | smell: 4 | taste: 4.5 | feel: 4 | overall: 4
22 picked up today at the Coop today.... Don't remember the price, but it's in the $5-6 range... Shared with Brenda.. mine out of a big red wine glass.
Aggressive pour produced a big 2 finger rocky white head... spots of lace and a nice cap... the brew is pretty clear lite honey gold.
The nose is spicy... and has a pronounced sorta musty/woody element... a little citric element... bready pale malts.
Flavor is soft bready maltiness with spicy peppery qualities.. sorta tangerine note.. strikes me as a little tannic from the wood aging... lite body and mouthfeel with abundant yet smooth carbonation.
Pretty drinkable right now, but I could see how some time in the bottle will help really bring this brew to the next level.
731 characters

4.35
/5
rDev
+16.3%
look: 4 | smell: 4 | taste: 4.5 | feel: 4.5 | overall: 4.5
Bomber poured into my large St. Feuillien goblet, Fallen Friar is a pale orange with rose hues, with a large but pretty quickly settling white head that leaves a thick collar and skim, very light lace. I'd normally dock a tripel more points on the head retention, but I don't expect much from any wine barrel aged tripel, and the streamers stayed active throughout the whole bottle.
Smell is doughy yeast, some wine and fruity esters. There's also a light mineral quality to it, that reminds me a bit of more of a Belgian Pale Ale, or even a saison.
Taste is along the same lines as the nose, but spicier, with sweetness and oak flipping back and forth in an interesting loop, achieving a nice balance overall. I think I can taste hints of wine too, I'd guess a red. At first I thought I tasted some solvent notes, but I really think it's more the tannins from the barrel and perhaps traces of wine. Either way their not much of a detraction and add some character, and overall it's really an impressive tripel.
Mouthfeel is light and spritzy, but a creamy smoothness, very nice. Really digestible, if it wasn't for the tannins in fact I'd guess it might be too light, but as it's it's just right.
Drinkability is high, and excellent beer, complex enough for the geek but smooth enough for the novice. A great value, a cool label, and ready availability by a home town favorite makes this a winner. Bridgeport has really come through with their Big Brews, starting with the Bourbon Barrel Old Knucklehead, then Hop Czar and Raven Mad, now this, each one is better then the next, and they're all really quite good. Fallen Friar is an excellent example of why Bridgeport is so totally kicks ass, and why breweries like Allagash charging 4 TIMES the price for their barrel aged tripel just look greedy.
1,807 characters
4.07
/5
rDev
+8.8%
look: 3.5 | smell: 4 | taste: 4 | feel: 4 | overall: 4.5
On tap at the brewpub. Arrived beautiful glowing copper orange hue with pink grapefruit tinges (although the dim light of the pub may have been playing tricks). A thin off-white head slowly fades, leaving just a bit of lacing, which dissipates to nothingness by the bottom of the glass.
aroma is fairly subtle, with definite belgian yeastiness, a bit of doughy malt, and some candi sugar. honey, pear, and a hint of apple.
Taste is malty with some nice belgian doughy qualities. Candi sugar is definitely present... almost too sweet (low attenuation?), even for the style. The fruit comes through stronger, with pear headlining, followed by apple, green fig, raisin. Asian pear and banana. Not very spicy or peppery, which is kind of nice. Very enjoyable.
Full body with mild carbonation. I'd expected a bit more pop and spice from the bubbles. the sweetness drowns out the possibility of crispness, leaving it just a touch slick. Goes down smooth... as it warms, the alcohol becomes slightly perceptible on the throat.
All in all, an impressive offering from Bridgeport, and possibly the best of their Big Brews thus far. Definitely hits all the Belgian notes beautifully, and does so in a clean and finished way. I could drink this one all night (and I'm not a huge Belgian fan). I'll need to try (and review) a bottle, but from this experience, the slightly high level of sugar and relatively low carbonation makes me wonder how a bit of age would do with this one. might push it from good to exceptional.
1,513 characters
4.3
/5
rDev
+15%
look: 4 | smell: 4 | taste: 4.5 | feel: 4 | overall: 4.5
Gold with a slight haze, good amount of head, and some lacings. Aroma is funky yeast and malts.
Taste is sweet and sour with a peach pit flavor and a sight bitter and sweet alternating. Funky and delicious it is an all too easy to drink Trippel. Alcohol is well masked. This would be a good introduction to the style. Maybe a touch too sweet, that should help the neophyte enjoy an unfamiliar style. Overall a very tasty brew.
426 characters
3.59
/5
rDev
-4%
look: 3 | smell: 4 | taste: 3.5 | feel: 3.5 | overall: 3.5
Smell is a little yeasty and like bread. I get some candi sugar aroma too. There's some fruity fermentation that I get as peach and maybe some grapes.
Had a decent head when it was poured but that faded really quickly and no there's pretty much no foam and lots of big rising carbonation bubbles but none of it sticks. Golden coloered and a little bit hazy.
Flavor is classic belgian, a little fruity, a little bitter, a little funky, a little sweet. Fruit flavors are pretty porminent and I get apples, cherries, and raisins. Malt profile is there with some honey touches but there is also a lingering candi sugar sweetness like it wasn't quite fermented out all the way. The bittering hops are pretty good but a touch more might take away the sweetness in the aftertaste.
Kind of thick and not very carbonated for the style. That's another thing that's got me thinking it isn't fully attenuated.
Decent tripel that hits all the Belgian notes. I'm thinking a little aging on this one might help. Maybe just a touch of the residual sugar will get fermented and that would help. Right now it misses the mark for me.
1,119 characters
4.3
/5
rDev
+15%
look: 4 | smell: 4 | taste: 4.5 | feel: 4 | overall: 4.5
Poured from the 22oz bottle into a Duvel tulip glass. Body is a rich golden hue, topped by a brief flourish of creamy white head that recedes to a thin ring rather quickly. Aroma of sweet malt, candi sugar, mild, fruity hops, and a hint of ripe stone fruit.
Palate is sweet malt up front with a significant bready character. Tangy Belgian yeast and a good dose of floral hops yield a spicy flavor before the swallow, along with a healthy amount of sweetness from the candi sugar and a faint note of white pepper. Finish yields some bready malt and a touch of oak character from the barrel aging.
Body is full, slightly sticky, and a touch syrupy, just like a tripel should be. Carbonation is great, yielding a somewhat creamy texture on the swallow. Although maybe not as bubbly as some of the Belgian originals, this is a good approximation. On the whole, I'm impressed with Bridgeport's effort here. Unlike their prior, lighter Belgian attempts (Streetcar Saison and Supris!), this one is not dumbed down for the mass market. I'm looking forward to cellaring a few bottles and seeing how this beer ages.
1,107 characters
4.2
/5
rDev
+12.3%
look: 4 | smell: 4 | taste: 4.5 | feel: 4 | overall: 4
Sometimes, on some days, I am not exactly blown away by Bridgeport's beers. By that same token, however, there are days when I crack open a bottle of Blue Heron or their IPA and I take notice of the great balance Bridgeport's brews achieve. Bridgeport's beers are not always the most extreme examples of their particular style; rather, they often showcase the results that an experienced brewer - who apprecitates a nuanced approach capable of impressing with subtlety and studied refinements - can achieve.
Fallen Friar, which I sampled tonight for the first time, is one such example. This, the newest release in their Big Brew series (which to date has included their Stumptown Tart, Hop Czar, and Raven Mad), finds Bridgeport taking on the Belgian Tripel-style ale. I can find no evidence to suggest that Brigeport has ever made a tripel, but you would not know it from drinking Fallen Friar. Appearance is appropriate to the style: a pleasing cloudy gold with many bubbles scudding up the sides of the glass. Head was somewhat lacking for a Belgian, but I'm not going to knock the beer for that since it wasn't really served in the correct type of glassware (should've been served in a tulip rather than a pint glass).
Bright, malty nose suggests honey and a hint of candy sugars mixed with faint peariness and some apple. Very nice. Taste is delightful - think of a fusion between Unibroue's La Fin du Monde and Duvel, and you'll have some idea. Fallen Friar impresses by being neither too sweet nor to dry, and an ever-so-slight tartness joins with warm bready notes mid-taste - maybe some wheat helped round out the malt. Unpleasant raw hay-like notes that emerge in some less-than-stellar tripels are nowhere to be found here.
Mouthfeel is good, with subdued carbonation that compliments rather than masks the beer's dominant flavors. Like all tripels, drinkability is almost too good considering the high alcohol content: Fallen Friar's 8.2% ABV is practically undetectable, and if I'd had any more, I would've had to take a taxi and return for my car in the morning.
Bottom line: this is an authentic example of the style that will appeal to serious beer lovers but won't offend the less-adventurous or less-experienced palate. Would be great for budding beer fans who are just getting into Belgians...
2,317 characters
Fallen Friar from BridgePort Brewing Co. / Brewpub
3.74
out of
5
based on
38
ratings.