Summer Squeeze
| BridgePort Brewing Co. / Brewpub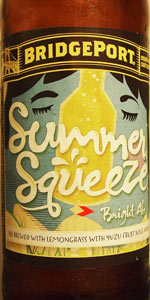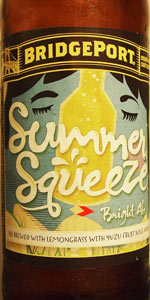 BEER INFO
Brewed by:
BridgePort Brewing Co. / Brewpub
Oregon
,
United States
bridgeportbrew.com
Style:
American Blonde Ale
Alcohol by volume (ABV):
4.50%
Availability:
Summer
Notes / Commercial Description:
No notes at this time.
Added by inthebeeraisle on 05-19-2011
HISTOGRAM
Ratings: 135 | Reviews: 51
3.7
/5
rDev
+9.5%
look: 3.5 | smell: 3.5 | taste: 4 | feel: 3.5 | overall: 3.5
12 oz. bottle poured in a straight-side pilsner glass.
A - Poured clear golden orange, with a stream or two of bubbles steadily rising. Head was one to two fingers of nearly foamy off-white head. Left medium thick lacing on the glass.
S - Strong citrusy nose, lemon and grapefruit, with something tropical I can't put a name to. A hint of straw as well.
T - Dominant grapefruit/orange flavor with an accent of lemon. Light grassy/wheaty flavor picks up at the finish. Overall it's tart, moderately fruity, with a very mild wheat flavor.
M - Effervescent, almost sharp carbonation. Tends to hide the flavors a bit, but its got zip. Crisp, light body, though not thin. Finishes dry.
D - A very crisp, hot summer afternoon beer. You could drink multiple rounds and not get filled up, but you might still be thirsty.
Admittedly, this is outside my preferred style, but it is interesting nonetheless. I have a hard time giving a low rating to a decent, interesting beer that I can imagine someone really liking. So of course, my rating is going to skew high. Ultimately, though I think a little less carbonation and tart, and a little more sweetness and wheat would round this beer out and make me like it more.
1,215 characters

3.35
/5
rDev
-0.9%
look: 3.5 | smell: 3.5 | taste: 3 | feel: 4 | overall: 3.5
appearance - pours a clear lemon/tangerine/deep straw color, well carbonated, white fizzy head
smell - notes of lemon and citrus
taste - citrus forward, some notes of wheat and grass
mouthfeel - strong carbonation, light body, slightly dry finish
overall - it's an okay sunny day, outdoor, summer brew, the lemon-like notes almost have a juice/tea quality
359 characters
2.63
/5
rDev
-22.2%
look: 3 | smell: 2.5 | taste: 2.5 | feel: 3.5 | overall: 2.5
A clear light yellow with a white head that dissipates nicely. The smell caught me a bit by surprise. To be fair I'm not a huge fruit beer fan but I do like light beers with citrus. This beer smells more like fruit juice than beer. There is very little hops aroma I can detect. The taste delivers less than the smell would seem to promise. Overall this beer seems thin and a bit too juicy.
389 characters
3.56
/5
rDev
+5.3%
look: 4 | smell: 3 | taste: 3.5 | feel: 4 | overall: 4
12oz bottle, bright yellow color. Smells a little lemony. The flavor is heavy lemons and citrus but not at all in a hoppy way. Very light and refreshing, perfect lawnmower beer and a good candidate to drink from the bottle. If you are looking for something light for the summer you found it.
291 characters

3.53
/5
rDev
+4.4%
look: 4 | smell: 3.5 | taste: 3.5 | feel: 3.5 | overall: 3.5
Summer Squeeze fills my Perfect Pint glass with a bright gold hue, good clarity and plenty of carbonation. A dense white cap slowly falls to a blanket of foam and leaves decent lacing behind.
The bottle says this beer has Yuzu fruit in it. I imagine it accounts for the beers distinct tangerine aroma. The lemongrass can be sensed as well. Both aromas and flavors are light and backed by a bit of straw. As the beer warms, the fruit takes over and creates a light fruited soda effect. In the mouth, the hyperactive carbonation is blocking the flavors a bit. Less tingle would have been appreciated. The body is grainy and a bit heavier than I would expect from a beer with a low ABV.
Interesting. I bought a six-pack of this and found the first bottle I opened rather lacking. The one I'm drinking now has a much better character and is a nice summer pickup. Here's hoping the rest of the pack are as good.
908 characters
2.95
/5
rDev
-12.7%
look: 4 | smell: 4 | taste: 2 | feel: 3.5 | overall: 3
On tap that the PDX brewpub.
A - Pours a clear light orange that is almost yellow. White average sized head.
S - Very floral and citrusy, oranges.
T - Totally different here. Wheat, Barley, rye.
D - Decent carbonation, very thin and light.
O - If the taste could match the smell, we would have a great beer here.
317 characters
3.72
/5
rDev
+10.1%
look: 3.5 | smell: 4 | taste: 3.5 | feel: 3.5 | overall: 4
A: Bright, clear gold color. Poured a 2 finger stark white head that dissipated to an even skim. Laced the glass in medium rings with occasional legs down the glass.
S: Lemongrass and citrus zest hit the nose up front. Sweet with some bread notes as the beer warmed a little.
T: Just like the nose with big lemongrass and citrus throughout. Crisp, refreshing and fairly balanced as there is a lemony sweetness that lingers through a very light bitter.
M: Light body. Ample carbonation. Crisp, clean and refreshing.
O: Very drinkable and refreshing. More than a couple, the lemon may wear me out. Very manageable ABV.
620 characters
3.85
/5
rDev
+13.9%
look: 3.5 | smell: 3.5 | taste: 4 | feel: 4 | overall: 4
Picked up a bottle of this one in Boulder yesterday, and am really enjoying it. Poured a light golden color with a significant white head. Nice aromas of citrus and lemongrass. On the palate, this one is light and refreshing, with light biscuit and a big lemony finish.
269 characters

3.69
/5
rDev
+9.2%
look: 3 | smell: 4 | taste: 3.5 | feel: 3.5 | overall: 4
6 pack from Roths Sunnyside Market in S.Salem. $7.99 Bright yellow beer with a largish frothy white head. Nice lemon grass and peach like aromas..very refreshing. Taste is very lemony..tart not sweet and also get nectarine like flavours ( yuzu ?)..light malts and no discernable hopping. Low carbonation actually works with the sweetness. Overall a very simplistic summer drinker. I did like it though..first 70 + degree day here.
430 characters

3.33
/5
rDev
-1.5%
look: 4 | smell: 3.5 | taste: 3 | feel: 3.5 | overall: 3.5
Just released in six packs as the new Summer seasonal. OG 10.5, IBU's 19 according to the Bridgeport Brewing Co. website. Listed on the package as "Bright Ale". "Ale brewed with lemongrass with yuzu fruit juice added." Poured in a Stella Artois glass.
A: Big creamy white head with some staying power. Clean filtered golden color with carbonation galore. Medium lacing as the drink goes down.
S: Whoa! A strong scent of lemongrass and big citrus fruit. Smells intriguing, but I'm proceeding with caution.
T: Certainly some citrus fruit coming through. A pretty clean tasting brew really though. Maybe I'm too used to the Bridgeport yeast or something, but despite the newness there is something familiar here.
M: A clean light mouthfeel with a slightly chewy aftertaste.
O: These guys change their seasonal stuff all the time lately it seems. Not my favorite summer fruit beer. I'll miss Haymaker.
912 characters
Summer Squeeze from BridgePort Brewing Co. / Brewpub
Beer rating:
3.38
out of
5
with
135
ratings