Stumptown Tart (2013)
| BridgePort Brewing Co. / Brewpub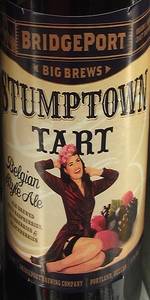 BEER INFO
Brewed by:
BridgePort Brewing Co. / Brewpub
Oregon
,
United States
bridgeportbrew.com
Style:
Fruit / Vegetable Beer
Alcohol by volume (ABV):
7.80%
Availability:
Summer
Notes / Commercial Description:
No notes at this time.
Added by constantine_272 on 07-05-2013
Reviews: 9 | Ratings: 36

3.82
/5
rDev
+6.7%
look: 3.5 | smell: 4 | taste: 4 | feel: 3.5 | overall: 3.5
Unique yet tasty brew I had this back when they released it I love the triple integration of locally found berries in a bouquet of Belgium ale. I've had a few of these before and never was disappointed. Can't wait for Stumptown tart 2015
3.5/5
O.B.D91
★
251 characters
3.89
/5
rDev
+8.7%
look: 3.5 | smell: 3.75 | taste: 4 | feel: 3.75 | overall: 4
A: Bright redish amber with a little brownish hue. White head with low retention and medium carbonation.
S: Sweet with raspberry and strawberry notes. Warm spice with coriander. A dash of vanilla.
T: Sweet up front and finishing tart. Full raspberry and blackberry notes, don't notice the addition of blueberries so much. More mellow vanilla notes finish it. Slightly salty at the end.
M: Very refreshing. The tartness finishes very clean. Slight salty sourness leaves you dry and thirsty for more.
O: Great refreshing hot weather beer. I enjoyed this on the deck playing board games. Very tasty and clean, but not as complex as I thought it would be. Also it lacked the Belgian flavor I thought it would since it claimed 'Belgian style ale.' Though it wasnt quite what I expected, it was still quite good. This also did an amazing job hiding the high alcohol.
Re-Review: I've had a bottle of this sitting in my beer cave for a year. Last review was a year and a day ago, 7-5-13. This one is 7-6-14. The appearance has gotten more brown with hazy red purple, and a touch of orange. Still hints of fruit with bright strawberry on the nose with a slight old library book kind of musk. Old cedar and mahogany come out of the taste really quickly. Then followed up with sweet dark rhubarb and a mild tartness and sourness of black cherry. Mouthfeel is thick and creamy and chewy but finishes quite clean with a nice saltiness. Overall, a year has made taken this from a decent beer to a solid and more complex beer. Probably less fruit forward than before but still with a fair amount of fruit sweetness. This tart definitely got better with age!
★
1,647 characters
3.58
/5
rDev 0%
look: 3.75 | smell: 3.75 | taste: 3.5 | feel: 3.5 | overall: 3.5
i like this one, although the earlier vintages sound a little more exciting and appealing to me. this is a flat finished pink beer with some yeast bits turbid in suspension and an inch of white head with fine retention. the nose is just a bit of a generic berry thing. when you mix so many berries, they lose their own unique flavors and sort of merge into one, but i get raspberry the most. belgian yeast is real subtle, not bright and dominant, and the nose doesnt really indicate a begian beer. the taste does, although still subtly. i get just a hint of a banana fruit complex over the berries, but i dont get the spice, and i sure dont get the radiance int he feel, carbonation is well short of effervescent. again, raspberry is the berry that stands out the most, but what i like best about this is that its not sweet. very little residual sugar even with all the fruit, highly desirable yet uncommon. not exactly beer though, as i dont taste much grain and absolutely no hops. i like it, but not well enough to buy it. well hidden alcohol. i would love to try the strawberry or the marionberry editions. a more distinct specific fruit profile would have improved this i think.
★
1,183 characters
4
/5
rDev
+11.7%
look: 4 | smell: 4 | taste: 4 | feel: 4 | overall: 4
Appearance: Hazy reddish-brown in color, with a moderate, dense off-white head, which retains superbly. Thick, patchy lacing adorns the glass walls. Before a light, the carbonation is profuse and fast-rising.
Aroma: Dense aroma of tart berries, with a sour quality. Moderate bread and cracker malt notes lie beneath the berries. Despite the high ABV (7.8%), I cannot detect any alcohol notes in the aroma. A faint aroma of bread-like yeast notes are present.
Taste: Opens rather tart, with notable berry character, with the raspberries, blueberries, and blackberries each being discernible. The blackberry flavors are strongest, followed by the raspberries, and then the blueberries. Beneath this, there is a layer of clean pale malt, which recalls berry preserves slathered on fresh toasted white bread. Late in the taste, a quite restrained herbal hop presence appears, balancing out the tart and sweet flavors of the berries. Finishes with a long, lingering berry note, balanced by a restrained herbal hop presence. The high ABV (7.8%) is artfully concealed.
Mouth feel: Smooth, soft, full, and very pleasant.
Drinkability/notes: A very well-made example, perfect for toasting the end of summer and the beginning of autumn.
Presentation: Packaged in a standard twenty-two ounce brown glass bomber with a pry-off crown, served in a New Belgium Brewing chalice.
Sourcing: Purchased at HEB in Texas in September of 2013 for $6.49 plus tax for a twenty-two ounce bomber.
★
1,476 characters

3.08
/5
rDev
-14%
look: 3.25 | smell: 3.25 | taste: 3 | feel: 3 | overall: 3
22 fl oz brown glass bottle with decent label art and a branded pressure cap acquired at me local HEB Grocery and served into a Spaten stangekrug in me gaff in low altitude Austin, Texas. Reviewed live. Expectations are average given the brewery. 7.8% ABV confirmed. "Ale brewed with raspberries, blueberries & blackberries." Reviewed as a Belgian style fruit beer based on the description featured on the label.
Served cold - straight from me fridge. Side-poured with standard vigor as no carbonation issues are anticipated.
A: No bubble show forms as I pour.
Pours a two finger wide head of light white-pink colour. Poor thickness; appears weak. No real creaminess. Subpar lacing. Retention is slightly above average - just over 2 minutes.
Body colour is a quasitransparent, translucent orange-pinkish. Roughly average vibrance. No yeast particles are visible.
Looks like about what you'd expect for a Belgian berry ale, but it does seem a bit artificial.
Sm: Lots of sugars. Berries and currants too; I get blueberry and redcurrant but the other notes sort of blend together. Light biscuity yeast character. Pilsner malts. A touch of pleasant tartness is a highlight here. Never ventures into sour territory. Clean and fragrant, with obvious fruitiness. A pleasant if slightly artificial aroma of mild strength. Looking forward to trying it.
No alcohol or hop character is detectable.
T: Bursts of plump berry abound. The foundation is mainly pilsner malts, with a clean barley edge. Fruity throughout, as anticipated. Clean. Quite simple and narrow, but balanced. Nicely built for what it is; it never veers so far into artificial territory that it hits medicinal or cough syrupy notes - which would be easy to do. No bitterness. Certainly on the sweeter end. Blueberries, redcurrants, fake berry fruit extract. Frankly, I'm surprised I like it as much as I do. I can tell the yeast is a Belgian strain.
No hop character or alcohol comes through - not bad for 7.80%. I get no off-flavours aside from hints of artificial fruit extract - like what a homebrewer might use for his/her first fruit beer.
Depth, duration, and intensity of flavour are average. This beer certainly isn't unique or special, but it executes its simple premise decently without picking up any off-flavours. For the price point, that's a decent accomplishment.
Mf: Clean, smooth, and wet. A bit refreshing. Slightly overcarbonated. Okay presence on the palate. Okay body. Suits the flavour profile in a general sense, but certainly doesn't feel custom-tailored to it. There's no real marriage of texture to taste, but the mouthfeel is passable. Inoffensive and decently executed.
Not oily, harsh, boozy, gushed, or hot.
Dr: A decent little beer from Bridgeport for the summertime. Might be a good brewski with which to lure one's wife into craft beer. I won't be getting it again, but I can't complain about the price point. You could do worse for a berry ale. It met my meagre expectations. Hides its ABV well. I wouldn't recommend it to friends, but it's alright for what it is. I'll kill the bomber with ease.
Low C+
★
3,122 characters
4.1
/5
rDev
+14.5%
look: 4 | smell: 4 | taste: 4.25 | feel: 4 | overall: 4
22 oz bottle.
Appearance- Pours a watermelon pink with a finger of bubbly white head.
Smell- raspberries, blackberries, blueberries, lemon/orange peel, belgian yeast, clove.
Taste- Tart fruits (as stated in the smell), orange peel, and hint of belgian yeast. Has a dry finish.
Mouthfeel- Medium bodied with moderate carbonation.
Overall- A pleasant brew with nice tart fruit flavours. Very refreshing and perfect for the summer.
★
433 characters

3.58
/5
rDev 0%
look: 4 | smell: 3.5 | taste: 3.5 | feel: 3.5 | overall: 3.75
22 Oz bomber from "Habits" in S.Salem. $4.99 Pale copper ale infused with a reddish glow has a very handsome thick creme coloured head. Nice berry aroma..getting mainly raspberries ..touch of blackberry unable to distinguish the blueberries, but its pleasant enough. Taste is similar to the aroma..but trails of to a pleasing dryness half way. Alcohol not really noticeable nice overall. OK on the palate about average.Semi dry. Overall nice fruity summer beer.
★
461 characters
2.97
/5
rDev
-17%
look: 3.5 | smell: 4 | taste: 2.5 | feel: 3 | overall: 2.5
22 oz bottle. Pours ruby orange amber with a fizzy medium pinkish white head that retains well and leaves a little lacing.
The aroma is sweet fruits (raspberries) with a little bready malt.
The flavor is a little sweet sugary fruit with some musty cardboard leading to a medium bitter finish.. The mouthfeel is medium bodied with prickly carbonation.
Overall, an OK uninspiring fruit beer.
★
392 characters
3.71
/5
rDev
+3.6%
look: 3.5 | smell: 3.75 | taste: 3.75 | feel: 3.5 | overall: 3.75
compared to 2012, a bit more sour, blueberries are there a bit, and generally not the fruit bomb that made last year's interesting, but not worth revisiting. i'll probably check this one out a couple time during summer to change things up. i like that it's different than '12.
★
276 characters
Stumptown Tart (2013) from BridgePort Brewing Co. / Brewpub
3.58
out of
5
based on
36
ratings.