Lighthouse Lager
| Belize Brewing Co., Ltd.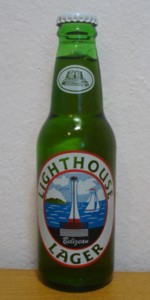 BEER INFO
Brewed by:
Belize Brewing Co., Ltd.
Belize
Style:
American Adjunct Lager
Alcohol by volume (ABV):
4.20%
Availability:
Year-round
Notes / Commercial Description:
No notes at this time.
Added by dstc on 06-11-2007
Ratings: 35 | Reviews: 12
2.5
/5
rDev
-6.4%
look: 2.5 | smell: 2.5 | taste: 2.5 | feel: 2.5 | overall: 2.5
Pours a thin white bubbly head that fades to a light ring with no lacing. Very clear and very pale yellow color.
Smells grainy, sweet and macro like. Maybe some german sazz hops of something of the sort.
Tastes similar to the smell. Sweet, grainy and malty. Not offensive in any way, just not full flavored.
Overall this is an easy drinking summer time beer. Quite fizzy and light on the palate. This was not cheap to come by as a friend brought it back from the source. Thank you Bryan.
490 characters
2.37
/5
rDev
-11.2%
look: 2 | smell: 2.5 | taste: 2 | feel: 3.5 | overall: 2.5
Poured while in Belize city, one of our cruise ship ports.
A: Light yellow, clear
S: Typical American adjunct lager grainy smell.
T: I am pretty sure all beer in the Caribbean is brewed in one place and filled into different bottles. Blind taste test I am going with Budweiser all the way with most of these. The little flavor present is also grainy and mild bitterness.
M: Smooth, fuller bodied than a light lager. On par for a standard lager.
O: I could care less about how good or bad the beer was; I was on vacation and having a beer, away from the Bud Light dominated cruise ship.
591 characters

2.71
/5
rDev
+1.5%
look: 3.5 | smell: 2.5 | taste: 2.5 | feel: 3 | overall: 3
Reviewed from notes. Served in a tumbler at duPlooy's Jungle Lodge in the Cayo district of Belize. Pours a translucent, urine yellow with a quarter inch, bright white head that quickly dissipates into a freckled skim and a frothy band around the shoulders. Nose reveals faint cereal adjuncts and sweet corn. Taste follows nose - less sweet with a trace of skunk. Mouthfeel is light and watery with a carbonation just shy of lively. Easy drinking, albeit somewhat lackluster. Definitely climate appropriate, but no real flavor here.
531 characters
2.13
/5
rDev
-20.2%
look: 2.5 | smell: 2 | taste: 2 | feel: 2 | overall: 2.5
lighter than regular belikin in every way, otherwise pretty much the same beer. served in a smaller bottle (7 or 8 oz?). light straw color, clear, with a minimal diminishing white head. frothy, light, just a touch of malt and adjunct sweetness, very little to no hop character.
277 characters

3.32
/5
rDev
+24.3%
look: 3 | smell: 3.5 | taste: 3 | feel: 3 | overall: 4
Poured from a 237 ml. bottle into a glass at a bar in Belize. 237ml? Whoa, I think that's about 8 oz. But then, it was Happy Hour and I got two for one.
Pours a deep straw in color with a thin head, which settles to a surface ring in about two minutes.
Quite grainy on the nose and with no hop presence. Not bad however, with what seemed like unmalted barley and a touch of rice. No corn here, go to Honduras for that.
Has a matching flavor and with a grainy and slightly sweet finish. Raw grains leave a lingering coarse finish and offers a good carbonation, though cleaner than an all malt bill might suggest.
Fuller bodied than anticipated as I was expecting a light lager. This is a pleasant beer and I think appropriately categorized, perhaps somewhat Euro in style. Light in alcohol and diminutive in size, it's a easy tropical quaffer.
848 characters
2.38
/5
rDev
-10.9%
look: 3 | smell: 2.5 | taste: 2 | feel: 3 | overall: 2.5
My mother brought me back a bunch of bottles from her recent cruise, and this was the first one I opened. A tiny little nib like bottle, I was very intrested. Served cold and poured into a pint glass, this one was consumed on 04/04/2009.
The pour was average. Straw yellow with lots of fizz and a small white head that quickly faded away leaving nothing in its wake. The aroma was dull, musky grain with a touch of hay and not much in the way of depth at all. Stale macro lager flavor with no after taste to speak of. Light body, lots of carbonation and little to no impression left behind in its wake.
Overall we have all been here before. Different country and bottle, but macro is macro.
692 characters

2.7
/5
rDev
+1.1%
look: 2.5 | smell: 2.5 | taste: 3 | feel: 2.5 | overall: 2.5
I was able to sample this one on my honeymoon in Belize in December; review conducted from notes.
There isn't a large variety of beers available in tiny Belize, so I tried everything I could get my hands on, which isn't much. The country's only brewer, Belize Brewing, natch produces four beers that are available almost everywhere. Lighthouse is the (surprise) light beer entry in their field.
Lighthouse is only available in tiny 242ml green bottles with a cute lighthouse and life preserver paint job. The beer is less attractive, with a decent cap and lots of carbonation on it's light straw color but not much else to recommend. The nose was even more nondescript; I would say clean, almost nothing at all really.
Tastewise, it's more of the same. There is a touch of bitterness, maybe noble hops but overall pretty mild. Mouthfeel is hurt by overabundant carbonation. This isn't terrible but although there are many reasons to go to Belize, this is not one of them.
977 characters

3.52
/5
rDev
+31.8%
look: 3 | smell: 3.5 | taste: 3.5 | feel: 3 | overall: 4
This beer comes in a 237ml green bottle. How small and cute, it looks so tiny in my hand. Painted on label only says Lighthouse Lager & Belizean in smaller print. Back of the bottle declares the beer is "Blissfully Belizean", 4.2% ABV and that it's brewed by Belize Brewing Company in Ladyville (Belize City). Can't find a brew date on it.
The whole contents of the bottle fit into the pilsner glass I used. It pours a very pale yellow with a full white head. The head falls to nothing rather quickly leaving absolutely no lace. Looks very carbonated.
Smells very light, nothing big here. Smells a little grainy, hoppy and maybe a wee bit fruity.
The taste is very light. Very, very light. No real distinct flavors, just tastes like a nice lager (not an American macro brew lager). Starts off grainy then switches to a very metallic taste then ends with a nice clean finish.
Mouthfeel is light to medium bodied with less carbonation than I was expecting, less than it looked and by far less than an American brewed lager.
I like this beer. It's very light with no big flavor but it's a nice tropical beer and works well here in south Florida. Unfortunately I can't get it here, this bottle was given to me by a friend who visited Belize.
1,252 characters
Lighthouse Lager from Belize Brewing Co., Ltd.
2.67
out of
5
based on
35
ratings.