Bürger Light
| Hudepohl-Schoenling Brewing Co.
BA SCORE
76
okay
10
Reviews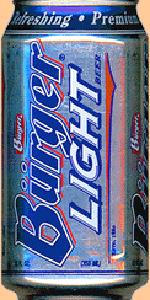 BEER INFO
Brewed by:
Hudepohl-Schoenling Brewing Co.
Ohio
,
United States
hudepohlbeer.com
Style:
Light Lager
Alcohol by volume (ABV):
4.06%
Availability:
Year-round
Notes / Commercial Description:
No notes at this time.
Added by brewdlyhooked13 on 06-03-2003
Reviews: 10 | Ratings: 19
4.27
/5
rDev
+46.2%
look: 3.5 | smell: 4 | taste: 4.5 | feel: 4 | overall: 4.5
Back from the grave, I had tried Burger Light about ten years ago and several weeks ago I spied it while in Cincinnati and bought a 12 of this as well as 12 Burger Classic out of curiousity. While I thought the Burger Classic was an adequate beer for the price, I found the light version to be a real baragain as I was very pleasantly surprised by the quality of this low priced beer. It was crisp and light, went down easy, and had a quality flavor without any unpleasant aftertaste. In my mind, in terms of taste, this brand is actually better than the big national light beers and at about 1/2 the price. If your intent is to impress people by drinking a microbrew that requires a home equity loan to buy in quantities of more than six at a time, then this probably isn't for you. If your goal is simply to enjoy drinking a few beers after a day of yard work or watching or listening to a ball game - then I recommend it.
★
924 characters
4.25
/5
rDev
+45.5%
look: 4 | smell: 4 | taste: 4 | feel: 4.5 | overall: 5
First this beer should be judged only against other light beers (Bud light, Natural light, Coors light, etc) it is not a big complex beer. Judge it to its style.
A: straw color actually a little darker than most in this style.
S: very slight grain almost nutty.
T: slight hoops and nutty.
M: bigger than most in this style.
D: Great, this nice and light but has a good flavor it is not like drinking water. But you can easily drink several.
A very solid inexpensive beer in this ubiquities style and it is not a big beer brand.
★
533 characters
3.78
/5
rDev
+29.5%
look: 3.5 | smell: 3.5 | taste: 4 | feel: 3.75 | overall: 3.75
Surprised me by being better than I expected for $9.50 per 24 can case. I will definitely be bying it again for those hot summer days when just one or two beers just won't do. It was much better with more flavor than Natty Light, which costs 50% more.
★
251 characters

3.38
/5
rDev
+15.8%
look: 4 | smell: 3.5 | taste: 3.5 | feel: 3 | overall: 3
CAN you dig it? I pulled off a major trade in the Heinz Field parking lot a couple of weeks ago before watching Pitt lose (by a missed PAT!) to Cincy. I think that I developed a slight head cold during the snowy weather and so my reviews got put on hold until my sinuses cleared. Let the CAN Quest continue!
I just reviewed its "leaded" brother, so now it is time to try the "unleaded" version.
Once more, the pour produced a really impressive two fingers' worth of foamy, bubbling bone-white head but with lower retention. Color was a sunshine-yellow with NE-quality clarity. Nose was lightly sweet, lager-ish, less cloying than its counterpart. Mouthfeel was slightly thin, but with a more muted sweetness on the tongue than Classic. The trade-off was one that I was willing to make. Finish was tending towards dry, even slightly refreshing. I would reach for this over Classic, although neither one was really anything to shout about from the rooftops.
★
957 characters

3.2
/5
rDev
+9.6%
look: 3 | smell: 3 | taste: 3.5 | feel: 3 | overall: 3
Golden liquid topped by a big, foamy head that dissolves right away. Smells like bread. Tastes like grain. Yes, it's light beer. And yet, it seems like something more. This is some of the smoothest, least-objectionable light beer I've ever tasted. Even when it starts to get warm it still tastes okay. Goes down too easy, and at ~4% ABV and ~$6.50 for a 12-pack you can drink it all day. This is my tailgate beer of choice.
★
423 characters
3.1
/5
rDev
+6.2%
look: 3 | smell: 3 | taste: 3 | feel: 3 | overall: 3.5
I poured into a pint glass to a big, fluffy, white head. This beer is yellow in color. The smell is sweet malt. The taste is sweet bready malt with a slight hops balance. It leaves a gritty feel on my tongue. It is pretty watery. But it goes down like water, too. It reminds me of Coors Light. I could probably drink it tailgating if there is no Busch available.
★
362 characters
2.67
/5
rDev
-8.6%
look: 3 | smell: 2.25 | taste: 2.75 | feel: 3 | overall: 2.75
As you might guess, Bürger Light is just like Bürger Classic with water added. I could be wrong, but I hardly doubt they're going to any more trouble than simple dilution to make this. Anything else, like Miller's use of additional enzymes in the mash to make it more fermentable, would require an additional fermentation tank, and I just don't see that happening. Nor do I taste it.
With that said, it's not a bad American light lager in its price tier. Nor is it very good, it just fits in. Price-wise, you can get a better deal if you buy a 30-pack, perhaps, but you're really not going to get a much better caliber beer unless you're willing to put out a little more cash.
It has the typical appearance of the style, and in a "beer clean" glass it will hold its head for a bit, and even leave a little bit of lacing. The aroma displays a very light note of apple but overall leaves a bit to be desired as there's a bit of sulphur to it, and it's not quite as clean as it could be. That hurts it a bit, and the flavor follows the exact same path. It's a light beer so I'm not quite sure of exactly what else can be said: there's some malt there, but not much, and even less hop flavor. And, the bitterness follows suit - exactly as if water had been added. In fact, I'd bet that Bürger Classic is high-gravity brewed and diluted as well (as a brewer I would expect it!), but at least I don't find any of the harshness that a hot and fast ferment can give to some of the real economy beers.
In the end what determines its place within the hierarchy of price-point American light beers is that it's just not that satisfying, even from a light beer standpoint. It's not quite "crisp", and it has minor fermentation flaws.
★
1,729 characters
2.53
/5
rDev
-13.4%
look: 3 | smell: 2.5 | taste: 2.5 | feel: 2.5 | overall: 2.5
A - Pours a clear golden color with very little white head that quickly dies down to nothing
S - Corn, cereal, grain, slight hint of sweet malt....ehhhh
T - Tastes like what I imagine a corn husk tea would taste like. Very grainy and quite unpleasant. Bleh
M - Extremely light. It tastes slightly thicker than water....but not much.
D - Not even good by light lager standards, if it's this or bud lite, hand me the over-advertised beer with actual "drinkability"
★
466 characters
2.46
/5
rDev
-15.8%
look: 3.5 | smell: 2.5 | taste: 2 | feel: 3.5 | overall: 2.5
A high heat and humidity filled weekend sent me to the store searching for macro goodness to consume in large quantities. Generally Old Milwaukee fits this mold, but I happened across some Burger Light. I've had it's big brother, so I felt obliged to give this a try. The pour was in a clear plastic cup as I wanted the beer to remain in its element. Typical pale straw color, but with a big fluffy white head. Very sweet cereal smell. As the can states, it is refreshing (in that it's cold and wet and I was hot and dry.) Taste is sweet and very metallic. If it wasn't so hot and humid, it would have been a real chore to tackle very many of these. Glad I tried it, but I doubt I'll have it again.
★
698 characters
1.53
/5
rDev
-47.6%
look: 2.5 | smell: 2 | taste: 1 | feel: 2 | overall: 1.5
Sampled from a 12 oz. can that looks almost exactly like a Bud Light can. I shit you now, we debated how A-B hasn't sued the shit out of them. Maybe they have.
Info from the website:
Original Gravity: 9.02° plato
Final Gravity: 2.5° plato
Bitterness: 11 IBU's (low) - yeah no shit
Color: 3 SRM (Golden-Straw) - or warm piss
Alcohol Content: 3.22% by weight - 4.06% by volume
Calories: 110 per 12 oz. serving
Carbohydrates: 9.6 grams
Enough learning for the day about bad beer and this is bad beer.
Poured a golden straw color with a decent head. Looks amazingly like Bud Light, but so does the can.
Aromas of more adjuncts than Bud Light, or any other A-B product for that matter. Corn husk and rices was about all I could smell, but there are undertones of malt and barley but they are mostly overwhelmed by the adjucts.
Tasted worse than it smelled. Tasted like rice covered burnt corn that had been soaked in a stale beer. I imagine that if you quickly heated a Bud Light then cooled in down in the freezer then tried it you would have Burger Light.
I am almost ashamed to have added this to BA.com, but please take this warning and "Put the can down and step away and nobody will get hurt"
★
1,220 characters
Bürger Light from Hudepohl-Schoenling Brewing Co.
2.92
out of
5
based on
19
ratings.