Hudy Delight
| Hudepohl-Schoenling Brewing Co.
BA SCORE
72
okay
68
Ratings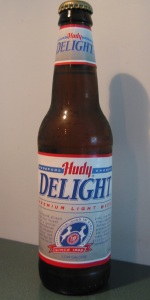 BEER INFO
Brewed by:
Hudepohl-Schoenling Brewing Co.
Ohio
,
United States
hudepohlbeer.com
Style:
Light Lager
Alcohol by volume (ABV):
3.90%
Availability:
Year-round
Notes / Commercial Description:
No notes at this time.
Added by StevieW on 09-16-2002
Reviews: 35 | Ratings: 68
3.05
/5
rDev
+12.1%
look: 3 | smell: 3 | taste: 3 | feel: 3.5 | overall: 3
Sampled from a delightfully retro-styled can at Joie De Vine.
Transparent pale gold, bubbly with white frothy foam around the edges. Smells like white grape juice and wet grains. Thankfully no off notes in the aroma.
Crisp feel, white grape and wet grains, some manila folder oxidation creeping around the edges, but otherwise pretty nice and clean. 100% barley according to the bartender, no adjuncts. Surprisingly clean and relatively easy to drink with a light bitterness in the background. Dry finish, not overly sweet, and not astringent or harsh. Could easily drink a couple on a hot day, slightly better than the usual BMC mediocrity.
644 characters
3.05
/5
rDev
+12.1%
look: 3 | smell: 3 | taste: 3 | feel: 2.5 | overall: 3.5
12oz can poured into a Perfect Pint.
Appearance
The head will rise up to a decent size, but it is very short lived. It leaves one half hearted ring of lace that gets quickly washed away. Lots of rising bubbles form a broken collar and oblong patch. It has good color for the style and nice clarity. Its a bright, pale goldenrod.
Aroma
Intensely sweet smelling. It seems a lot of these beers can take on a grape soda aroma, and Hudy Delight is one of those. The aroma also has lots of clean grains hiding behind the grape drank sweetness.
Taste
Very clean taste comprised mostly light grains. Its sweet, but not as sweet as the aroma would have you think. Grassy hops do well in providing balance. The taste is good, but it seems to just completely drop off suddenly at about mid palate.
Mouthfeel
Watery and pretty dry. This is fine with me, but the carbonation is insane. Sharp and stinging. Still though, this stuff is really gulpable.
Overall
A lot like 14-K, but watery. Its still a pretty good beer, way better than any BMC.
1,039 characters

3.1
/5
rDev
+14%
look: 3 | smell: 3 | taste: 3 | feel: 3 | overall: 3.5
This beer is very clear pale straw color. Thin head that dies quick.
Smell has a slightly perceivable graininess. No hops.
Taste is a little sweet, which is kinda nice for a light beer. Not much in the malt department. No hops detected.
Mouthfeel is thin and watery;about par for the course with this style.
Drinkability is decent, overall a good thirst quencher. Not sure I'd want to drink as a session beer, as it's a little bland.
446 characters

3.14
/5
rDev
+15.4%
look: 4 | smell: 2.5 | taste: 3.5 | feel: 3 | overall: 3
Poured out of a nice retro looking can into a pint glass.
Appearance is a clear light gold with a fizzy one finger head that quickly fades into nothing. A bit darker than many light beers.
Smell is of light grain along with a grape/lemony aroma. Not extremely appetizing but not terrible.
Taste is fairly sweet with corn and light grain being predominant. There is no hop presence to speak of. Mouthfeel is pretty thin but not as bad as some other light beers.
Overall this is one of the better light beers I have had. While it is a little too sweet for me to drink a ton of, on a hot day it would definitely be a go-to beer.
629 characters

3.25
/5
rDev
+19.5%
look: 3.5 | smell: 3.5 | taste: 3 | feel: 3 | overall: 3.5
My first Hudy in a few years. New owner, new formula, lots of hype too.
Appearance - pale straw on the pour. A brief head evaporates quickly but manages some spotted lace on the glass.
Aroma - just the vaguest hint of grain to this, but it does maintain a trace of aroma. Worthy for the style.
Taste - simple but solid light grain flavor. Basic light beer, but it's fresh and thirst-quenching, as a decent light beer should be.
Mouthfeel - thin, crisp, no surprises.
Drinkability - one of a select few light beers I'll by now and then, and by far the best value of the non-adjunct choices. The hype is not necessarily because of the beer but just due to seeing an old friend once again.
701 characters
3.3
/5
rDev
+21.3%
look: 3 | smell: 3 | taste: 3 | feel: 2 | overall: 5
I reviewed this beer some time ago but I wanted to give a little insight on what I think is a change. This time I had the beer in a 24oz can right out of the can. Appearance can't be spoken for. Smell is basically not there. Taste is very light and mouthfeel is weak. However, the beer this time (out of the can) was very clean and crisp without any of the grainy, offensive stale aftertaste that I found when drinking from a bottle (I took the picture). Make no mistake, this is a LIGHT beer. But this time it was very crisp, clean and refreshing - without that stale undertone I coudn't shake last time. Drinkability is way up there too. Excellent for hot weather when you don't want to get worn down having a few. I wonder if the quality control of the product been cleaned up? I only see this beer in cans anymore also. One other note - there is no mention of adhering to the Beer Purity Law on the packaging anymore. Given the category - which is a low calorie light lager - far fewer than the BMC light beers, I would have to move this up to a C+.
1,053 characters
3.3
/5
rDev
+21.3%
look: 3 | smell: 3 | taste: 3.5 | feel: 3 | overall: 3.5
The beer of my youth and hometown. The first beer I drank regulary, in High School, playing golf and while attending the University of Cincinnati. Recently revisited on a trip home. Pale golden yellow color, bubbly and full of carbonation. Faint, thin white head, left quickly, but didn't pose a problem. Sweet corn-water, with yeast taste. Slightly sour middle. Finish is surprisingly crisp and refreshing. After about 3 years not having one, I was pleasantly surprised. Super-easy to drink. I have had alot of these, and they always leave me smiling, until the next morning.
576 characters
3.45
/5
rDev
+26.8%
look: 3 | smell: 3 | taste: 3.5 | feel: 3.5 | overall: 4
I've heard the hype on this beer and came upon it with a historic respect. I've had some see this as a cheep collage brew. With that said, its not a bad standby for around just over $4.
It pours a pale yellow gold. Fair carbonation provides a small but stable white head that reduces to a thin film. Little lace to be had.
The aroma was grain like malt.
The taste was fairly crisp grain, slight corn with a citric lemon finish. A light beer that has a real flavor, even if its just alittle.
Drinkability; yes. If your hot, drink cold. The mouth is left with a slight dry citric tart. Hudy!
601 characters
3.68
/5
rDev
+35.3%
look: 3.5 | smell: 3 | taste: 4 | feel: 3.5 | overall: 4
A- Produces a two-fingered white fizzy head atop an extremely pale golden beer. A few dozen streams of effervescence float upward. No lacing, decent head retention for the style.
S- Smells grainy, of grass perhaps. This beers weakness.
T- First thought: non-offensive like most light lagers. Very smooth, easy drinking. More graininess but nothing off-putting.
M- Thin but slightly creamy. Good carbonation.
D/O- RATED TO STYLE. Impressed to say the least. No nasty flavors in a light lager style beer? Sign me up...you know, when there aren't any other options available. Thanks to the drunk girl at Dark Lord Day who traded me this for one of my Deschutes Black Butte porters...and then gave me back the porter. Who knows.
728 characters
4.5
/5
rDev
+65.4%
Never could find a smooth drinking light beer. Most were too crisp, or flavorless. When I drink regular beer, I become full and uncomfortable; especially if I'm drinking more than one. Being alumni of Ohio University in Athens, I very seldom drink one beer. Recently, I purchased 12 pack of cans of Hudy Delight. Was unavailable for many years, now has been put back in production. I brought the beer home and got the cans ice cold in cooler full of ice cubes. I was surprised at how smooth and drinkable it was. The key is make cans ice cold. Tried some out of fridge and tasted much different. It is less expensive than big brands and has become my new favorite beer. May be difficult to find outside Metro Cincinnati area. My local beer store is now ordering for me. Most of the time I leave a little in bottom of can when drinking beer, but I've noticed when I drink Hudy Delight my cans are completely empty. Remember get them ice cold in cooler and enjoy a Hudepohl, I think you will be surprised.
1,012 characters
Hudy Delight from Hudepohl-Schoenling Brewing Co.
2.72
out of
5
based on
68
ratings.