Vieille Brune
| Brasserie Thiriez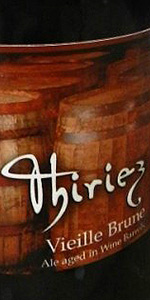 BEER INFO
Brewed by:
Brasserie Thiriez
France
brasseriethiriez.com
Style:
Flanders Oud Bruin
Alcohol by volume (ABV):
6.50%
Availability:
Rotating
Notes / Commercial Description:
No notes at this time.
Added by bylerteck on 05-17-2011
Ratings: 14 | Reviews: 7
Reviews by Boozecamel:

3.88
/5
rDev
+5.7%
look: 4 | smell: 3.5 | taste: 4 | feel: 4 | overall: 4
2010 Bottle No. 462. No idea how many were bottled. Wasn't too impressed by the brown crud around the top of the bottle after taking the plastic packaging off to get at the cap.
Appearance: Highly carbonated, brown white head. Good looking dark brown beer.
Smell: Malty aroma with a slight sour vinegar note. Also a sweet caramel almost brown sugar aroma.
Taste: Beautiful sour maltyness. Slight caramel coffee taste. Licorice towards the end
Mouthfeel: Light and well carbonated
Overall: An enjoyable beer. Easy drinking. Nice balance between sweet and sour notes.
572 characters
More User Reviews:
4.18
/5
rDev
+13.9%
look: 4.5 | smell: 4 | taste: 4.5 | feel: 3.5 | overall: 4
2010 bottling; bottle no. 460 (purchased at La Cave à Bulles in Paris)
Appearance: Pours a ruby-highlighted cola color with a massive head; excellent stickage and lacing
Smell: Red wine vinegar, oak, caramel and barnyard funk
Taste: Oaky at the outset, with a vague hint of vanilla; a layer of caramel is quickly supplanted by the barnyard funk and red wine vinegar flavors that develop through mid-palate; after the swallow, the sour elements, oak and caramel converge and linger into the finish; herbacious and medicinal in the aftertaste
Mouthfeel: Medium body but just a touch over-carbonated
Overall: A really interesting Oud Bruin, unique in its woody complexity; too bad this is not imported but I plan to be on the lookout for some of the Brasserie Thiriez beers that I have seen around the US
807 characters

3.83
/5
rDev
+4.4%
look: 4 | smell: 4 | taste: 3.75 | feel: 3.75 | overall: 3.75
Tap at Moeder Lambic.
Pours a decent creamy head with super dark brown color.
Nose is potent! Some fig, raisin, candy, brown sugar, etc... a strange earthy alcohol, as well as light vanilla and even almost barrel like aromas, light cocoa, and a phenolic mess on top of all that.
Taste brings and earthy root cola syrup mess, fermented cola, then light candy and molasses, candi sugar like booze warms with some phenols, strange almost chemically booze, mild bitterness, faint cocoa, touch of barrel and light mild earthy coffee but no roast, light raisin fruit. It also brings just a touch of husk and almost a cardboard oxidation like flavor. Finish is fairly dry but little sticky sweet lingering with some bitterness, dark candy, fruits, etc.
Med to heavier bod, good carb, light warming booze and a bit syrupy.
Overall not bad, interesting and fairly tasty but nothing too special, too much going on overall.
917 characters
3.32
/5
rDev
-9.5%
look: 3.5 | smell: 4 | taste: 3 | feel: 3.5 | overall: 3
I was at de Struise with a friend and there were groups of Scots and Americans there as well. We all asked if there was something interesting that we could try and Carlo whipped this beer out, saying it was quite good. He didn't charge us for it which was great. From notes.
A - Poured a dark brown with good carbonation coming up and a one finger biege head. Weak lacing.
S - Dusty, some lemon, very brown, cobwebs, and ash.
T - Woddy. Very slight sourness, cobwebs, charcoal. Weaker than the aroma and not as interesting.
M - Very smooth with good carbonation and a medium body.
O/D - Not too shabby but not overly interesting. Seemed a little bit too woody. Worth a try if somebody gives you this but not worth seeking out at all.
748 characters

3.17
/5
rDev
-13.6%
look: 4 | smell: 3.75 | taste: 2.75 | feel: 3.25 | overall: 3
From 07/24/13 notes. I noticed some brown crud on the top of the bottle as someone else has also noted, and noticed some stickiness on my beer cabinet, so immediately put this in the fridge to drink it. I purchased this at La Cave à Bulles in Paris, France in mid-June. 2012 vintage, bottled on 20/10/2012. 750ml bottle into my Lost Abbey stemware. When I popped the bottle a rush of air hit my in the face harder than I've ever seen on a beer; weird.
a - Pours a deep mahogany brown color with three fingers of fluffy medium tan head and moderate carbonation evident. Tons of lacing and retention. Looks pretty good.
s - Smells of soap, lightly sour fruits, oak, musty notes, dark fruits, earthy notes, and light vinegar. Lightly sour and sour fruit, but not as sour as I was expecting.
t - Taste is not very flavorful, and very oxidized. At first I was afraid it was going to be infected, but I think it was just very oxidized. Light dark fruits, but not really sour, light oak, musty and earthy notes. Not necessarily bad, but very disappointing.
m - Medium body and high carbonation. A little too carbonated, no alcohol heat.
o - Overall very disappointing. Looking at other reviews other people have seen this very oxidized as well; very disappointing to spend a lot of money on a French sour bottle and have it be sub-par based on the bottling. Would not recommend buying.
1,384 characters
4
/5
rDev
+9%
look: 4 | smell: 4.5 | taste: 3.75 | feel: 3.75 | overall: 4

3.66
/5
rDev
-0.3%
look: 4 | smell: 3 | taste: 4 | feel: 3.5 | overall: 3.75
75 cl bottle purchased at brewery Thiriez, bottle number 0645, brewed in June 2012, aged on wine barrels for three months and finally bottled on 20/10/2012, 5.8 % ABV
bottle started to leak in the trunk of my car as I drove home, so I put this one immediately in the fridge and opened it within days after purchasing
A: started gushing the minute it was opened, huge beige head when poured into my Rodenbach Vintage Geuze glass, black colour with red hue, exceptional headretention, leaves some lacing
S: weird smell, like soap and synthetic perfume, light oak and earth
T: on the sweet side, dark fruit taste, raisins, caramel, again oak and earth, some tabacco, cacao and sweet coffee, and to my suprise a just lightly discernible sourness
M: medium body, average carbonation, light lingering bitterness, soft mouthfeel
O: I expected something a lot more sour, however this was still a complex and tasty beer that I actually enjoyed drinking, too bad that the smell was a letdown
986 characters

3.69
/5
rDev
+0.5%
look: 3.75 | smell: 4 | taste: 3.5 | feel: 3.5 | overall: 3.75
Pours dark brown with some ruby tinges, big frothy brown head that quickly recedes to a thick lacing and some messy specks.
Smells pretty strong, with big damp oak barrel notes, earth, big cocoa powder, burnt tobacco, a whiff of vinegar and soy sauce, light raisin.
Taste isn't that intense, a mild malty sourness, with some dark chocolate and lemon. Hints of cola, caramel, faint grape must, faint raisin. Nice oak barrel in the end, kinda funky, moldy, ending quite earthy.
Aftertaste has cocoa powder, wood, earth, not much else. Medium bodied, prickly carbonated.
Not too sour, but brings really nice barrel notes. Good for "rookies" in the style, but otherwise pretty boring.
680 characters
3.75
/5
rDev
+2.2%
look: 3.75 | smell: 3.75 | taste: 3.75 | feel: 3.75 | overall: 3.75

Vieille Brune from Brasserie Thiriez
3.67
out of
5
based on
14
ratings.