Punishment
| Arrogant Brewing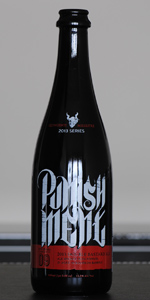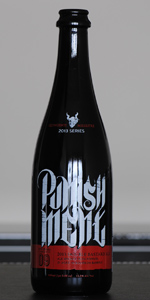 BEER INFO
Brewed by:
Arrogant Brewing
California
,
United States
arrogantbastard.com
Style:
Chile Beer
Alcohol by volume (ABV):
12.00%
Availability:
Rotating
Notes / Commercial Description:
A palate-punishing ale unlike any other
Never intended for the timid, Punishment is the capsaicin-throttled spawn of a beer behemoth, Double Bastard Ale. In this year's brew, the flavors of Double Bastard Ale have been further enhanced by the bourbon barrel aging. The addition of chile peppers to the beer adds lingering flavors in the finish of subtle tropical fruit and some layers of heat along with the toffee, caramel malt and hop flavors.
Added by womencantsail on 02-06-2011
HISTOGRAM
Ratings: 386 | Reviews: 85



2.49
/5
rDev
-15%
look: 4 | smell: 2.5 | taste: 2.5 | feel: 2.5 | overall: 2
On Tap
Stone 15th Anniversary Celebration
CSU, San Marcos
San Marcos, CA
Dark amber and ruby with a thin light brown head and leaves spotted lacing down the glass.
A touch of caramel in the aroma and then lots and lots of face-smacking spice--smells like spicy jalapeno juice. Interesting, though perhaps even too powerful.
This beer starts similarly to the aroma: a faint hint of caramel and toffee sweetness, and then a stinging, spice flavor. This one seemed even more hot and spicy than it's little brother, Crime. This is Crime on spicy steroids! Tough to drink much, if any, of this beer, though it is unique and worth trying (once!).
Medium mouthfeel.
If given the choice, I'd drink Crime before drinking Punishment.
729 characters
3.22
/5
rDev
+9.9%
look: 3.5 | smell: 4 | taste: 3 | feel: 3.5 | overall: 2.5
Double Bastard is already a very powerful beer. Add bourbon barrels to the mix and it gets more powerful. It begs one to ask "How much peppers were needed to spice this concoction up?" It must have been a lot based on what I tasted. On-tap at 38 Degrees, on to the beer:
It's an amber orange color beer with a little bit of lace that sticks around. Now that's out of the way....LOOK OUT!! It's a bombardment, no, an atom bomb of fresh, crisp, green peppers and spice. Even the Double Bastard base has been smuthered by the force of the peppers.
One sip and I knew I'd be sipping on this for a whiile. Two sips and I swore that this could be used instead of conventional medicine to clear congested sinuses. This is HOT HOT HOT! It's so spicy that I couldn't find the alcohol. It's a little sweet at the begining, with toasted sugar and bourbon notes, but it quickly turns to a spicy sensation that only a few other beers could match in its intensity. I don't know if I like or hate the taste, so I'll leave the taste score in the middle. The liquid is quite smooth on its own, though the spiciness won't let it be.
This really is punishment if not different from the mold. It's both a fun and horrifying experience. This could be great used in cooking, but really pushing it when it comes towards human consumption.
1,320 characters

4.6
/5
rDev
+57%
look: 4.5 | smell: 4.5 | taste: 4.5 | feel: 4.5 | overall: 5
4oz. pour from tap during Stone's Winter Storm. The following review is based on notes taken Thursday, February 10, 2011.
Served in a fluted tulip.
Appearance: A huge layer of off-white, latte-like foam sits atop a hazy, orange brown body. Head retention and lacing are both fantastic - was not expecting that from a beer aged with peppers!
Smell: Serranos all over the place. I've really got to dig to find anything else. I get a little caramel and a touch of brandy. This nose shows no semblance of Double Bastard. It's all about the serrano oils, and I'm lovin' it! I can understand why others wouldn't though.
Taste: This is the best chile beer I've ever had! Brandy and serrano chiles meld beautifully midway through each sip and roll together into the aftertaste. As with the smell, the Double Bastard aspect has gone missing, only peeking through early on in the form of aged barleywine-like sugars. Very spicy and warm, although the chile oils do a great job of masking the ABV.
Mouthfeel: Lightly carbonated, resinous, warm, and spicy. Each sip coats the mouth in a fresh layer of serrano oils, which linger deep into the aftertaste. There's a good amount of warmth and dryness, but the spiciness really distracts the palate away from it.
Drinkability: If you're coming in expecting brandy barrel-aged Double Bastard with a hint of serrano, you'll be disappointed. I had no idea the serranos would play such a huge role, but as a hot sauce junkie I couldn't help but love this one. Greg, if you're having trouble selling this stuff, shoot me a BM! This is the best chile beer I've ever had!
1,606 characters

3
/5
rDev
+2.4%
look: 3 | smell: 3 | taste: 3.5 | feel: 3 | overall: 2
On-tap at Stone
A: The beer pours an ominous murky amber color with a barely-there ring of tan foam.
S: You can smell the peppers before the glass even gets near your face. The heat is quite intense and the pepper smell is very, very green and fresh. I can't really even smell anything else, actually.
T: It starts off hot with a lot of chile flavor. There's a bit of chocolate and oak that come through, but before you can enjoy them, the intense heat comes back and sits on your tongue for quite some time.
M: The body is medium and the carbonation is on the low end of medium. And the heat burns the back of your throat a bit.
D: This was pretty tough to drink. I would say even if you're a big chile beer fan this would be painful.
740 characters

2.35
/5
rDev
-19.8%
look: 3.5 | smell: 3.5 | taste: 2 | feel: 2 | overall: 1.5
2/6/2011
On tap at Winter Storm 2011. This is oak aged (not sure if barrel or chips) double bastard with more of Greg's home grown chili peppers.
A: Reddish brown.
S: Prominent chili with caramel and toffee. Dark fruits are evident, as well as a nutty quality. Peppers smell nice.
T: Pepper flavor is strong and they provide a powerful heat as well. Aside from that, there's little else going on. The flavor is watery. A little caramel. Upper moderate bitterness.
M: Lower medium body with upper low carbonation: Mouthfeel is thin, sticky, and watery.
Overall: I appreciate two new Stone beers, but the name of this one is fitting.
637 characters
Punishment from Arrogant Brewing
Beer rating:
2.93
out of
5
with
386
ratings