Barley Brothers Brewery & Grill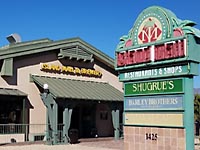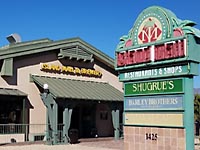 PLACE INFO
Type:
Brewery, Bar, Eatery
1425 McCulloch Blvd N
Lake Havasu City
,
Arizona
, 86403-6597
United States
(928) 505-7837 |
map
barleybrothers.com
Notes:
No notes at this time.
Added by WVbeergeek
HISTOGRAM
View: Beers | Place Reviews
Ratings: 13 | Reviews: 9
Reviews by Gobzilla:

3.35
/5
rDev
-7.2%
vibe: 3 | quality: 3 | service: 3 | selection: 4 | food: 4
Doesn't really have a brewery pub type atmosphere more of a family restaurant that happens to brew their own beer. The food and the beer are overall pretty damn good. The pizza's and the salads are good accompanied with a good selection of beer brewed in house. Service was alright, not to on point but the beer really makes up for it. Some of the best beers brewed at the lake always a favorite place for me to stop when I'm in AZ. Every time I stop by I have a great time drinking their brews and chopping it up with my peeps.
528 characters
More User Reviews:
3.58
/5
rDev
-0.8%
vibe: 3.5 | quality: 3.75 | service: 3.5 | selection: 3.5 | food: 3.5
Tourist trappy brewpub just over the London Bridge in Lake Havasu. Big place overlooking the river... Z-shaped bar seats about 25... Spacious dining area with tables and booths. 6 house beers and 6 guest... ok. Service a bit distracted. Reasonable happy hour option... food meh.
278 characters

3.64
/5
rDev
+0.8%
vibe: 3.5 | quality: 3.5 | service: 4 | selection: 3.5


3.5
/5
rDev
-3%
vibe: 4 | quality: 2.5 | service: 4 | selection: 4 | food: 3.5
Beers were reasonably priced: $4ish for a pint, $1 for a 4oz sampler, growlers for $9. They had 6 year round beers, and 3 seaonals. Although too exhausted for 10 extensive individual beer reviews, here's the short synopsis:
Regulars:
Golden: (D) On the beers page, this is rated a D, which fits pretty perfectly. It's there for people that would otherwise order a bud light.
Hef: (D) The menu has an award medal next to it. I can't fathom why. This beer tasted like the flavor was zapped out of it. Absolutely no hef aroma -- not a slight hint of banana anywhere.
Amber/Altbier: (C-) Once it warmed up, it had a decent malty taste, but totally lacked any aroma or character.
Triple Berry Wheat: (C-) Berry flavor was overwhelming, and a bit cough syrupy; probably made from a fruit extract. I can see casual beer drinkers really enjoying this.
Oatmeal Stout: (B+) Surprisingly good -- probably the best thing on the menu. Good body, and definitely an oatmeal. If I was picking a single beer for a pint, this is without a doubt the go-to.
Bighorn English IPA: (B-) Also pretty good after the lowered expectations of the earlier beers. Had a touch of citrus hop aroma while still staying in English territory. Malt had a bit of a barnyard off flavor.
Seasonals:
Vanilla Blueberry Wheat: (C+) Similar to the triple berry, it had a cloying extract flavor. Flavor was a bit "Bath and Body Works", but not in an all-bad way. I was happy to have a taster glass of it, but certainly wouldn't want an entire pint.
Unidentified Dark: (C-) This was billed as a western coast IPA, but it seemed like a generic dark, maybe a porter or a dunkle (missing that hef flavor). This didn't hold a candle to the Oatmeal Stout.
Wit: (C) Had a bit too much coriander, and the rest of it was overwhelmed by the pre-dunked orange.
Overall, their beers didn't seem to use the appropriate yeasts for the styles. Funkier and high-ester beers lacked the character I was expecting, especially the Hef. It almost seems like they had a single barrel of champagne yeast starter that was used for everything. Most beer styles seemed to play it safe, staying at a lower gravity and hop levels than what they excelled at -- perhaps to better cater to the general public. Malt aroma was also very muted. Beers were served much colder than what they should have been, and almost all of them opened up much better after 10 minutes out.
Ambiance: Most tables are right up against the windows with a great view of the channel and London Bridge. Although the interior had a bit of a "chain" vibe, the outside was readily available to stare out instead.
Food: I was coming off of a large meal for lunch, so I just split a spinich salad with the wife. Food quality was about what you would expect, which was enough to make me happy. Portions must be normally large, because they brought the salad out pre-split onto separate plates, and I briefly thought they had brought two full salads. Not much on the menu is under $10, so if you're just looking for a small bite to eat, bring someone to split something with.
Service: Waitress was friendly, knew enough to describe the beer styles and seemed genuinely interested in the beer. However, without the brewmaster in that night, no one was able to answer questions along the lines of "which hops are in the IPA?" -- not that I had any realistic expectation of anyone knowing.
Final verdict? If you're already in this bizarre city, and you're reading this site, it's you're best hope for a brewpub. Just make sure your expectations for the beer aren't too high coming in, and you'll probably be satisfied enough.
3,623 characters
3.3
/5
rDev
-8.6%
vibe: 2 | quality: 3.5 | service: 3 | selection: 4 | food: 3
Stopped at Lake Havasu City on my way from California to Texas, and went here to have a bite to eat and a beer to shake off the road. Wound up having two. I sat at the bar, so I can't comment on the restaurant portion, which was separated by a glass partition.
The bartenders were prompt, and the food was average. I had their IPA first, and it was standard by California standards: straw colour, hoppy flavour, and cold. I also ordered their seasonal, which was a Belgian wit (which I heard staff members pronounce to rhyme both with 'hit' and 'heat'). It came with an orange slice, which I removed. Like the IPA, it was good enough to be found in any brew pub in a larger city.
The bar itself was a pretty standard sports bar: 3 large screen TVs, black-shirted staff, lots of people (it was a Friday night). Definitely not my type of place - again, it could have been any brewpub / sportsbar anywhere in a medium or larger US city.
So, while the place was definitely middle of the road and I wouldn't go out of my way to go there again, I was glad it was there, as the rest of the area seemed dead and certainly there wasn't anywhere within a hundred miles that would be as good.
1,184 characters
4
/5
rDev
+10.8%
vibe: 4 | quality: 4 | service: 4 | selection: 4 | food: 4
The Barley Brothers Brewery & Grill is located just off of the London Bridge. The apperance of the place is very nice. They have a wide selection of food that is at a very reasonable for the quality of food that id delivered. They had 8 beers on tap. The quality of the beers that they brew are all above average. A few of the beers are had a i high percentage of Alcohol. The bar tender wsas very help full on telling us about the beers and sugesting what to eat. This was the best place that I saw to grab food and beer or just a beer.
537 characters
2.6
/5
rDev
-28%
vibe: 3.5 | quality: 2.5 | service: 3 | selection: 2 | food: 2.5
Barley Brothers is a good enough as far as food goes. I did not enjoy the beer. I can only assume that this place is very inconsistent when it comes to brewing quality because everyone else seemed to give it (overall)a high rating here.
To me, only one of the beers I had was even remotely enjoyable. I tried a few beers and could not finish them. They were mostly either bloating, sour (a sour IPA?), or too sweet or a bit artificial tasting. I'm glad to see that they got medals for the Double Espresso Stout, but of course they didn't have that beer on tap when I visited.
I guess what irritated me most was that the beers did not even match the discription given. For example (and no, this was not available so I didn't try it, but it is clearly untrue) "Monsoon Stout: The biggest, darkest, angriest stout that can be produced, malty with pronounced tones of espresso and chocolate. (8.5% alc. by wt.)"
Ok, Barley Brothers Blond Ale actually matches the description given, "One of our lightest beers! Its dry, smooth body is well balanced against a delicate hop finish." That one is true. It wasn't very interesting, but was correctly described.
I tried the Hefeweizen and the Oatmeal Stout which had won awards in 1998 (Bronze) and 1999 (Silver) respectively at GABF, but I can't imagine that what I had was the same recipe that won any type of award. So needless to say, if I EVER go back there, it's going to be any guest taps and the Double Espresso Stout (if I can get it) before I even bother to try another one of these apparently totally inconsistent brews again.
1,588 characters
4.53
/5
rDev
+25.5%
vibe: 4 | quality: 4.5 | service: 4.5 | selection: 5 | food: 4
There comes a point where you realize that you're just not going to be able to sucker anyone into driving to Lake Havasu City with you. I could hardly pry Captain Dewars away from the blackjack table for dinner, there was no way he was gonna leave Vegas, certainly not for a 5 and a half hour round trip drive to Arizona...
Barley Brothers is located in a mall of sorts, just over the London Bridge (and I mean THE London Bridge) on the channel side of this little peninsula turned island. Coming through the mall, a pair of copper lauter tuns and 3 fermenters sit in the front windows viewable from the main corridor, as well as from inside behind the bar in the small glass front room. An "L" shaped wood top bar seats 20, with a handful of bar tables running adjacent. The bar back is a low counter top (so you can see the brew room) with glassware and sampler wheels, and booze and a wine fridge below. 5 TV's above, spots & baby track lighting, and GABF metals displayed. The separated dining room holds roughly 20 booths and tables. Another row of 5 TV's above a rock wall, ceiling fans and drop lighting, and at the far end, the kitchen with a wood fired brick oven (real deal, they burn a pile of oak). 2 dozen or so tables run the length of the place to the rear along the windows overlooking the channel.
13 taps. 6 regulars and 7 seasonals. It's a pretty unusual range in that usually you'd wind up with a bunch of beers on the Light, Pilsner, Lager, Blonde, Golden side of things, whereas here they've got only a Blonde Ale as a regular beer and a Pilsner as a seasonal on the lighter lighter side. And instead of doing the "every kind of Belgian" set, they've got 4 Wheat beers and 3 Stouts. The Barley Brothers Blonde Ale was light, with a nice hop finish; the Beachball's Red Ale, an Alt, was toffee, caramel sweet, very very nice; the Kickstart (Oatmeal) Stout had a nice oatmeal flavor, roasty, and slightly bitter; the Bighorn IPA had a solid hop bite; the Tripppleberry Wheat was hazy, done with cranberry, blueberry & raspberry, but tasted kind of cherry, very nicely fruity, non cloying, not over the top sickly sweet; the Jennagrace Hefe was unfiltered, fruity, lemony, heavy corriander; the Paradise Pils was clean with a pleasant snap; the Nut Brown was somewhat light with a slight chocolate flavor; the Lakeside White tasted of orange peel, corriander and honey; the Prickley Pear Wheat was unfiltered, with Guava and Prickley Pear, which somehow imparted a sour apple taste, most interesting, quite amazing; the Monsoon Stout, their Impy at 11%, was all alcohol strong and roasty; the Damn Strong Ale was just that at 14%, quite the malt bomb but with a notable hop presence; and the Double Espresso Stout was just an awesome java, a double in a glass. The Prickley Pear, Tripppleberry Wheat, Red Ale, and Double Espresso Stout were the standouts although there was not a clunker in the lot.
A solid brewpub food menu. I had the beef & barley soup and the roasted garlic fettucini alfredo with chicken. Food was good, as were the portions. Sat at the bar shooting the shit with Joel for a good while. He dealt my samplers, knew his beers (they ought to let him come to the next GABF) and was good and cordial. What'd he say? Yeah, "Hometown brewery making world class beers". This place was so goddamn worth the drive.
3,349 characters
4.3
/5
rDev
+19.1%
vibe: 4 | quality: 4 | service: 4 | selection: 5 | food: 4.5
I'm usually out in Havasu about 4 to 5 times a year visiting the in-laws and everytime I'm in town I head out and hit up one of the local breweries. This last weekend we decided to try out Barley Brothers (instead of our usual, Mudshark) since we have not been there in quiet some time. What a great choice!! We were able to find plenty of room at the bar and were overwhelmed by the huge selection (6 regulars and 5 seasonals). I had a 6 beer sampler followed by a pint of Double Espresso Stout which may have been the best stout that I've ever had. My wife had a pint of Apricot Peach Ale followed by a pint of the Prickly Pear Ale. She enjoyed both. The atomosphere was wonderful with a nice view of the London Bridge and boat channel down below. During X-Mas it's even better when all the surrounding shops are all covered in lights. We didn't eat on this occasion but from what I've had in the past the food is excellent. Last summer I can remember ordering a South West style pizza that was very good.
All in all, a very good brewery that caters to beer lovers of all styles. Barley Brothers is in a great location and is an excellent stop for dinner and drinks after a day out on the lake.
1,199 characters
4.08
/5
rDev
+13%
vibe: 4 | quality: 4 | service: 4.5 | selection: 4 | food: 3.5
An amazing suprise from a town known for partying and swill!!! The Barley Brothers Brewery was very nicely done, just maybe a little uppity for some. All I knew was that the temperature was around 110 degrees or so, and I needed cold beer and some air conditioning. This establishment provided both of these luxuries. We stopped in Havasau to check out this legendary spring break spot, and to see the London Bridge. We weren't expecting to find a small brewpub chalk full of friendly servers, and fine beer. I ordered a sampler and was quite impressed with the hefe-weizen, but the thing that was really cool was the view of the inlet of the lake that was visible through the window we were sitting at. After finishing off the sampler and picking up a signature pint glass we continued our journey to California.
813 characters
Barley Brothers Brewery & Grill in Lake Havasu City, AZ
Brewery rating:
3.33
out of
5
with
41
ratings