White Horse Tavern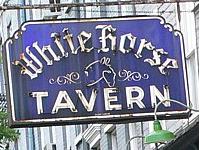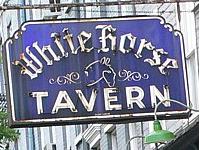 PLACE INFO
Type:
Bar, Eatery
567 Hudson St
New York
,
New York
, 10014-2460
United States
(212) 243-9260 |
map
Notes:
No notes at this time.
Added by Mick
Ratings: 11 | Reviews: 9
Reviews by Flashy:
3.98
/5
rDev
+24.8%
vibe: 5 | quality: 4 | service: 4 | selection: 3.5 | food: 4
A real old time bar with a little better than average beer selection. This place look like it hasn't changed since it opened and I believe Dylan Thomas did walk out of the place and died on the sidewalk. Friendly people and though not trendy that fellow who looks like Dan Ackroyd standing next to bar might just be him. The Blind Tiger is within walking distance.
364 characters
More User Reviews:
3.6
/5
rDev
+12.9%
vibe: 4.75 | quality: 3.75 | service: 4 | selection: 2.5
cool bar, small, like 10 bar stools and some table seating. service was good, selection was small, the vibe was kind of dive bar, older but I liked it.
152 characters
3.23
/5
rDev
+1.3%
vibe: 3.5 | quality: 3.5 | service: 3 | selection: 3
2.7
/5
rDev
-15.4%
vibe: 3 | quality: 3 | service: 2.5 | selection: 2.5 | food: 2.5
The White Horse Tavern is worth a trip only because it's Manhattan's only remaining "writer's bar". Beyond that it's a disaster. The management is disorganized and confused; they treat customers as an aggravation; the service is poor; and the food isn't even "good" by bar standards. Beyond that, the beer selection is mind-bogglingly poor given the current state of the market. What a shame - in the right hands it could be a shining star of the Manhattan food scene; as it is, it's more like a college bar run by a fascist regime that hates their own customers (and doesn't have the talent to turn the business around).
621 characters
2.98
/5
rDev
-6.6%
vibe: 4 | quality: 3 | service: 4 | selection: 1.5 | food: 3
I see the last review is from 2005. The year the White Horse was only 125 years old and the Blind Tiger was just a couple of blocks away down Hudson St (it is now about 10 short blocks away on Bleecker St). The absence of reviews is not surprising really. You do not go to the White Horse for beer. It wouldn't even occur to me to check BeerAdvocate until a friend I was with mentioned that this place is indeed listed.
Reading previous reviews I'm guessing the selection was better some years ago (not great, but better). Now the only two beers I would consider drinking from about 10 taps that they had were Anchor Steam and Sam Adams. I went with Anchor Steam which was fresh and tasty. I do not recall the bottle list, but you definitely don't go here for the beer.
I really liked the atmosphere. It's old (by New York standards), but they don't try to keep it old just as a touristy gimmick (the way I think McSorley's does). They have flat-screen TVs and an Internet jukebox. The bar, the space and the decorations (lots of horses) feel old. So I did feel like I'm in a really old place and at the same time felt like I'm at a neighborhood bar.
The White Horse consists of a main room with a bar with about 10-15 spots followed by two rooms with tables. There are tables outside on the sidewalk as well. I was there on a Thursday night. The place had quite a few people, but it never got too crowded. The main room had some music playing (not at ear-shattering volume though), but the other two rooms were quiet and allowed for a relaxed conversation. The crowd seemed like a neighborhood crowd as long as you realize that the neighborhood now is not what it used to be 50 years ago. Greenwich Village and the neighboring Meatpacking District changed quite a lot in the last few decades. Lots of younger people, seemed like they were out for a drink after work. A few interesting characters as well. Fairly comfortable crowd.
While I was waiting for my friend, I had a beer at the bar. The bartender was not very enthusiastic, but I can't complain. I then moved to a table and the waitress was excellent. She was always there when we needed her (never had to wait for a beer) and always with a smile. I'm generally very sensitive when it comes to services, but it did appear that our waitress was taking her job seriously, which is so refreshing nowadays in NY.
Food seems to be a mix of American (burgers), German (bratwursts) and British (meat pies). Fairly standard for a pub. I had a sausage sandwich. The sandwich was good, fries were not as good.
Overall, I enjoyed spending time at this place. Wouldn't mind coming back. Not having good beer selection is a huge drawback, but a relaxed atmosphere in a historic place is a plus. Blind Tiger would be just too packed on a Thursday night. I came here because my friend wanted to stop by because of its literary connections. We spent a nice time. May be back too.
2,934 characters

3.15
/5
rDev
-1.3%
vibe: 4 | quality: 3.5 | service: 3 | selection: 2.5
Dont go for the beer, its a quite lame range of too much of the "bud family" and a few very common higher quality selections, IE Guiness, New Castle etc. You know its thin pickins when the the special of the day is Sam Adams light. The only reason to go here would be for a burger outside at the picnic tables during the summer. It is a nice athmosphere inside full of literary history. H/E the obvious place to go for BA quality/interesting malt/hops/water/yeast products in the neighborhood is the Blind Tiger (at least until 12-31-05) or hit up one of several Belgian places nearby.
585 characters
2.79
/5
rDev
-12.5%
vibe: 3.5 | quality: 3 | service: 3 | selection: 2
I forced my group of New Yorkers into the Blind Tiger when we accidentally wandered in on Saturday. They kept telling me that there was a GREAT bar up the street that we should stop into instead. I stomped my feet, got my way, and we had a drink in both. The second bar, the one the upper east side folks kept saying was awesome, was the White Horse.
Doesn't come close to the Blind Tiger and is arguably a beer bar. Once familiar with the history, it is useful to add as an historically drinking bar.
Food seemed straight up fried pub grub, and I didn't have any.
Selection was severely lacking, as has been mentioned before. Waitstaff was involved in another conversation, and didn't want to be bothered.
Really, just walk down the street and drink at the Blind Tiger, you are already in the neighborhood. Then, you can tell a story about how some famous person died drinking bad beer/liquor up the street at some other bar...
942 characters
3.09
/5
rDev
-3.1%
vibe: 3.5 | quality: 3.5 | service: 3 | selection: 2.5
It's said that Jack Kerouac was 86'd a number of times from The White Horse Tavern back in '51, during the period that he was living nearby in a friend's apartment writing, "On The Road".
And in November '53, Dylan Thomas drank 18 (some say 19) shots of Whiskey, staggered out and collapsed on the sidewalk. Shortly therafter, he fell into a coma at the Chelsea Hotel, and was whisked away to St. Vincent's Hospital where he expired. I've read that every year on the anniversary of his death, they serve the last meal that he ate there before he died.
What else?
Oh yeah, and Bob Dylan was a regular back in '61, coming to watch the Clancy brothers play.
It's stood as a corner bar @ Hudson & W.11th Street for almost 125 years now. It's been a haven for rowdy sailors, and the dock and warehouse workers, and then in the 50's it grew to be a haunt for the Greenwich Village beat scene. Now flash forward to 2004 because that's where I live, and history is history, but it wasn't my history, I wasn't there ...
They've got an "L" shaped bar seating a dozen, with about 8 tables scattered around the room. Bench seating along the large front windows, lots of dark wood, an unfinished old wood floor with a checkerboard tile strip running the length of the bar, and an ancient pressed tin ceiling. Very "English Pubby". Horsehead chandaliers overhead, a giant mirror behind the bar, a glass cupboard with steins and mugs, a giant grandfather clock, TV's above the bar in each corner, white horse pieces, and a kickin' jukebox. Low lighting and lanterns and offensively spoiling macro neon signs.
Through the door lies another room and another room beyond that.
Both rooms house 8 tables & booths, and Dylan Thomas pictures, paintings and verse. And there's roughly a dozen and a half tables dotting the sidewalk out front.
7 taps (Guinness, Yuengling, Sam Adams, Sam Adams Summer, Stella, Bluepoint Toasted Lager, and the White Horse Ale which is currently the RedHook ESB) and a dozen bottles (Widmer Hefe, Sierra Nevada Pale Ale, ciders and unmentionables).
Not a bad place really, especially during the week, but a good deal lacking on the beer side.
2,162 characters
2.93
/5
rDev
-8.2%
vibe: 3.5 | quality: 3 | service: 3.5 | selection: 2 | food: 3
OK, before I write this review, the White Horse is a pretty cool place, and a good place to get cheap food. But it's not a beer bar, not even a classic one. I was surprised to find it on here, didn't think it qualified for a BeerFly.
Why would I rate White Horse under McSorley's? Though both are pretty much tourist traps at this point, McSorely's goes to a lot more effort to keep things as "old" as possible. Old register, no neon signs, urinals from the days of John Dillinger. The White Horse though has modern bathrooms and equipment, neon signs, modern tables out front. The walls and some of the decorations are still quite old and the bar is still the same, but it's just not the same type of atmosphere.
Sam Adams and Toasted Lager were the best beers in the house.
The food either comes from the deep fryer or the microwave, but you can pick up a sandwich here with fries for $4.95. Pretty crazy for NY.
White Horse is a place with character, but if you want character overload try McSorely's (best time, after the Ukranian church across the street lets out at noon on Sunday) or The Ear Inn on Spring St (which also has a claim to 'oldest NY bar') or The Bridge Cafe on Water Street (since 1791.) If you're after beer, walk down the street to Blind Tiger.
1,279 characters
3.88
/5
rDev
+21.6%
vibe: 5 | quality: 4.5 | service: 4 | selection: 2.5 | food: 4
A real NY classic the second oldest bar in the city, since 1880, but first in history and character.
Dylan Thomas once said, "An alcoholic is someone you don't like who drinks as much as you do." After 17 shots of whiskey, some say 18, at the White Horse Tavern he did go "Gentle into That Dark Night". Bob Dylan was a regular and Steve McQueen bartended here. I know of no other bar in NY or elsewhere that can make a claim as all out as that!
The ambience is "real" old time bar, old wood and furnishings that take you back to another time. Pictures of Dylan Thomas adorn the walls. This is an icon that deserves to be visited by all. Drinking in this bar is drinking in history, closer than anyone of those re-enactment junkies could ever get and a hell of lot cooler.
The food is great bar food, the burgers always please. The beer selection may not be the way of "BA" but that is not the only defining criteria of a great bar. This place deserves the recognition that it's history and character earns it.
After soaking in this place be sure to visit the very close by Blind Tiger Ale House or Chumley's for some high-end beer selections.
1,155 characters
White Horse Tavern in New York, NY
Place rating:
18.2%
out of
100
with
11
ratings