Bennett Dominion Ale
| Molson Coors Canada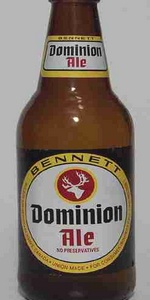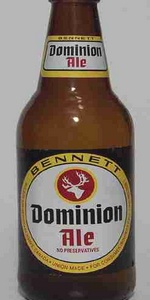 BEER INFO
Brewed by:
Molson Coors Canada
Ontario
,
Canada
molson.com
Style:
American Pale Ale (APA)
Alcohol by volume (ABV):
5.00%
Availability:
Year-round
Notes / Commercial Description:
No notes at this time.
Added by CAMRAhardliner on 08-18-2004
HISTOGRAM
Ratings: 11 | Reviews: 5
None found.
More User Reviews:

2.23
/5
rDev
-10.8%
look: 3 | smell: 2.5 | taste: 2 | feel: 2.5 | overall: 2
341ml bottle poured into a pint glass
Appearance - pours a pale golden yellow, a decent size fizzy/foamy white head, that stuck around for a little while
Smell - corn, barley, yeast, a slight sweetness
Taste & Mouth - average carbonation, and a medium body. Corn and barley and some sweet notes. Tastes like most of the other Molson products.
Drink - I was on a mission to try every odd beer that I saw while in Newfoundland. This beer was nothing to write home about. I see that it states 'this beer is retired'. Odd because I bought it not too long ago. Maybe it was some really old stock, and that might explain the bad taste..
635 characters

2.35
/5
rDev
-6%
look: 3 | smell: 3 | taste: 2 | feel: 2.5 | overall: 2
I had this one at Ches's, THE fish'n chip place in St. John's.
A: Clear yellow, off-white head, no retention or lace.
S: I believe this is the only remaining macro ale from the rock, the fruity esters are definitely apparent. Hints of toffee and a faint floral hop aroma.
T: Floral & peppery hops, fruity esters, corn, light caramel, diacetyl.
M: Light to moderate body, moderate carbonation, dry finish.
D: I'd never order it again.
438 characters
3
/5
rDev
+20%
look: 3 | smell: 3 | taste: 3 | feel: 3 | overall: 3
What a bunch of complainers over here. The sudden surge of craft beer has ruined peoples ability to correctly review a cheap domestic beer. Yeah, most macros won't be as amazing as your double hopped, saison, white IPA where they only harvest the hops every other winter solstice. People forget that cheaper macros brews are made to satisfy the masses, not your individual taste buds and that no, they may not be as a good a a craft brew, but for their designation and market, brews like this kick the shit out of craft.
Bennet's Dominion isn't half bad. If you're in St. John's, sure you can find some craft brews. That city has started it's gentrification and a lot of young people are there now and are changing the demographics of it all. But if you're in an outport town like Trinity or any number of the small, more remote locations, beers like Dominion, India, Black Horse and Jockey Club are the prevailing products. Dominion is a mild, non-offensive lager with a good amount of carbonation and some moist, balanced hops in the background. It's meant for easy drinking. You could do a lot worse than this beer.
1,121 characters

1.29
/5
rDev
-48.4%
look: 3 | smell: 1.5 | taste: 1 | feel: 1.5 | overall: 1
A friend from Newfoundland brought this beer for me to try because he knows Im into trying beers... Well its the thought that counts.
The label looks like its from the 70s, and 'Bennet' appears to be the brand name with 'Molson' only appearing in tiny letters on the edge of the label. Clearly purveyors of macroswill are trying to pass themselves off as an old time brewery.
the beer is just slightly more gold colored than the sickly pale straw color most canadian macro swill is. The head is decent with good retention. The smell of this beer is a fowl mix of sickening sweet malts, grains and soapy water. The taste is horrendous. Its bland but also bitingly astringent. You can taste the corn like proper macroswill but theres something else in the finish thats truly bitter in an unpleasant way. This gross almost salty taste doesnt go away, ruining the drinkability. What a bad beer.
897 characters
1.92
/5
rDev
-23.2%
look: 1.5 | smell: 2 | taste: 2 | feel: 2.5 | overall: 1.5
Okay, so first let's clear some things up. Molson is not brewing under a different name to pretend to be another brewery. Bennett was actually a well-established brewery in Newfoundland that at one time made Dominion Stout and Lager (I believe). Eventually, as with all breweries in the province, Bennett was taken over by a larger brewery. Many breweries in the province were taken over by Carling, and then later by Labatt and Molson. So, even if it doesn't attempt to be anything other than a Molson product, at one time Dominion Ale was something else altogether, as were Black Horse, Jockey Club and all the other regional brews now made by the macros.
Now the review:
Pours pale gold with what appears to be a light green at the edges (and it's not the glass and I'm holding it up against a white background and the lights are daylight bulbs). Not good. The head is a light layer of foam that disappears pretty quickly.
The aroma is like any other Molson beer, but with a hint of apple cider and sweet kid's bubble gum. None of these are what I pine over.
The mouthfeel is dry and watery. The carbonation is normal.
Now, the taste: there's a powerful apple tang in this brew that is so unusual to me. It's like drinking apple cider to a degree--sweet and tangy. The odd, bitter finish is even overtaken by the tang. I could have just eaten an apple infused with Molson Canadian. I can't detect the saltiness mentioned in other reviews, but I sure can detect this apple quality. What an odd brew. Surely not the usual ale. This time that's not a good thing. Too bad it's only valuable as a historical preservation (in label only) of Newfoundland's old breweries.
1,680 characters
Bennett Dominion Ale from Molson Coors Canada
Beer rating:
2.5
out of
5
with
11
ratings