Laurentide
| Molson Coors Canada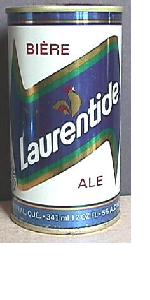 BEER INFO
Brewed by:
Molson Coors Canada
Ontario
,
Canada
molson.com
Style:
American Blonde Ale
Alcohol by volume (ABV):
5.00%
Availability:
Year-round
Notes / Commercial Description:
No notes at this time.
Added by Barraclou on 05-28-2005
Reviews: 4 | Ratings: 14
None found.
More User Reviews:

3.02
/5
rDev
-6.5%
look: 3.25 | smell: 3 | taste: 3 | feel: 3 | overall: 3


2.35
/5
rDev
-27.2%
look: 3 | smell: 1.75 | taste: 2.5 | feel: 2.5 | overall: 2.5
3
/5
rDev
-7.1%
look: 3 | smell: 3 | taste: 3 | feel: 3 | overall: 3
Presentation: Here's another Quebec classic one. Laurentide could be considered as a French Canadian Bud. It used to be a best-seller, but since a few years, it is only sold in 28 (24+4)economy pack.
Appearance: It is just another yellow fizzy beer.
Smell: The adjunct aroma is very present and some hops is found in the back.
Taste: It tastes old-style macro.
Mouthfeel: It is average. Not bad, not good. Just a typical mouthfeel.
Drinkability: Overall, it is just an ordinary beer for ordinary people.It is ok, if you like Bud, Miller and that kind of stuff.
575 characters
4.42
/5
rDev
+36.8%
look: 3.5 | smell: 4 | taste: 4.5 | feel: 4.5 | overall: 5
Oh man this is sad that they don't make this anymore. I only had this one time but I had a lot of it this one time that my friends and I camped in Quebec. Yea I know this is not a respectable type of beer according to the shared opinions of beeradvocate types, but this beer is really good to drink. It tastes a bit like milk, which I gather is the result of "adjuncts" but fucking whatever. If you like drinking liquid that tastes good, this was a good product. Especially if you like it when that liquid gives you a buzz.
I gave the appearance 3.5, because I never poured it out of the bottle, except for into my mouth.
622 characters
3.87
/5
rDev
+19.8%
look: 3 | smell: 3.5 | taste: 4 | feel: 3.5 | overall: 4.5
I was pleasantly surprised when I took a trip to Montreal and found this. It was the cheapest beer per bottle they had at the Super C, so I got the 28 pack of bottles.
Appearance: Nothing to special, a regular Blonde Ale.
Smell: A nice slight hoppy smell, though not overwhelming.
Taste: I was very surprised how good it tasted, it had that American Blonde Ale taste of Bud Light, etc. but with more flavor and presence.
Mouthfeel: I enjoyed it, it wasn't a chugging beer to me, but it wasn't quite one that you savor in your mouth for a long time
Drinkability: This beer definitely can be drunk for a good while, goes down very smooth, little after-taste.
Overall, a very good beer for being Quebec's Cheap beer.
715 characters

1.87
/5
rDev
-42.1%
look: 2.5 | smell: 2.25 | taste: 1.75 | feel: 2.25 | overall: 1.25
Bland, boring, typical of other macro brews
43 characters

2.8
/5
rDev
-13.3%
look: 2.5 | smell: 2.5 | taste: 2.5 | feel: 2.5 | overall: 4
I've been told this beer was very popular in Québec in the 60's, 70's, and early 80's. It seems to now be relegated to "Québécois PBR" status. I found it on a ride back from Sherbrooke at the duty free near Stanstead and Derby Line,VT. It seems somewhere inbetween Molson EX and Labatt 50, with, dare I say it?..less flavor. It's got a watery texture, light faint tannin hoppy flavor, and goes down easy. Maybe a little corn syrup like adjunct in there somewhere, but really can't tell. I think this may have been a Francophone pride answer to 50 back in the day, because of the cool retro looking Rooster logo.
614 characters

Laurentide from Molson Coors Canada
3.23
out of
5
based on
14
ratings.