Molson OV (Old Vienna)
| Molson Coors Canada
BA SCORE
69
poor
33
Reviews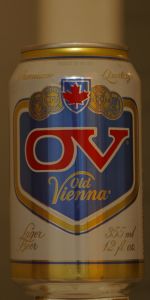 BEER INFO
Brewed by:
Molson Coors Canada
Ontario
,
Canada
molson.com
Style:
Vienna Lager
Alcohol by volume (ABV):
5.00%
Availability:
Year-round
Notes / Commercial Description:
A mainstream lager with a moderate hop character and slightly sweet, fruity, refreshing aroma and taste.
Added by lipschitz on 07-23-2002
Reviews: 33 | Ratings: 79

1.82
/5
rDev
-34.1%
look: 2 | smell: 2.5 | taste: 1.5 | feel: 2 | overall: 1.5
Poured from a can, pale clear and yellow, a splash of white head at first, but no retention. The smell is of sweetish corn and grain husks, with a bit of a sharp bite, either from hops or chemicals, it is difficult to tell. Flavour is raw and husky, with an underlying sweet undertow. The mouthfeel is about average, but it has a caustic burn texture to it, from the adjuncts or other unmentionable additives. If you're gonna drink it then drink it ice cold and straight out of the can, it eases the pain a bit. Otherwise skip it completely.
541 characters
2.13
/5
rDev
-22.8%
look: 2.5 | smell: 2 | taste: 2 | feel: 2 | overall: 2.5
Thin white head that disappeared rather quickly. Clear, pale, straw-yellow. Mild smell with little in the way of hops or malt, but with noticeable corn aroma. Corn sweetness dominated the weak flavour, with a mild sourness at the finish. Very thin body on the edge of being watery. I'm glad I tried this one for free.
317 characters
2.58
/5
rDev
-6.5%
look: 2.5 | smell: 2 | taste: 2.5 | feel: 2.5 | overall: 3.5
OV is a more inexpensive cousin of the Molson family - this is good and it is bad. OV is roughly $3-4 cheaper than the Molson Canadian case, and you can tell. But, you get what you pay for, and OV hits the spot.
OV is moderately yellow when you pour it, and it has little head. You get an acidic corn-taste after you swallow. Some will not like it. It isn't bad, but noticable. I'll call it "unique". There are better tasting beers out there, but let me also stress that this beer isn't BAD.
OV is a beer in which you can drink a couple, or several, and enjoy them all the same - they're easy going down.
You get what you pay for, and OV is a good buy for the price. I still wish they made OV splits. You could get a case of 'em for $7!
If you've got the extra $5, then go Canadian. But if you don't, then why not OV?
833 characters
2.62
/5
rDev
-5.1%
look: 2 | smell: 2.5 | taste: 2.5 | feel: 3 | overall: 3
Not up to par with other Molson products. Pours pale golden yellow with no head. Corn in both the aroma and in the taste. It is smooth going down. I don't know about buying this again. It was not true to the style. I was dissappointed by the whole thing.
254 characters

2.95
/5
rDev
+6.9%
look: 3 | smell: 3 | taste: 2.5 | feel: 2.5 | overall: 4
This beer has been misclassified. This is the O'Keefe brand lager known as Old Vienna that molson bought out in the seventies. It still bears the blue lable and OKeefe knight. Molson has kept the OKeefe Old Vienna (O.V.) formula pretty well untouched. OV is a Canadianized version of the sweeter vienna lagers. It is sweeter than most Canandian mega brews.
The last time I had this beer was when my high school buddy used to snich a few of his dad's beers. I never really liked this beer then so I have had no desire to buy it regularly since. I had one recently at a pub down town and I realized it isn't as bad as I remembered.
Pours a darker straw color, small white head that laces out, medium carbonation, smells of cooked grain, fusil sweetness and corn aromas. Starts crisp then sits with a medium light malty body then finishes thinly with a sweet after taste.
Not a really memorable beer but it has been a staple in Canadian beer stores for 50 years so It must have a following among older Canadian beer drinkers.
1,031 characters
2
/5
rDev
-27.5%
look: 2 | smell: 2 | taste: 2 | feel: 2 | overall: 2
Yuk.
Simply put, O.V. is flat golden straw water that has no discernable similarities to any good interpretation of the Marzen style. Aromas of corn and adjuncts dominate the smell. Most qualities are similiar to a cheap macro pale lager. Its fizzy, yellow, and smells like Busch.
283 characters
3.32
/5
rDev
+20.3%
look: 2.5 | smell: 3 | taste: 3.5 | feel: 3.5 | overall: 3.5
This is slightly better than average for a Canadian beer. All aspects of this brew meet criteria with one exception...Where's the Head??? Appearance is weak due to the fact that it looks like apple juice. Put two fingers of lasting foam on this puppy and you have a contender.
276 characters
2.62
/5
rDev
-5.1%
look: 2.5 | smell: 3 | taste: 2.5 | feel: 2.5 | overall: 2.5
Pours pale gold with very little head, and a slightly sweet aroma.
I would not be able to tell the difference between this and Molson Canadian; they both are fairly bland, lightly hopped, sticky lagers that must be well-chilled. Otherwise they have a sandy, swilly taste.
Properly cooled, OV was quenching and marginally drinkable but boring. Lawnmower or "give to your non-ba friends" beer...not up to par with Ex or Canadian Ale in the cheapie case department. Will not be purchasing this again.
509 characters
Molson OV (Old Vienna) from Molson Coors Canada
2.76
out of
5
based on
79
ratings.