Molson Canadian 67 Sublime
| Molson Coors Canada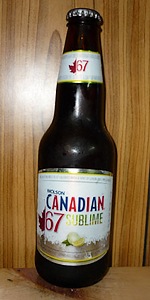 BEER INFO
Brewed by:
Molson Coors Canada
Ontario
,
Canada
molson.com
Style:
Light Lager
Alcohol by volume (ABV):
3.00%
Availability:
Year-round
Notes / Commercial Description:
Molson Canadian 67 Sublime is unexpectedly different. It's the beer you drink when you wouldn't usually choose beer. Molson Canadian 67 Sublime has a hint of refreshing Lemon-Lime flavour and only 67 calories per 341ml bottle.
Added by marty21 on 07-19-2011
Reviews: 8 | Ratings: 24
2.6
/5
rDev
-1.5%
look: 2 | smell: 2 | taste: 3 | feel: 3 | overall: 2.5
341ml bottle. I like the correlation between how good (or just not so bad) something is supposed to be for you, and the likelihood of there being a Nutrition Facts label slapped on it. In this case, I can see that I will only be imbibing (a maximum of) 67 calories. You know, in case the name didn't quite tip you off.
This beer pours a crystal clear, super-pale straw 'colour', with one finger of sodapop-esque, overtly noisy fizz, which settles to a thinly foamy white cap momentarily, before wisping away to an overstayed bubble bath ring of lace.
It smells of faint sugary lime candy, and weak corn/rice grain mash. The taste is soft, nondescript milquetoast bready malt, the grain orientation difficult to discern amongst the stale lemon polish and lime extract essences, which come off relatively strong in comparison. No hops, as expected, and just a slight plastic note as it warms.
The bubbles pretty much blew their load at the outset, leaving very little to support the rest of the show, rendering a surprisingly medium-weight body, smooth enough to make some committee happy, I suppose, and just a tad clammy. It finishes sweet, but not overly so, the hollow graininess and generic citrus just don't have the will.
Meh, not really all that bad - there's flavour, and it's not off-putting, but neither would I relish the idea of another, unless I was parched and the local water option was not really one.
1,421 characters
2.89
/5
rDev
+9.5%
look: 2 | smell: 3 | taste: 3 | feel: 2.5 | overall: 3
Pours an extremely pale yellow straw color with a fleeting white head that diminishes quickly. Fine speckled lacing left behind, not much going on visually. Aroma light cereal notes, with the natural lemon/lime qualities, with a hint of chemical household cleaner about it. Flavor has a creamed corn flavor going on in the light beer, with lemon/lime finish not really overbearing on the palate. Refreshing quality ultra light beer, not the worst beer I've ever had but again all of these Miller Chill, and Bud Light Lime like beers are just a bad trend if we need a wedge of lime in our Corona we can add it. The same goes for a Miller Lite or a Bud Light. Overall a beer I would drink after cutting grass, but in general something I'm not buying on a regular basis.
767 characters
2.58
/5
rDev
-2.3%
look: 3 | smell: 2.5 | taste: 2.5 | feel: 3 | overall: 2.5
From the 11.5 fl. oz. bottle stamped DEC0912-10859M. Sampled on February 8, 2013.
The pour is yellow with a very short-lived fizzy white head and decent enough clarity. It looks like it should anyway.
Instead of lime I tend to get bread and corn on the nose but there is a clean, crispiness to it too.
The body is light and thin.
The lime brings itself forward in the taste more than in did in the aroma but the other light lager elements of corn and clean hops are there too. This might be decent enough on the beach but not top on my beer list.
550 characters
2.91
/5
rDev
+10.2%
look: 2.75 | smell: 3 | taste: 3 | feel: 2.75 | overall: 2.75
Served in a perfect pint glass
A - It is straw colored with four inches of white head.
S - The lime scent pretty well covered up any beer smell.
T - I get lots of lime. I also get some grass and grain notes.
M - Thin and watery
O - It's a weak lime beer as expected.
271 characters
2.75
/5
rDev
+4.2%
look: 2.5 | smell: 2.5 | taste: 3 | feel: 3 | overall: 2.5
Not nearly as bad as I expected! Actually on a summer's day, this would be tastier than water...
Very pale colour, barely golden, and with no aroma to speak of. No malt or hops in the flavour, but a hint of lime in the aftertaste. Not a sweet lime, but a decently dry finish.
Not my beer of choice, but probably a decent example of the style...
348 characters

3.09
/5
rDev
+17%
look: 2.5 | smell: 3.5 | taste: 3 | feel: 3 | overall: 3
Pours a pale, grassy yellow with a loose white head that burns off within a minute, leaving a thin collar and a surprising wisp of lace.
Natural-smelling lemon aroma with a faint, sweet malt backing and the slightest hint of floral hops.
Lemon-lime blend of flavours, very light, reminiscent of lemon-flavoured Perrier. Crisp and dry finish.
Thin, crisp mouthfeel with a moderate carbonation level. Faint syrupy note on the tongue. Subtle malt flavor in the aftertaste, comes off as well-balanced with the lingering citrus tone.
As far as flavoured ultra light lagers go, this is easily one of the best I've tried. Sure, it has an almost absolute absence of "beer" taste, but it serves as a refreshing beverage for calorie (or ABV) conscious consumers.
762 characters

2.22
/5
rDev
-15.9%
look: 4 | smell: 2 | taste: 2 | feel: 2 | overall: 2.5
341ml bottle poured into a 16oz pint glass.
A - Finger-and-a-half of big white bubbles. Fizzy and transparent-yellow. The head is actually retaining really well, and leaving some thorough lacing...
S - Sorta stale. The bottle is a bit old though. Adjunct grains, corn, barley. The artificial flavor smells, well, artificial; but I've smelt worse.
T - Pretty tame actually. Not the wall of sick syrupy lemon-lime slop I was expecting. Not great, but the artificial flavoring isn't totally overwhelming. The base is a typical light lager, with subdued malt and musty adjuncts. As it warms it definitely gets worse.
M - Thin, but not totally watered down like light macros usually are.
D - Weak lemon-lime light beer, but it still beats out Miller Chill.
756 characters

3.5
/5
rDev
+32.6%
look: 3.5 | smell: 3.5 | taste: 3.5 | feel: 3.5 | overall: 3.5
A: Pours a faint clear yellow with 2 fingers worth of foamy bright white head. Settles to a nice cap and left a decent amount of lacing.
S: A bit of grains initially but it is taken over by the lemon and lime. For this still of beer it smells really good.
T: It's pretty light but you basically get the lemon and lime for the taste.
M: Light to medium carbonation with a ligt body.
O: I enjoyed this beer. Yeah people arn't going to like it because it's a macro lemon lime beer but if you're looking for one look no further. A perfect summer session if you're going to be sitting in the sun all day.
611 characters
Molson Canadian 67 Sublime from Molson Coors Canada
2.64
out of
5
based on
24
ratings.