Keystone Ice
| Molson Coors Canada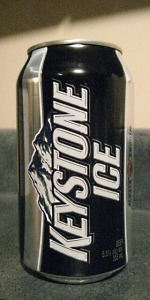 BEER INFO
Brewed by:
Molson Coors Canada
Ontario
,
Canada
molson.com
Style:
American Adjunct Lager
Alcohol by volume (ABV):
5.50%
Availability:
Year-round
Notes / Commercial Description:
Keystone Ice is a medium-bodied, crisp beer that is lightly hopped with a slightly sweet flavor and medium-to-dry finish with a light gold colour.
Added by biboergosum on 11-14-2012
Reviews: 3 | Ratings: 41

1.69
/5
rDev
-15.5%
look: 2 | smell: 1.75 | taste: 1.5 | feel: 2 | overall: 1.75
This beer reminds me of the 40oz shit my friends drank in high school. Pours a pale piss yellow with no head whatsoever. Smells of corn, rice, apple juice and cheap white wine. Tastes like a stronger version of how it smells. Mouthfeel is carbonated, crisp and thin. Overall, a poor quality adjunct lager that came free with a case of beer my friends gave to me as a gag gift.
★
376 characters

2.03
/5
rDev
+1.5%
look: 3 | smell: 1.75 | taste: 1.75 | feel: 2.75 | overall: 2.25
473 mL can from TBS. Why yes, I *am* only reviewing this beer because I can't find any other new stuff to review in this town. Thank you for asking! Served ice cold.
Pours a pale golden-yellow colour, topped with slightly more than one finger of fizzy, soapy white head that fizzles itself out of existence in the blink of an eye. Its only remnant is a thin, foamy cap at the surface; no lacing to speak of. The smell is borderline awful, with each individual element less enticing than the next - green appleskin, corn cobs, damp cardboard, and corn syrup sweetness all come to mind. Oh God, what have I gotten myself into?
The first sip only confirms my initial fears. The flavours definitely fall on the sweet side of things, with piles upon piles of corny adjunct and corn syrup making up the bulk of the flavour. Quite vegetal, with some cardboard-y dryness in the finish that completely fails to counter the sweetness. Not boozy, but not nearly as diluted as the other Keystone brands. Thin-bodied and watery, with surprisingly low levels of carbonation (which is not winning it any points, that's for sure). Not especially challenging to toss back, but to be blunt I have zero interest in a second serving.
Final Grade: 2.01, a miserable D-. I really need to stop reviewing these ice beers - I'd take a regular adjunct lager any day. I don't like to toss around the 'S' word recklessly, but Keystone Ice is swill - it's just that simple. As someone who tries to find something good to say about every beer, no matter how cheap or trashy, I am honestly feeling a little defeated, because this stuff really has no redeeming qualities to speak of. One of the worst adjunct lagers I've ever had, and something that all self-respecting BAs should make a point to avoid - assuming they aren't already innately programmed to walk past beers with 'ice' in their name.
★
1,870 characters
2.48
/5
rDev
+24%
look: 3 | smell: 2.5 | taste: 2.5 | feel: 3 | overall: 2
355ml can, from the singles bin at my local Liquor Chain Barn Mart Depot outlet. Really? A new 'ice' beer? Really? 1994 just called, and they want their beer marketing schtick back.
This beer pours a clear, pale golden colour, with two fingers of thinly foamy white head, which bleeds away like a multiple gunshot victim, leaving a surprising, yet few instances of mesa-esque lace around the glass.
It smells of sweet, sugary corn mash, a sort of grape-flavoured vodka essence, and musty, dusty, um, 'hops'. The taste is somewhat bready generic cereal malt, fake fruity grape candy, a slightly phenolic alcohol note, sans any real accompanying heat, and a very slight nondescript dryness - not a normal tasting metric, but it's hardly fair to drag the innocent hop through any more mud at this point.
The carbonation is quite tame and damned near inert, the body on the far side of medium-light in weight, and really rather smooth - but you already knew that, right? We all did. Anyways, it finishes off-dry, the corny sweetness abating a wee bit, and the admirably restrained cheap booze providing one weird-ass semblance of, well, balance.
Not good, but nowhere near as bad as I might have imagined - this is plainness, white bread, Walmart, McDonald's, and the Toyota Corolla all rolled into a beer. Inoffensive, with 10% more alcohol (I'll wait while you do the math....ok) to sass things up, but really just another sad rearrangement of the chairs on the deck of the good ship BMC.
★
1,490 characters
Keystone Ice from Molson Coors Canada
2
out of
5
based on
41
ratings.